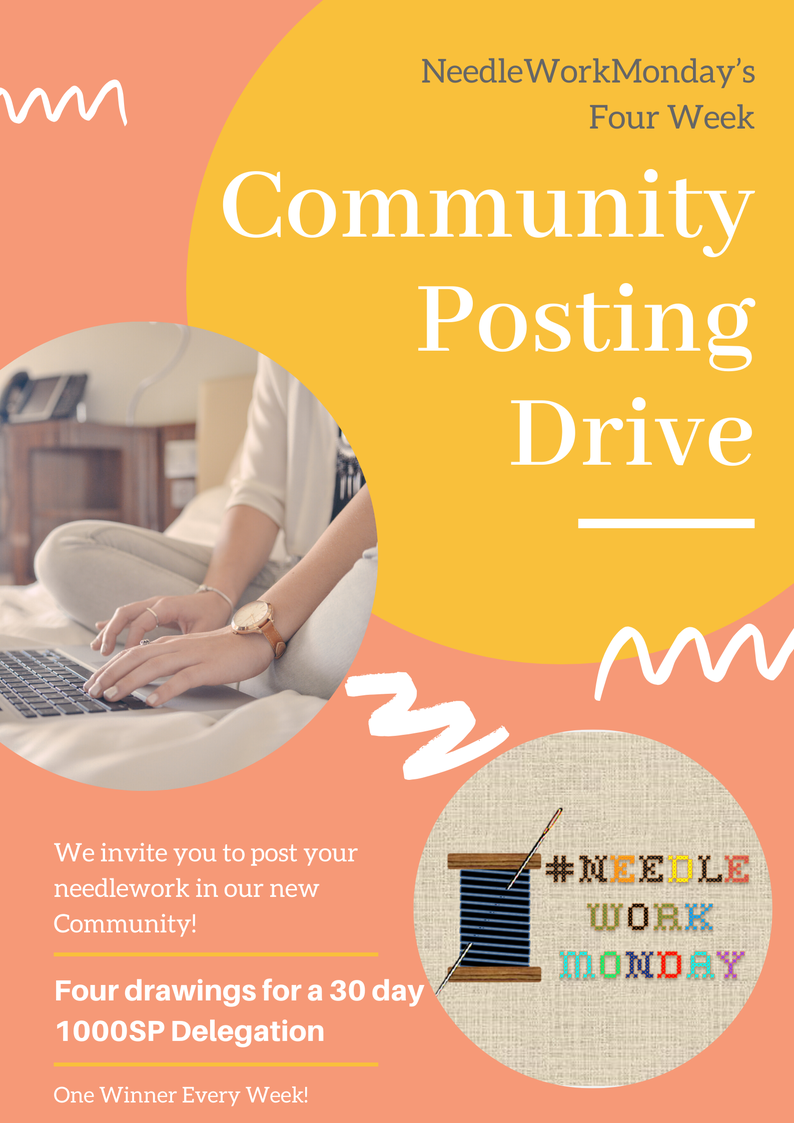 Hello lovely creatives! As we have Announced, our new NeedleWorkMonday Community is up and running and ready for you to Subscribe! Just in case you missed the details and would rather not go back to read, here are the direct links to subscribe:
Starting next Monday on March 9th we are running a Four Week Community Posting Drive Challenge! We would like for you to post all of your needlework related content directly from the NeedleWorkMonday Community. Those who post their content from the Community will be entered into a drawing to win a:
1000SP Delegation for 30 days!
Many thanks to one of our very own administrators @shanibeer for generously offering these 30 day prize delegations! Every week a new winner will be drawn and announced in our Wednesday's weekly featured showcase.
Rules for Eligibility
Must post in NeedleWorkMonday Community on Monday's in March (9th, 16th, 23rd and 30th)
Must meet NeedleWorkMonday's posting guidelines found in our FAQs


Every Monday you post in the community you will be eligible to enter the drawing for that week as long as you have followed the posting guidelines.
We are hoping this challenge encourages you to share more of your creative work within a community filled with likeminded needlwork passionate enthusiasts. We want to see our community filled with all kinds of needle art from all over the world along with amazing support and inspiration.
We challenge you to get creative in how you share your work ie. a funny photo series, story telling, added gifs or anything you can think of. There are many curators looking for quality posts that share their work through clear, bright and colorful photos in a well written and easy to read article. Now is a good time to focus on writing quality posts!
We look forward to connecting and sharing with you in the Community.
For a refresher on how to post from the Community and add it to your blog page, please visit here.


Tune in every Wednesday this month to our featured posts for the Winners Announcement!
Thank You ~








If you have any questions or need more guidance you can reach out to anyone in our leadership team:

Founder/Admin @crosheille

Admin @muscara

Admin @marblely

Admin @shanibeer

Our Motto: Support & Inspire