The daily COVID chronicle -

May 23, 2020
In no particular order, here are today's links from Steem and from my RSS feed. Please consider clicking through to upvote any Steem post(s) on the list.
Also, feel welcome to discuss any of the links in comments. 10% of the rewards from this post have been assigned to each of the authors of the Steem links, and 65% have been assigned to the experimental @penny4thoughts account in order to reward substantive replies.
(Note: Sharing does not imply agreement or endorsement.)
---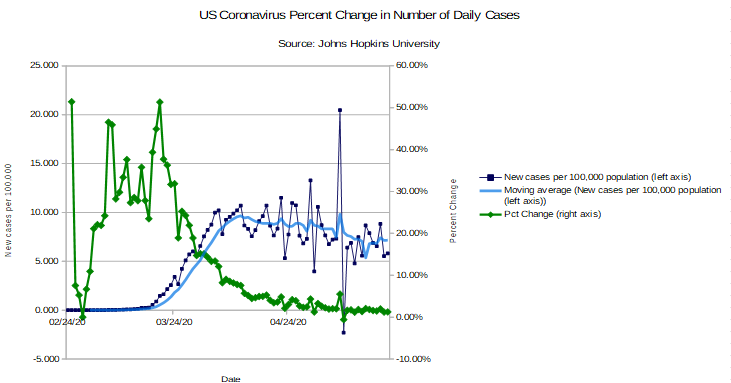 Just for fun, here's a weekly graph of the daily numbers of new cases that I've logged, shown as a percentage of total cases and per 100,000 of population.
---
As mentioned in previous posts, here is a visualization tool for mapping the cases of COVID-19 occurrences.
According to the site, this morning's worldwide number of reported cases was 5,267,452 with 2,086,375 recoveries, 339,949 fatalities, and 1,611,691 cases in the United States (US). This represents 33,933 new cases in the US, which is an increase of 12,924 over yesterday.
In the US, the site reports 13,398,624 test results with 350,135 recoveries and 96,479 fatalities. My state, Pennsylvania, is reporting 70,784 cases and 379,001 total tests administered.
Two weeks ago, the site was reporting 3,974,036 cases around the world with 1,288,569. Based on the widely discussed figure that the disease usually runs its course in 2 weeks, most of those patients should have recovered by now. Hence, the recovery numbers that the site is reporting still seem to be implausibly low values - off by a factor of 2-4.
---