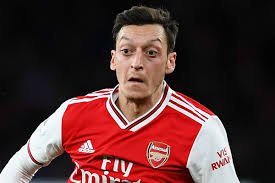 source
Dear Mezuit Ozil,
If only I am able to choose stature, then is would choose just the way you are maybe I can play with no stress way you play your games in matches that you shine
It is not all your games you shine and it is still okay because everyday is not Christmas, understand that team mates may not play your pattern, only when your team mates play forward ➡ is when you shine and able to give pass(es). Playing defensive game is not your play way
Only if Real Madrid and Arsenal would lie or pretend as if they don't miss you, there can never be a good pass thrower like you and in the record of football. You still have the best assist in the record of football
You are the only player that change mind instantly when you noticed the team mate you want to give pass to is not in the best position anymore or being marked by opponent(s)
Your marking is so soft and light, you mark with brain and you hardly commit foul, you don't have much records of yellow cards, you commit foul only when you don't have choice again and it is normal in football
I miss you in all games that Arsenal do play and I am very sure that Mikel Arteta too really need you especially when Arsenal was facing tough time few weeks back but there is nothing he and fans can do since it is the board of directors that insist you won't play
I never find players that play just like you so you are the best in your own way and that is why you place is always empty whenever you are not around
Arsenal only did their own, they cannot deny your glory. I reed news that you have get our of Arsenal to Fernabahce , I wish you good luck where ever you are going
Yours sincere fans.