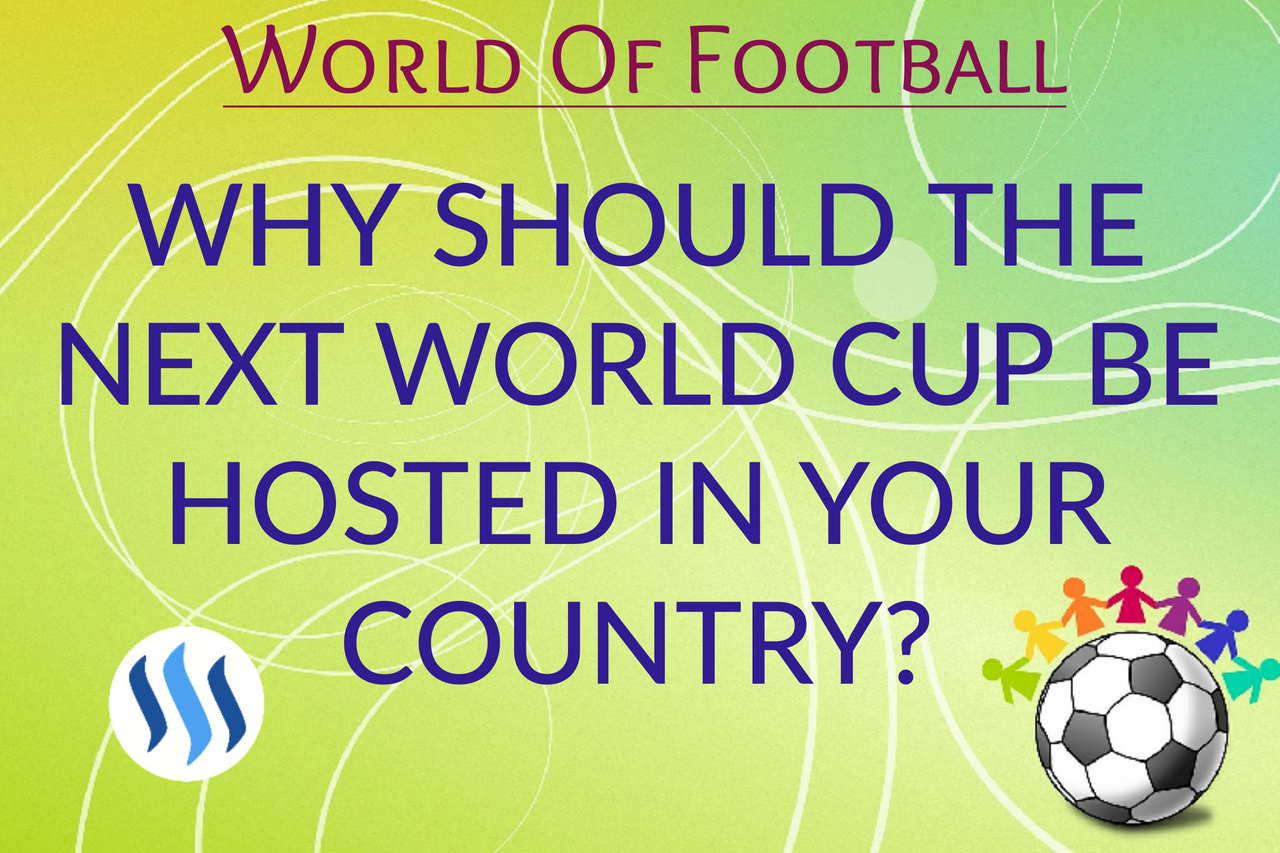 ---
Greetings everyone,
This week we are going to look at another exciting topic which I'm sure most of us would appreciate. It is about the hosting of the FIFA world cup tournament. As we have seen over the years, this event has been hosted by different countries on different continents around the world. And is quite beneficial to the host countries because not only can they visit the stadium and have a first hand feel of the event, they get to see some of their favorite players and may interact with some of them as well. It also generates lots of revenue to the country since most of these tourists tend to purchase local goods. This contest therefore presents an opportunity for you to us why your country can host the next world cup tournament.
---
ABOUT THE CONTEST
---
According to FIFA, about 3.57 billion people viewed the world cup in 2018 with about 1.1 billion people tuning in to watch the finals source. This means that this event brings in serious publicity to the host country which is why everyone wants their country to host it. This way, within that time frame, several businesses will flourish along with getting to see their idols and favorite players as well. In this contest, you are to tell us why you believe your country deserves to host the next world cup tournament.
---
RULES
---
Be a validate member of our community. Visit this post for guidelines.
No plagiarism/copyright abuse.
Entry can be made in ANY language.
Entry should be made within this community.
Write NOT less than 300 words.
Please use #footballcontest, our contest label for easy identification of entries.
Use only copyright-free images. This post will guide you on where to get these copyright-free images.
Share on twitter/other social media such as Facebook.
Put the link to your entry in the comment below 👇
Be creative
---
I will not be considering posts that contain copyrighted images so be sure to read this post for guidance. Also, plagiarized posts will be muted and plagiarists could be banned from our community.
---
PRIZES
---
| RANK | PRIZE |
| --- | --- |
| 1st | 10 Steem |
| 2nd | 8 Steem |
| 3rd | 5 Steem |
| 4th | 3 Steem |
| 5th | 1 Steem |
---
This particular edition will end on the 9th May, 2021.
Thank You!

Many thanks for all your support
---

Join our World Of Football Community
---
Delegate to our official @worldoffootball account through the following links:
50 SP | 75 SP | 100 SP | 250 SP | 500 SP | 750 SP | 1000 SP | 2500 SP | 3500 SP | 5000 SP
---