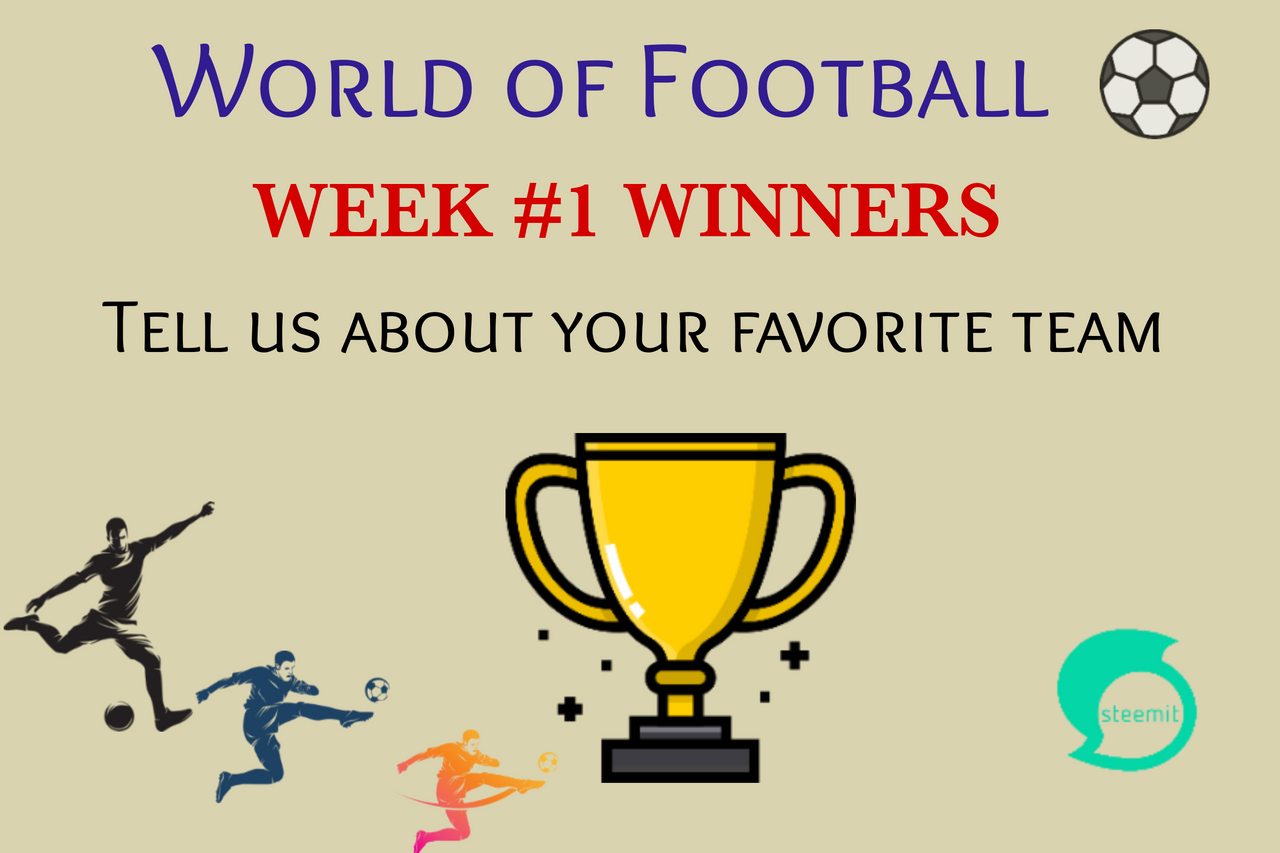 We appreciate all the entries that were received this week. We were pleasantly surprised by the love people showed for our community and by the number of entries we received. However certain copyright issues were noticed and we went round to correct them when we noticed it.
---
We are glad may people adhered to our directives and made the necessary corrections. Visit our pinned post here to know about our copyright rules in this community.
---
Now without further ado, here are the winners for our week #1 contest.
1st Place
Entry : Concurso ¿TU EQUIPO FAVORITO? / Barça, Mes que un Club / Escrito original de @theatrorve / Fecha Viernes 25 09 2020 / #njaywan #worldoffootball / Venezolano – Ingles
@theatrorve took us through what really inspired his love for the club starting from scratch to when they won their first World Cup. Then ent ahead to indicate certain legends of football like Maradona and how Barcelona went for him. Also told us about his inspiration towards the club as well as major games he has seen. Throughout the entry, multiple players who have contributed immensely like Ronaldinho and Messi who really help Barcelona reach its peak were mentioned. In fact it was a thorough write-up from him. We really enjoyed it and can't wait for more.
Prize: 10 steeem
---
2nd Place
@jacorv
Entry : Real Madrid C.F. - Mi Equipo Favorito
@jacorv's entry showed us how he has truly followed the club as it gave us the various individual achievements of the various managers to handle Real Madrid. It moved on to the many legends that graced the club and further went ahead to categorise them based on favourite players. The football passion exhibited was strong as he told us about how Madrid "stole" him from Chelsea and their rivalry against the famous Catalans. We really enjoyed it.
Prize : 6 steem
---
3rd Place
Entry: You Will Never Walk Alone.....
@boss75 took us through the journey of Liverpool as a club. We were given a history about the famous premier league holders and made aware of how the club was first established. @boss75 then went ahead to brief us on their achievements both in the past and with the current manager, Jurgen Klopp. He even went ahead to draw us a beautiful probable lineup for this season. It was brilliant.
Prize : 4 steem
---
4th Place
Entry : My Favorite football club-Manchester united.
We received @whitestallion's beautiful entry about the red devils of the Old Trafford. It was interesting as he broke it down to the individual players and their various contributions to the club with regards to the positions they play. He started with the manager and then went to the various players and their respective roles.
Prize : 3 steem
---
5th Place
Entry : Concurso ¿TU EQUIPO FAVORITO? Brasil y Real Madrid - Original de @carlosespinoza @njaywan #worldoffootball 26/09/2020
@carlosespinoza gave us a beautiful piece about the ever famous Real Madrid. The entry was filled with beautiful moments from the time he was attached to the Brazilian national team to the moment he began to like the likes of Zidane, Beckham, Cassillas, etc. We loved it.
Prize : 2 steem
---
We have sent out the various prizes to all the winners of week #1. Be on the lookout for the commencement of week #2 of our contest. It is going to be BIG!!
Cc to our kind sponsors:
JOIN US ON DISCORD