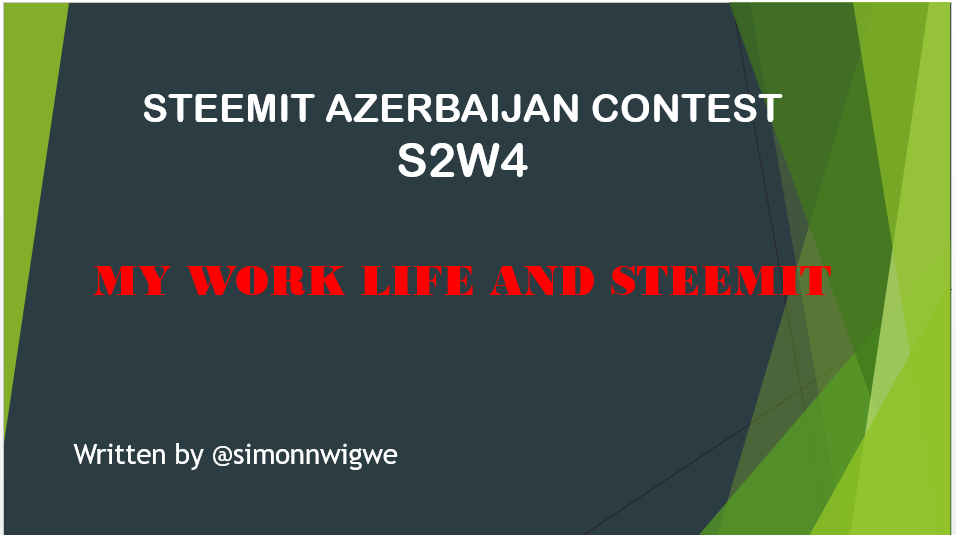 Hello guys,
Welcome to week four and the very last week of the engagement challenge season number 2. I am so happy once again to participate in this week's engagement challenge. This week the contest centred on my work life and the steemit platform. How do I manage them both? Which do I give more priority to? The questions below will go a long way in assisting me to write this contest in a more detailed manner. Let's get started.


Tell us about your work-life.


Everyone in this life has one thing or the other that he does in his/her work to generate some form of money or income for himself and his family. This is what we call work. The world as we all know is a very busy one and day in and day out you will see people wake up in the morning and then prepare themselves for work and come back every evening to rest.
Here in my country Nigeria, our official working days are Mondays to Fridays. This completely depends on the type of work you are doing as an individual or group of individuals. Some works are done throughout the seven days of the week whereas some are less than that time.
In the case of some government establishments, the official working period begins from 8:00 am to about 4:00 pm. Well in my case am not having a permanent job for now so I am working as an attachment to one of the government establishments as an assistant lecturer.
So my work life I will be talking about today is as a lecturer. Lecturing here in Nigeria is quite not too stressful because most times a week I have just two classes. This class doesn't take more than two hours.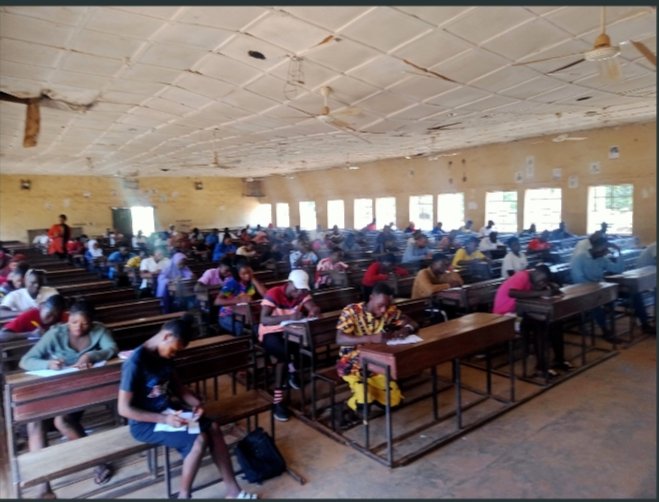 My Students Writing CA
So as a lecturer, I only go to school twice a week officially. Though sometimes my presence may be needed urgently on some issues which do not happen very often as well. I enjoy lecturing so much because it keeps my brain functional and very active at all times.
Lecturing is a job I find so much fulfilment in it anytime I do it. Impacting knowledge on people is one thing I always love doing and that is the reason why today I accepted the work without any tangible payment. My fulfilment always comes whenever I deliver my lecture and the students show some level of understanding.


Do you like your job?


I don't only like my job, I love it. As I have highlighted above, one of the jobs that makes me more fulfilled in life is the job impacting knowledge to others and this lecturing job has allowed me to do it. Whenever I see students I am always excited because each time I am with them I must gain one or two things from them.
I love research also and as a lecturer who always wants to stand out among my equals, I'm always working to increase my knowledge via research and challenges. I love it when students ask more questions even outside the topic of discussion. This helps me to widen my horizons of research and then learn more. Lecturing is one job I can never give out for any other because there is pleasure in always teaching and educating others.


Can you make time at work for Steemit?


Yes, as a computer science lecturer in the college of education Akwanga here in Nasarawa state Nigeria, I am always having time for the steemit platform even during the lecture. I teach computer and modern technology which include blockchain technology and one of the blockchains that I am so familiar with is the steemit blockchain. So whenever I am teaching on these topics, the steem blockchain is always my point of reference.
After my normal lecture, those who are also interested to learn more about the steemit platform meet me outside the class and then get a more detailed explanation in areas where they are not too clear. I have organised seminars to educate students on the steemit blockchain during my free periods and today most of them are appreciating the gesture because they have been able to learn and also earn on the platform.
My fellow lecturers are not left out because I have below seminars with them also showing them the importance of blockchain technology and cryptocurrency as well. Few of them registered on the steemit platform whereas others have opened an exchange platform where they now trade cryptocurrency. So in my workplace, I ensure that those around me get to know about steemit so that if we are much we can hold a seminar for the entire school where I won't be the only person to speak instead a lot of people will testify as well.


Could Steemit be your first job?


Yes, steemit can be my first job the reason is that it won't stop me from teaching at all. I have always combined steemit and my lecturing job and I must say they are the same thing. I am a lover of tech and I love teaching it. So having steemit as my first job won't stop my teaching because both new and old steemians need a way forward when it comes to the platform. Though I want to believe that having it as my first job will go a long way in helping me to be 100% committed to it.
Now I teach based on the curriculum of education in the school and I only go outside the box when I am done with the main curriculum but if having steemit is just the only or first job then I will focus on promoting only steemit.


How is your financial situation?


My financial situation currently is not bad at all. I am not very financially buoyant but I don't lack. I am contented with the little I have. Currently, my place of primary assignment pays me #33,000 and I am also in club75 so I make a few withdrawals on the steemit platform to also support myself. I am currently very single and hence I carter only for myself and a few of my siblings.
So steemit has always been there for me when it comes to assistance financially. I have served a lot of assets on my exchange wallet and hence the club status does not affect me at all. I spend less now because I do not have many responsibilities and also I feel very satisfied with my current financial situation I am in.


Conclusion


Steemit and my job are all the same thing because in all I do have the opportunity to teach people and share knowledge. I can take steemit as my first job because it does not in any way contradict my lecturing profession. I'm a steem promoter and as a good promoter, I ensure I trained those I have recruited to at least a certain level and even after that we most times hold seminars to encourage each other. There is this saying that iron sharpens iron.
I invite;
@josepha
@yakspeace
@patjewell
Best regards;
@simonnwigwe