Downvote curation trail
Thanks to @alejos7ven and @symbionts, the power down trail has been launched and we can all together fight with plagiarism. I would like you to join the trail of @ac-cheetah, an account managed by @papi.mati and used exclusively for powering down plagiarism, content and account farming, and other forms of abuse.
Downvoting abusers will start tomorrow when 500 STEEM will be transferred to @ac-cheetah from @papi.mati to unlock voting with a different percentage of VP. Twice per week, we will be sharing the report about all downvoted posts, explaining why we removed rewards from them. At the very same publication, we will be suggesting to the admins of the groups where abusers are active, to mute them, so it would be great if all moderators and admins could follow this community.

---
---
HOW TO JOIN THE DOWNVOTE TRAIL?
The information how to join the trail has been published by @alejos7ven here.
1.. Enter Steem Seven website and log in with your active key, using "Steem Login". The website is 100% safe and "Steem Login" tool does not allow anyone to access your data.
---
2.. Fill the rubrics. Preferably insert:
| Rubric | Insert |
| --- | --- |
| Only use automatic downvote votes when power is above | 0% |
| Use my voting power to downvote when my power is above | 100% |
| Only downvote if the post has more than | 0$ |
| Re-vote if there is the opportunity to increase the upvote or downvote | YES |
---
3.. In "Trail" add @ac-cheetah with trail worth "1" and click "add"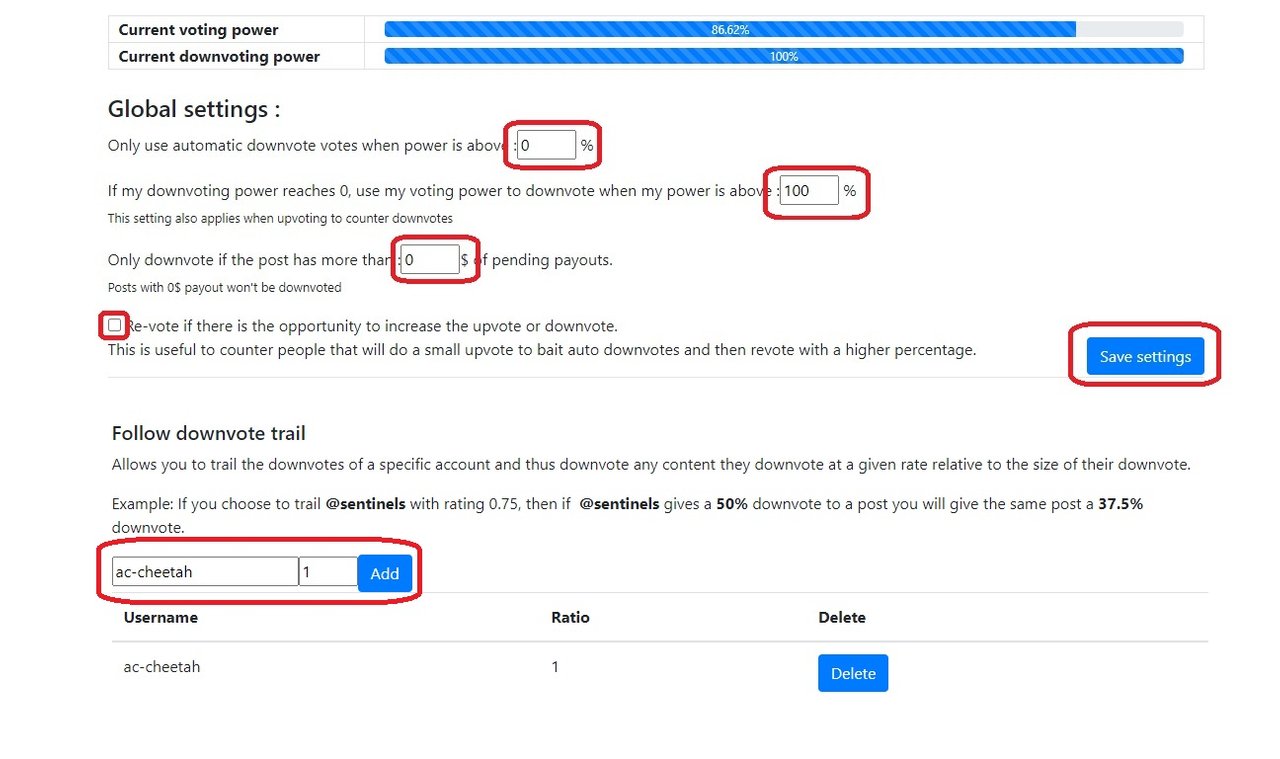 ---
That's all what is needed! Congratulations you have joined the trail!

FAQ
Who is responsible for that project and how the income is distributed?
The project has been suggested by @papi.mati, but different elements were prepared with multiple partners, like @alexmove, @symbionts, or @alejos7ven. There are many communities and individual accounts that declared they will join the downvote trail with their community account and private accounts, so in some way, all of them can be considered as co-authors.
@ac-cheetah is not oriented on earning the money, so most of the rewards will be invested in developing new tools or, optionally, powering up to fight with plagiarists more effectively.
The income from all the future @ac-cheetah posts will be distributed between multiple accounts:
---
---
---
Who will be downvoted by @ac-cheetah?
We will be downvoting the plagiarized content, fake accounts, account farming or content farming, abusers, etc. In every situation, we make sure that there is no misunderstanding and the downvoted person is a cheater. While the user plagiarizes for the first or second time, all the income from plagiarized content will be downvoted. Since the third time, the income from all the publications in the last 7 days will be removed. You may read more about our rules HERE
Everyone will be treated equally, which means that cheaters with higher reputations and/or bid botters cannot feel safe as well. It's important to mention that using bid bots won't be punished with downvotes per se. Only the bidbotters who share plagiarized content or cheat in any other way will be punished.
---
---
---
Will joining the trial have any impact for my voting power?
No. You will not notice any difference. On Steemit there are two voting manas: one for the upvotes and the other exclusively for the downvotes. You join the trial with only the downvote voting power, that you most likely do not use anyway. That means your value of the upvote, as well as the number of the upvotes that you can distribute daily, won't change.
---
---
---
I have found plagiarism, how should I report it?
If you are the admin of the community, mute the post, downvote all the rewards, write the comment with the links to sources under plagiarized content, and tag @ac-cheetah, so we can inform about the abuse in other communities where this user remains active. If your voting power is not enough to downvote all the rewards, don't worry - after tagging us, we will make sure to resent all the remaining income.
If you are not the admin, write the comment with the links to sources under plagiarized content and tag admins of the group as well as @ac-cheetah. You can also send the link to the post under one of our recent reports.
---
---
---
I have found account farm or other type of abuse, how can I report it?
Not every abuse is related to plagiarism, sometimes it's about creating multiple accounts that upvote each others constantly, spamming or other types of unethical behavior. It's much more difficult to detect, but it requires our attention as well. If you think you found the account farm or other type of abuse, write the post about it in our community. We will review it, consult with the community and our partners and if we all together will agree that there is no doubt mentioned user(s) is/are the abuser, they will be downvoted and reported as well.
---
---
---
I joined the trail and report plagiarism, how else can I help?
Those two activities are the most important, although if you are the admin or moderator, it would be great if you could follow us and each week make sure that the abusers who shared plagiarized content more than twice are muted in your community.
Besides that, it's very important to spread the news about the project, because its success depends on the number of people who will join the trail. Resteem publications, write your post, mention joining our trail in your diary game, talk with your friends - do anything to let others know about @ac-cheetah
---
---
---
I'm afraid that I will be downvoted by the abusers for joining this project
Some users declare that they are afraid of revenge while fighting with abusers. The important thing to know is that while joining the trial, your downvote will be given at the very same time with tens, or maybe even hundreds of downvotes from other users. The abuser won't be able to visit all that profiles and mess with all of us.
Besides that, if your post will be downvoted and if you will lose your rewards or reputation, you may contact us on discord or write a comment under the last publication and the community will help you get back the money by upvoting your publications, if possible, for the same amount that was taken from you.
---
---
---
I'm afraid that my VP will be distributed in a wrong way
There are some precautions taken to avoid that sort of situations. Both, reports in our community and the tool shared by our partners allow you to track our activity and see who was downvoted by us. Reports will be always providing proper explanations and links to the plagiarized content, so there is no doubt that the author who we downvoted is the abuser.
If you will decide that the downvotes are not used in a way that you approve, you are able to leave the trail at any moment with just one click.
---
---
---
Can I delegate SP to your community?
It's not recommended. Delegated SP cannot be used by you for upvoting and we all care about decentralizing rewards distribution. That's why downvote curation trail is a much more reasonable solution.
Remember that joining the trail allows us to use your voting power while downvoting, while you still have the right to select posts that you want to upvote.

---
Join the trail right now! :)
As the downvote trail has been discussed since few weeks now, many users and communities have declared that they will join the trail as soon as it will be available. I would like to tag them now, so they won't skip this message and can help us to start the project as soon as possible:
Users:
@bgreza @haidermehdi @xaviduran @harferri (considering) @benson6 @artist1111 @event-horizon @bangmimi @sampraise @willeusz
Communities:
@hive-111293 ( with the team: @papi.mati @willeusz @ponpase @udyliciouz )
@hive-141434 (with the team: @graceleon @oneldoors @yrmaleza @yanelpuerta @nelsondoor @bellana )
@promosteem.com (with the team: @ponpase @pojan @talktofaith @ngoenyi @msharif @shahidchoudary @oscarcc89 @ashkhan @mcsamm @saracampero @nattybongo )
@cotina (with the team: @ecosynthesizer @psicoparedes @vamprsjr @marianaceleste @mile16 @ariannyrojas @astilem @casagrande @alejos7ven )
@steemit-pak (with the team: @haidermehdi @aniqamashkoor @salmanwains @hassanabid @vvarishayy @event-horizon )
@steem-sri.lanka (with the team: @randulakoralage @damithudaya @rasinkani @imanthadd )
@steem.skillshare (with the team: @milakz @daytona475 @lhorgic @papi.mati @atim1234 @abu78 @nadiaturrina )
Besides that I would like to invite to the project my friends and respected users with high voting power:
@pennsif @steemchiller @kiwiscanfly @the-gorilla @xeldal @stephenkendal @chriddi @disconnect