Hello Friends,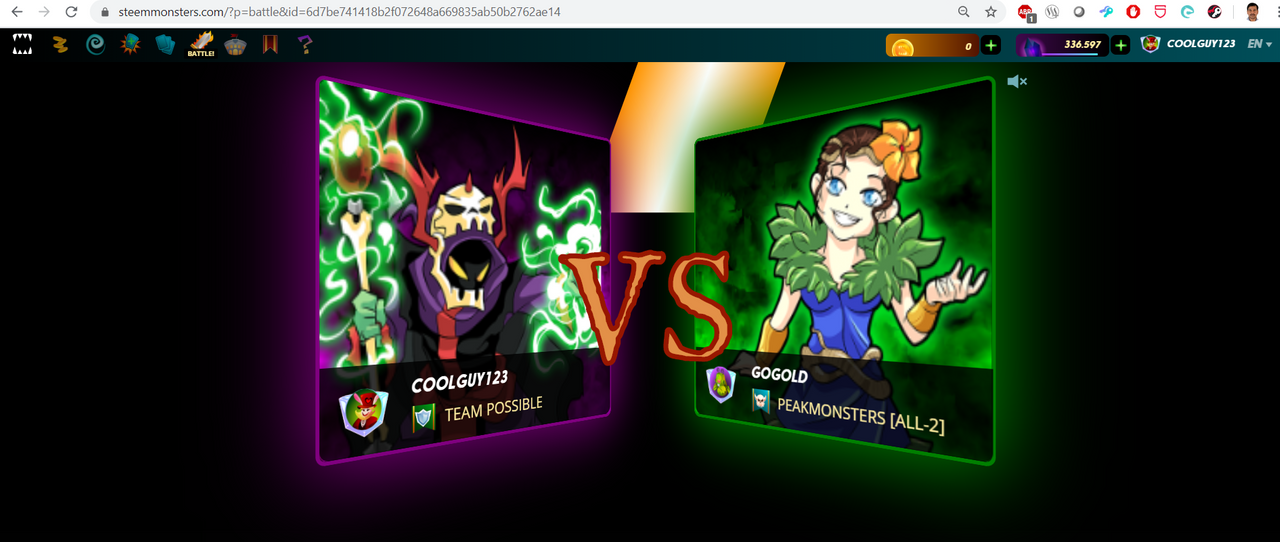 https://steemmonsters.com/?p=battle&id=6d7be741418b2f072648a669835ab50b2762ae14
Don't be confused by the title of this blog!!!
All I want to convey is about a battle where, what we think as strength became the weakness.
Well, it was a battle with lowest MANA cap I think, yeah, a MANA cap of just 12 and it was a Super Sneak battle with all the melee monsters attacking the last monster on the lineup.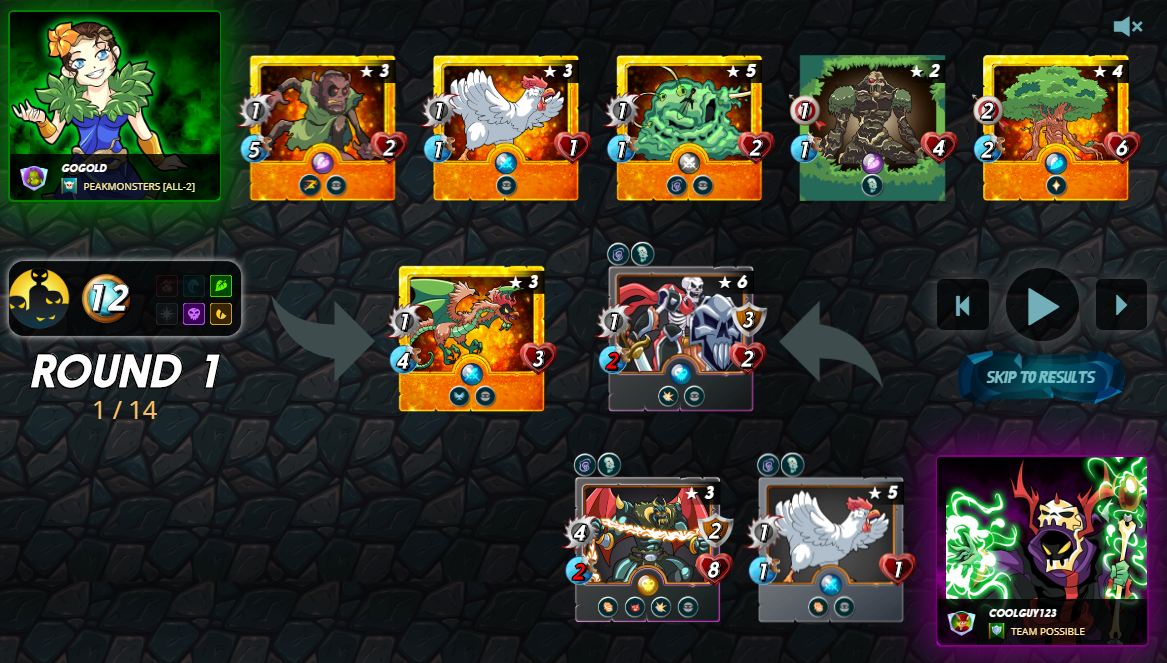 OK, so, what's the strength which became weakness here?
Here I go and show it to you.
If you see the lineup above, opponent tried to use as many as low mana monsters with an aim of targeting the back end monster.
The only monster in opponent's lineup with more than 1 attack(melee or ranged or magic) was an Earth Elemental and that targeted the front monster.
Round 1:
First and last monsters in my lineup(infact, I had 3 monsters only) were both with Dodgy ability, which means, except the Earth Elemental, none of the monsters will be able to attack since all of them were with 1 melee or ranged attack.
So, except for 1 health reduction (because of dodgy) my front monster Skeletal Warrior didn't get affected much.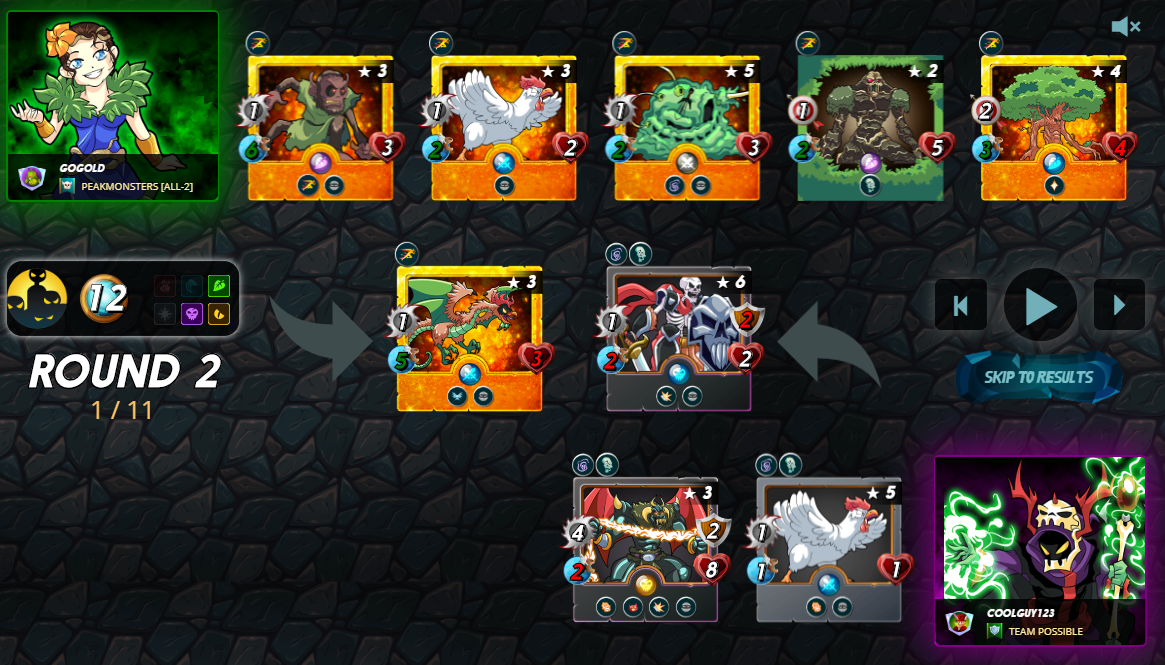 ---
Round 2:
So this same procedure continued in this round, but the point to note here is, Earth Elemental, the only monster who could damage the health of Skeletal Warrior, got removed in this round and that means, in all further rounds, there wasn't a single hit from opponent's monsters.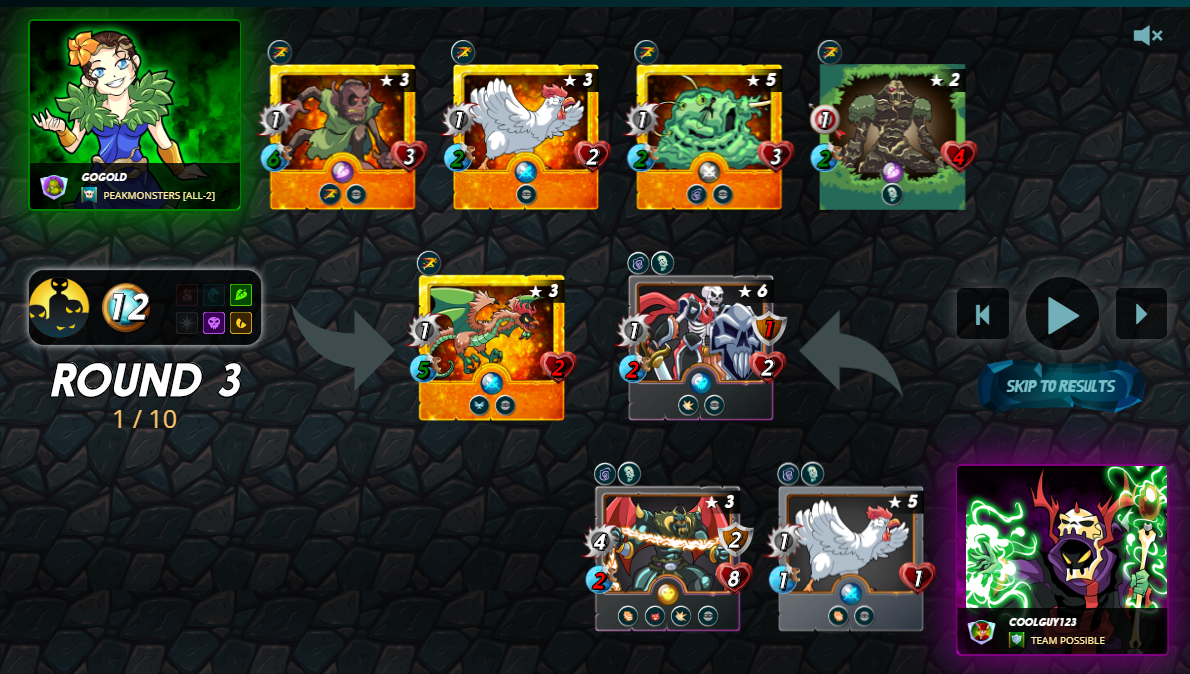 ---
Round 3 to 7!!!
Yes, this 12 MANA cap battle went on till Seventh round and from Third round onwards, there wasn't a single blow from opponent as the dodgy monsters evaded all the attack.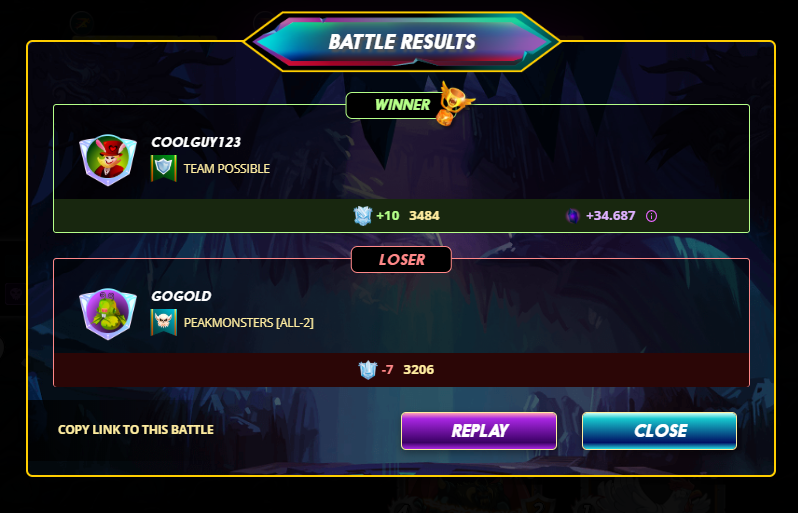 With all due respect to the opponent and his lineup, my point here is that, it was a lesson for me (and I am sure the same for opponent as well) that, we need to have monsters with more than one attack(melee, ranged or magic) as nowadays, there are many monsters which reduce the attack level and makes a monster useless.
Since, I didn't have anything in mind to write today, I selected this battle and presented to you, hopefully, there will be some positive things for you all as well :)
That's it from me for now, Good Night Guys

Not yet signed up for Splinterlands?
You can join using my referral link: splinterlands.io and get some monsters from me :)
Also, try monstermarket.io if you haven't already for your steemmonsters cards and packs purchase and get instant cashback with every card purchase.

Thanks for the votes, comments and resteems.
I am a proud member and supporter of below communities:




Do you use eSteem?
eSteem is a Mobile📱& PC💻 app. for Steem with great features. Also, you get Incentives posting through eSteem apps.
eSteem Spotlight; eSteem provides rewards for it top users in Leader Board with most Posts, Comments and Highest Earners.
---