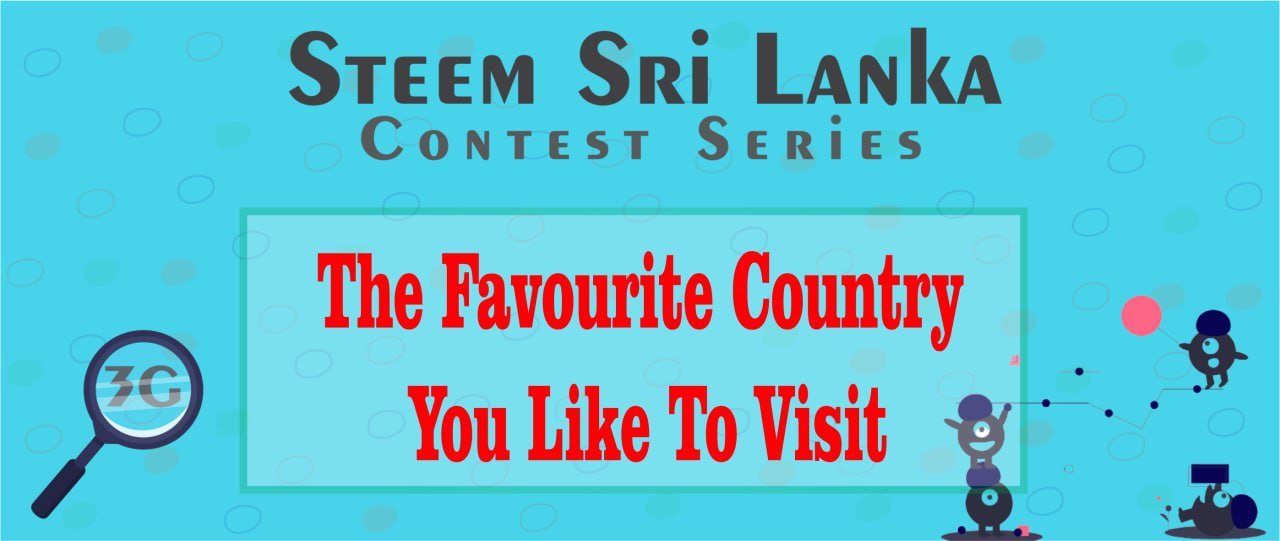 Hello Friends, I hope all of you are keeping well. This week is very important one for Sri Lanka. Because Sinhala and Tamil New Year falls in this week. So friends, I'm here to Announce my First Contest in Steemit. And this is Steem Sri Lanka 3G Contest series week 07!!!.. Ok let's see what's it about.
Introduction
Anyone loves to travel and have a fun. As well as I firmly believed that anyone has in mind a dream country to visit.No matter how many beautiful places have in your country , there is another one country that we love to visit.
And also I am well aware that you have reasons to choose that country to visit.Ok Guys, Now you have a chance to share with us your thoughts that makes this country special to you among other countries.
You Can Include
• What is your dream Country you would like to visit?
• Why do you like to visit there?
• What is the area /section district you like to visit?
• What are your dream places?
• What inspired you to visit this country?
• With whom you like to visit?
• How much budget you are willing to spend if you visit?
• How long you like to spend in the particular country?
• What are the hotels you like to spend time?
Rules Of This Contest
• The title of the post must be ; The Favourite Country You Like To Visit | Steem Sri Lanka 3G Contest Series| Week 07
• Make sure to put your entry in
Steem Sri Lanka Community
and put your entry link in the comment section of this post.
• Make sure to comment your entry link in this post.
• Only One Entry pre person.
• Resteem this post for find out more people about the contest.
• Make sure to content pictures and try to be more creative in your post.
This contest begins on 10th of April and will be running till the 17th of April at 8.00 PM (GMT + 5:30) .
Winners will be announced within 3 days after the contest ends.
The Judging Criteria Will Be
• Creativity of the post.
• Attractiveness of the post .
• Relevance and Meaningfulness of the post.
Prizes
1st place = 60% vote from booming01
2nd place= 50% vote from booming01
3rd place= 45% vote from booming01
4th place= 40% vote from booming01
5th place= 8 steem
6th place= 5 steem
7th place= 3 steem