Greeting!
We have seen multiple new faces in the community during the last few months. We are happy to see new faces with new talents and creative ideas in the community.
During the community management team discussion, we realized that we should encourage newly joined members to work according to community goals as same as their personal growth.
The aim of this announcement is to keep you informed about who are we and what is our role in the Steemit
Who We Are
Steem Sri Lanka is a community, built by Sri Lankans and the majority of the posters are Sri Lankans. We encourage creative writers and real-life bloggers who are really passionate about writing. This is one of the few communities which highly concerned about what you write and who you are.
A long time ago, our old members realized that they can not survive in steemit without each others' help and support. On September 13th, 2020 we started this community with 10 members. Currently, we have become one of the leading communities in Steemit.
By the time, we started an official curation account for the community named
@steem-sri.lanka
.
This account is powered with 0.25 M SP
by
YOUR OWN FRIENDS
. The vote that received to you is coming because your own colleges
POWER UP
and
DELEGATE
their SP to this account.
We highly expect new Sri Lankan members to start delegating to @steem-sri.lanka as soon as it is possible.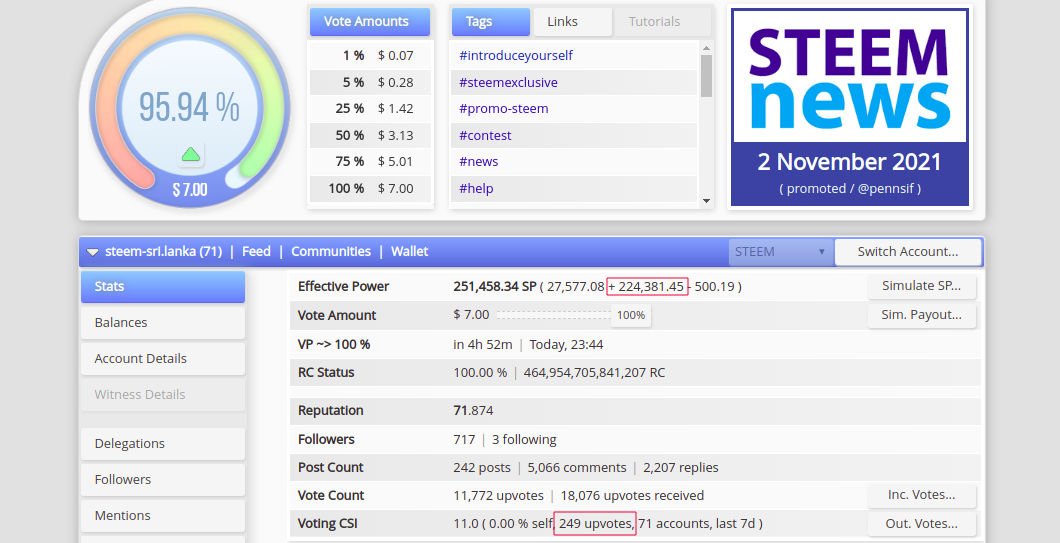 It is your self-responsibility to contribute the account that you receive votes
@steem-sri.lanka sends you STEEM weekly according to the amount you have delegated
Gathering steem power together can make higher votes than when they are in individual accounts.

Steem Power delegation means, giving your SP to someone else to use, but still keeping ownership with you.
How to Powerup
To powerup, first you need to have STEEM in your wallet. If you don't have STEEM, you can convert your SBD tokens to STEEM.
Please refer this tutorial to Convert SBD to STEEM
Then click the arrow near STEEM label and click powerup.


Then give the amount you want to powerup and click on 'Power up' button. This will require the active key or you can also use master key.
How to Delegate
Use how to do delegation tutorial to delegate using steemworld.
Please note that you MUST keep at least 50SP in your own account without delegating to cover resource credit of your account.
How to Update the Delegation
Use the edit button in the outgoing delegation section.

When you update a delegation, you must keep in mind to enter the TOTAL amount you are willing to delegate. For example, if the above user is going to add 1000 SP more, he has to modify the value as 4000SP.
To remove a delegation you can click on the X icon next to the edit button. It will take 5 days to return your SP back to your account.

What Else You Can Do for the Community?
Join steem-sri.lanka curation trail : How to do it
If you are willing, you can put beneficiary to @sl-charity, our charity fund.
Join community events including contests and promotion programs.

Steem Sri Lanka is built by people, and we need to work hard as one to grow it for the future. We are highly concerned about members' contribution to the success of the community.
10% to SL-Charity