I am trying to participate in #steemcryptochallenge
Cryptocurrency is a thriving ecosystem:
Some economic analysts predict a big change in crypto is forthcoming as institutional money enters the market. Moreover, there is the possibility that crypto will be floated on the Nasdaq, which would further add credibility to blockchain and its uses as an alternative to conventional currencies.Some predict that all that crypto needs is a verified exchange traded fund (ETF). An ETF would definitely make it easier for people to invest in Bitcoin, but there still needs to be the demand to want to invest in crypto, which might not automatically be generated with a fund.
Harvard University Professor of Economics and Public Policy Kenneth Rogoff suggests that the "overwhelming sentiment" among crypto advocates is that the total "market capitalisation of cryptocurrencies could explode over the next five years.
[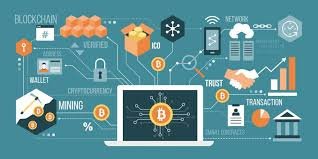 source
Indeed, there are many stories of people becoming millionaires through their Bitcoin investments. Bitcoin is the most recognizable digital currency to date, and just last year one BTC was valued at $800. In November 2017, the price of one Bitcoin exceeded $7,000.
A cryptocurrency is a digital or virtual currency designed to work as a medium of exchange. It uses cryptography to secure and verify transactions as well as to control the creation of new units of a particular cryptocurrency.
We are going to need a global digital currency. Cryptocrreuncy is gone a be great democratizing force for the world. what's really powerful about cryptocrreuncy is that it lets anybody if you just have a smart phone and internet connection participate in the global economy.
I think cryptocurrency are gonna be as impactful to humanity as the internet has been.
How will cryptocrreuncy affect in future:
How cryptocurrency its affect users (traders, holders)
I think if cryptocurrency rise then global economy and traders will have a profit. Crypto currency new in market and this currency is use online. Now everyone have internet exsist in their smart phones, laptop and computer. This is easy way to use cryptocurrency in online in every where.
1
If cryptocurrency rise then we have easy to purchase mobile and other things accessories with cryptocurrency. If the cryptocurrency go higher in future it will banifit the traders and holders very much then newcomers of crypto will face many diffuclties so this is the time we have to inhance our knwoldge in crypto and as soon we know more and take intersest in crypto. This is the time for think and work for our bright future.
2
If the cryptocurrency will go down in future then the big amount of loosers will be traders and holders of cryptocurrency. They will face the biggest lost from a common man who did not knew about crypto.
How will cryptocurrency affect on common man or not user of crypto:
1
If cryptocurrency will go higher in future then the person who is not intersted in crypto or a person who dont know about crypto will face the biggest lost and they will feel sad badly because why he did not participated in crypto world or why he did not understood crypto.
2
If the cryptocurrency go down then both of them will not face any lost and do not get any profit.
Final thoughts:
These were common factor and point and I tried to write about how will cryptocurrency affect in future by going high or down. As we all knows and surely hope and can see the bright future of cryptocurrency.