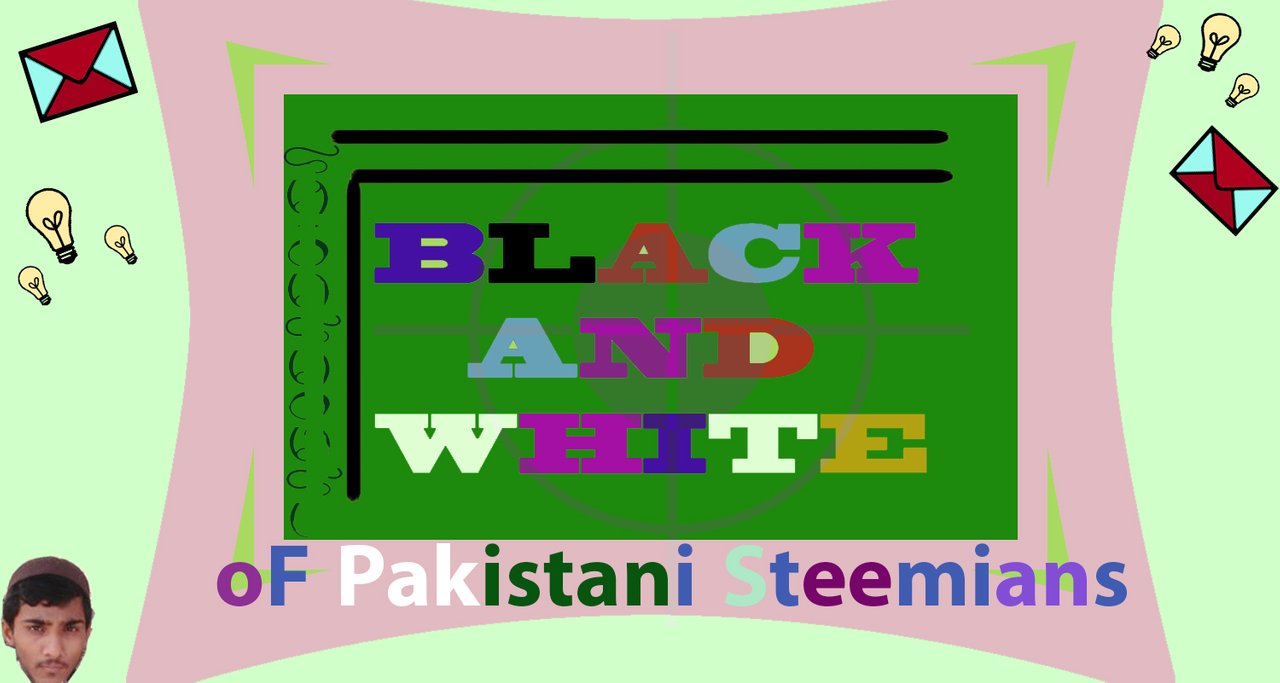 Respected Mentions:
@steemcurator01, @steemcurator02, @steemcurator07, @abdt, @rashid001, @haidermehdi, @sardar-sani, @steem-pakistan, @steemit-pak, @hassanabid, @randulakoralage, and all.
First of all i apology for bad editing and writing.
i apology for all mistakes.-
Respectfully reply to representative: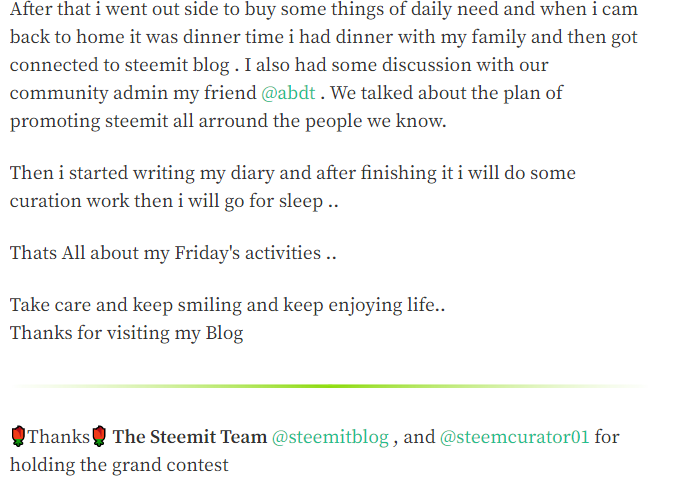 That was the time, when there was just us. We was just four people at that time united. I love that memory.
Rashid using steemit in day mode: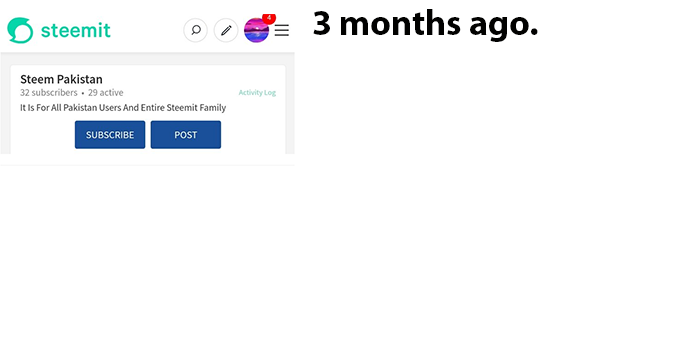 Long time back, he used day mode. (out of topic: day mode mean white mode, and white is a symbol of peace work and honesty. But black is a feeling of anonymous work, and it is night mode). He used day mode for long time, i don't know the amount of time. But when he left us, and started working with his fellows he suddenly started using night mode, that is strange.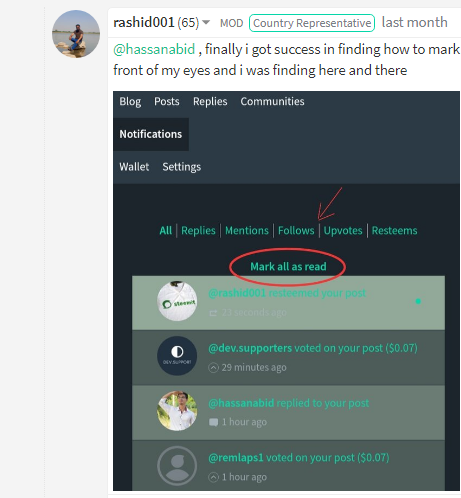 Where i remember @haidermehdi was using night mode from start. Then this is the strange thing for me, that rashid sir changed the mode after teaming up with them.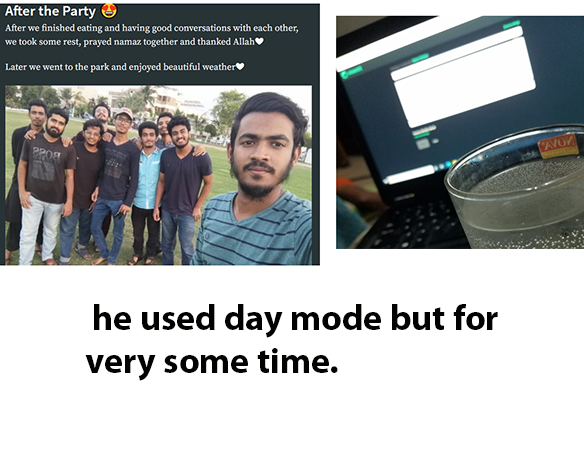 This is not the big point to be noted but it can be. Because rashid sir is now in travel and he is very busy in his life so how that was easily possible to find @wolf-kinght first post. This is very strange, rashid sir still don't know many things of platform.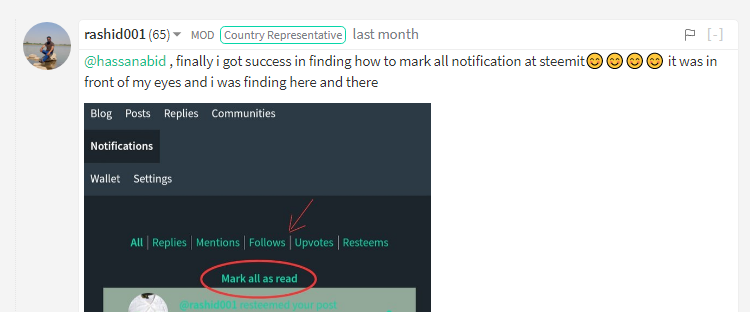 (hehe, and he is country representative). Because i think a country representative have to know all issues and fixes of platform like the other country representatives do. @abdt @hassanabid @sardar-sani are well users of pakistan and they are using steemit for long time. Sorry to say, but the selection of a representative was little quick.
Big blame by rashid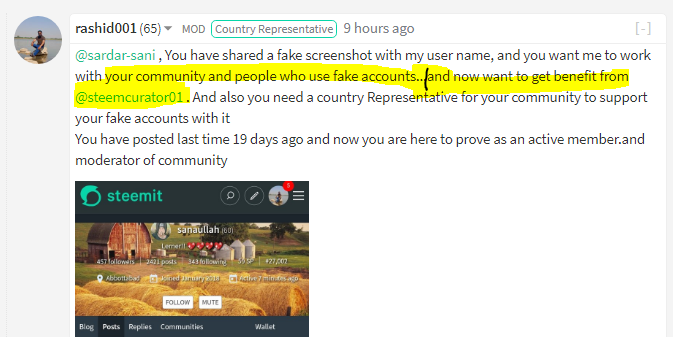 Do Everyone is using fake accounts in Steem Pakistan community? What was your point? if you was saying about a person you have simple mention. Do you really want to say @abdt @laraib07 @pink-ring me @sardar-sami etc all are using fake accounts. People is a word used for plural try improving it.
Secondly,
and now want to get benefit from @steemcurator01 .
Then what is that i found, is this not a complete begging for a vote.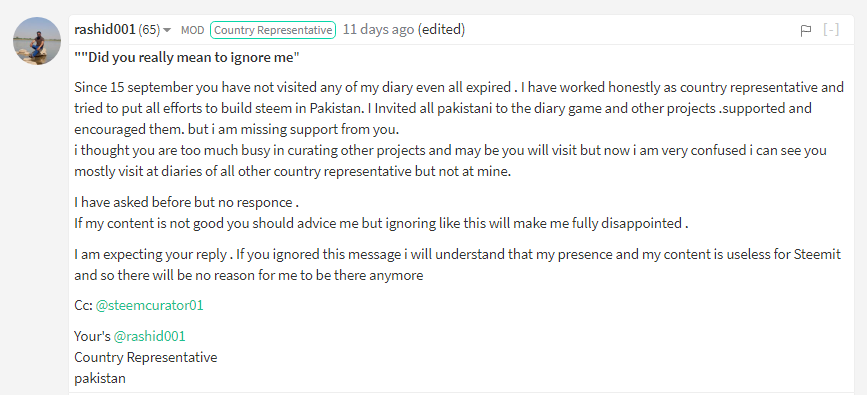 What you tried through this comment is that was not asking of a benefit? i strongly feel that you tried first with a post.
https://steemit.com/steem/@rashid001/why-steemit-users-become-dormant-or-country-specific-curator-accounts-could-be-better-or-idea-for-steemit-promotion
the post includes "a good user" and that types of words i feel these are used for the author only. (haha apney monh meaan mitthhu bunnaa).
Third,
and now want to get benefit from @steemcurator01 .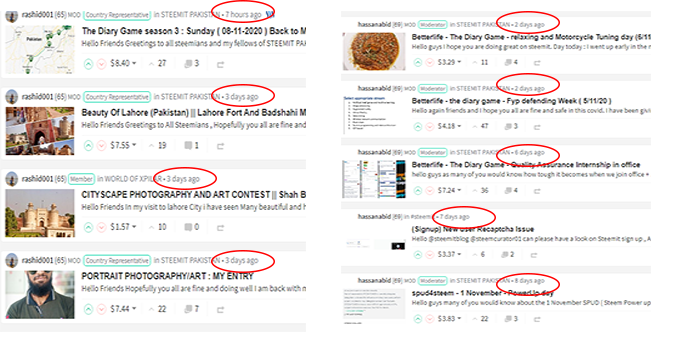 Have a look here,
so Sorry for marking the activity i just replied to country representative blame. hence it is proved who is getting benefit and asking for benefits. (i hope all readers are active on post still now)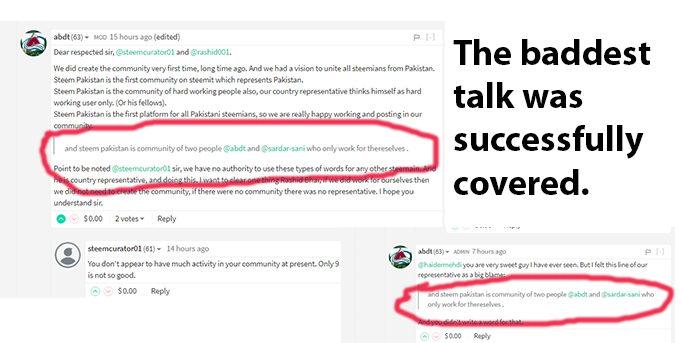 I am sorry @abdt, but that was written by a country representative . you have to read these types of talk, you have to control on these baddest blames. literally everyone ignored @rashid001 mistakes from whole page. (i would love to invite @randulakoralage must).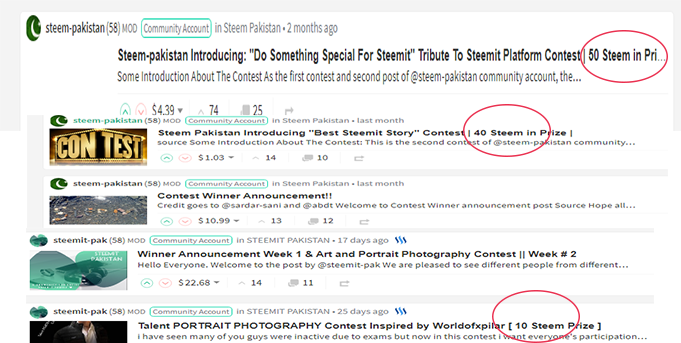 i am feeling this is not a good comparison. you can compare these community accounts with their main photos, cover profile, banners etc.

i don,t want to be a cause of any heart pain. but did you checked @abdt doesn't vote ever? if he not done last week as he told of his project, this will only be a judgment of a person by a week. (Really you do this, oh that's why you wrote good things about rashid because you judge people in weeks and months as you told)

Digitally you can believe on rashid while working with him for 3 months. (+_+) if @abdt were a country rep and you spend significant amount of time with him your opinion would be same. (try to think in this way)
In last:
@rashid001 made a post of unity this is a good step forward. (vadi jaldee kar detti aa, ) as @steemcurator01 told us to advice and ask each other. We do not done that, we started fighting. you and we have to take a next step forward give and get advice. rashid used the most bad words and blames on our community and members, this is heart breaking from a country representative. (_).
CR application:
i am agree with @abdt this community members will be ruined if they did not got any separate CR. they are very supportive members and support each other nowadays person like me is really disappointed because i really never got good support ever from @rashid001 sir, after he left this group.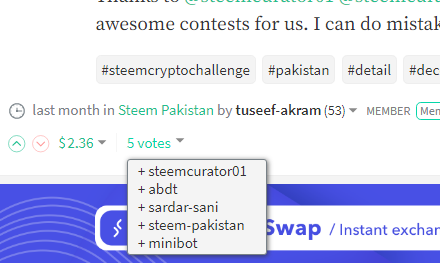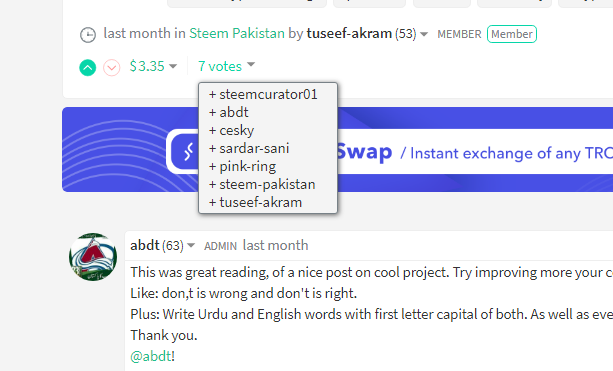 i wish @randulakoralage will see these snipshots. I wish you will more improve your judgment as we all have to improve our six senses.
only on last post he supported. that is,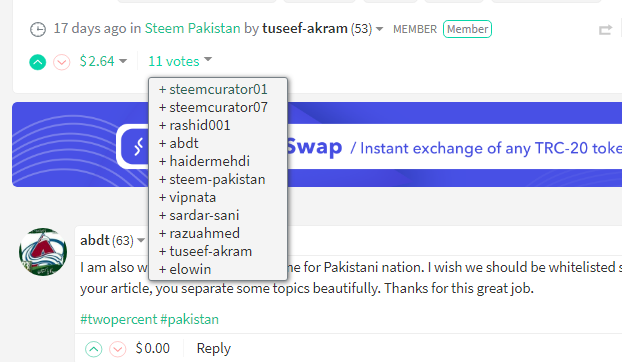 as you can see where is rashid there is @steemcurator07. but where is rashid on the upper snipshots posts? i was doing one post a week. you can see comments of @abdt and votes of other fellow members. (@_@)
i am sure @abdt could be a good representative for pakistani members. he applied so far he wanted to give benefit to all pakistani members truly. i request @steemcurator01 for a second look.
because it seems @steemcurator01 want all pakistani members back in Steem Pakistan you can see the snipshot.

he mentioned steem pakistan members first he mentioned @steem-pakistan for twice. if they are not joining us back we aim to sorry that we will loose our hope to work on the platform. we still have 15+ active pakistani users, if there will be a CR. because people want some worth on their work. they are not happy with comments and worthless votes.
important;
i can not reply to comments i am poor person and i don;t have any net source. if there will comment s i will reply all through the post. i use steemit on my father mobile my mobile was taken by brother. so i don,t have any resources.