Think Fast
In the upcoming 1.04 patch there are already two new pieces, Zebra and Safari, which can be found on the Favor Chess discord server. This is (possibly) the final new piece for 1.04: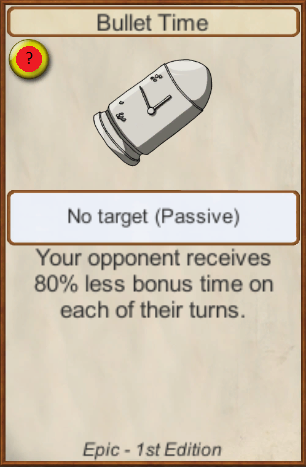 Bonus time is the time added for each move. In Favor Chess standard ranked play, it's 6 minutes of clock time and 10 seconds of bonus time each move. If you complete a move before your bonus time is over, half of it is added to your clock time. A player loses when they reach 0 on their clock time, as in regular chess.
How many points do you think this token is worth to include in your army? Is Bullet Time a sin against humanity?
For those unfamiliar, Favor Chess uses a points system similar to CEO. Tokens are added to your army like pieces except they change the rules or give you additional abilities.