I see the "unofficial" version already posted here (which is probably de facto official within the community anyway, idk); thought I'd do the same for the "official" version.
Not even sure if this is useful anymore.
https://ceopiecemaker.github.io/
I don't remember if I have documented my previous change, so I'll do it here again anyways:
Changed ability symbol font. The font was an unnameable font stolen from somewhere, and this time I found a sorta-open font (KreativeSquare), which is hopefully legal (I've also included the license in the repository but who cares)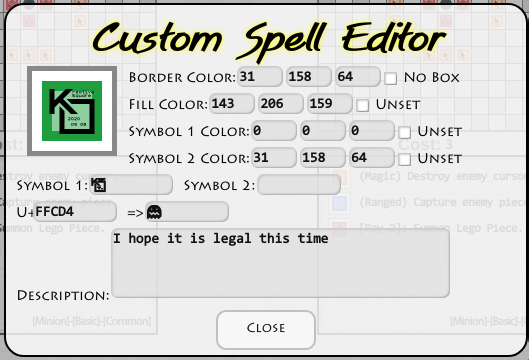 This font includes quite an amount of private characters, which might be useful for pretendpiecing as well. You can check here for the characters they support.
They are not necessarily centered (I've overridden a few) or fine-tuned, but I have modified the code (mainly alignment) a bit to make sure that they transition smoothly from the previous version.
Oh, and
Updated descriptions to 0.54, added legacy abilities.
Hope I didn't miss some description changes. Do tell if there is.
There are not much plans to modify the site further for now (maybe incorporate the line drawing tools back, idk). I'll see if people are still interested in the non-forked version first.
Edit: Seems like the the two superior forked versions have the above changes since long anyway. welp.