This is a quick piece tourney to honor v0.54. Thus, it will be heavily based on v0.54 stuff. There are 5 rounds in this tournament. Each round there is a challenge and a bonus challenge. Meeting the challenge and/or bonus challenge is required for your piece to qualify, meeting the bonus challenge allows your piece to get bonus points.
You may enter any round of the tournament. Each round has a 40 RP prize. The overall winner (based on the sum of your best scoring pieces each round) gets 100 RP. Each round lasts 3 days. Voting for each round will also be 3 days, and will coincide with rounds.
The rating scales for the contest will be these (0-5):
Creativity (how good is the idea behind the piece)
Theme (how good the piece fits the flavor)
Execution (how good the piece is designed and balanced)
The bonus scale is from 0-2. The bonus scale ranks how interesting a piece is to play around with in scenarios.
Art is not required for this contest.
You may submit an unlimited number of pieces for this contest. Remember that quality is better than quantity, and ultimately only the best piece will win each round.
---
The tournament is over! dragon_of_celts is the overall winner with a total score of 37.58!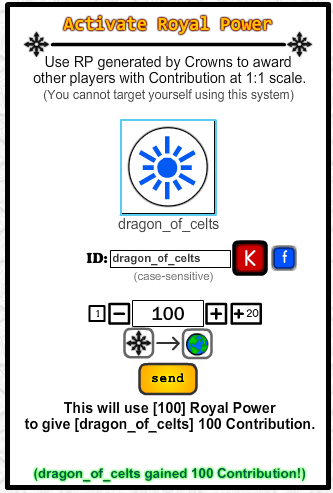 Overall scores are here: https://docs.google.com/spreadsheets/d/1G5TE__4mwtR5Nle7_GfG3w9plJ2tldK4iwZjkKl4aWs/edit?usp=sharing
---
Pieces should be made in this: https://james1011r.github.io/ceopiecemaker-UPLE/
https://ceopiecemaker.github.io/ also exists but it lacks features compared to the UPLE piecemaker
Submit pieces by commenting on this post and specifying the round the piece is for. Ideally use images. Submitting via commenting on this post is recommended.
You may submit pieces via Kongregate PM here, but I will post your piece here with your Kongregate name attached: https://www.kongregate.com/accounts/James1011R/private_messages
Submitting via PM is not recommended as you will potentially lose out on Steem currency.
When voting, it is recommended to sort comments by age.
---
thread icon: