Hi Friends and Fans!
Week 6 is going great again! The music is from an outstandingly high level, and we are nothing but proud!
In This Update:
Song Requests: #songrequest
Song Reviews: #songreview
Referral Bonus
Top 35 artists Music For Steem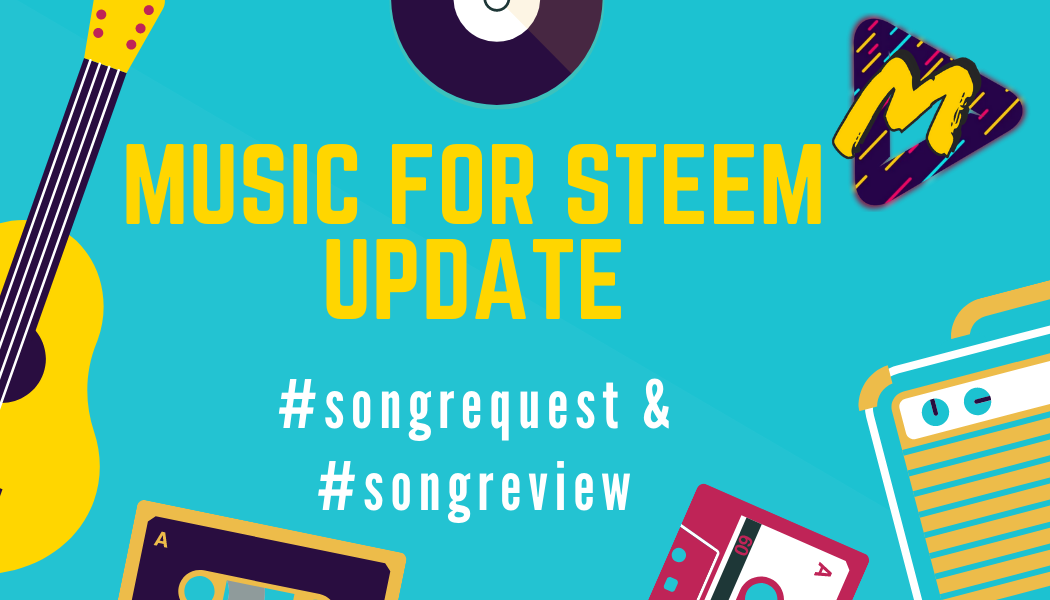 As we now have a great idea of the potential and the styles of the music artists, we can go and request them to sing a particular song you like. This can be for the contest Music For Steem, or as extra performances. Below, you see the names of the top 35 artists based on their previous performances for MFS.
How does it work?
EVERYONE can make posts addressed to their favorite artists. Per post, you make a selection of 3 songs you like that artist to sing or perform. In every post you make, you can request 3 different songs. At the moment, there is a selection of 35 artists (below), so you can already make 35 posts! (not all at once :P)
Use hashtag #songrequest
Post in Community Music For Steem
We will read all your posts and the top ones will be included in our regular "Request Your Song"-updates.
Every day, new songs are published for the contest #MusicForSteem! We like you to write comments on each artist their songs + to make a post with all your comments and reviews about the artists. + your TOP 5!
How does it work?
a. You visit the posts published for Music For Steem. You can find them using #musicforsteem, following the artists below, and the official Steemit community for Music For Steem: https://steemit.com/trending/hive-137433
b. You comment on each artist what you liked, what was the best part of the song... Anything you can think of when listening to the song. Please be kind and give positive criticism. Reviews are not: Wow! Cool! Nice! Great! Awesome!. But a couple of sentences long.
c. At the end of the week: This is on each monday, you can make a post with all your reviews (comments) of that Week, currently, we are week 6! And your top 5 of that week! Use #songreview
3) Referral Bonus!
We still have the referral bonus for bringing in NEW artists you know to Music For Steem! Any referral can you gain up to 14$ in upvotes extra! Go and contact your musical friends, let them join Steemit and make a song! When they mention you in their posts, you earn too!
LIST OF 35 TOP ARTIST OF MUSIC FOR STEEM
(Please follow them)
@fabian98: Spanish covers + Guitar
@davidcentenor: Spanish covers + Song-writer+ Guitar
@cmp2020 & @esouterhn3: Covers + Classical Songs + Broadway + Piano
@edwardstobia: Guitar + Singer-songwriter - Covers
@melor9: Spanish covers + Guitar
@rypo01: Spanish covers + Family set
@dianakyv: Covers
@gaborockstar: @spanish covers + Guitar
@nestorchacin: cover artist + guitar
@randolfmandolina: Guitar
@mariajruizb: Spanish covers
@eugelys: Spanish covers + Guitar
@danieldedosd2: Spanish covers + singer-songwriter + guitar
@gabrielinho: Spanish covers + Guitar
@leomolina: Spanish covers + Guitar
@gabrielamenesesg: Covers
@juliolunar: Covers + Guitar
@futuremind: Singer-songwriter - Guitar
@yusmi: Spanish songs
@mailleyn : Covers + Piano
@juanmolina: Spanish covers + Guitar
@ricardomello: Electric guitar
@anatolianwisdom: Turkish Songs
@edmundocentenor: Spanish covers
@rbatan: Spanish covers + guitar
@davidsuarezms: Guitar + Singer-songwriter - Covers
@betzaelcorvo: Spanish covers
@shemzee: Covers - Singersongwriter
@betzaelcorvo: Spanish covers + Guitar
@raymondelaparra: Spanish covers
@dali13: Piano
@vmoeller: Guitar + Spanish songs
@davidke20: Indonesian Songs
@sayuru: Spanish covers
@hattaarshavin: Indonesian covers