♥ASSALAMU ALAIKUM OA RAHMATULLA♥
---
---
Hello.....!
My Dear Friend's,
This is @ashik333 from #Bangladesh.🇧🇩
---
---
♥"Ammajan" Movie Review♥
Hello my friends, how are you all? I hope everyone is fine. I am also fine. Friends, today I will discuss with you about one of my favorite movies. The name of the movie is "Ammazan". It is a very popular movie in our country. I hope you like it.
---
---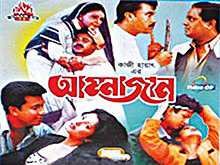 [Image source]
(https://bn.m.wikipedia.org/wiki/%E0%A6%86%E0%A6%AE%E0%A7%8D%E0%A6%AE%E0%A6%BE%E0%A6%9C%E0%A6%BE%E0%A6%A8)
Some movies are made for the crew of the movie, people always remember that this movie would not have happened without him. Similarly, if there is such a movie in the hands of the well-known actor of Bangladesh, the late "SM Aslam Talukder" alias Manna, it will be "Ammazan". "
---
---
Dipzol doesn't have a very good reputation but he deserves praise for writing such a story from the heart. The movie was very popular at the time, although I did not see it in the release. I saw it later. Also, the main character of the story "Badsha" won the Best Actor award. And yes, a song from this movie that became so popular that its effect can still be seen, there is no one who doesn't like this song, I like it too so I tried to sing it myself. And although I was not an artist, I was able to sing from the heart. Some people also liked it.
---
---
I have seen a lot of Manna's pictures but Amazon is the best of all and also his hard work movie is great. In fact, if you start talking about this Amazon movie, it will not end, it is only because of great acting, great story, great management, great songs all in Bangladesh. A movie that will always be in the form of a real resource.
---
---
Story summary:
Lal Mia works as a factory supervisor, he died in an accident due to electric shock. Lal Mia's wife Jahanara and son did not know what to do then they go to the factory owner for help and are humiliated by the king's mother and her own mother in front of her. Unable to bear it, he took the law into his own hands. Badshah is a minor, but Badshah is a minor. The police arrested him and his mother, but Badshah refused to leave his mother. No. How is the next life of the king and his mother after getting out of jail! If you want to complete the digging of the rest of the story, you must watch the movie "Amazon" which has not been seen by you till today, otherwise you will regret it after watching it.
---
---
Let's find out who contributed in front of and behind the camera for the movie.
Movie
Review
Movie
"Amamzan"
Director:
Kazi Hayat
Author:
Monwar Hossain Dipzal
Producer:
Monwar Hossain Dipzal
cast:
Shabnam,
Manna,
Mausumi,
Amin Khan
Monwar Hossain Dipzal,
Mizu Ahmed and many more.
Genret:
Drama, Crime, Action.
Duration:
145 minutes
Release year:
June 25, 1999
Country:
Bangladesh
---
---
Thank you everyone