This Post is Dedicated To Help The Poor People Of Bangladesh By Providing Foods in This Ramadan
As you know, Bangladesh is one of the most densely populated country. According to a research, 40 million people – one quarter of the population – remain food insecure, and 11 million suffer from acute hunger in Bangladesh. United Nations Food Program
Coronavirus pandemic has exacerbated this food shortage. Many people have lost their jobs. Due to the issuance of lockdown in the country & increase in the price of goods, many families will face financial problems during this upcoming Ramadan.
So, I @mahirabdullah, my brother @abuahmad have undertaken a project for helping those helpless people in this ramadan. My cousins @tanveer741, @rifat3 (not an active member of steemit) & some of my friends will support us to accomplish this project . We are planning to provide at least 15 days of food to each family who are badly in need of food.
Project Details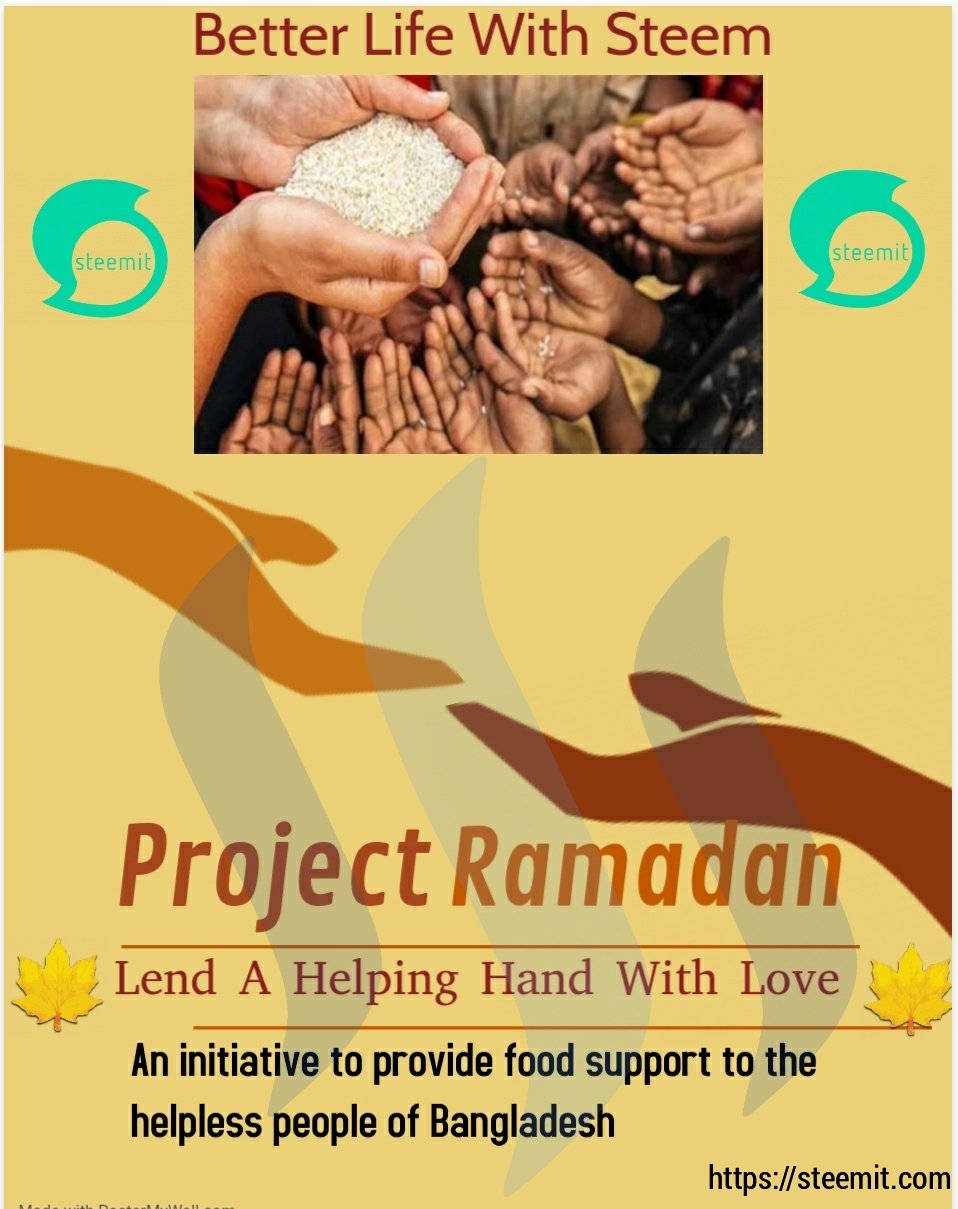 Made With PosterMyWall Photo Source
After several discussions, we made a draft copy of the expenditure list for each family. There might be slight change if we find anything more important to provide them.
| Food (For Each Family) | Price (In Bangladeshi Taka) | Price (In USD) |
| --- | --- | --- |
| Rice ( 5 kg) | 250৳ (50tk per kg) | 2.98 $ |
| Onion (2 kg) | 80৳ (40tk per kg) | 0.96 $ |
| Potatoes (2kg) | 40৳ (20 tk per kg) | 0.48 $ |
| Lentils (1 kg) | 110৳ | 1.31 $ |
| Salt (1 kg) | 35৳ | 0.4$ |
| Puffed Rice (1 kg) | 70৳ | 0.83$ |
| Dates (250 gm) | 62.5৳ (250 tk per kg) | 0.75 $ |
| Approximate Expenditure | 648 ৳ | 7.71 $ |
So, Total cost for each family is approximately 7.71 $ (USD). It has not yet been decided how many families we will be able to help. Because, this will depend on how much money we can raise in the upcoming seven days. But we want to help at least 15 families through this project. So we need atleast 115$ - 120$ to accomplish this program successfully. Our minimum target is to help 15 families but maximum target is infinite. We will be trying to increase total amount of money as much as we can.
How We Are Arranging The Money
I'm going to take an initiative to make this project successful. Every money I earn from this post to upcoming seven day's post in steemit will will go to the fund of this program. I hope my brother @abuahmad will join with me. Also, I've saved some money that I earned from this platform to contribute in this project, Thanks To Steemit.
We'll try to collect money from our friends, relatives, cousins as much as we can. I am inviting every single member of @steem-bangladesh community as well as all the members of steemit to support this nonprofitable program & make the project successful.
I'm requesting admins, moderators of @steem-bangladesh community to come forward & help us making the project successful.
Also, I'm requesting support from our respected @steemcurator01, @steemcurator02, @stephenkendal, @trafalgar, @steemchiller, @kevinwong @xpilar and everyone on steemit.
I've created a charity account ( @bd-charity) to maintain this project more easily & transparently. I've posted about our goals in Newcomer's Community.Post Link
I'll be posting updates of this project on how we are approaching with the charity account . After completing this project, we will share how we completed our work in a detailed post, Insha-Allah.
100% Earning From This Post Will Go To The Fund Of "Project Ramadan"


And Finally, I want to request everyone, Take initiative to help the people around you as much as you can. Because there are many people living around you who are passing a very hard time you may even don't know!
Thank You