Hello beautiful people,
Hope you are doing well. I am going to participate in a contest on science, technology, and computing organized by the Steem Bangladesh community. A big thumbs up from my side for providing us with a good platform.
---
---
What is E-Ball Technology?
It is a new revolution in the design of our PC world. It is a sphere-shaped PC that has all the common features like keyboard, mouse, display, DVD, etc, which is available on traditional laptops and desktops. But it doesn't have an external display unit like other PCs. It has a projector which will pop up on the wall. It is the smallest design among the available PC. The coolest thing about this PC is when the PC is closed any general person can not guess that this thing can perform all the computer functions. They will think of it as a normal box. Though this technology is cool it isn't implemented yet, it's just a concept.
---
---
Who Introduced E-Ball Technology?
Based on out-of-the-box thinking, a designer called Apostol Tnokovski has thought about this concept of PC. He proposed that he will build the world's smallest PC sphered shaped and it will be called E-ball. He proposed that this PC will have a button and by pressing it a projector screen will pop up and the user can navigate on that screen. He has designed this PC for Microsoft Windows OS and his proposed diameter measure for this PC is 160mm.
---
---
Configuration for E-Ball Technology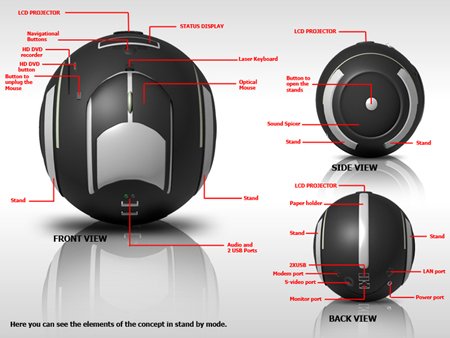 Source
---
For the E-ball technology PC design the proposed configuration is given below:-
Processor will be dual-core
HDD will be 250-500 GB
A 2GB RAM
There will be integrated graphics and sound card
Speaker section will have 2x50W
It will have an HD-DVD recorder
LAN and WAN cards will also be there
Wireless optical mouse will be there with a laser keyboard
Webcam and integrated projector will also be there
So, far it's a good configuration for this small size of PC.
---
---
How E-Ball Technology will work?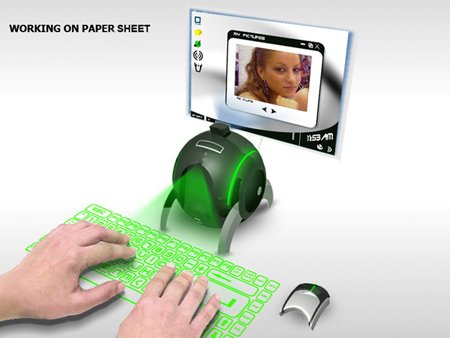 Source
---
Mainly E-ball is a box, which doesn't have any display, keyboard, or mouse like the traditional PC. It has a button on the top and by pressing it a projector display will pop up on the wall. If the wall is not present then it has a paper sheet holder which can be used as a monitor. For the keyboard, it will have a laser keyboard which is a concept so far and it will recognize fingers with an IR sensor. This PC will be a great handy in-office presentation, video playing, large screen movie, listening to music, and performing other general internet things.
---
---
Advantages E-Ball Technology
Most important thing is, this PC will be portable
It will be much more efficient
This PC will be a more secure one
It will be very easy to use
It will provide great handy support for video presentation
Disadvantages E-Ball Technology
Other operating systems can not work on this computer
It will be difficult to find out any hardware error as it's a compact size
This PC will cost a huge amount of money for production
---
Now, technology has vast improvement. It's possible to have the whole computer inside our pocket and use it anytime, anywhere. And this ball computer will take the computer world a further level ahead.
I would like to invite @norbemigbe87, @thairisdc to participate
Thanks a lot