Hello everyone, and welcome to this week's edition of Steem Saturday! A lot happened this week, and I will discuss it here.
Coming Together!
First, I would like to talk about all of the new users I found this week. Please note that an equal share (about 16 percent) of this posts rewards will be given to each of these new users, with the remaining rewards (about 4 percent) going to @steemit.
Welcome to Steem!
While there were a lot of introduction posts this week, I only read so many, and I could only include so many. Specifically, the site was down for a bit this week, and I was not able to comment on new users posts. These users had some of my favorite introductions this week. Please note that a star next to the username means the introduction post was Steem Exclusive.
| User | Date | Description |
| --- | --- | --- |
| @peaceafriksblog* | 5/15/2020 | In this introduction, Inetianbor discusses herself as both an introvert and an extrovert at times. She is writer of both fiction as well as nonfiction, and a blogger. She also enjoys Gospel music! I hope she finds much success here on Steem! |
| @alsaud* | 5/11/2020 | Md. Al-Saud Sarkar is a health worker from Bangladesh. His aim is to help people, and because of that aim, he tries not to miss work at all! In addition, he provides his patients with nutritional advice in regards to which foods are healthiest to eat! It was interesting to read about his life, and I hope that he does well here on Steem! |
| @luna-ku* | 5/15/2020 | Ku is a native Spanish speaker from Peru. In addition to Spanish, she understands a little Portuguese, and is learning English! She hopes her time here on Steem will help with that. She specializes in visual art, but also loves traveling, gastronomy, photography, the natural - spiritual life, learning about ancient cultures, magic, and natural medicine. All of these topics will make for great posts here on Steem, and I look forward to seeing them! |
| @thonysss | 5/12/2020 | Anthony's passion is sports! He is from Venezuela, and works as a personal trainer in the city of Quito. He has been involved with bitcoin since 2015, and is now experimenting here on Steem! |
| @kaysmile44 | 5/9/2020 | Asaolu is 27 years old from Nigeria. He is currently going to school for electrical engineering at the Federal University of technology Akure. I hope that he will continue to post about his experiences and anything that may interest him here on Steem |
| @sammi543 | 5/11/2020 | Samiul is also in his final year of high school (for those of you who didn't know, I am a senior). He loves music, and lives in Bangladesh. |
Please help make all of these new users feel welcome!
What's Happening on Steem?
7 Days of Steem
Saturday 5/9/2020
Last Steem Saturday, we saw a post about Steem Tools. These tools help to simplify the process of performing different tasks on the blockchain! Learn more about this day of Steem
Sunday 5/10/2020
This day of Steem was the weekly roundup. These weekly roundups summarize a lot of what happened over the course of the week in the community! Learn more about this day of Steem.
Monday 5/11/2020
This day of Steem marked the writing challenge for the week. This week, users are encouraged to write about their favorite local sports team for a potential upvote from the Steemit team. Learn more about this day of Steem.
Tuesday 5/12/2020
Tuesday discussed the Steem Pod project. I am happy to say that my role as a Steem Greeter makes me a part of that project! The Steem pod is a project dedicated to enriching the platform through community based efforts such as greeting, curating, and promoting. Learn more about this day of Steem.
Wednesday 5/13/2020
This week, there was not a photography challenge. Instead, users are challenged to assume the role of a journalist for a day, and report on something going on in the area. You can submit a post, and potentially receive an upvote from the Steemit Team. Learn more about this day of Steem.
Thursday 5/14/2020
Thursday, the site and the API went down for a bit. I am not sure why. That day, we also had the announcement that they are looking for curators to curate for their respective country! Learn more about this day of Steem.
Friday 5/15/2020
Yesterday saw yet another community challenge. This one is to come up with three ways to improve your local area. You can post a submission for a potential upvote from the Steemit team. Learn more about this day of Steem.
I would encourage new users to follow the account @steemitblog. There is currently a 100 day project going on in which something new is announced each day. Some of these announcements are challenges that you could submit to! Make sure to stay informed!
Steeming Curators
@ciska, and @cryptokannon have launched a voting trail through their account @steemingcurators. If you join this trail, you could potentially receive an upvote each day depending on how much Stake you commit. The trail has grown to over 100,000sp backing it, and I am happy to say that I am one of the accounts following it! If you are interested, I recommend you check out the trail, and consider joining. Here is the post.
Twitter Proposal
@stephenkendal announced an interesting proposal to include dollar value, and related hashtags in tweets sharing Steem articles. Check out his post!
What's Going on With Me?
Wizarding World/Harry Potter
I will admit that I was not insanely active this week because I dedicated a lot of time to reading through Harry Potter and the Goblet of Fire. I look forward to posting my initial thoughts. But, a lot happened this week with JK Rowling asking about Bitcoin on Twitter. I just learned about it from @stephenkendal, and sent a tweet asking her to check out the Harry Potter community here on Steem. I would appreciate any support you can give (either by retweeting, or liking, or making your own tweet about it). I think this is the perfect opportunity to try to grow the Harry Potter community here on Steem! Click the picture to see the Tweet!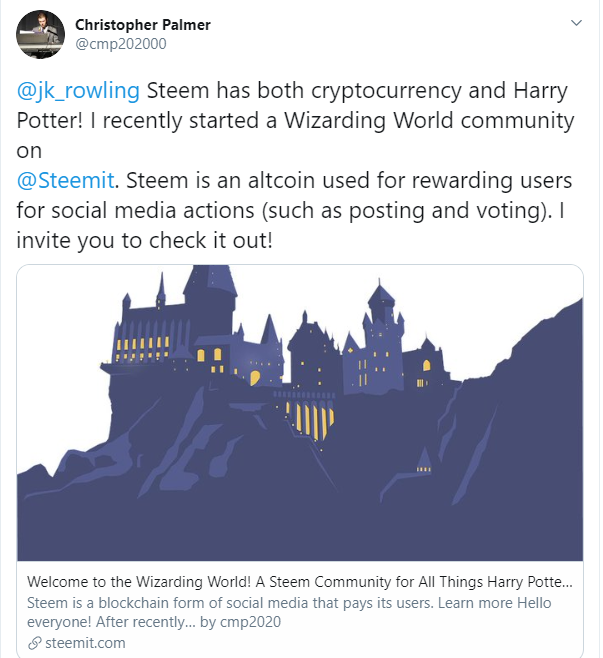 Discussion Posts
This week's post for rewarding discussion on the Steem Blockchain is to talk about your college/school experience. Join the discussion for a share of the rewards! Here is a link.
Conclussion
Thanks for reading this! Welcome to Steem for those of you who are new, and Steem on for those who aren't!