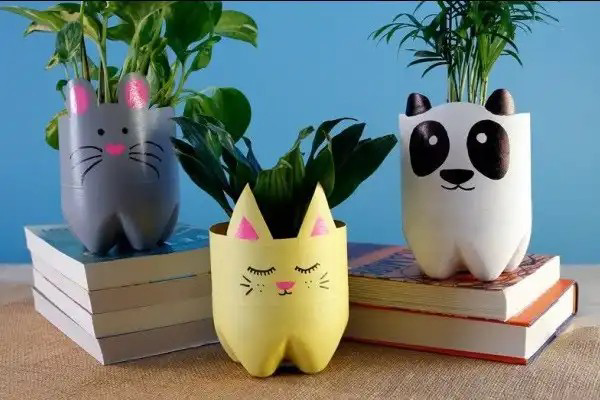 Source
sampah merupakan masalah sosial yang terjadi di kalangan masayarakat, akibat masyarakat yang tidak bertanggung jawab dalam menetapkan dan membuang sampah sembarangan. oleh karena itu untuk mengurangi dampak sampah di kehidupan masyarakat alangkah baik nya kita memanfaat kan botol plastik bekas air mineral untuk membuat suatu kerajinan tangan yang bernilai jual tinggi, salah satu nya dengan membuat kerajinan pot bunga mini dari bahan baku utama sampah botol plastik bekas air mineral.
Waste is a social problem that occurs in the community, as a result of people who are not responsible for determining and littering. Therefore, to reduce the impact of waste on people's lives, how good would it be for us to take advantage of used plastic bottles of mineral water to make handicrafts that have high selling value, one of which is by making mini flower pot crafts from the main raw material of plastic bottles used mineral water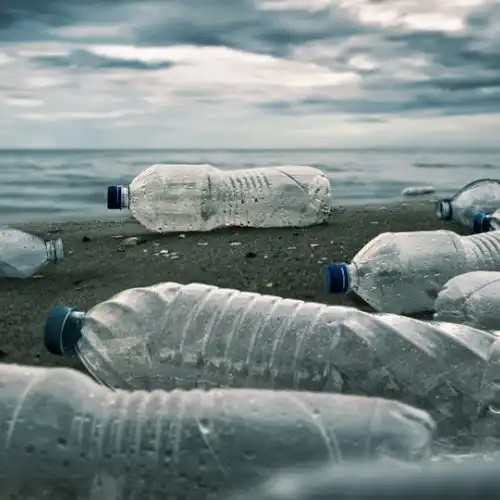 Source
cara membuat pot bunga mini dari botol plastik bekas sangat lah mudah, bahan yang di perlukan pun sangat mudah di dapatkan seperti botol bekas,pisau,hiasan untuk mata,pupuk/tanah untuk menanam dan tanaman yang ingin di tanam.
hal yang pertama di lakukan adalah menyediakan bahan, dan potonglah botol plastik sesuai keinginan masing-masing, hiaslah potongan botol yang di potong menggunakan pernak pernik untuk mempercantik ataupun tutup botol sebagai mulut dan tambahkan mata boneka lalu tempel. jangan lupa lubangi bawah botol agar air tidak mengendap di botol. tambahkan pupuk dan tanah kedalam botol lalu tanam bunga atau tanaman yang ingin di tanam.
how to make mini flower pots from used plastic bottles is very easy, the materials needed are also very easy to get such as used bottles, knives, eye decorations, fertilizer / soil to plant and the plants you want to plant.
The first thing to do is to provide the material, and cut the plastic bottles according to their respective wishes, decorate the cut bottles using knick-knacks to beautify or cover the bottle as a mouth and add the doll's eyes and paste it. don't forget to make a hole in the bottom of the bottle so the water doesn't settle in the bottle. add fertilizer and soil to the bottle then plant the flowers or plants you want to plant.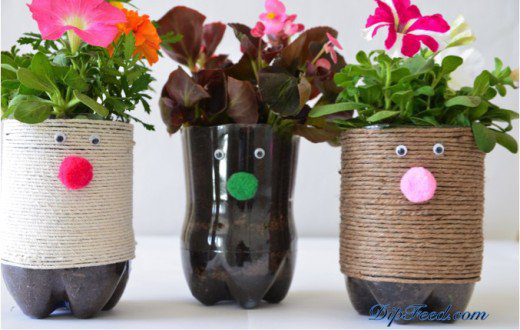 Source
botol plastik bekas bukan Hanya bisa di jadikan pot bunga saja masih banyak sekali yang bisa di jadikan kerajinan tangan dengan menggunakan botol plastik tersebut, tergantung minat dan kemauan kita masing-masing.
used plastic bottles not only can be made into flower pots, there are still a lot of things that can be made into crafts using these plastic bottles, depending on the interests and desires of each of us
harga dari karajinan pot bunga dari botol plastik bekas itu sendiri relatif mahal di pasaran, hal itu juga tergantung besar kecil ukuran pot bunga tersebut, bagi perajin pot bunga akan mendapatkan upah yang sangat sesuai berkat kreatifan nya dan sangat membantu mengurangi dampak sampah.
masyarakat membeli pot bunga tersebut sebagai hiasan kamar ,ruang tamu dan kantor, hiasan Bungan tersebut sangat cocok bagi pencinta tanaman hias, dan dari segi perawatan nyan pun tidak terlalu rumit, untuk pencahayaan sinar matahari kita bisa memakai bantuan lampu ultraviolet yang di rancang untuk menyinari tanaman hias yang di tanam di dalam ruangan tertutup.
The price of flower pot crafts from used plastic bottles
itself is relatively expensive on the market, it also depends on the size of the flower pots, flower pot crafters will get very appropriate wages thanks to their creativity and really help reduce the impact of waste.
people buy these flower pots as room, living room and office decorations, these flower decorations are very suitable for ornamental plant lovers, and in terms of nyan care, they are not too complicated, for sunlight we can use the help of ultraviolet lights which are designed to illuminate plants. ornamental which is planted in a closed room
selected moderators