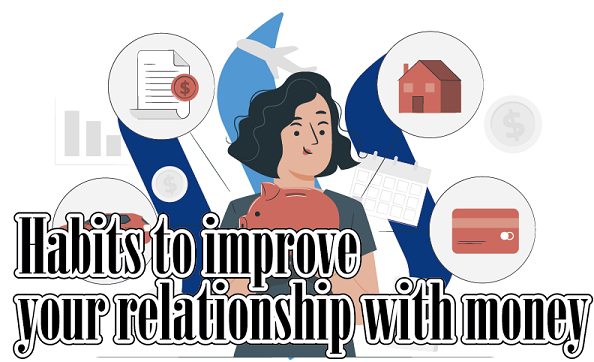 Good morning friends of the Steemit community, today I would like to share with you a short summary of a guide that some time ago I read and talked about 23 Smart Habits for your personal finances, Tips to improve your relationship with money, whose author uses the pseudonym of "El Contador".
It is well known that habits are created over time, studies have shown that a habit can be created in just 21 days, and that is that the Habit is nothing more than repeating an action in such a way that our body and our brain or our mind gets used to this movement, this thought or this particular action.
Many times in our life we ​​must live the consequences of having unhealthy habits and this applies to all areas in which we develop, both personally and professionally.
That is why I would like to share with you 6 habits that can help us significantly improve how we manage our money so that our finances little by little go from always being in the red or negative and we can enjoy the fruit of our work and take a little off the Stress of always thinking if the money will last me until the end of the month.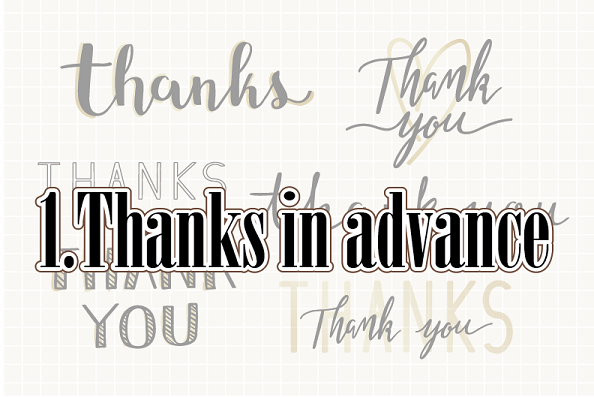 It is a habit above all very practiced by those who have the virtue of being very religious and very spiritual, it has a lot to do with the meaning of Faith, and it is nothing more than the certainty of what is not seen, as it says. the holy writing; then giving thanks in advance allows us to release all the energy in our life believing that what we want, what we have asked for, is already a fact, it has already materialized; It allows us to assume the attitude of being convinced that what we have been looking for or for which we have been working already exists in our life, freeing us from stress and fear that many times stops us and blocks us.
Giving thanks in advance is simply believing in our ability to achieve all our challenges, in absolutely trusting in the will of God in our lives and being sure that everything we have asked of the universe will definitely materialize positively.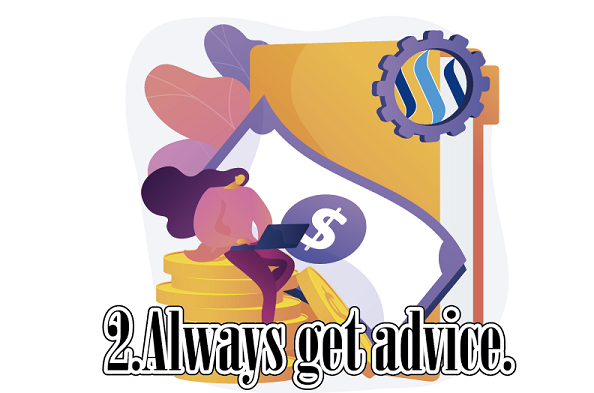 Many times we find ourselves in circumstances in our lives where it is possible to make a purchase, an investment or an opportunity is presented to us in which we could materialize obtain some benefit, however our ignorance about the matter does not allow us to take advantage of the favorable situations that we face.
In the same way, sometimes we believe that we know enough to risk investing and take advantage of the opportunities and situations that are presented to us, but making decisions without having the necessary knowledge in some areas of insurance will lead us to failure.
That is why we must always assume and accept that we are not experts in the field and seek the help or suitable support of those who dominate the area of ​​action that concerns us and listen to their advice, guidance and methodology when studying opportunities that life presents them to make the most favorable decision.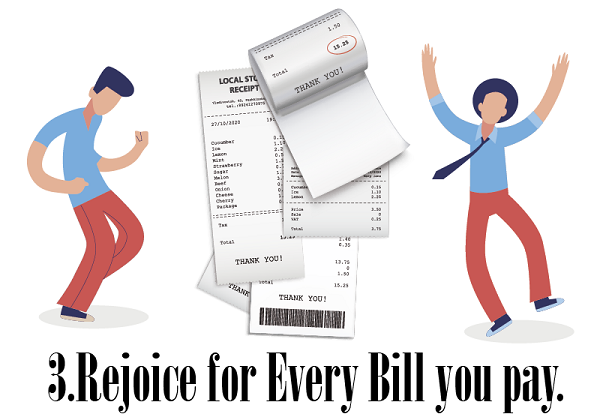 Rejoice for Every Bill you pay.
Some financial experts and scholars maintain the position that in order to have a healthy financial life, one should avoid maintaining debts, however in reality, in our day to day we know that sometimes it is difficult to maintain a positive balance, however it is not impossible and one way to achieve this goal is to pay each bill or each debt that we have acquired as far as the possibilities that our balance allows.
Being happy about canceling an invoice means that we have one less debt to worry about, as they would say around there very colloquially * it is one less headache *, but also, it is the gratitude of and acceptance of the fact that we had the ability to pay this bill, it is one more step that we have climbed to achieve our financial freedom.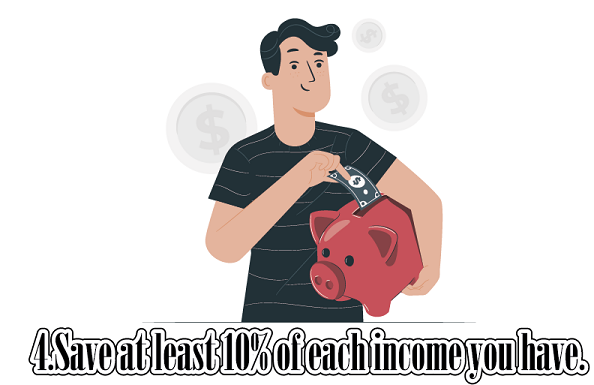 Save at least 10% of each income you have.
This habit is one of the most important and most powerful when it comes to having a healthy financial life. Many of us do not have the habit of saving, because since we were little we were going to spend the little that we could have immediately on sweets, but creating the habit of saving will allow us to set short, medium and long term goals for the acquisition of some goods or enjoy A well deserved vacation.
For many, saving is an uphill battle, but it is about creating the habit, so if our income is low, we will save little, so that when we can achieve large income, our habit will be consolidated, and it will be easy for us to continue saving.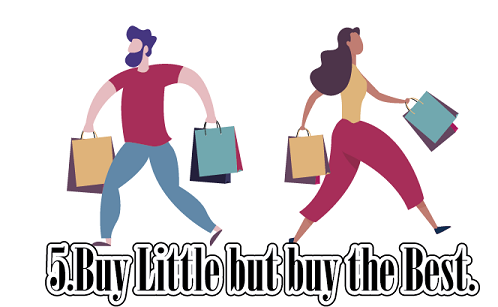 Buy Little but buy the Best.
We must make a balance between quality and price in each of the things that we are going to buy; We vibrate with every thing and thought that we have, if we buy something because it is cheap it means that our vibration is just as cheap, we must try to acquire objects for their quality, not for their price, the more quality we have to assume than the useful lifetime it will be greater, which in the long run will be much cheaper because the cheap thing will have to be replaced in less time than expected.
There is a popular saying that says * Cheap is expensive *, let's be smarter and buy quality so that in the future we can enjoy an article for much longer and be more comfortable adapted to our needs.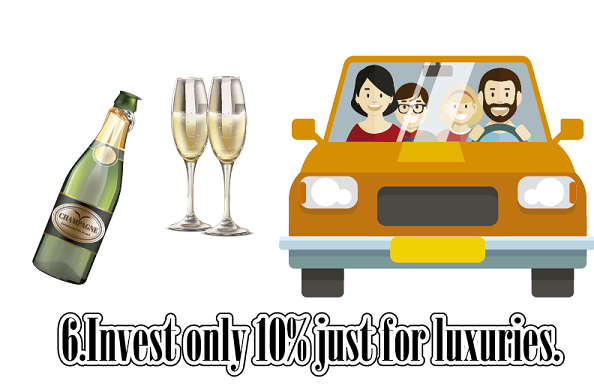 Invest only 10% just for luxuries.
As you will see, not everything is about restrictions or bad news, we must also take care of ourselves and that includes from time to time attending and pampering ourselves, because at the end of the day we also deserve it, because it also constitutes the personal recognition that we are deserving of good things, to enjoy and to live to the fullest, because this attitude will lead us to recognize that every effort will be worth it.
In addition, creating this habit will allow us to be restrained and not exceed ourselves in trivialities or superfluous expenses, the idea is always, as we say in Venezuela, *** to wrap ourselves as far as the blanket can reach ***.
I hope that these habits that I share with you serve in some way to become aware and understand that our financial problems are not solved with money, but with a change in our mentality to manage our resources, and this will only be achieved by changing our habits.

Thank you very much friends of Steeming Community for having read me, I hope you have a Saturday full of blessings.
Take care of yourselves a lot because that is how you also take care of yours.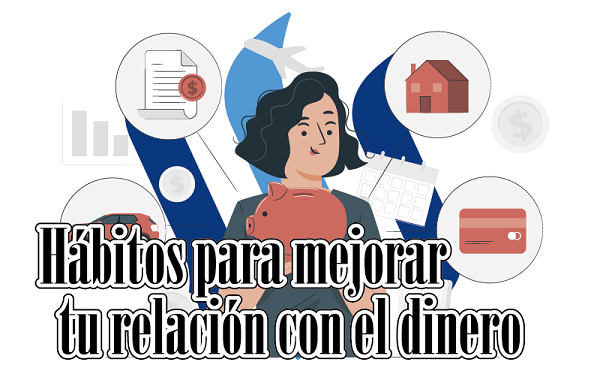 Buenos días amigos de la comunidad Steemit, hoy quisiera compartir con ustedes un pequeño resumen de una guía que hace algún tiempo leí y hablaba sobre 23 Hábitos Inteligentes para tus finanzas personales, Consejos para mejorar tu relación con el dinero, cuyo autor usa el Pseudónimo de "El Contador".
Es bien sabido que los hábitos se crean con el tiempo de realizarlos, estudios han demostrado que un hábito se puede crear en tan solo 21 días, y es que el Hábito no es más que repetir una acción de tal manera que nuestro cuerpo y nuestro cerebro o nuestra mente se acostumbre a este movimiento, a este pensamiento o a esta acción en particular.
Muchas veces en nuestra vida debemos vivir las consecuencias de tener hábitos poco saludables y esto aplica para todas las áreas en las cuales nos desarrollamos, tanto personal como profesionalmente.
Es por eso que quisiera compartir con ustedes 6 hábitos que nos pueden ayudar a mejorar significativamente como administramos nuestro dinero para que nuestras finanzas poco a poco vayan pasando de siempre estar en rojo o negativo y podamos disfrutar del fruto de nuestro trabajo y quitarnos un poco el Estrés de siempre pensar si me alcanzará el dinero hasta el fin de mes.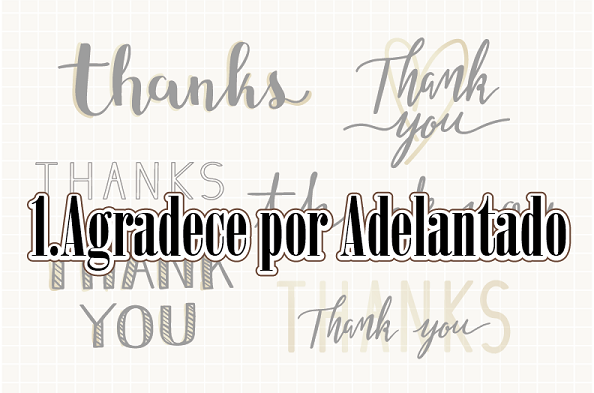 Da las gracias por Adelantado.
Se trata de un hábito sobretodo muy practicado por aquellos que tienen la virtud de ser muy religiosos y muy espirituales, tiene mucho que ver con el significado de la Fé, y no es más que la certeza de lo que no se ve, como lo dice la santa escritura; entonces dar gracias por adelantado permite liberar toda la energía en nuestra vida creyendo que lo deseado, lo que hemos pedido, ya es un hecho, ya se ha materializado; permite asumir la actitud de estar convencido que en nuestra vida ya existe lo que hemos estado buscando o por lo que hemos estado trabajando, liberándonos del estrés y le miedo que muchas veces nos detiene y nos bloquea.
Dar as gracias por adelantado, es simplemente creer en nuestra capacidad para lograr todos nuestros retos, en confiar absolutamente en la voluntad de Dios en nuestras vidas y estar seguros que definitivamente todo lo que hemos pedido al universo se materializará de una manera positiva.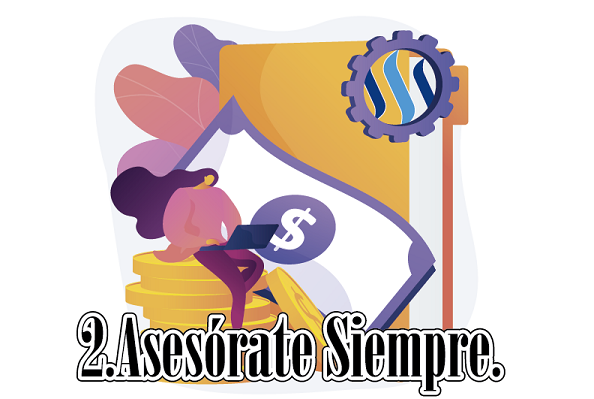 Muchas veces nos encontramos en circunstancias en nuestras vidas donde es posible realizar una compra, una inversión o se nos presenta alguna oportunidad en la cual podríamos materializar obtener algún beneficio, sin embargo nuestro desconocimiento sobre la materia no nos permite aprovechar las situaciones favorables que se nos presentan.
De igual forma a veces creemos que sabemos lo suficiente como para arriesgarnos a invertir y aprovechar las oportunidades y situaciones que se nos presentan, pero tomar decisiones sin tener el conocimiento necesario en algunas áreas de seguro nos llevará al fracaso.
Es por ello que debemos siempre asumir y aceptar que no somos expertos en la materia y buscar la ayuda o apoyo idóneo de quienes dominan el área de acción que nos ocupa y escuchar sus consejos, sus orientaciones y su metodología a la hora de estudiar las oportunidades que la vida les presenta para tomar la decisión más favorable.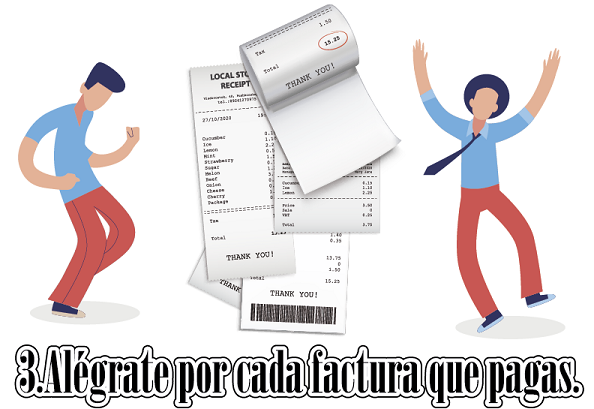 Alégrate por Cada Factura que pagas.
Algunos entendidos y estudiosos de las finanzas mantienen la posición de que para tener una vida financiera saludable se debe evitar mantener deudas, sin embargo en la realidad, en nuestro día a día sabemos que a veces es difícil mantenernos en saldo positivo, sin embargo no es imposible y una forma de ir logrando esta meta es la de pagar cada factura o cada deuda que hayamos adquirido en la medida de las posibilidades que nuestro saldo nos lo permita.
Alegrarnos por cancelar una factura significa que tenemos una deuda menos por la cual preocuparnos, como dirían por allí muy coloquialmente es un dolor de cabeza menos, pero además, es la gratitud de y aceptación del hecho de que tuvimos la capacidad para pagar esta factura, es un escalón más que hemos subido para lograr nuestra libertad financiera.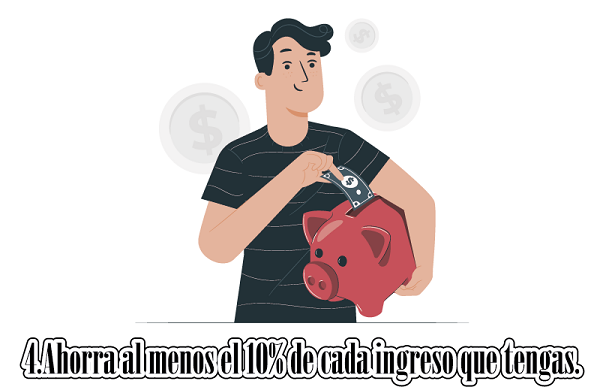 Ahorra al menos el 10% de cada ingreso que tengas.
Este hábito es un de los más importantes y más potentes en cuanto a tener una vida financiera saludable se refiere. Muchos no tenemos la costumbre de ahorrar, porque desde pequeños lo poco que podíamos tener inmediatamente lo íbamos a gastar en dulces, pero crearnos el hábito de ahorrar nos permitirá establecernos metas a corto, mediano y largo plazo para la adquisición de algunos bienes o disfrutar de unas merecidas vacaciones.
Para muchos ahorrar se hace cuesta arriba, pero se trata de crearnos el hábito, así que si nuestros ingresos son pocos, ahorraremos poco, de manera tal que cuando podamos conseguir grandes ingresos, ya nuestro hábito estará consolidado y se nos hará fácil seguir ahorrando.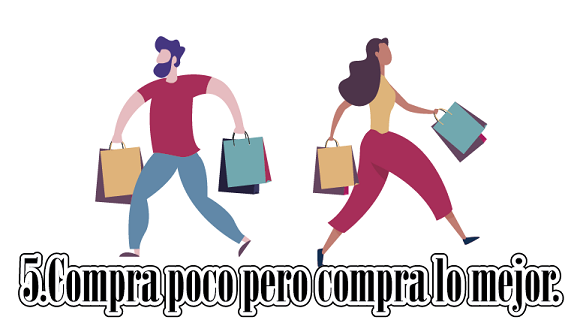 Compra Poco pero compra lo Mejor.
Debemos hacer un equilibrio entre la calidad y el precio en cada una de las cosas que vamos a comprar; vibramos con cada cosa y pensamiento que tenemos, si compramos algo porque es barato quiere decir que nuestra vibración es igual de barata, debemos procurar adquirir objetos por su calidad, no por su precio, mientras más calidad hemos de suponer que el tiempo de vida útil será mayor, lo que a la larga nos saldrá mucho más barato porque lo barato tendremos que reemplazarlo en menos tiempo de lo previsto.
Hay un dicho popular que dice Lo barato sale caro, seamos más inteligentes y compremos calidad para que a futuro disfrutemos de un artículo por mucho más tiempo y sea más cómodo adaptado a nuestras necesidades.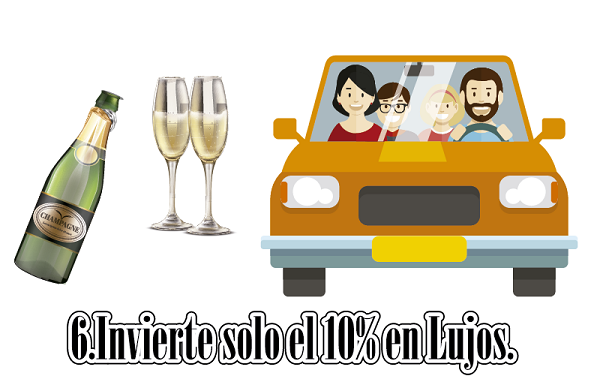 Invierte solo el 10% solo para lujos.
Como verán no todo se trata de restricciones ni de malas noticias, también debemos ocuparnos de nosotros mismos y eso incluye de vez en cuando atendernos y consentirnos, porque al fin y al cabo también nos lo merecemos, porque además constituye el reconocimiento personal a que somos merecedores de cosas buenas, de disfrutar y de vivir a plenitud, porque esta actitud nos llevará a reconocer que cada esfuerzo valdrá la pena.
Además crear este hábito nos permitirá ser comedidos y no excedernos en trivialidades ni gastos superfluos, la idea siempre es, como decimos en Venezuela, arroparnos hasta donde nos alcance la cobija.
Espero que estos hábitos que les comparto sirvan de alguna forma para tomar conciencia y entender que nuestros problemas financieros no se resuelven con el dinero, sino con un cambio en nuestra mentalidad para administrar nuestros recursos y esto solo lo lograremos cambiando nuestros hábitos.

Muchas gracias amigos de Steeming Community por haberme leído, espero tengan un día Sábado lleno de bendiciones.
Cuídense mucho porque así también cuidan a los suyos.