Share your feedback and win upvote worth $50 plus 100 steem liquid~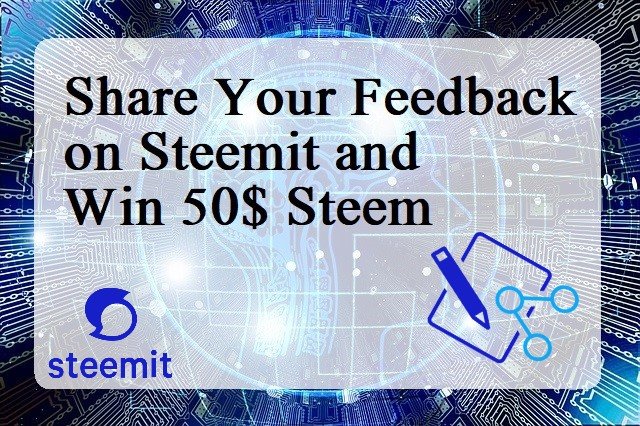 Hello, people of Steemit!
Communication is one of the important things in every community because it allows people to share their idea, suggestions, and express their critical thinking openly and in a constructive way. Such an approach to problem-solving has always a positive effect since brainstorming usually allows the community as a whole to look at an idea from all possible angles.
We are more than happy this time to participate in this process by creating a contest to get our amazing community to share their ideas of improvement and suggestions.
Entering the contest is pretty straightforward, all you need to do is answer the following questions in as much detail as possible:
As a member of the Steem community, What improvement would you like to see on the social platform Steemit.com?

Which other features, tools, improvements, and functionalities do you believe will benefit the user experience and improve the usability of the Steemit.com social platform?

If you are the owner or manager of a Steem community, tell us more about what you believe will improve the "Communities" update and its management system.
Contestants are also free to add ideas and suggestions that deal with other aspects that might have not been included in the questions above.
Contests' rules & guidelines;
Title your entry post with the format:
Steem Feedback Contest Entry Post; your steemit account name

Please include the tag of #steemfeedback01 as one of your tags and a tag for the country from where you steeming.

Please submit your entry post at steemingcurators community

Please resteem this post and mention at least 3 of your steemit friends in your entry post to participate in this contest.

Share this contest post and your entry post on your social media account.

Contestants can use any language for submission but please include the English translation in your post too.
⏳The deadline for your entry post submission is on UTC Timezone Sunday, March 14th
We would be pleased if the Steem community could share their ideas and participate in the contest.
Prize 🏆
The best detailed and reasonable entries will have a chance to receive an upvote worth
50$ for the first place plus 100 steem liquid,
40$ for the second place plus 80 steem liquid,
30$ for the 3rd place plus 60 steem liquid,
50 Steem for the 4th place,
30 Steem for the 5th place,
and
22 selected valid and valuable entries will receive 10 steem as consolation prizes.
This contest has received 543 liquid Steem sponsorship from @symbionts team witness and an upvote prize from @booming curation accounts.
Your feedback is highly valuable for the improvement of Steem and the Steem community as a whole.
This contest is a joint effort of Steemingcurators community team building team and Symbionts Witness Team.
Thank you.