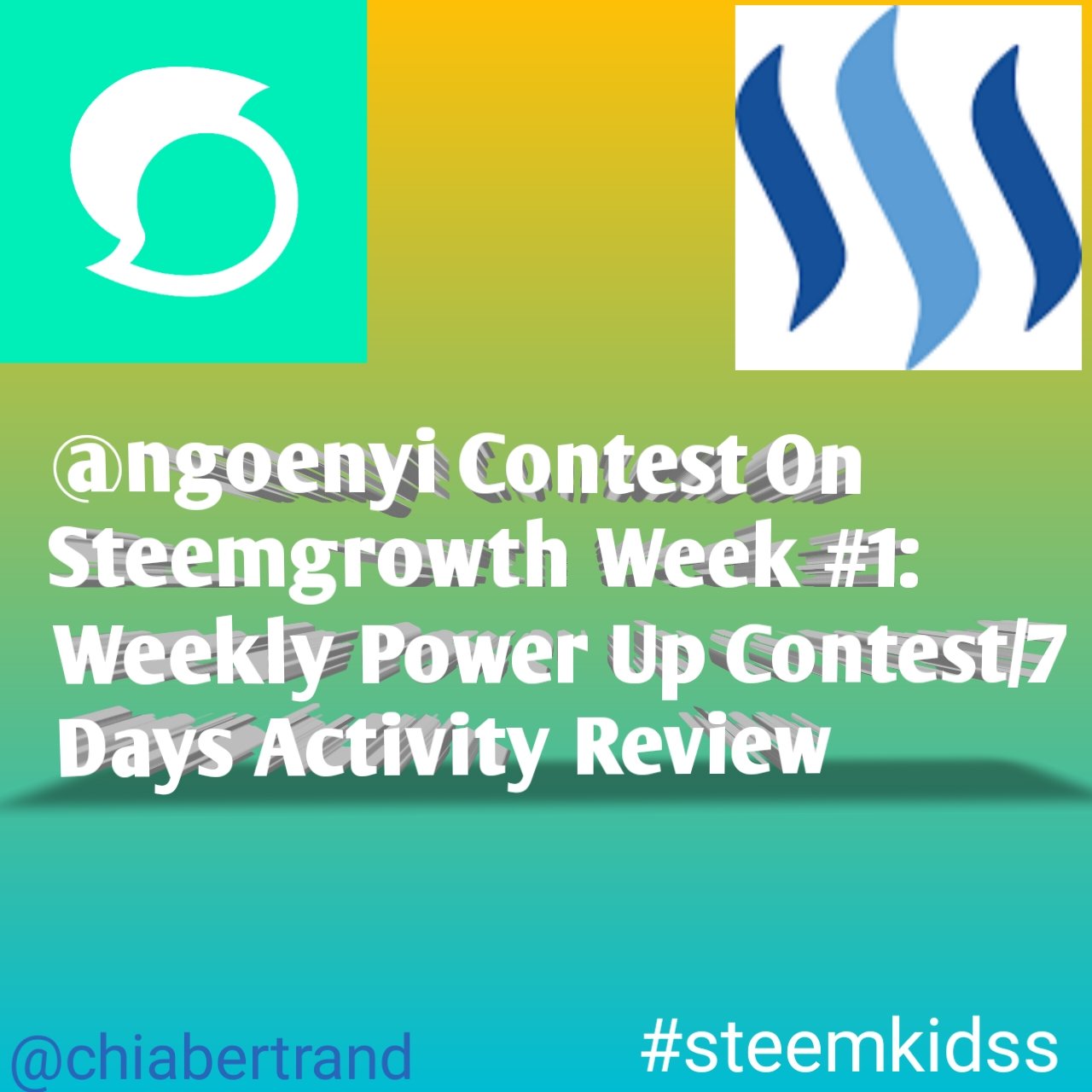 background image edited via Pixelap
---
---
Introduction
Hey there, esteem steemians and kid's lover. I hope you are all doing great in this community. It's an honor to be participating in the steemgrowth contest in this community which is talking about our weekly power up and our weekly activities. It's a very interesting contest which triggered me to participate in it because of my love for such contests. Without further waisting any time, here goes my entry

For the past 7-days, I have had alot of activities on this platform and I have also done some powerups. So I will be explaining out activities on this platform base on the following questions
1. Your power up amount for the week, including the screenshot of your powerup

My power up amount this week
It's unfortunate that before the launching of this contest, I had already power up 270 STEEM as seen from that screenshot above. But I'm happy I'm still considered because it's this week I powered up and the contest is talking about our power up for the past 7-days. This into conclude that I have powered up and amount of 270 STEEM in the past 7 days which is impressive.
---
2. What is power up and how does it contribute to steem growth?
Power up is the process of converting your liquid STEEM into Steem Power and this can be done by clicking on power up icon just below your STEEM token in your wallet
Importance Of Power Up
Power Up increases the value of your vote on a post or comment which will in turn enables you to earn more during Curation Rewards.

Powering Up will enable STEEM to be scarce which will in turn give value to STEEM price because its being locked up in the form of steem power

Power up is another form of investing for future which is good which will in turn return you more STEEM in future

The more STEEM you hold as SP, the greater your resource credit which will boost your level of commitment to this platform
---
3. How often do you power up and who or what influenced you to start powering up?
This is a very good question and I will answer it this way.....
How often do you power up
I power up most frequently because I have a goal to achieve. I always power up anytime when they is a competition such as spud4steem, power up challenge contest. I don't wait for such competition before Powering Up because anytime when I have accumulated a certain amount of STEEM/SBD, I will power it up. This explain why I frequently power up
Enfact I have powered up almost 3kSP within 2months as can be seen in this post and I have been able to power up this amount on 5 occasions
What influence me to start powering up
What influenced me to power up was the way I admire Steemians with high Steem Power in their wallets. I'm someone that love to always be amongst the best. This is why I started powering up so that I can also boost high Steem Power in my wallet in future.
---
4. What is your motive for powering up and what do you stand to gain when you power up.
My motives for powering up is to become an Orca one day and possibly a whales, who knows 🤷‍♀️. I admire this special category of people so so much. This is is why I'm working extremely very hard to reach this status some days in future. This explain why I had pledge to power up 10kSP by 30-07-2022. Once I achieved this target, I will evaluate my self and pledge another target of hitting 15K SP which will be triple dolphin 🐬🐬🐬. This strategy is extremely working out very well for me because it always motivates me to work extremely very hard so as not to fail my target. Hopefully, I believe I will hit this my target of 10k SP ahead of time just like I did in hitting 5k SP 2 months ago.
I have gain a lot after powering up because I have been able to delegate more than half of my SP to @steemkidss and @steem-cameroon community which are the two communities after my heart. In the cause of this delegation, I have been able to be earning weekly and monthly, delegation rewards In the form of STEEM which is quite impressive
My curation rewards have increased drastically because of the high Steem Power I posseses which is quite remarkable because it's making me to build up my wallet at a faster rate when ever I curate other Steemians post or comments
---
5. What is your targeted steem power and What will you do with your steem power as you are powering up to build it. (Support others?)
As for my target steem power, I plan to hold atleast 20k SP by December 31/12/22 which is the end of this year. But for now I had pledge to power up 10kSP by 30-07-2022 which I'm working very hard to achieve it. From there, I will set another target and so on
I will keep delegating my Steem Power to @steemkidss and @steem-cameroon anytime I power up and have a reasonable amount of STEEM power in my wallet because this are the only two communities I'm concerned about in this platform
I will also continue helping others by curating on their articles so as to help them also grow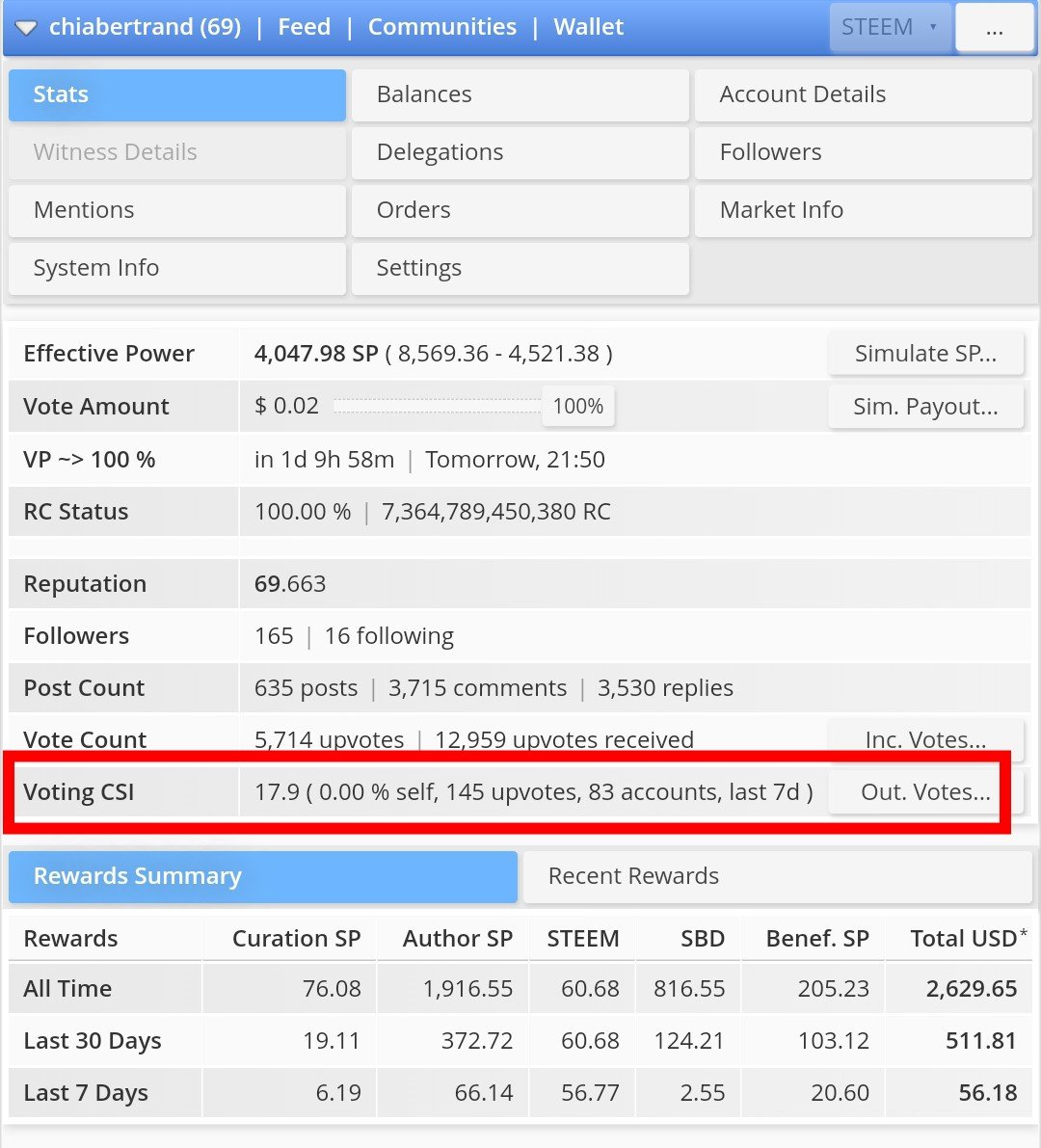 screenshot Source steemworld
As you can see my voting CSI, I have 0% self vote and 17.9% votes which I have cast out in 83 accounts for the past 7-days. This shows that I'm not selfish and I have concern for others growth on this platform. This is why I don't longer vote my self because I want to use this opportunity to instead support others so that they can grow as well
---
6. How active were you last 7 days. The total number of posts you made, upload the screenshots of at least 5 quality comments you made in the last 7 days, the 5 different users you commented on their posts and the 5 different communities you made the comments on.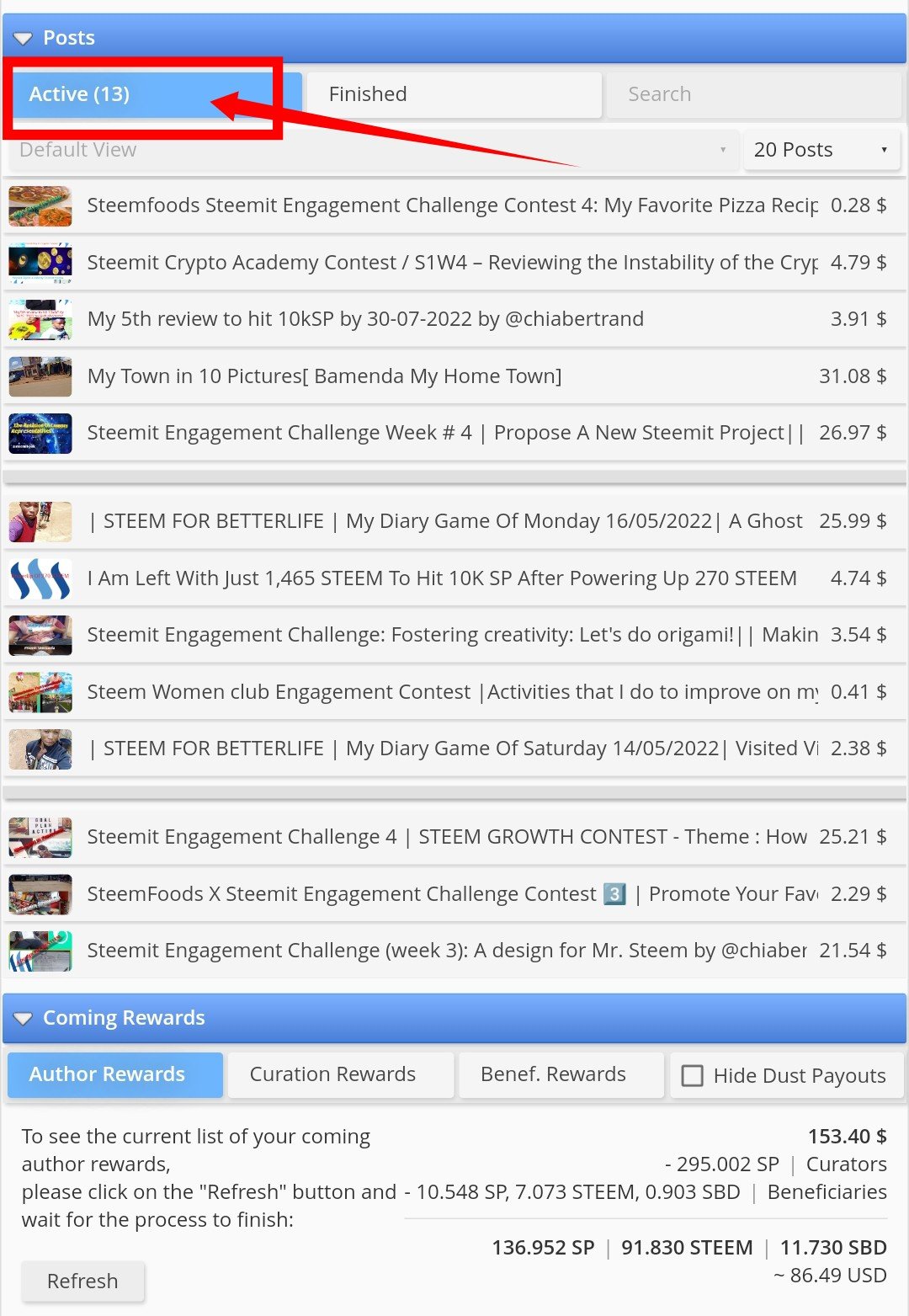 screenshot Source steemworld
As you can see from my screenshot above, you can see how active I have been in the last 7-days as I was able to create an astonishing 13 articles which is quite remarkable. This is to say that I have been able to creat an average of 2 articles per day in the last 7-days because this post will make my 7-days activity to 14 outstanding articles. I always create articles on daily basis on this platform because I have a goal of becoming an outstanding Steemian one day with a lot of Steem Power in my wallet. From there I will be able to help my Communities and a lot of Steemians
Upload the screenshots of at least 5 quality comments you made in the last 7 days
For this question, I will make it in a tabula form for easy understand
As you can see, this is just few comments and screenshot I have uploaded. I made a lot of comments under different authors articles across different communities. I hope go always continue with this good spirit
7. Your biggest challenge you encountered last week and your memorable experience for the period. What did you learn?
Well, talking of my biggest challenge I have encountered within this 7-days is that I haven't been able to have enough rest since I always frequently visited this platform to create contents, read and comment on a lot of articles on daily basis.
I have been able to engage my self in all contests launched in this un-going engagement challenge and it hasn't been easy with me because some particular contest have given a lot of headache since I needed to think a lot before producing a good content.
This past days have been ghost town in my area and again, electricity have really been disturbing most especially at night time. This always discourages me most especially when my phone or laptop is getting low
My Memorable experience for this past 7-days and What i learned
My memorable experience I have encountered this past few days is how committed I have dedicated my self to this platform. Why I increase my level of dedication is because I'm striving hard to be amongst the monthly winners of this engagement challenge so as to win a generous upvote of 100% from sc01 because I have been involved in the weekly winners. So I have tried all way to participate in this engagement challenge and this has made me to be highly committed to this platform. Hopefully, I believe my commitment will yield fruits at the end because I have been able to participate in all the engagement contest and so luckily, I have been able to came out top3 In most of them across the engaging communities
During this last few days, I have learned a lot of things from this platform across the 7 communities In this engagement challenge because I have read over 100 + quality articles. I have learned the lifestyle of different Steemians, I have learned different cooking methods, I have learned how to make different types of ORIGAMI, I have learned of a lot of different projects that can make this community a more better place, I have learned of how much time and dedication different people are committed to this platform.
All this has inspired me a lot and I'm so motivated and determine to work extra hard on this platform

Conclusion

Thanks so much for your time everyone, I am inviting my fellow friends @tangwe-rene, @tenguhatanga, @wyzcekunited, @ngwerast, @monjuapollonia, @breeze.com and @echamroland to come and participate in this amazing contest and also tell us how dedicated you guys where in this platform for the past 7-days and how much have you guys powered up
steemgrowth steemexclusive contest cameroon powerup
 10% payout to steemkidss