Introduction
I welcome everyone to another season in the engagement challenge.This is another period of position many and engaging a lot.Lets keep the ball rolling.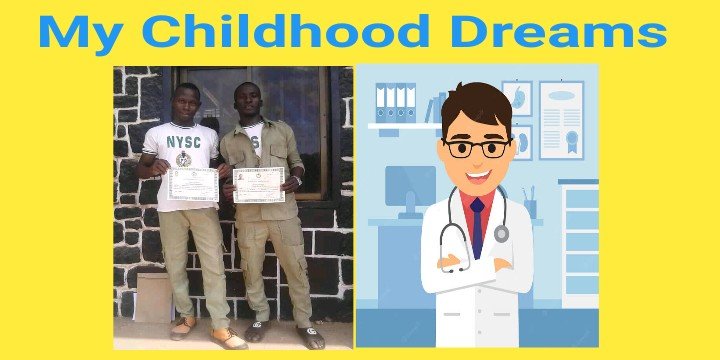 We all at some point when we were growing up had a lot of dreams on what we would like to achieve in the future or when we grow up.Sometimes we end up achieving them, sometimes we may not achieve all or any.Thats what makes life to be unpredictable.
Just like every other human being.I had beautiful dreams while growing up.It is natural to dream big.Now to the meat of the essay.
What were the dreams you had in childhood for the future.
When I was a child,I was a very quite and studious child.I Iike to read often,to take care of family members who are ill and to observe people behavior to know when they aren't in good state of health.Infact my parents and neighbours call me observer because of these attributes.
First I had a dream of becoming a graduate one day in my life and secondly to graduate as a medical doctor.I have been working towards this dreams from primary to secondary school level.At a point,I was close to our family doctor because I wanted to be like him.
After my secondary school,I wrote the joint admission and matriculation board (JAMB) exams where I applied for medicine and surgery.Alas,the result was seized because there was riot and disorder at my exam center that particular year.
I didn't relent,I tried again the next year and it was a successful exam and result.I went for the Post Utme and completed the exam.I was thinking that equity exists in the education system but it was unfortunate that people that scored below my grade got admission under the guise of quota system and people that offered money for consideration.
I grew,angry but anger does not solve problems.I waited and waited but they finally offered me admissions to study biochemistry instead.I decided to accept it and I studied and graduated in the department of biochemistry.
Who supported you in that dreams.
My parents supported me a lot.They saw me through primary and high school.They also paid for my JAMB expenses although I did some from my savings then.
As for the higher institution proper.My parents did their best and I got help from one of my uncles and an aunt at some point.It was not always easy to graduate from Nigerian institutions but all thanks to God,my parents and relatives who supported me all through the process.
Which one of those dreams have you achieved.
ab initio i mentioned that my two dreams were to be a graduate and to graduate as a medical doctor.At the present I was able to achieve the dream of being a graduate and I have completed my National Youth Service (NYSC) too.So it is a dream come through.
Which one did you not achieve, What do you think went wrong?
It is unfortunate that I didn't achieve the other dream which was to be a medical doctor.This was due to circumstances beyond my control.However,I don't feel too bad about it anymore.There are people born blind, crippled and other deformities and they are still happy to be alive.So I am happy that I achieve one of my childhood dreams and so it's a reason to give God thanks and be grateful.
Now the Conclusion
This contest is a great one.It is a means of drawing adults back to the memory lane and a means of making the younger generation to see the Importance of setting dreams for their life.You may not achieve all your dreams,but it is important to set your dreams and work towards them with a positive mindset.In all,only God knows the best for us and he alone directs our steps but we have to play our own part and leave the rest for God.
I am inviting @kawsar @olabillions @chant to participate in this contest.