Hey guys, recently I had a bit more time to play GU and thought I might as well start blogging again! I made it back to mythic and also managed to stay there. I feel like it is quite easy right now to become a mythic player because player numbers have dropped. Because there is no point in playing ranked during the week, I like to play some constructed matches to gain experience with my death reanimate deck, which is more fun but not as competitive as my mage deck. If anyone is interested in playing against me, just leave a comment and we can make an appointment :D
Hint: Know your enemy!
While I had fun ranking up, I read a lot of complaints about cards being overpowered on discord or reddit. I don't think this is true. There is no single card that is too strong right now. One could argue whether some combinations are a bit unbalanced or not, but I think all in all the balancing is okay. You just have to avoid certain situations against certain gods. For example, if your enemy is playing a nature deck with lots of amazons, you want to keep the number of their amazons on the board as low as possible at all times, because chances are very high that they want to play Arkmonian Onslaught or any other amazon synergy card at some point, and then those creatures are much harder to deal with. But this doesn't mean these cards are overpowered, you just have to consider this when playing. At one point I used a 5 mana Crystal Rain just to destroy two (1/1) Nimble Pixies because I knew my enemy was playing a lot of amazons, and it turned out to be the right decision.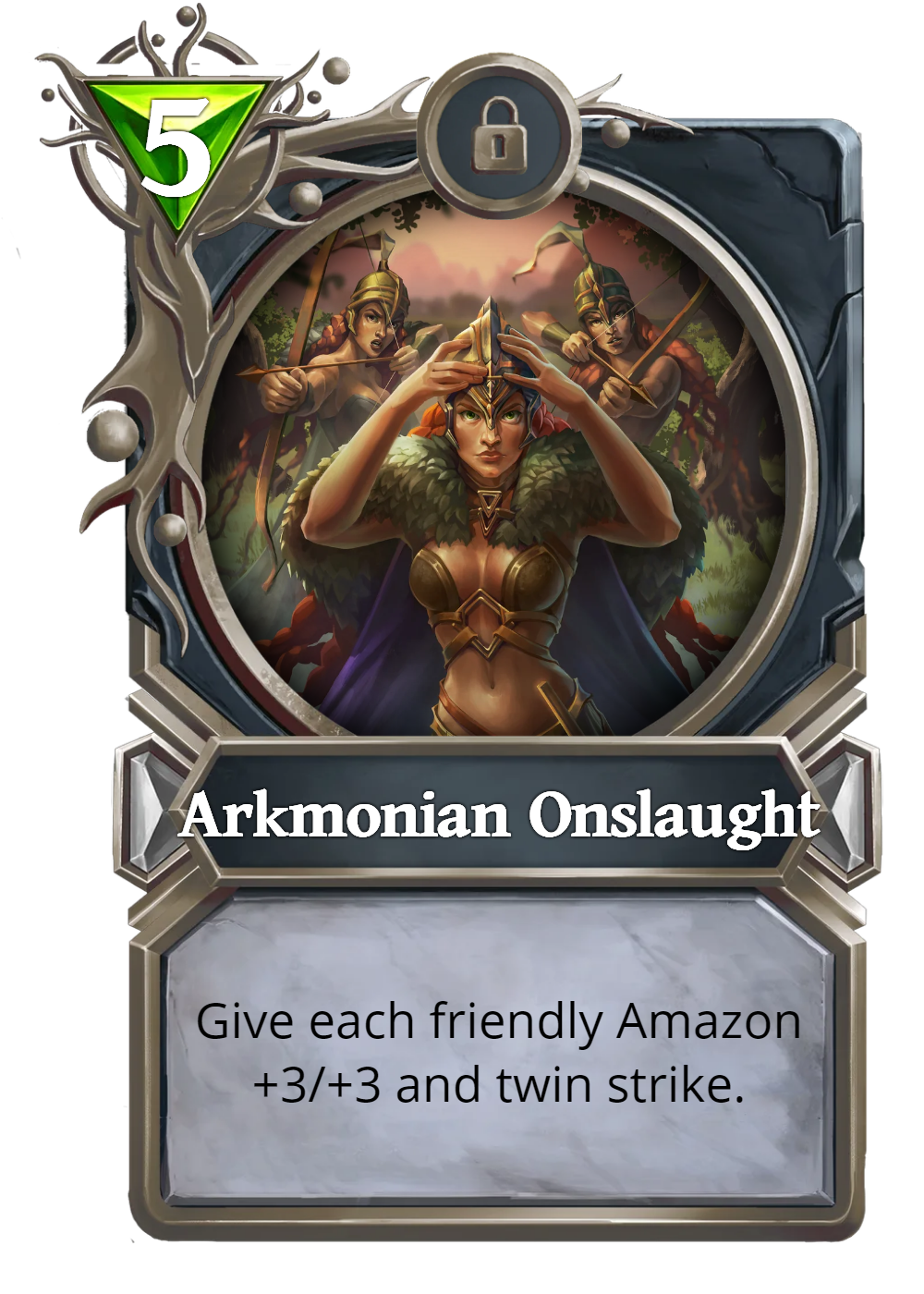 Another example is Deceptions Rapture Dance. Its damage scales with the number of enemy creatures on the board. Your enemy usually waits until your board is almost full and your hand is empty, then plays Rapture Dance and that is the final nail in your coffin. I had to learn this the hard way too, but often it is smarter too just play less creatures, even if that means that you don't fully use your mana every turn.
Spotted: Iron-tooth Goblin
Todays spotted card is Iron-tooth Goblin, which was discussed on discord quite a lot. With its effect to remove 3 durability from your opponents relic, it destroys most relics instantly. This is useful against all kinds of decks, be it Mage with Morgana's Grimoire, Light with Golden Harpe, Nature with Vine Armour or War that runs all kinds of decks. It has decent stats and in my opinion only competes against Svart Basilisk, a 4 mana (3/4) creature that only removes 1 durability, but also removes sleep from a friendly creature.
Especially against War decks using the Slayer god power, removing 1 durability usually is enough to destroy weapons like Scythes of the Harvest. Removing sleep can be helpful against Deception or people running Demogorgon, but I still prefer the Goblin mostly because it's cheaper. These cards are very versatile and I think everyone should consider using them in their deck. What is your favorite? Or do you completely disagree? Write it in the comments ;)