‌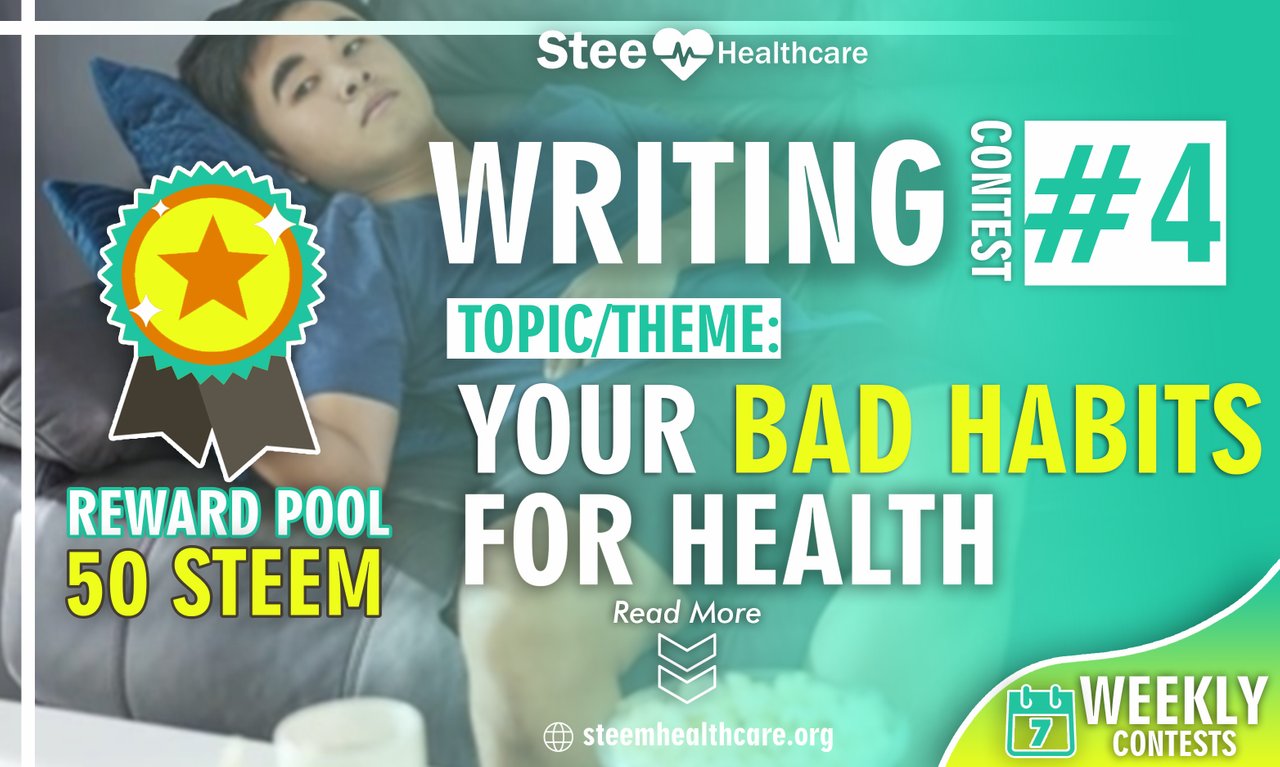 Hello all Steem Healthcare members 👋
We have seen extraordinary developments in this community with active merber that continues to increase of course this cannot be realized without your help, we continue to support steemians who are consistent and continue to actively share their posts, we really love the diversity and cultural differences between all of us, so keep working with unique things that come from where you are.
We try to always try to be close to all members from all over the country by presenting contests so that we know your various stories and experiences because the experiences and stories you share are very meaningful to us and others,
This week we are again holding a weekly contest with the theme "Your Bad Habits For Health", this week's theme may be a bit different from previous weeks, with this theme we hope you can share your experiences about your bad habits that can damage your health you so that it can motivate us all to avoid or leave the habit.
The points that you must include in the post.
Since when did you do this habit?
What effect does this habit have on your health?
Do you intend to leave the habit, if so how do you change the habit?
We do not limit these points only, you can add other things that you think need to be shared and useful for all of us.

The Winners
Total prize pool 50 steem
| Winner 1 | 25 Steem |
| --- | --- |
| Winner 2 | 15 Steem |
| Winner 3 | 10 Steem |

Rules
Subscribe to the Steem Healthcare community.
Make posts and stories of your experiences related to this week's theme consisting of at least 200 words.
If possible, share photos of the habit so that we all know more about the habit, if it is not possible you can take photos from other sources, by including the link to the source.
Posts must be in the steemhealthcare community.
Posts identified as plagiarism will not be assessed.
Use the first tag #shchealth, #contest and your country (e.g. Indonesia and Venezuela)
Resteem this post so more people will know.

The contest takes place after this post is published and will end on the date (June 17- 2021).
Contest Winner Appraisers by Steem Healthcare community admin @imamalkimas and @mudajuli and moderators @ahyar92 and @lidiasteem.
---
I will be grateful
@,steemcurator01, @,steemcurator02, @,steemitblog for supporting the contest!
---
Please join us at discord and you can communicate with us for the betterment of the Steem Healthcare community

Steem Healthcare Discord : https://discord.gg/NnpBEdEu4V
Steem Healthcare Website : http://steemhealthcare.org
---
Support us by delegating STEEM POWER.
50SP
100SP
200SP
500 Sp
1000SP
2500SP