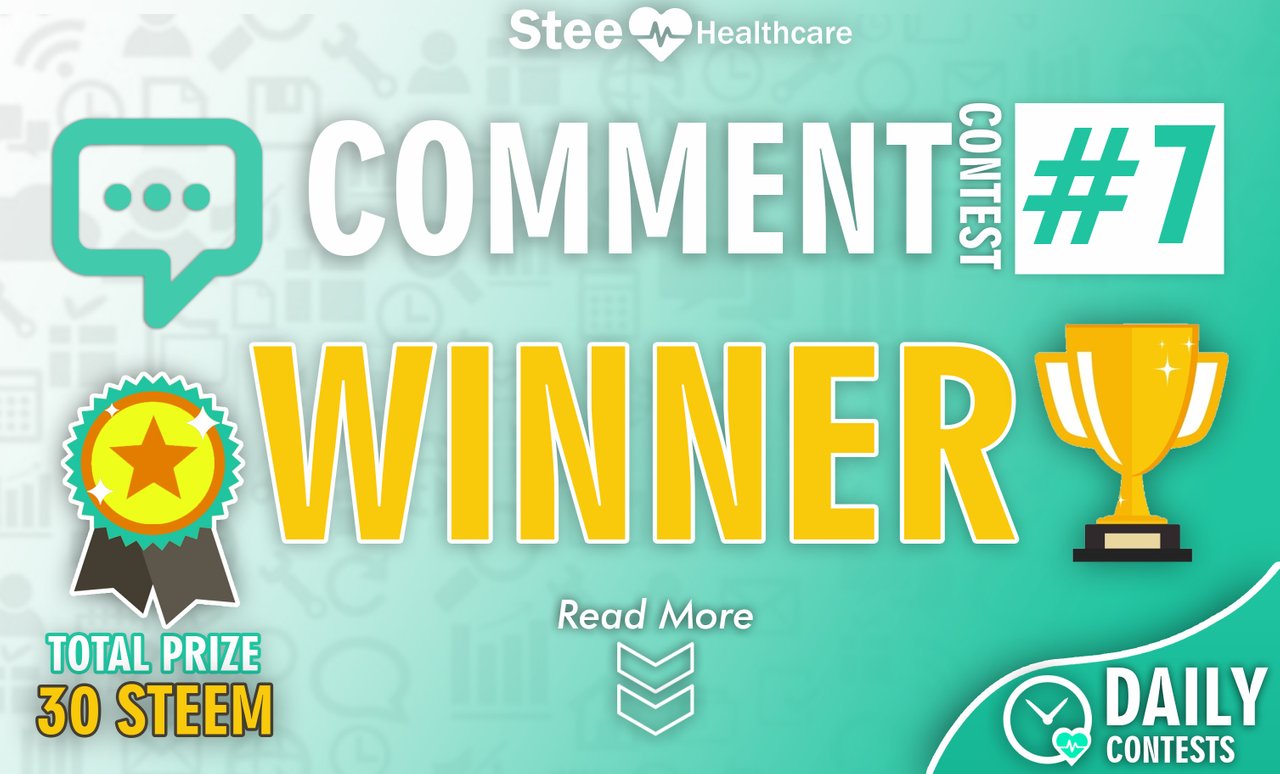 Hello all Steem Healthcare members 👋
This time we from the Steem Healthcare Community team would like to announce the winner of the Daily Contest #7 [COMMENT CONTEST] : What Do You Think About Steem Healthcare Community, which we have been running for 2 days.
Daily contest #7 managed to attract several participants from various countries. This makes us even more excited to continue to make community members more active and creative in the future.
Honestly, we are very touched by the response of community members to the Steem healthcare Community. We hope that all of your participation can be a motivation for us.
So we Team and Moderators go to great lengths to choose which post is the best and be the winner in the daily contest # 7. In this post, all the winners we have chosen are the result of the team's decision and cannot be contested.

Daily Contest Winner #7
---
We have selected 10 Winners with the best comments from them.
---
( ͡ᵔ ͜ʖ ͡ᵔ)✌Hola a todos, quiero felicitarlos por el buen trabajo desempeñado. Tengo menos de un mes en steemit y estoy aún en la busqueda de esas comunidades que sean atractivas para mi, y debo decir que al ingresar en steemhealthcare quedé fascinada con cada publicación que abrí, es una comunidad en la que me siento bien recibida, en la que aprendo cada día sobre hábitos saludables, además pronto pienso comenzar a publicar sobre lo que hago para mantenerme saludable, de hecho siento que ademas sus concursos son tan llamativos y faciles, que me permiten participar tal y como lo hice en el concurso anterior y amo leer a todos los participantes, porque aprendo de ellos. Steemhealthcare es una comunidad que ha generado mucho bienestar en mi pues siento que he llegado a mi sitio favorito de steemit🌺 y deseo invitar a @zulma2021 @mcarol19 y @eumelysm a que se unan y participen en esta comunidad.
---
Steem healthcare tiene la oportunidad de convertirse en una gran comunidad, aquí hacemos vida usuarios de distintas partes del mundo, por ejemplo yo soy de Venezuela, hay amigos de la india, indonesia entre otras naciones, la moderación debería crear roles especiales por países. Steem Healthcare organiza bueno retos e iniciativas que mantienen a los usuarios motivados a seguir participando activamente en la comunidad, entonces, la razón de ser de esta comunidad debería girar en pro del bien colectivo de todos nosotros. Tenemos un largo camino por recorrer, se que con un buen trabajo y gestión inteligente podremos generar grandes proyectos, avances y crecimiento colectivo a corto, mediano y largo plazo.
---
My amazing @steemhealthcare community is awesome, it is my favorite community, a community which groomed all her members to success, who supported all her members, it is a community that values people culture, we have fair and loving Admins / Moderators in @steemhealthcare who tried to carry all the members along, leaders who always have the best interest of her members at heart. Have you participated in the the contests of @steemhealthcare community before? Just put in your very best, even if you've not won they will appreciate your efforts. This wonderful community has helped her members to remain active and creative through their daily contest, and to remain healthy through daily health tips. This community helped me to improve in my writing skills, to always think creatively, it has given the opportunity to meet and make new friends, to learn about other people's culture, and their different approach to health matters, it is my best community that why I won't ceased to invite my friends in joining our loving community. Lastly I love @steemhealthcare and I hope to see my best community becoming great and well known in steemit platform. Thank you @imamalkimas @mudajuli, @ahyar92 @lidiasteem I appreciate you all. I'm inviting my friends @eliany @gracyakan @ejwilliams @rich9090 @benton3 @emyekanem @esthyfashion @ddwosky @obrisgld @essybrandy @zara20 @ijelady @ladyofpolicy @gracieux @b-blinks to join in this contest. Thanks!
---
Daily Contest #7 [COMMENT CONTEST] : What do you think about the Steem Healthcare Community (Reward Pool: 30 STEEM) #Steemhealthcare is a new community that already has many active and creative writers, where I have been in this amazing community for a long time, which always creates and provides writers to write and share their experiences about environmental health and Herbal plants. , which probably many steemit writers already know, but in this case there are still things that make them stop because of work factors and ideas that may be difficult to work on. As a writer, I am very happy with a work and idea from the #steemhealthcare community which is building the nation's children around the world to know health and share sources of income in an extraordinary and very interesting blogchain. In this contest I invite some new users to join and join in this great community, among others; @dear-davil468, @eternal-light, @rainbow-steem, @ocean-renggo, @uyapapua, @junef, @new-spirit. hopefully these new writers can give birth to many new ideas in writing and their work.
---
Comment : @farady08 (3 Steem)
With this community I get a lot of knowledge and information that is very useful even I can apply it in my daily life, I really hope the members of this community to be able to continue to provide all information about the health of the body and soul, because by reading your article I can to live a day life with a healthy body anyway, because health is very expensive, if we are not aware from now on about health then in the future we will be very difficult to do all the activities that we routinely do such as work etc. I have invited some of the steemians to follow this community @rezalhok,@ikhlas,@musangprik To enter this contest
---
Comment : @itikna09 (3 Steem)
Melihat postingan ini membuat saya ingin mengambil bagian menjadi salah satu peserta hadir berikut adalah tentang komunitas ini menurut pandangan saya. Semenjak terbentuk nya komunitas ini saya adalah tergolong orang ketiga yang terlebih dahulu dalam menjadi langganan komunitas ini bila tidak salah juga pernah aktif setiap hari, namun beberapa hari belakangan ini saya sibukkan acara pernikahan maka saya pernah pokum untuk sementara. Pandangan saya tentang komunitas ini adalah baik karena dari segi manapun di pandang akan terlihat baik karena masalah kesehatan, berbicara masalah kesehatan adalah hal yang paling penting dalam kehidupan setiap kita punya masalah karena tidak selamanya hidup sehat semakin banyak konsumsi makanan maka semakin banyak masalah penyakit yang hadir menghampiri sehingga dengan terbentuk komunitas ini salah satu cara rasa peduli dengan sesama dan membantu orang lain dalam menjalani masalah penyakit dengan memberikan resep obatan terkini maka komunitas ini yang terbaik dari sekian banyaknya komunitas menurut saya. Turut mengundang @khaidir @zahrialzah @yaumilahya @razzor untuk mengambil bagian dalam kontes komunitas ini
---
Comment : @kurza (3 Steem)
First of all, I am very grateful for the admins and moderators in the SteemHealthcare community. Don't forget to also thank the members at steemhealthcare. In my opinion, the thing that I like the most about the SteemHealthcare community is the one thing that is very positive about health and being in this community makes us more aware of the importance of maintaining health. Regarding the SteemHealthcare community it is also very positive to hold very positive contests for all members of this community and the motivation about health is also growing very well. I myself feel comfortable in this steemhealthcare because the manners or ethics of all members in it are very good and very suitable for us to develop this SteemHealthcare community more advanced. May I be honest about what I experience or feel in this community and Thank you for today. Thanks to @ahyar92 as the moderator for holding this good contest.
---
Hola amigos de Steem Healthcare: Esta es una comunidad que conocí hace poco, pero que me encanta visitar, por la variedad de post que se comparte orientados siempre al cuidado de la salud, la buena alimentación y el bienestar integral del ser humano. Cuenta ademas con profesionales de la salud dispuestos a brindar las orientaciones en la rama que conocen muy bien, ellos los médicos que se encuentran en la comunidad como es el caso de la amiga @dra.kgerde, son dedicados a sus labores y también a animar a los usuarios a participar en la misma eso es un atractivo bastante interesante de esta comunidad. En tal sentido invito a las amigas @jennyzer , @aligueva, @nerior que se unan para que compartan saberes que benefician nuestra salud y bienestar integral.
---
Comment : @nneoma08 (3 Steem)
Hello @steemhealthcare Community and every member of this community. This is my entry for this Daily contest #7 [COMMENT CONTEST]: What Do You Think About Steem Healthcare Community? My heartfelt appreciation goes to the Admin and Great minds behind the success and progress of this amazing Community. Dearest Steem Health Care Community, You are top on my list of all the Communities on Steemit platform since I found you, hence, I won't stop contributing my quota to you and selling you out. You need all the attention and publicity to be top rated by all your members and other steemit users. Please, I need you on other social media platforms to achieve this and possibly a group outside Steemit for more interactions. Your choices of Contests are second to none, they out rightly set me on my toes in as much as they are convenient and I always emerge a better me. You are so flexible with your Contests and Administration. You keep me active, alert and enthusiastic at the same time ☺️☺️. I have also learnt to appreciate new friends, new people and their culture through you. You keep me improving and discovering myself, my hygiene and my skills. I love you 😘 You appreciate every of my efforts thus making me want to do better. Please, I need you to appreciate more members for their inputs especially on the weekly #contests even with the same total reward pools or more. I must not forget to mention @ahyar99 for his mentions, notifications and for initiating great contests like. You're amazing, Sir. I am so grateful to all the Admin @imamalkimas @mudajuli @ahyar99 and @lidiasteem; The Steem Health Care Curators and Moderators, @steemcurator01, @pennsif and @stephenkendal, Thank you all so much and please keep supporting this beautiful community. I am inviting my friends @gracie20, @beewrites, @solar-star, @judyred @ebunoluwani to come take part in this contest.
---
Concurso diario n. ° 7 [CONCURSO DE COMENTARIOS]: ¿Qué piensas de la comunidad Steem Healthcare por @emmalucia Saludos queridos amigos de Steem Healthcare para mí es un placer formar parte de esta hermosa comunidad, apenas hace dos días realice mi presentación en esta comunidad y me encuentro ansiosa por comenzar a compartir y aprender de ustedes. Ingresé a está comunidad pues me parece excelente los temas que acá se manejan, todos sabemos que lo primordial en nuestra vida es gozar de buena salud, me parece maravilloso que podamos contar con esta comunidad dónde la salud es el tema principal. A pesar de no tener mucho tiempo aquí puedo darme cuenta que sus concursos son muy llamativos, motivadores y lo más importante educativos, yo como docente me siento feliz de estar acá y espero aprender mucho de esta comunidad y compartir mis conocimientos del tema, además de ser multiplicadores de lo acá aprendido. Aún no conozco los administradores, moderadores de esta comunidad pero para ustedes mis más sinceras felicitaciones por su gran trabajo, espero poder formar parte activa de la comunidad y crecer junto a ustedes, éxitos en este proyecto amigos.
---

Thank you to those of you who have won the contest that we run in this community and continue to work and actively build this community and we will always appreciate quality posts.
And Special! Thank you to all the Participants who took part in this daily contest #7 . We are very happy, for all of your participation :).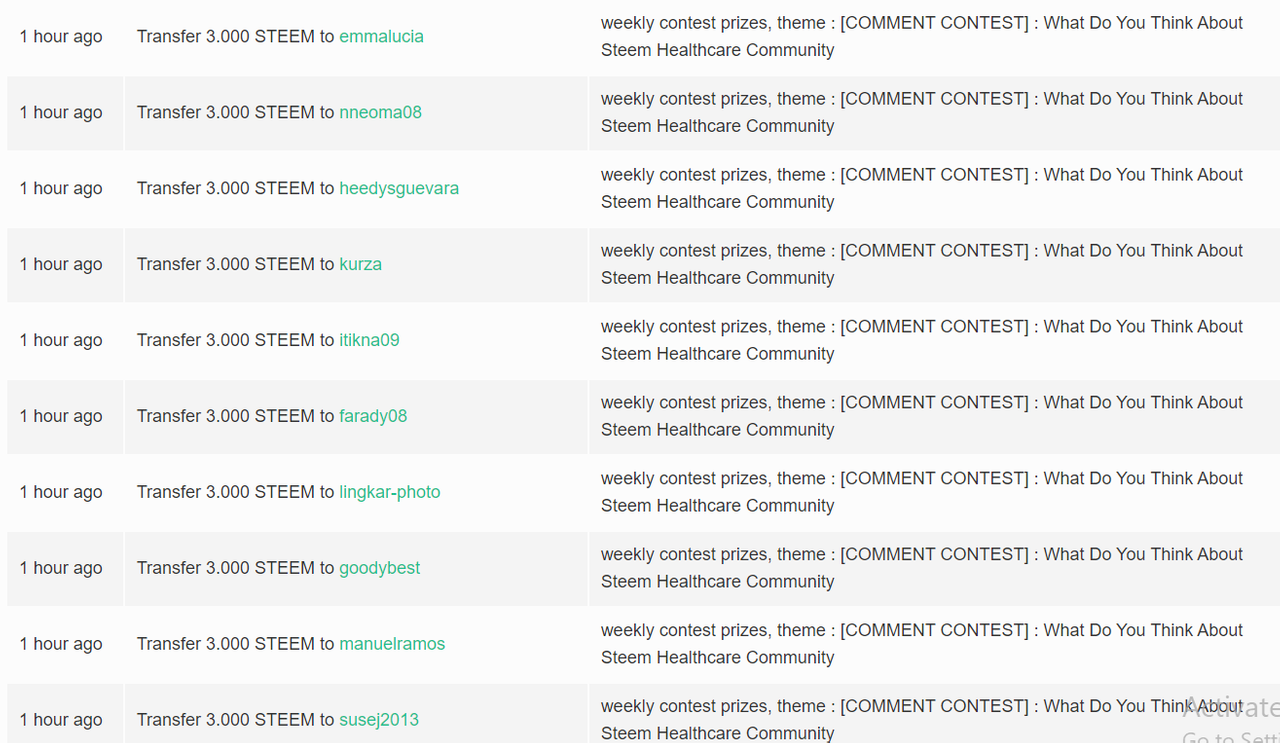 ---
We have also sent steem to the accounts of the winners of this daily contest #7 and you can check your steemit account wallet and thank you for participating in this contest well and I hope that you and those who haven't won this contest are also active in participating in future contests that we run every time.
🥳 Congratulations to the Winner 🏆 again !!
Thanks to admin @imamalkimas and @mudajuli and moderators @ahyar92 and @lidiasteem for doing their best for this community and judging fairly for this daily contest winners
---
I will be grateful
@,steemcurator01, @,steemcurator02, @,steemitblog for supporting the contest!

Please join us at discord and you can communicate with us for the betterment of the Steem Healthcare community

Steem Healthcare Discord : https://discord.gg/NnpBEdEu4V
Steem Healthcare Website : http://steemhealthcare.org
---
Support us by delegating STEEM POWER.