... 𝗣𝗢𝗪𝗘𝗥 ⚡
All of us have different talents, hobbies and passion in our unique way. We just need to recognize our capacity to develop it to their full potential. Whether it's singing, dancing, photography or anything that you love to do!
Redeem your spotlight and show us to the world what you love!
Criteria to join the event:
✔ 1.) Post your passion whether it's on a photo or video (what you love to do!)
✔ 2.) Make a nice short description
✔ 3.) Put the correct hashtag #ilovemypassion
✔ 4.) Make sure you follow the appics social media accounts
Facebook Page: appics.official
Instagram: appics.official/
Twitter: appics_official
Tiktok: @appics
Telegram:https://t.me/appics_official
⏳ Draw date will be on July 24, 2020 (Friday)
🎲 Random Pick (Spin wheel) via video post from extalifestyle
☣ Fake accounts will be observe keenly and subject for disqualification.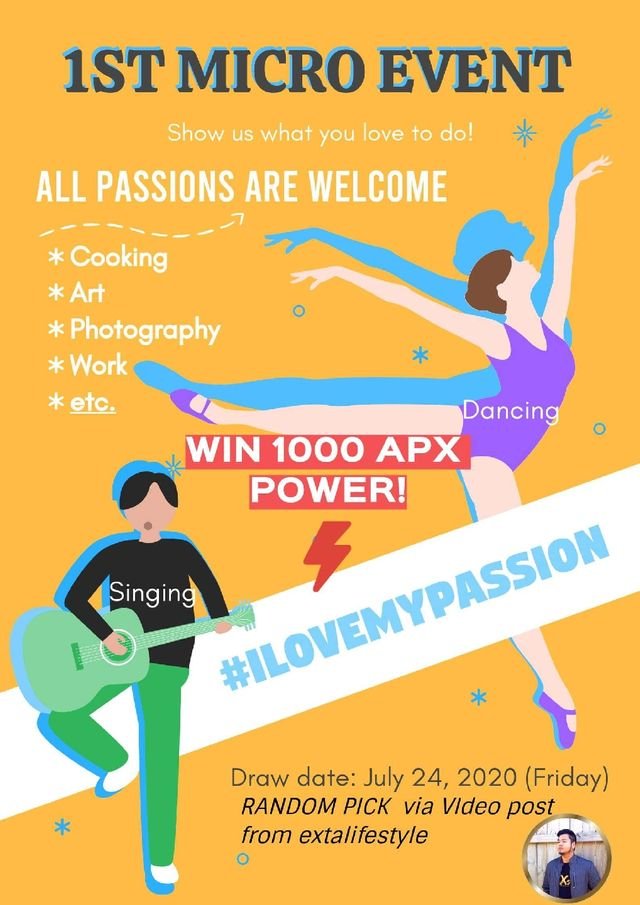 %20Post%20your%20passion%20whether%20it's%20on%20a%20photo%20or%20video%20(what%20you%20love%20to%20do!)%0A%E2%9C%94%202.)%20Make%20a%20nice%20short%20description%0A%E2%9C%94%203.)%20Put%20the%20correct%20hashtag%20#ilovemypassion%0A%E2%9C%94%204.)%20Make%20sure%20you%20follow%20the%20appics%20social%20media%20accounts%0A%0AFacebook%20Page:%20appics.official%0AInstagram:%20appics.official/%0ATwitter:%20appics_official%0ATiktok:%20@appics%0ATelegram:https://t.me/appics_official%0A%0A%E2%8F%B3%20Draw%20date%20will%20be%20on%20July%2024,%202020%20(Friday)%0A%F0%9F%8E%B2%20Random%20Pick%20(Spin%20wheel)%20via%20video%20post%20from%20extalifestyle%0A%0A%E2%98%A3%20Fake%20accounts%20will%20be%20observe%20keenly%20and%20subject%20for%20disqualification.&category=purpose&hashtags=extalifestyle+ilovemypassion+event+1000apx&author=extalifestyle&profileImageUrl=https://s3.us-east-1.amazonaws.com/appics-content/profileImages/4137-1586483168483-640&permlink=appics-v1-appics-im-227380)



%20Post%20your%20passion%20whether%20it's%20on%20a%20photo%20or%20video%20(what%20you%20love%20to%20do!)%0A%E2%9C%94%202.)%20Make%20a%20nice%20short%20description%0A%E2%9C%94%203.)%20Put%20the%20correct%20hashtag%20#ilovemypassion%0A%E2%9C%94%204.)%20Make%20sure%20you%20follow%20the%20appics%20social%20media%20accounts%0A%0AFacebook%20Page:%20appics.official%0AInstagram:%20appics.official/%0ATwitter:%20appics_official%0ATiktok:%20@appics%0ATelegram:https://t.me/appics_official%0A%0A%E2%8F%B3%20Draw%20date%20will%20be%20on%20July%2024,%202020%20(Friday)%0A%F0%9F%8E%B2%20Random%20Pick%20(Spin%20wheel)%20via%20video%20post%20from%20extalifestyle%0A%0A%E2%98%A3%20*Fake%20accounts%20will%20be%20observe%20keenly%20and%20subject%20for%20disqualification.&category=purpose&hashtags=extalifestyle+ilovemypassion+event+1000apx&author=extalifestyle&profileImageUrl=https://s3.us-east-1.amazonaws.com/appics-content/profileImages/4137-1586483168483-640&permlink=appics-v1-appics-im-227380)