INTRODUCTION
Greetings to you all my dear friends and fellow steemians here in
@steemitnursery
and steemit ecosystem at large. It is a wonderful privilege that I have been given to participate in this marvelous contest by
@belenguerra
. Here I am to talk about my preferred community and this is a great idea because all of us belong to one community or the other either as active member or as a friend. And where ever and whatever level we are now in steemit is as a result of the community we belong to. Yes, the supports our community gives us brought us this far. At this juncture, please keep reading let me tell you about my preferred community, not that other communities are not dear to me but I want to talk about one that is very dear to me.
MY DEAREST COMMUNITY - @STEEMALIVE
My journey here in steemit began in @steemalive and where I am today in this ecosystem is as a result of the supports I have received and am still receiving from @steemalive. And this supports are both in rewards and in mentorship, including engagements from members. So please, permit me to introduce my dearest community to you and that is
This community was lunched in July 2020, at almost the same time i joined steemit, it is actually the same month, you see why I said that my journey here began with @steemalive. When I came in newly, I didn't even know my left from my right but the founder of this noble community @focusnow took it upon himself to put me through. He is actually the brain behind this wonderful community notwithstanding the fact that there other CO-founders. Who are
Becky - Team member @beckie96830
Faith - Team member @talktofaith
Daniel - Team member @iamdanny
Nmesoma - Team member @mesonia
Faith - Team member @dlioness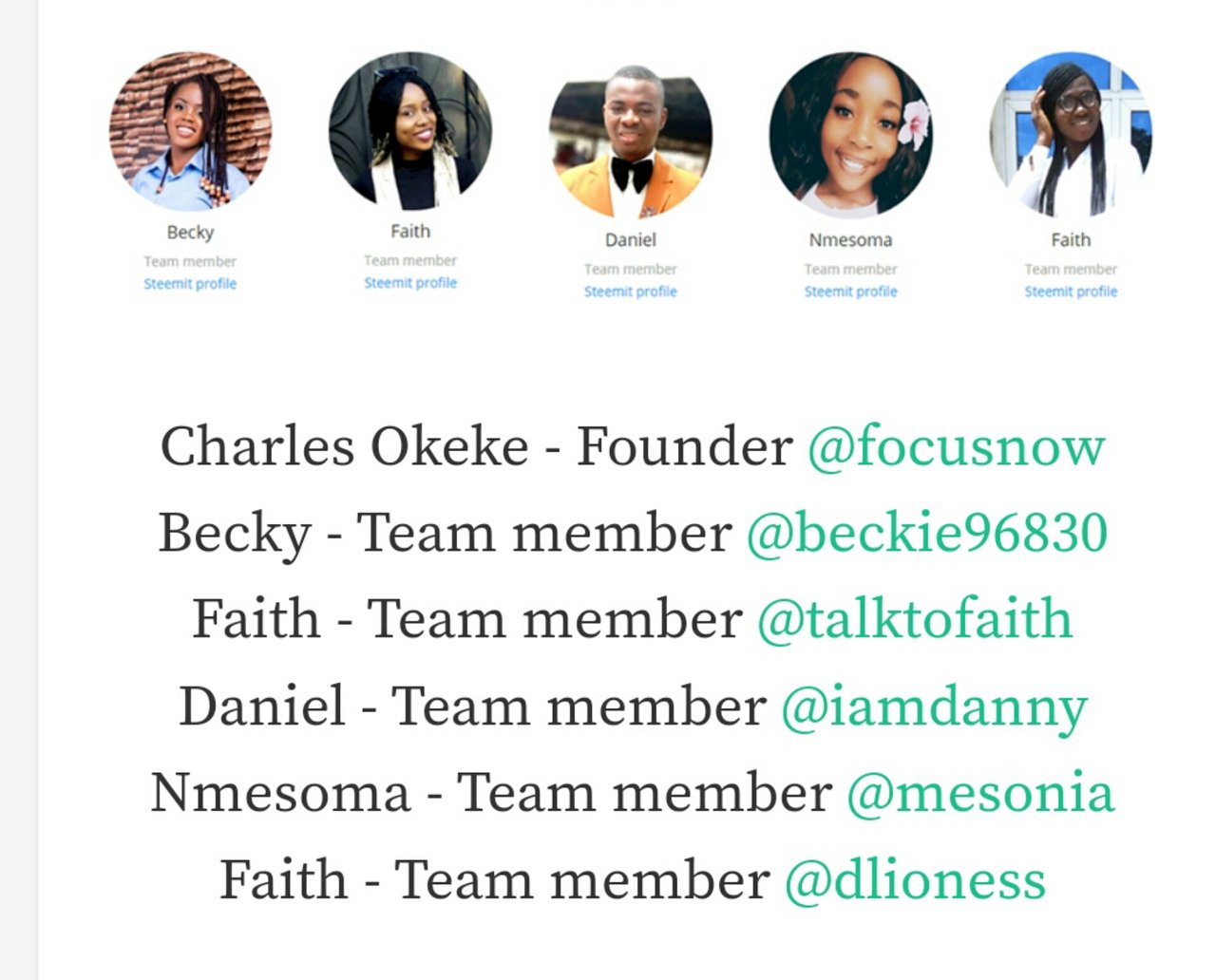 This is a screenshot from the @steemalive introduction post.
And as at that time, the members were
@beckie96830 @venon
@talktofaith @rexgeorge
@iamdanny @thequill
@mesonia @samaria
@dlioness @harrygwec
@smartup @cassieijay
@symplypresh @onyx96502
But now, steemalive have more than 1000 members and more than 170 active members in such a short time.
I joined the community shortly after it was formed. And I have interacted with all the founders I mentioned above. I have also interacted with @njiatanga, @bright-obias, @whitestallion, @iamlynxie, @tenguhatanga, @sarahraudhah, @tmighty, intact, almost all the members, they over 100 members that I have interacted with of which it will not be easy to mention them all.
This purpose of this community is to onboard new members and to apply the 3Rs which are Recruitment, Retention and and Reward plan. @steemalive have consistently fulfilled it's purpose and it is still doing that now. I am a product of @steemalive. I have been recruited, retained and consistently rewarded. And many others have, intact on an average, @steemalive recruits at least 5 persons each week. And this is in fulfilment of the first R.
For the second R, it has a training centre where members are trained and on an individual basis, most members receive personal trainings and encouragement to continue. There are also a lot of projects that @steemalive runs that enable it's members to keep busy like the live and direct reporting (LID), weekly contests, whatsapp group page engagement, city coordinators project of which I am a coordinators of my city, Uyo, weekend chatting on discord and so many others which regularly keeps us busy here in steemit. Recently, @steemalive have given birth to a brand new community for pet lover known as @fur-friends. This is the first of its kind here in steemit. And the aim is to bring all pet lovers here together and to recruit all who are pet lovers. With these mentioned points, @steemalive have fulfilled the second R which is retention and it is still doing that.
Next, @steemalive have been rewarding it's members daily and weekly for being active in the community. For example, everyday I report my LID up to 2 times, I am rewarded. Any week I participate in her weekly contest, I am rewarded. Most times, those who are first to comment on a newbies post are also rewarded. When we participate in our weekend discord discussion, we are also rewarded. And so many avenues of being rewarded. I don't even want to mention the votes it gives to her members from time to time even though it 8s just a baby community compared to all other communities here in steemit. By all these means, it is fulfilling the last R which is reward.
You can really see why I am in love with this community.
The contests by @steemalive community are always in all areas of live. No specific area. Like this week, the contest is on Bitcoin and what you can do with just 1 Bitcoin. Last week it was on 2021 budget. How much you plan to get this year and the first 3 things you will like to do with the money when you get it. And so many other areas.
The moderators of this community are all the founder, the co-founders, the 3 country representatives that @steemalive are produced, I am also a moderator. And we are all doing great.
I am an active member of @steemalive community because I publish regularly. In a week, I average 2 posts per day of the week. And I participate in all its projects both old and new.
If I am to set my own community, I will like to set up one that will care about marriage, family life and children. Haha, hope I have not given out my community idea? lols!
CONCLUTION
@steemitnursery and @belenguerra, from the points above, you can see the reasons why I have made @steemalive my dearest community despite the fact that I am also in love with other communities like this steemit nursery. Thank you all for the privilege and for reading my entry to this contest.

This is my introductorypost here


Subscribe:::Discord.
:::Whatsapp :::join trail :::Steemalive Website