I remember when it was just a whisper and everybody was all atwitter with the possibilities of an injection of money, marketing and general @justinsun magic that was going to put Steem on the tip of everybody's tongue.
Well, hey. It kind of worked. Probably. It sure as fuck got people talking and banding together. What I wonder is how the new Hive blockchain will be governed. Like will it still have the old guard witnesses and infrastructure? Will there still be bidbots that are run by the elite and the plebes that use them will still get punished? I really hope that everyone looks at the fact that Steem was at a pretty low point before all of this turmoil happened and what is going to change in this installment?
I was pretty skeptical about the whole Tron thing at the start but my concerns were just a drop in the bucket of what really ended up happening. I thought the big problem would be the Chinese government forcing censorship or something like that.
How wrong was I?
What a fucking shitshow. Then I see people buying up Steem at double the price it was a couple of days ago so they can get Hive tokens and still own the Steem. How much is Steem going to be even worth after all of this? It's really mindboggling.
I know that I am no authority on anything and I don't claim to know what's going to happen but I know that I am glad I don't have skin in this game. I also don't believe all the pro-decentralization shit I hear. I assume most of it is from rich people that are shitting their pants because their cash might be lost if they don't do something. It's even scarier that there is no toilet paper anywhere to be seen.
What a fucking time for all this to happen. People panic selling all kinds of currency to stock up on shit tickets and hand sanitizer. If it was that close to you being fucked up, should you really be investing in crypto? We now know that people will dump crypto and gold faster than they dump stocks. Here's the NYSE for the last month.


source
Well, maybe not as fast with gold.

source
And this is Bitcoin.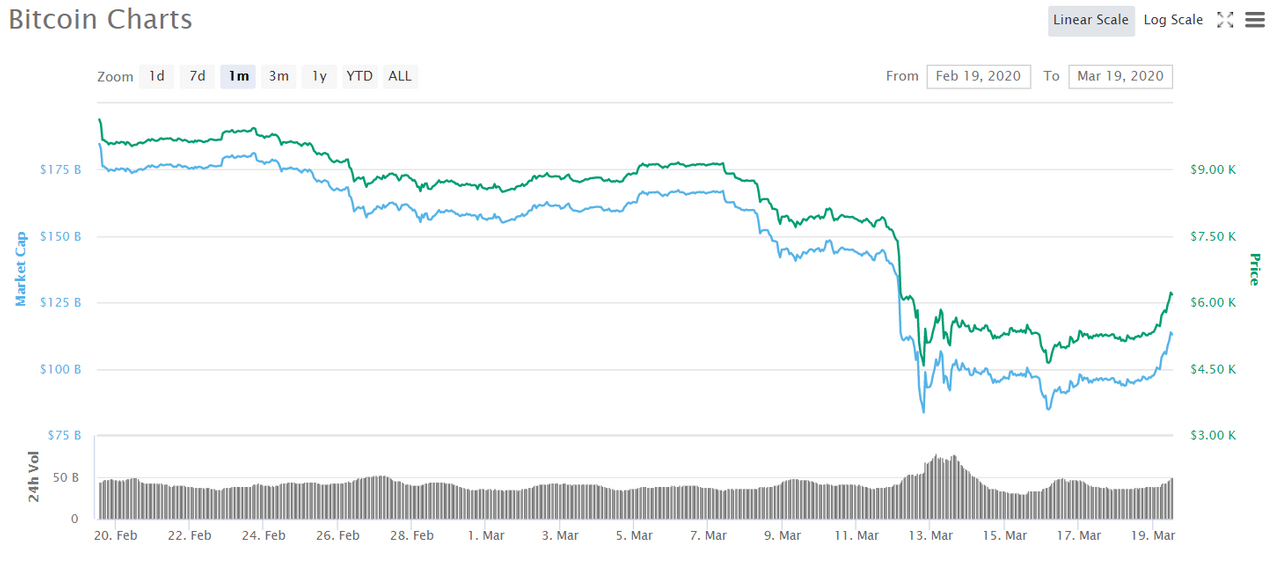 source
Now, to be fair, the stock markets are set up to prevent mass selling, I believe. I'm sure they would be even more volatile if they could.
I don't even know how I got off on this tangent but I did so deal with it. Or don't. For the eight people that might see this.
Anyhow, I sincerely wish you all luck and I hope you are staying safe. By safe I mean not killed in a fight over a litre bottle of hand sanitizer.