I've been talking about LUNA for a while now because I lost a lot of money in a short period of time. The team as already launched a new project, abandoning the old one, and has received a lot of backing from significant and well-known crypto exchanges. To be sincere, I never predicted the amount of support Do Kwon and LUNA2.0 are currently getting; it's surprising and bewildering because the massive outpouring of support from nearly every Popular crypto exchange caught everyone off guard; I still can't believe this is happening, maybe the exchanges that are supporting them knows something that the public or the investors doesn't know?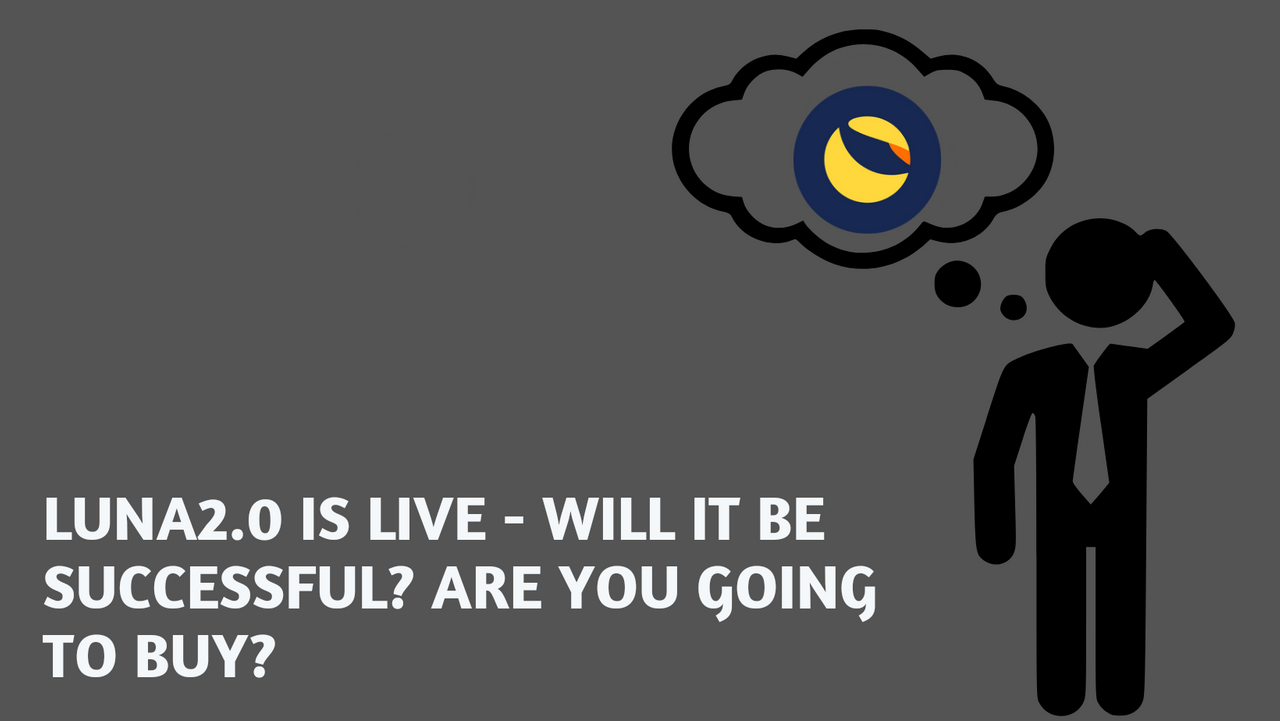 Many investors have been largely affected by the LUNA crash, few are so lucky to pull out their investment when the crash began, while some of the investors literally had to see their investment fall to zero in a short time, that is not going to be quickly forgotten and it is going to be a huge pain in their heart, I do not really think anyone that was affected by the crash would even invest $5 in the new LUNA 2.0, no matter how much public backing Do Kwon is getting from the popular exchanges.
Some big whales lost millions of dollars to LUNA; how can you expect them to trust the new LUNA 2.0 project, let alone invest in it? I believe the majority of people are just waiting for the LUNA 2.0 Airdrops in attempt to recoup some of their losses.
Now to the question 👇👇
---
Will LUNA 2.0 Be Successful?
---
Most of the investors who lost money in the LUNA crash visualize any project involving the LUNA team as a failed project, and LUNA 2.0 is no exception. I've seen a couple of posts on Twitter calling LUNA 2.0 a failure project even before it was launched today, May 28th, 2022. It was originally supposed to be launched yesterday based on the reports, I'm not sure why it was moved to today, but this change of date will not help, as it has added fuel to the trust issue people have, since they can't even maintain the launch date.
Launched today and currently down by 71% is another point that people have no interest in the coin, a lot of people are waiting for their airdrop to sell off and this will futher add to the dips..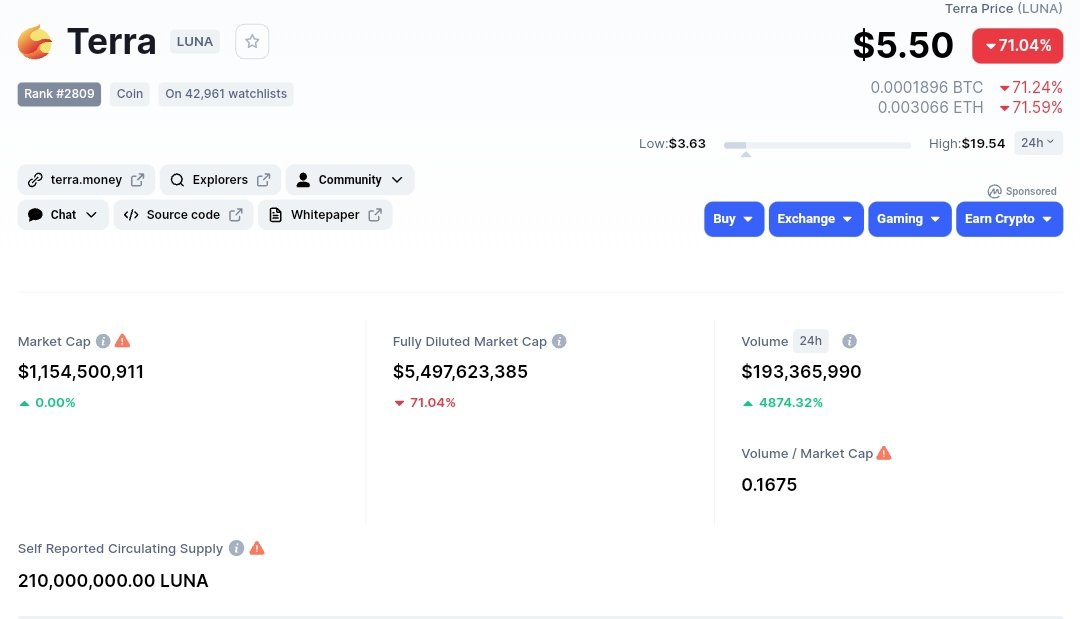 Some crypto exchanges have distributed the airdrops to the old LUNA holders a.k.a Luna Classic (LUNC) and also open trading immediately, while some other exchange, Binance for example, are yet to distribute the airdrop nor open trading for it.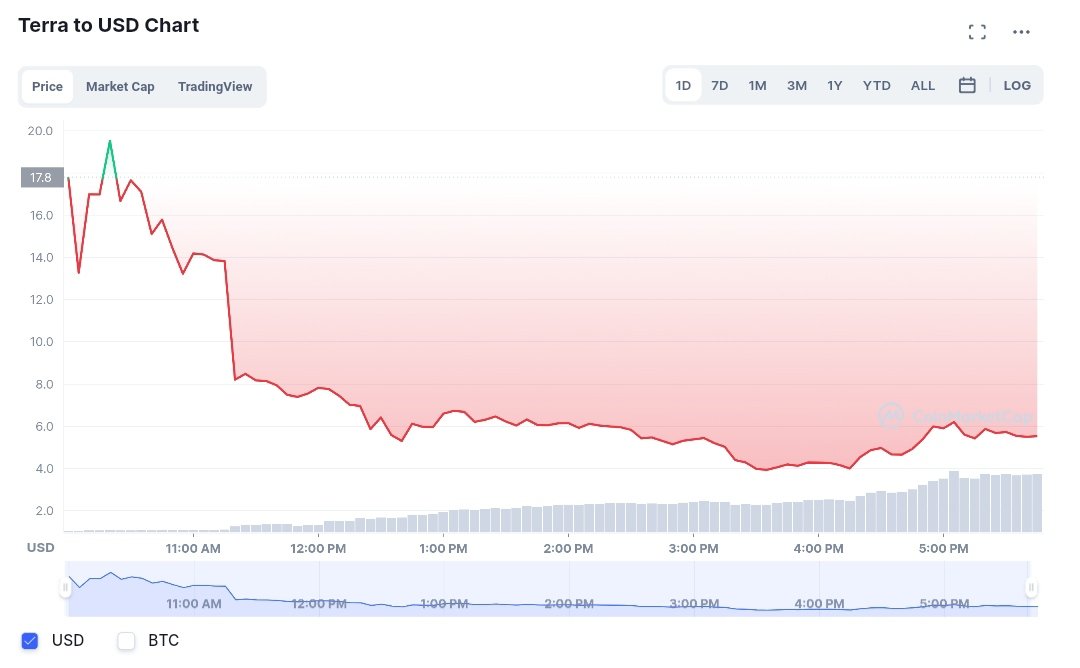 It began trading today, and it rise to $17, before dropping to $13, not long it rise again to $19.54 and now it has dropped and currently trading at $5.50.
With this declined it means a lot of people are selling off at huge pace, I owned some of the old LUNA after the attack. Although, I haven't received any airdrops, but if I do, I'll be selling off immediately, since I don't trust the project again.
Now to the other question 👇👇
---
Will You Buy The New LUNA?
---
As for myself, I won't be doing that because I'm about to receive an airdrop, and secondly, I have a horrible track record with trading LUNA, so I'll avoid it. Fundamentally, the new coin is worthless because it is only a governance coin for a project that has abandoned the (UST) protocol that made it renowned and profitable in the first place.
The new LUNA blockchain has knocked out UST, a stable coin that employs a decentralized algorithmic, and the only way for the new project to rebuild investors trust is to produce new concept that works reasonably well and can persuade investors to put their money.... For me I won't be buying the new LUNA, I'm waiting for Binance update on the airdrop and I've selling off as soon as I got it..
If you must invest, I recommend that you conduct thorough research and analysis, and that you only invest what you can afford to lose.
Will LUNA2.0 be successful? Will you buy? I'd like to hear from you.
Interested in some of my articles on LUNA;
My Investment Loss Experience With Terra LUNA
The Reasons Of The Crypto Crash In 2022 - How To Deal With It