Dear Steemit Community
It's been exactly 3 months from the hard fork with hive, and many people are facing problem how to convert their steem to other fait currency without giving KYC and in easy steps with fixed conversion rate. Before it was very easy to convent steem to fait currency as blocktrades was supporting the conversion.
Presently numerous individuals have steem with them, and would prefer not to utilize trade and do KYC with the exchange. Aside from this there are numerous conditions like you need to set request with certain sum like on @bittrex you can't set request underneath 0.00050000 satoshis. So on the off chance that you are having less Steem what will you do ? Presently here the inquiry emerges.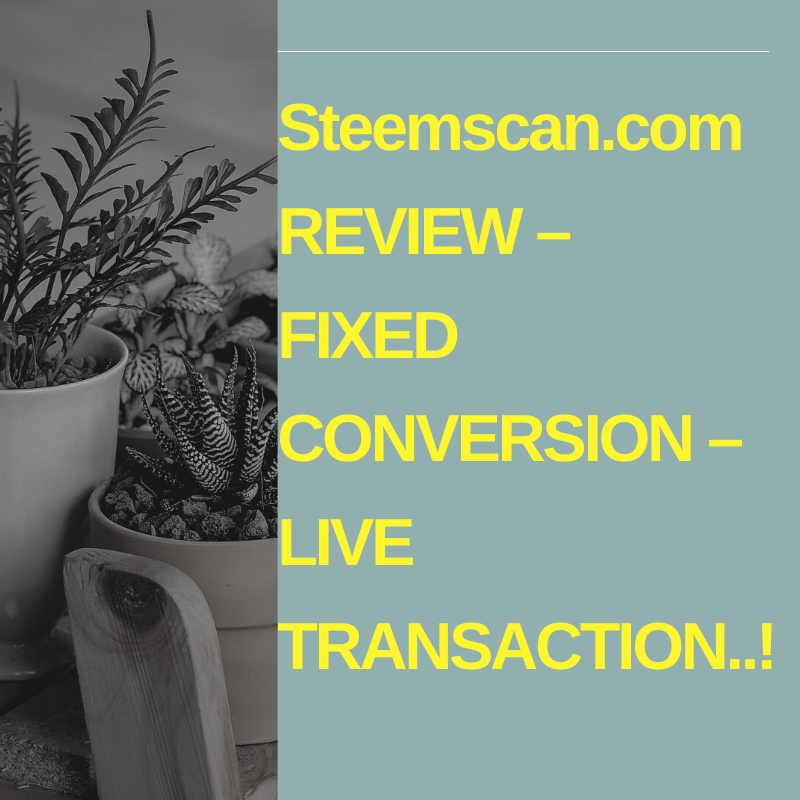 HOW TO SWAP MY STEEM TO USDT/BTC/TRX?
I wasn't sure what I was going to do with this steem since I didn't want to use any exchange for conversion. So i started doing research on steem and looking for websites, So i have found a very easy and convenient website to convert your steem to fait currency in very easy steps.
Special Thanks to @roadofrich and @futureshock For providing this service.

First of all let's discuss about its feature and its service.
User Friendly
The website is very user friendly, easy and simple to use the developer has done very nice job in presenting the website. I especially like the dark mode very much. All the graphs are easily visible with latest price and volumes of the Steem.

Latest blocks and Latest Transactions
This is the best part of the all the latest transaction and latest blocks are displayed that is mined by witnesses.

DApps and Witness
Dapps are the application that are available on the steem blockchain and what are their ranking currently all will be shown at once place. witness are the people which are running the platform transaction. here you can directly see all the witness and and directly vote for any witness and see their profile also on steemscan.

Some Pros and other different benefits.
FIXED Conversion Rate
One of the Best part of this website is that FIXED CONVERSION RATE , This website is very benefited for small and big users. as it charges fixed commission on conversion which helps the whales and small members.
Best part is that commission is also very affordable for small users and whales
NO KYC For Any Transaction.
Another best thing of using this website is that, we don't have to submit any KYC Details. other exchange are asking for all KYC details to process your transaction but this website is just awosome to use without any KYC.
Their are lot of other benefits , but this two are the best and unique from other exchange.

Let's Do a Quick Conversion
Here are the simple and easy steps you need to follow in the process of conversion.
step 1
Lets Exchange steem to Tron (TRX). You need to first put how much steem you need to convert. then select the TRX as currency, then your withdrawal address and click on create order.
This brings you to the next page which displays the transaction details.

Step 2
These screen show the transaction to be completed. You will see the "Proceed Payment" button Click on this button to complete the process. Their will be expiry timing also for the transaction.
Note : You can directly also complete the transaction on steemit wallet.
when clicking on the "Proceed Payment" button it will show to complete the order.

Step 3
Put all the details like username and password and get started.

Step 4
Click "continue" to complete the order.

Step 5
Approve the Transaction, to complete fill the order.

Step 6
You will see your transaction is completed.
You can directly also send the transaction to the desired wallet.

Step 7
This screen shows that your transaction is successful on blockchain.


Step 8
You can see your order has been filled and the Tron (TRX) Has been tranfered towards your desired wallet.

Special Note: FIXED CONVERSION RATE & NO KYC REQUIRED

Image Credit : 1