Good morning Gems Community!
I think that after a long time I am writing again in this community!
After so much time gathering and educating myself to be able to take advantage of cryptocurrencies, I see how this is definitely unpredictable, no matter how much we study theoretically strategies that seem perfect, although it helps us a lot with the probabilities of improving the trading experience, we find huge surprises that do not end up shocking us when we close our eyes.
I keep making mistakes, I have a purse for Holdear and another to be more active with trading, but where I am active, I do not have a stop loss to help me avoid losses because of the aggressive falls in the market. It seems that I do not finish learning and securing my money, these drops are causing me enormous stress because just for June and July I was collecting.
I am uneasy about Steem and uneasy about other altcoins I have in play. However, part of learning is to catch your breath and not sell like crazy because it looks like there is one more level below the underground, and that is where crypto wants to go, patience plays an important role.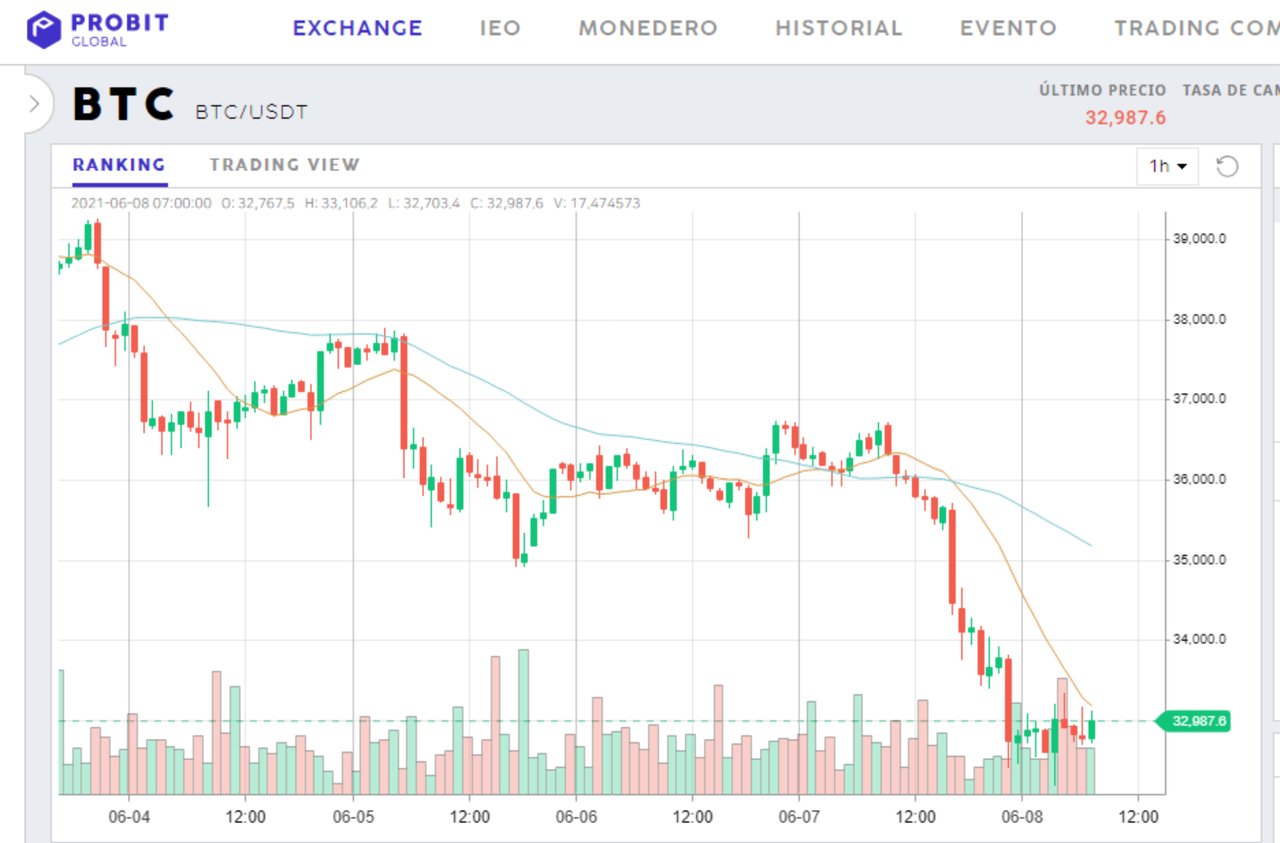 However I live in a hyper inflationary country where practimante is mandatory to take out of my wallet some money to half solve a market for food and personal items, if I lived on my jobs, I think I could not achieve much, so unfortunately this is hitting me hard.
Now I say to myself, if this causes me so much stress, how will be the emotional state of the people who have big capitals? Millionaire numbers that really hit hard emotionally, I don't think I would be writing about the big headache or the heart attack I would have suffered.
Anyway! I hope that Steem can recover and at least reach a point where all of us who make life on the platform do not lower our wings or lose motivation.
Terrible decision to have Probit as a wallet when there are other exchanges with great tools to avoid losses... we are still learning.
Don't sell | Don't lose ..... Wait
Greetings Community!
I hope the translation was good, my native language is Spanish.

Buenos días Comunidad de Gems!
Creo que después de mucho tiempo escribo nuevamente en esta comunidad!.
Después de tanto tiempo reuniendo y educandome para poder sacarle provecho a las criptomonedas, veo como esta es definitivamente impredecible, por más que estudiemos teóricamente estrategias que parecen perfectas, aunque nos ayuda mucho con las probabilidades de mejorar la experiencia del trading, nos encontramos con enormes sorpresas que no terminan de impactarnos cuando cerramos los ojos.
Sigo cometiendo errores, tengo un monedero para Holdear y otro para estar más activas con el trading!, pero donde estoy activa, no cuento con un stop Loss que me ayude a evitar pérdidas a causa de las caídas tan agresivas en el mercado. Parece que no termino de aprender y asegurar mi dinero, estas bajadas me están causando un estrés enorme porque justo para Junio y Julio estaba reuniendo.
Me inquieta el Steem y me inquieta otras altcoins que tengo en juego. Sin embargo, parte del aprendizaje es tomar aire y no vender como loca porque parece que hay un nivel más abajo del subsuelo, y allí es donde quieren ir las cripto, la paciencia juega un papel importante.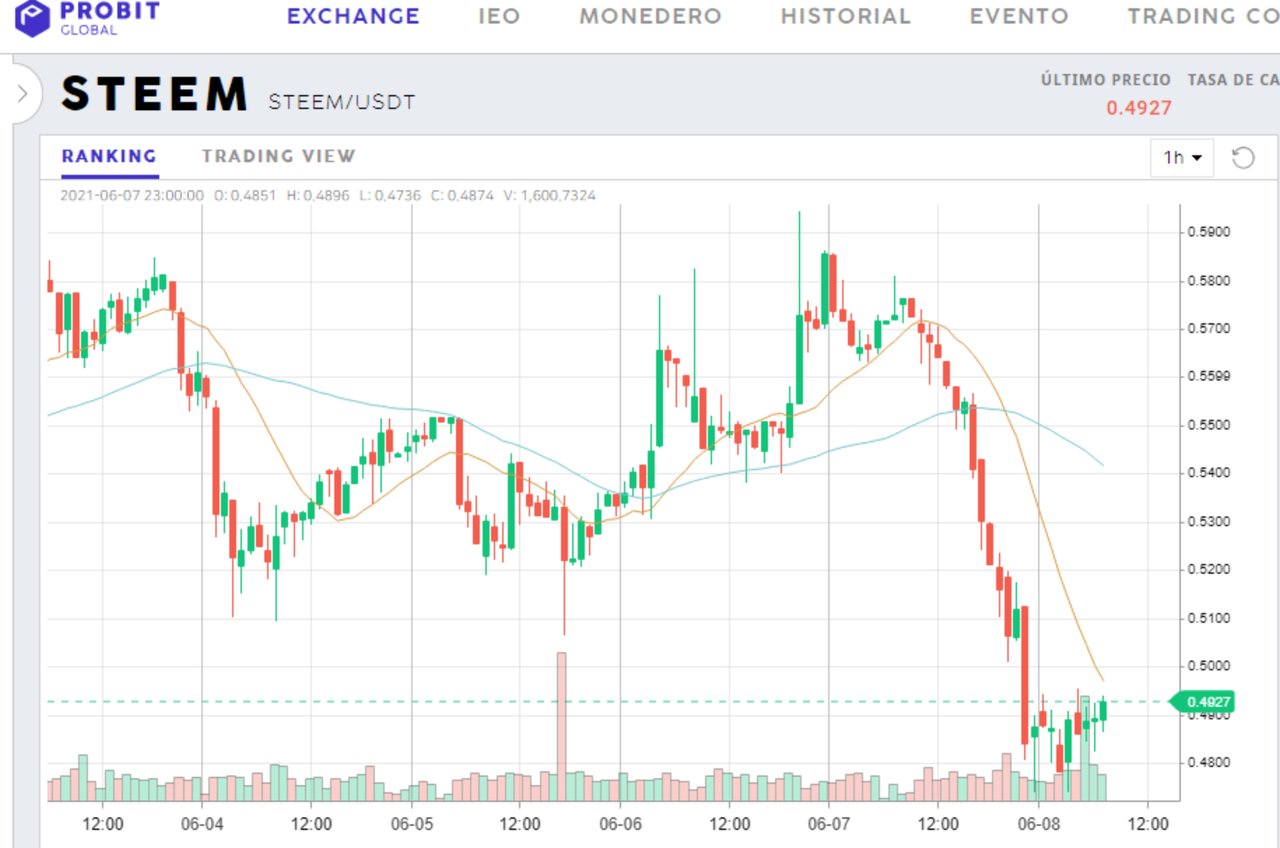 Sin embargo vivo en un país hiper inflacionario donde practimante es obligatorio sacar de mis wallet algo de dinero para medio resolver un mercado de comida y articulos personales, si viviera de mis trabajos, creo que no puediera lograr mucho, entonces, lamentablemente esto me está golpeando fuerte.
Ahora digo yo, si esto me causa tanto estrés, ¿Cómo será el estado emocional de las personas que tienen grandes capitales ? Números millonarios que realmente pegan fuerte emocionalmente, creo que yo no estuviera escribiendo del gran dolor de cabeza o del infarto que hubiese sufrido.
En fin! Espero que el Steem pueda recuperarse y llegar al menos a un punto que todos los que hacemos vida en la plataforma no bajemos las alas ni perdamos la motivación.
Terrible decisión tener de billetera Probit habiendo otras exchange con herramientas geniales para evitar pérdidas... seguimos aprendiendo.
No vendas | No pierdas, espera!
Saludos Comunidad!