Termografia a contactor / Contactor thermography
Hola a tod@s...
Hello everyone ...
La utilizacion de instrumentos por el largo del tiempo han servido como reemplazo de medidas rusticas que muchos utilizamos, como por ejemplo contar distancia con pasos nos determinara un aproximado en distancias en metro, el instrumento que nos reemplaza este método es el flexómetro nos dará una medida con mas exactitud.
The use of instruments over time has served as a replacement for rustic measurements that many use, such as counting distance with steps will determine an approximate distance in meter, the instrument that replaces this method is the flexometer will give us a measurement more accurately.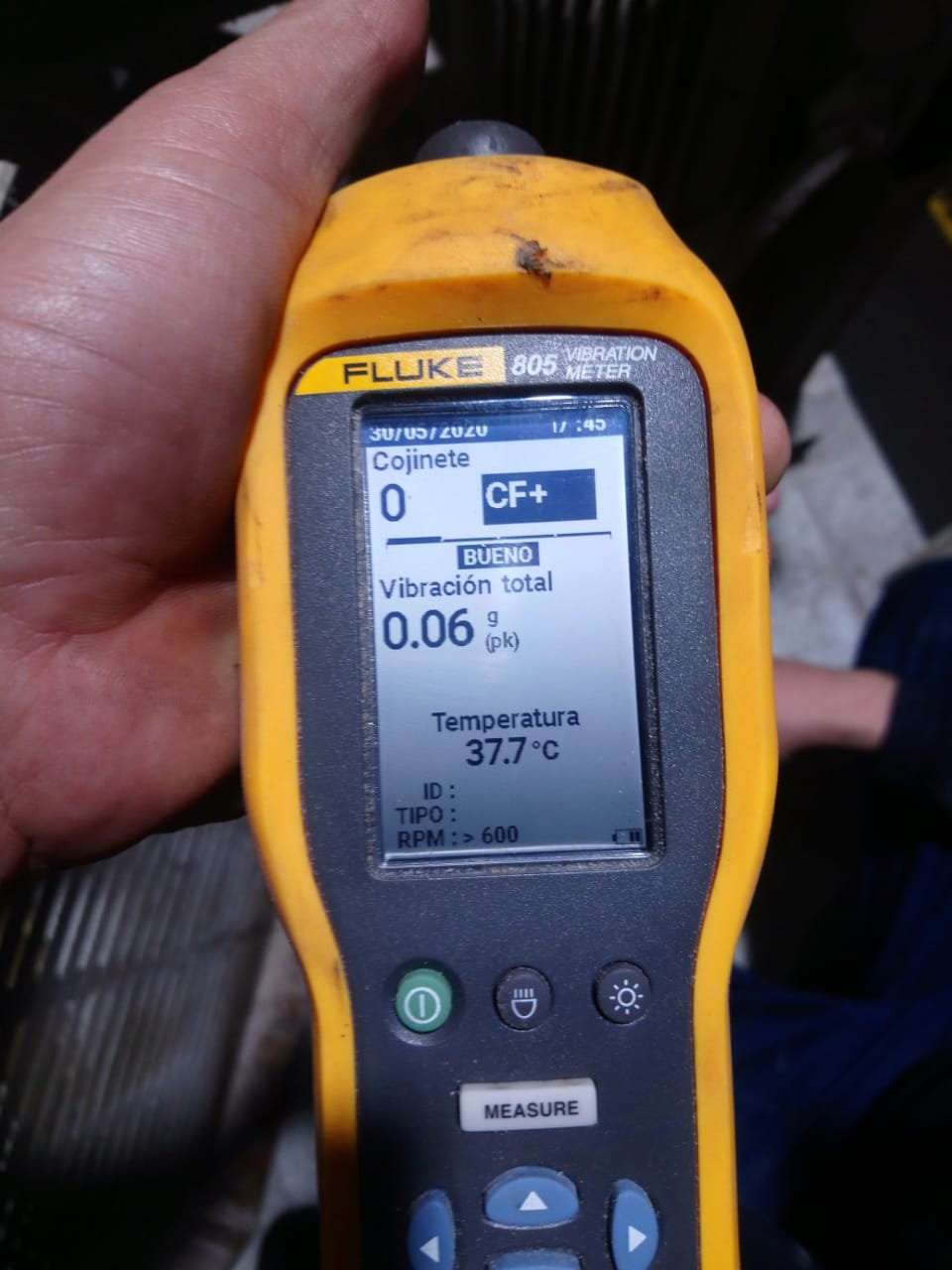 Instrumento para medir vibracion / Vibration measuring instrument
Estas mediciones es basada normas internacionales elaboradas por "Organización Internacional para la Estandarización", que sus siglas en ingles ISO.
These measurements are based on international standards developed by "International Organization for Standardization", which stands for ISO.
En mi rutina de trabajo me toca aplicar ciertas mediciones en dispositivos y equipos para saber el comportamiento en el tiempo en el tiempo y asi bajo ciertos cálculos estadísticos determinar cuando fallara, este tipo de trabajo es un mantenimiento predictivo. Así mismo en el desarrollo del trabajo aplico lo que es lectura de termografia (temperatura) y vibraciones .
In my work routine I have to apply certain measurements on devices and equipment to know the behavior over time and over time and thus under certain statistical calculations determine when it fails, this type of work is predictive maintenance. Also in the development of the work I apply what is thermography (temperature) and vibration reading.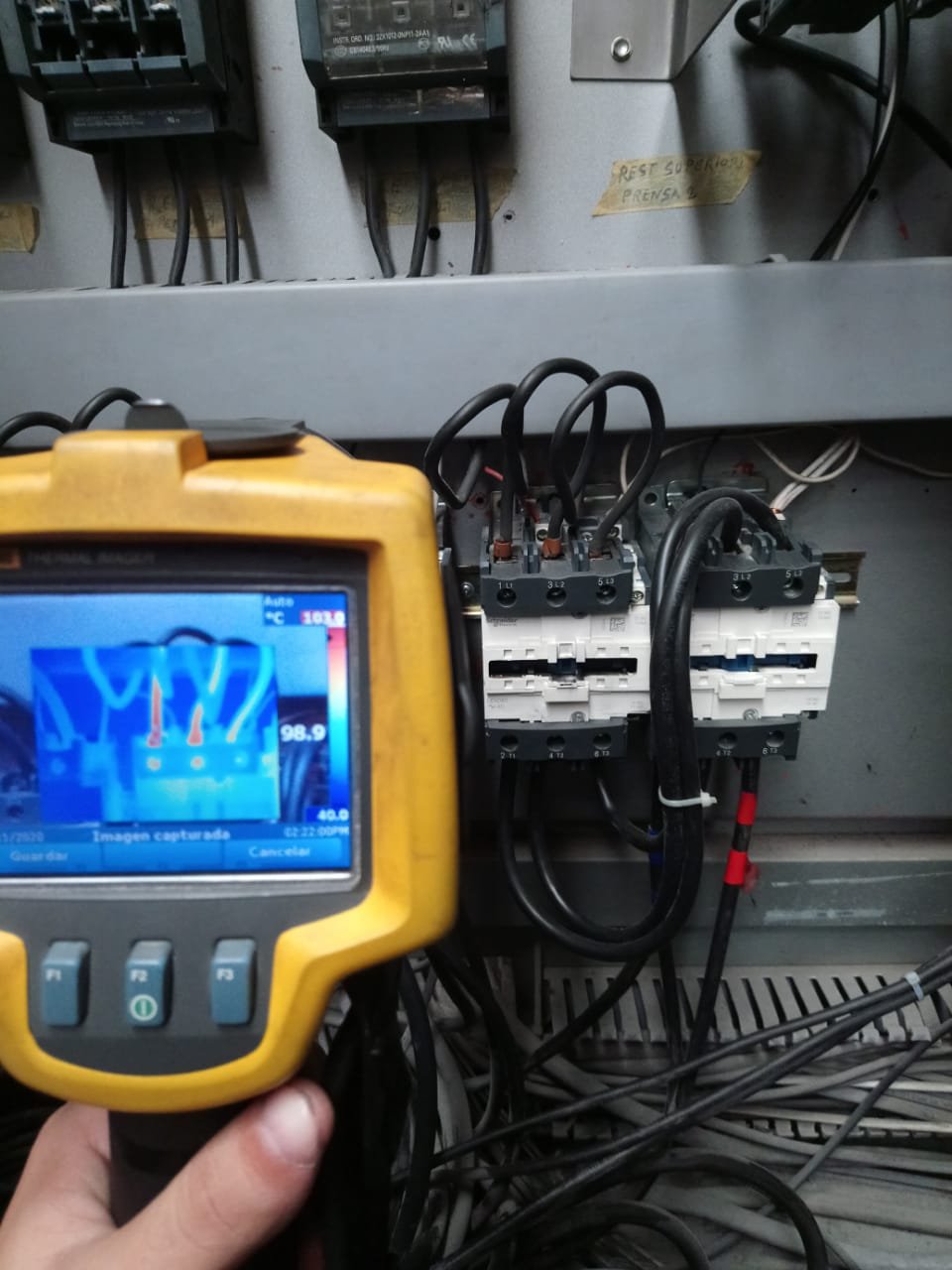 Punto caliente en cable / Hot spot on cable
Para ello utilizo dos equipos ya reconocidos internacionalmente y que tienen certificaciones bajo las normas ISO 9001, este instrumento que uso para temperaturas es un "Fluke thermal imager" donde poco a poco hay que ir calibrando hasta tener la imagen posiblemente mas clara posible y posicionar el punto en lugar donde sea que quieras saber su temperatura. Dentro de sus configuraciones puedes establecer como representar el color cuando la temperatura es alta y baja, de este mismo modo puedes hacer un captura de la imagen y almacenar en una tarjeta sd para revisarla en pc o lapto.
For this I use two teams already internationally recognized and that have certifications under ISO 9001 standards, this instrument that I use for temperatures is a "Fluke thermal imager" where little by little you have to calibrate until you have the possibly clearest image possible and position the point in place wherever you want to know its temperature. Within its settings you can establish how to represent the color when the temperature is high and low, in the same way you can make a capture of the image and store it on a sd card to review it on PC or laptop.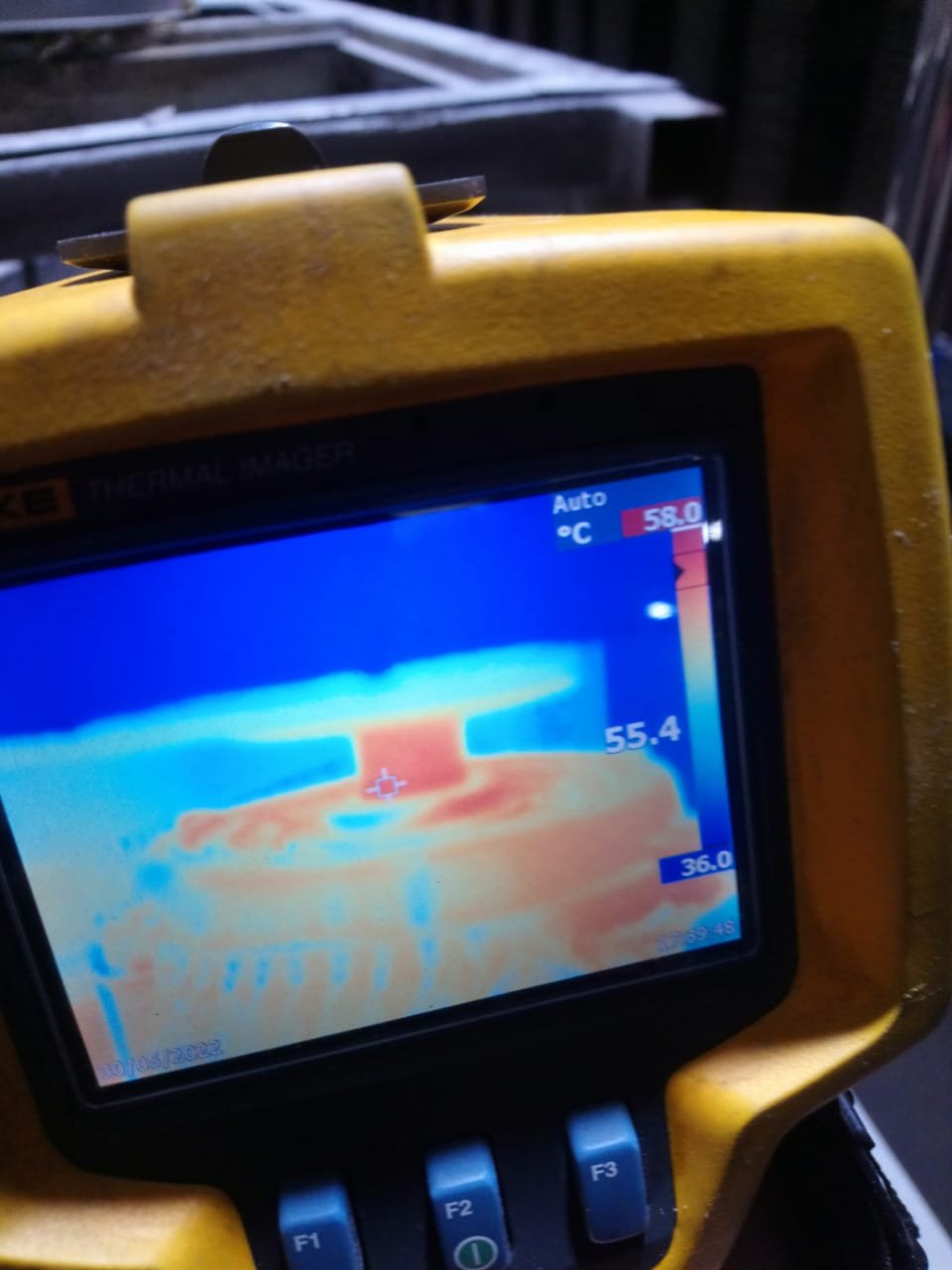 Punto caliente en eje de motor / Hot spot on motor shaft
Su modelo es tipo pistola lo que permite una buena lectura y utilizacion del equipo, adicional puedes configurar la unidad de lectura celcius o fahrenheit.
Its model is pistol type which allows a good reading and use of the equipment, additionally you can configure the celcius or fahrenheit reading unit.
Por lo que el otro equipo de vibraciones tambien esta bajo las normas ISO 9001 y es un "Fluke 805 Vibration Meter" donde este equipo al colocarlo sobre la base que quieres identificar la vibracion te dara 3 lecturas la primera es el factor de cresta (CF+), la vibracion total (representada dependiendo de la configuracion en mm/s o g) y temperatura superficial (temperatura de carcasa). Estos valores de igual manera estan bajo una escala y el equipo determina si son buenos o malos, adicional a esto el equipo trae unos audifonos para escuchar internamente el comportamiento o el rose que pueda tener en el caso de un motor con radamiento interno dañado parecido a un estetoscopio.
So the other vibration equipment is also under ISO 9001 standards and it is a "Fluke 805 Vibration Meter" where this equipment when placed on the base that you want to identify the vibration will give you 3 readings the first is the crest factor (CF + ), the total vibration (represented depending on the configuration in mm / sog) and surface temperature (housing temperature). These values are also on a scale and the team determines whether they are good or bad, in addition to this the team brings headphones to internally listen to the behavior or the rose that it may have in the case of a motor with damaged internal bearing similar to a stethoscope.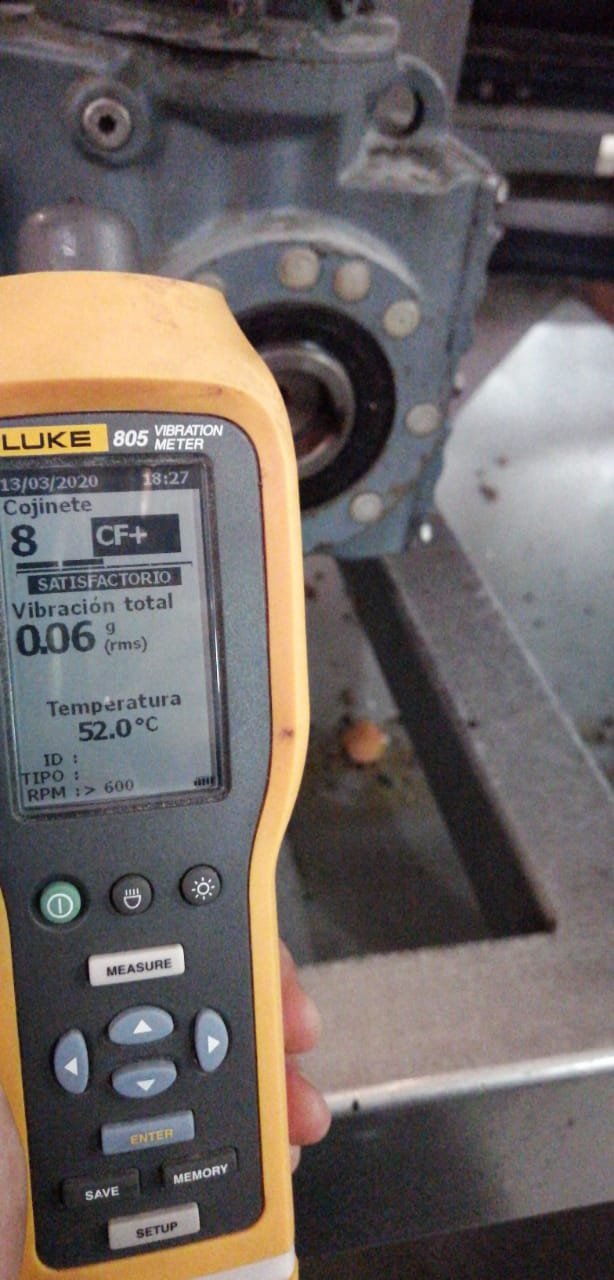 Rutina de vibracion en motor / Vibration routine in motor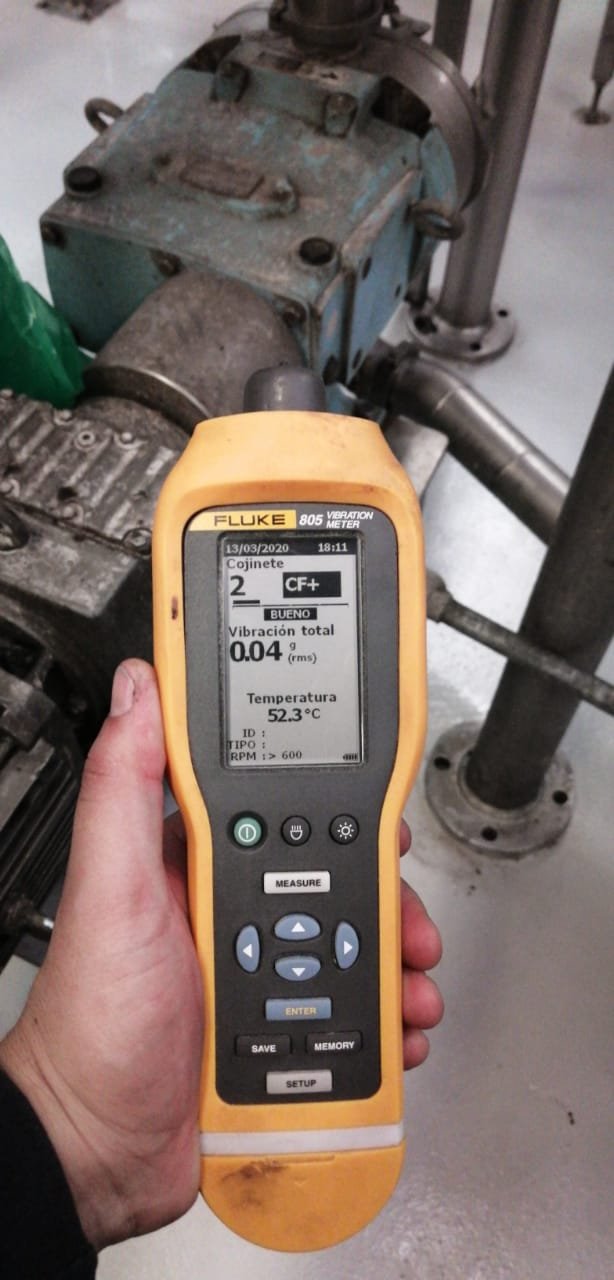 Vibracion en buen estado / Vibration in good condition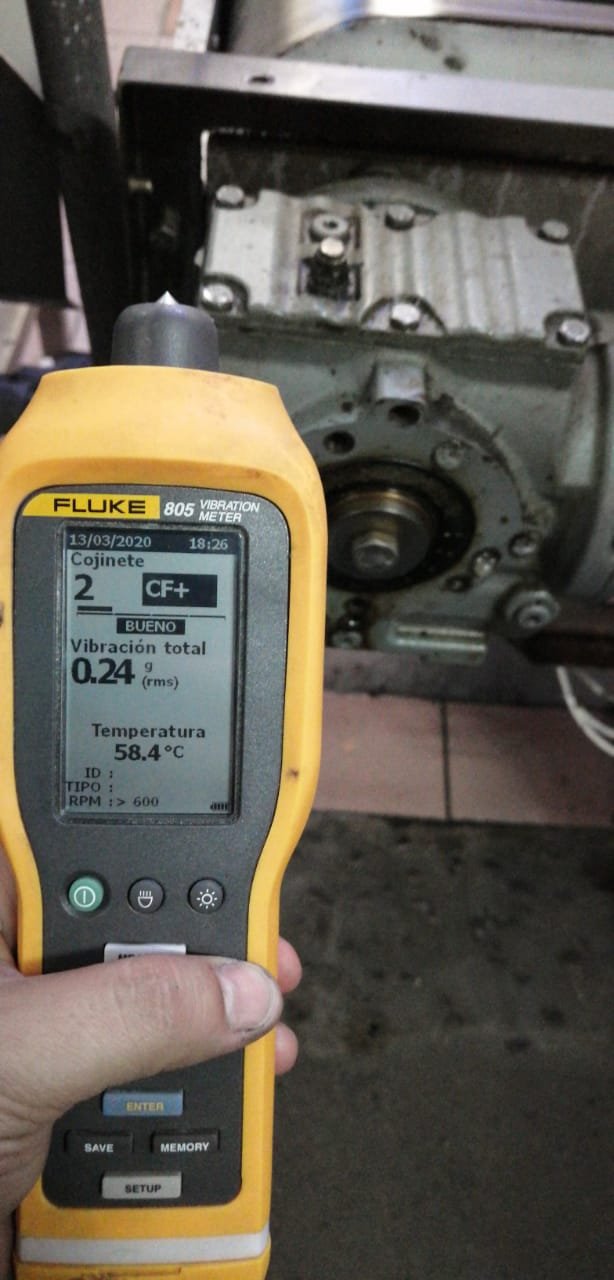 Rutina de vibracion en motor / Vibration routine in motor
Asi de esta manera determino y hago un buena rutina de mantenimiento predictivo.
So in this way I determine and do a good predictive maintenance routine.
INSTAGRAM
TWITTER