Ready for our last day in Florence? We definitely are! Today we will go for a short walk before heading to the Uffizi gallery and then we will explore the street art.
Our accommodation is in Oltrarno and we have to cross the bridge to get to the Uffizi gallery. Today we will walk in a different direction as we've seen Ponte Vecchio many times already. It's time for something new!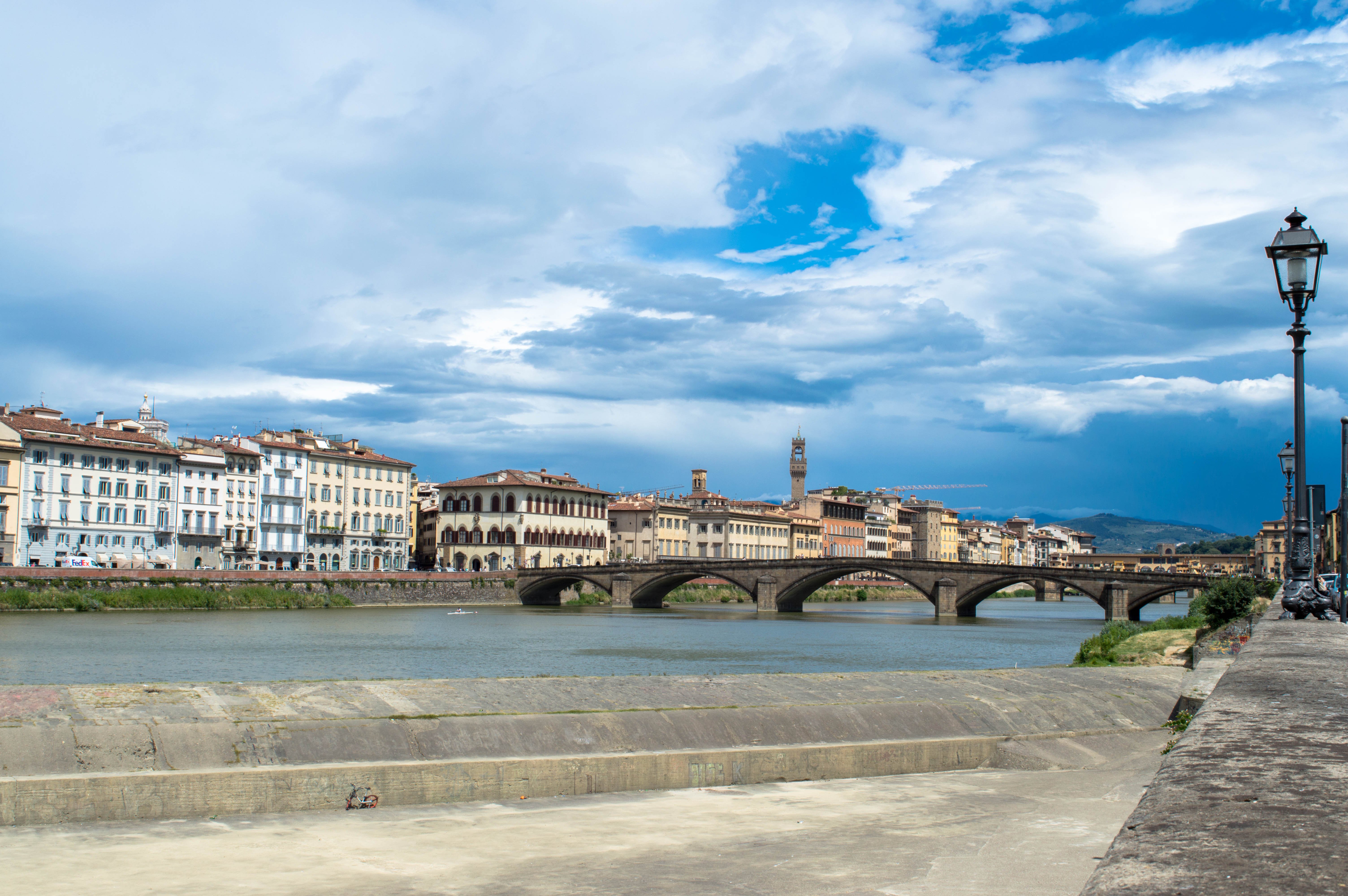 ISO 100 1/250 sec. f/13 28 mm
This year it wasn't raining that much in Tuscany so the water level of Arno river is very low.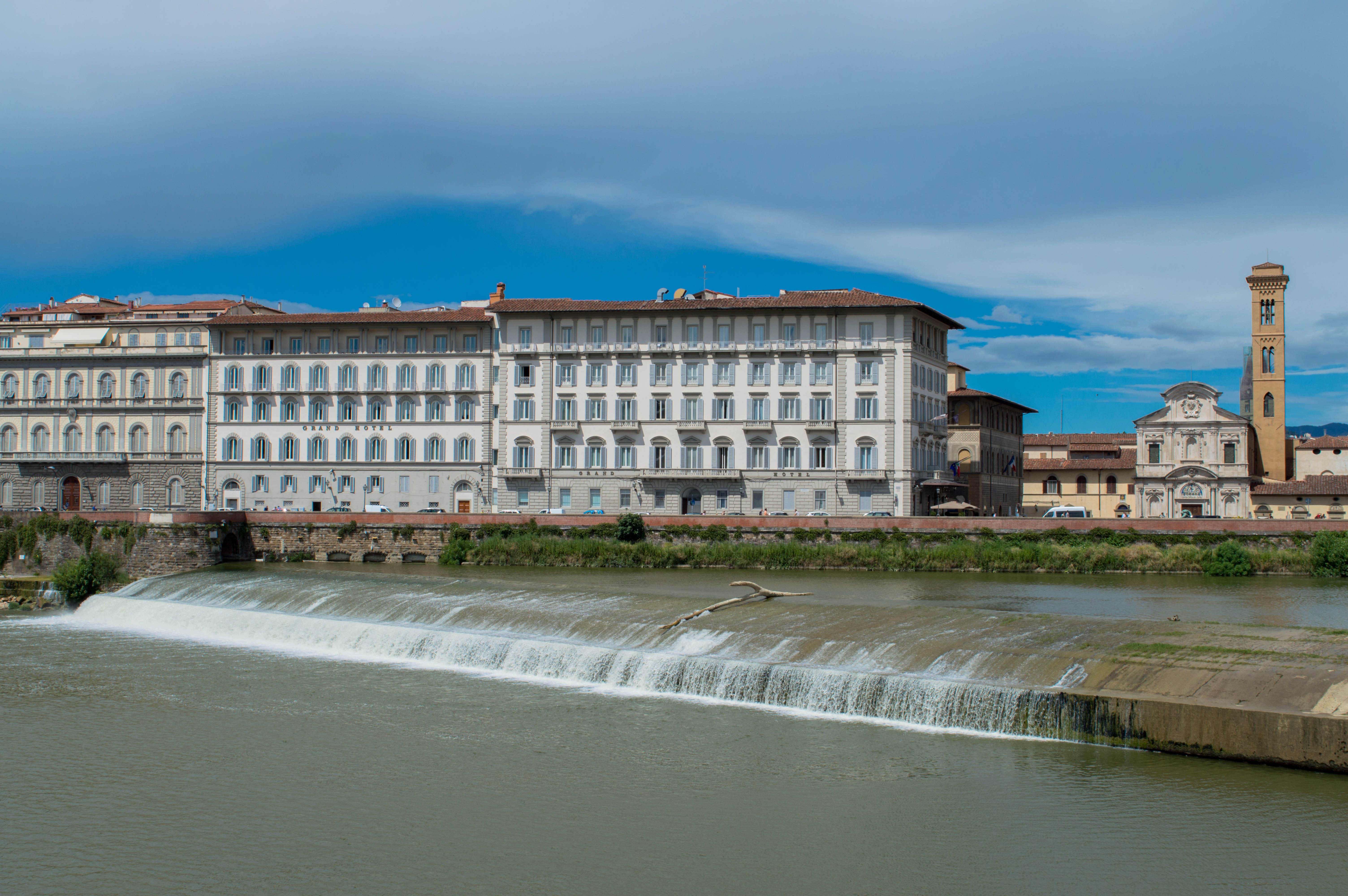 ISO 100 1/250 sec. f/13 28 mm
I'm sure locals were hoping for some rain when these clouds were approaching the city. We on the other side hoped that the wind will blow them away. Lucky us it wasn't raining at the end.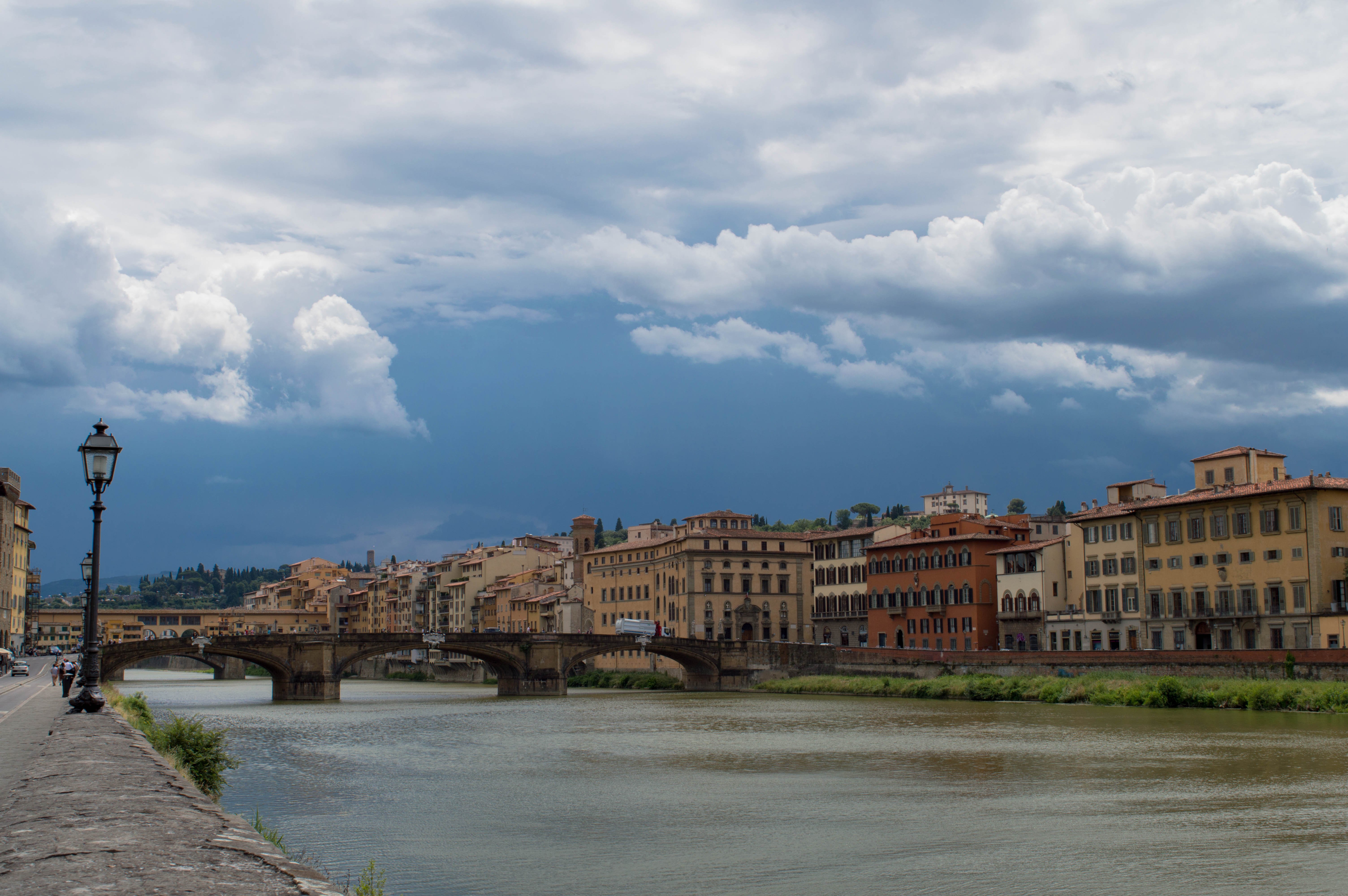 ISO 100 1/250 sec. f/13 29 mm
We were getting closer to the gallery and we passed by this stainless steel mirror sculpture created by Albanian artist Helidon Xhixha. It's called 'O'.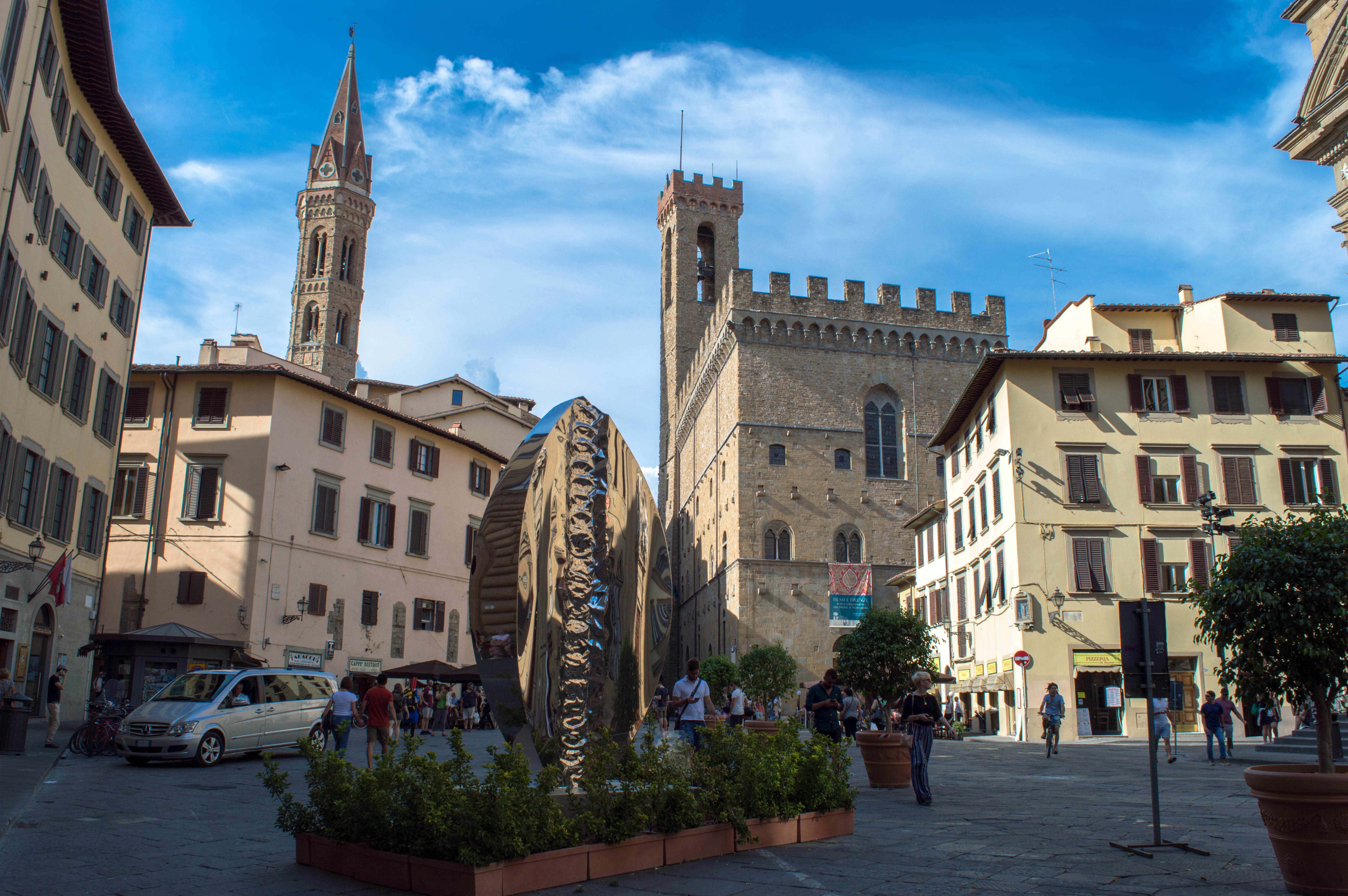 ISO 100 1/250 sec. f/10 18 mm
Uffizi gallery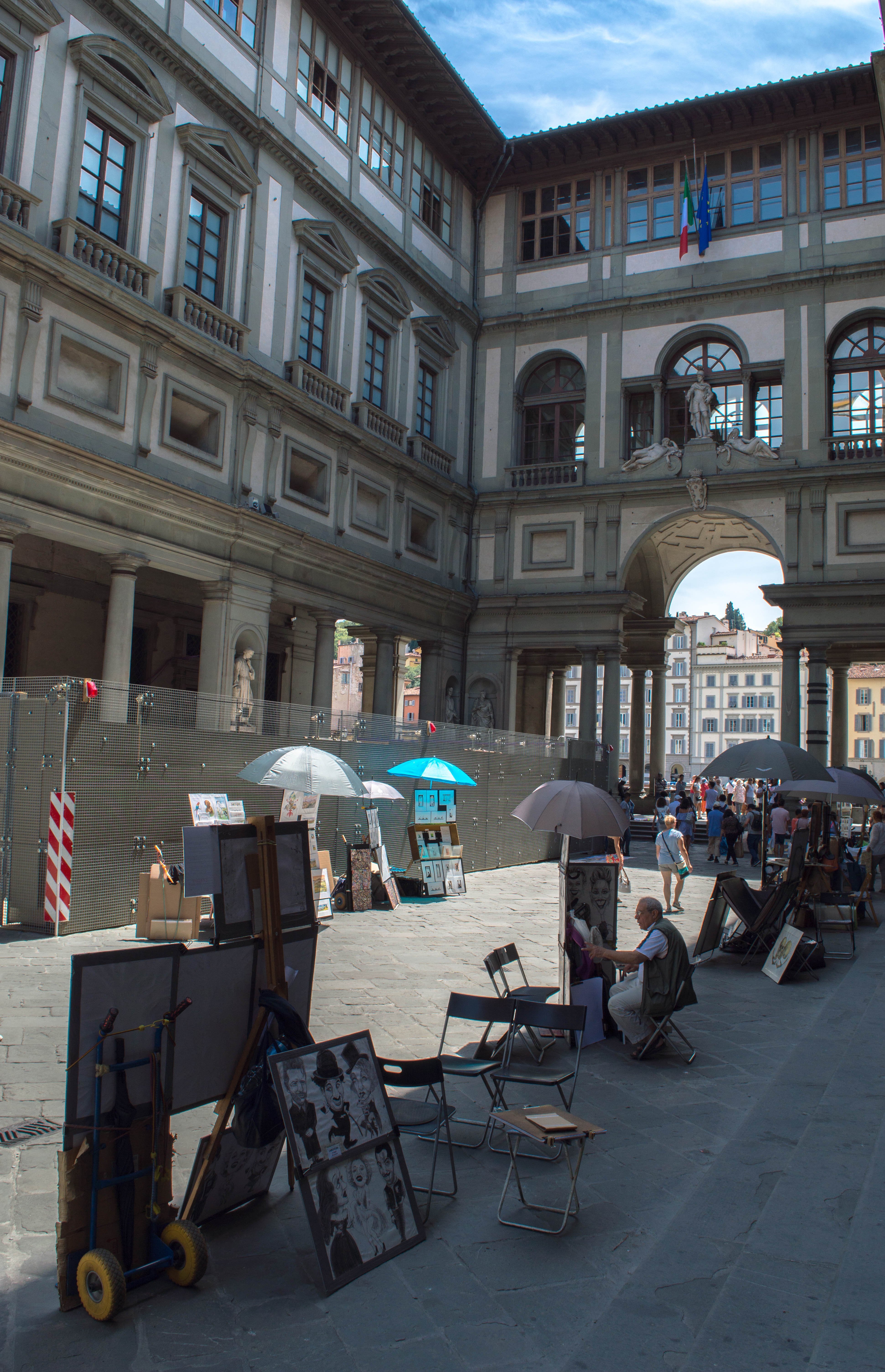 We still had a few moments before we could enter the gallery so we enjoyed the work of street artists in front of the building. They were mainly offering paintings of attractions in Florence. I think it's quite usual in all touristic cities.
Do you like galleries? I don't 😊
I would never go there if I would be travelling solo. But my friend has learned somewhere that this gallery houses one of the world's most significant collections of art from Renaissance period in the world and considering that I chickened out from climbing up the Cupola yesterday I agreed to go there.
Entrance fee is EUR 24. We have ordered 'skip the line' tickets again. We had to wait in a queue for about five minutes which was not bad at all. Bear in mind that you will have to pass through the security before entering the gallery.
Are you asking what to expect? If you like art galleries then you will love the place. The gallery is located on two floors of a large building constructed between 1560 and 1580 and designed by Giorgio Vasari. There are many rooms where you can find the work of Botticelli, Rosselli, Fiorentino, Bronzino, Giotto, Michelangelo, da Vinci just to name a few.
You can find there an invaluable collection of ancient statues and busts from the Medici family, which adorns the corridors and consists of ancient Roman copies of lost Greek sculptures.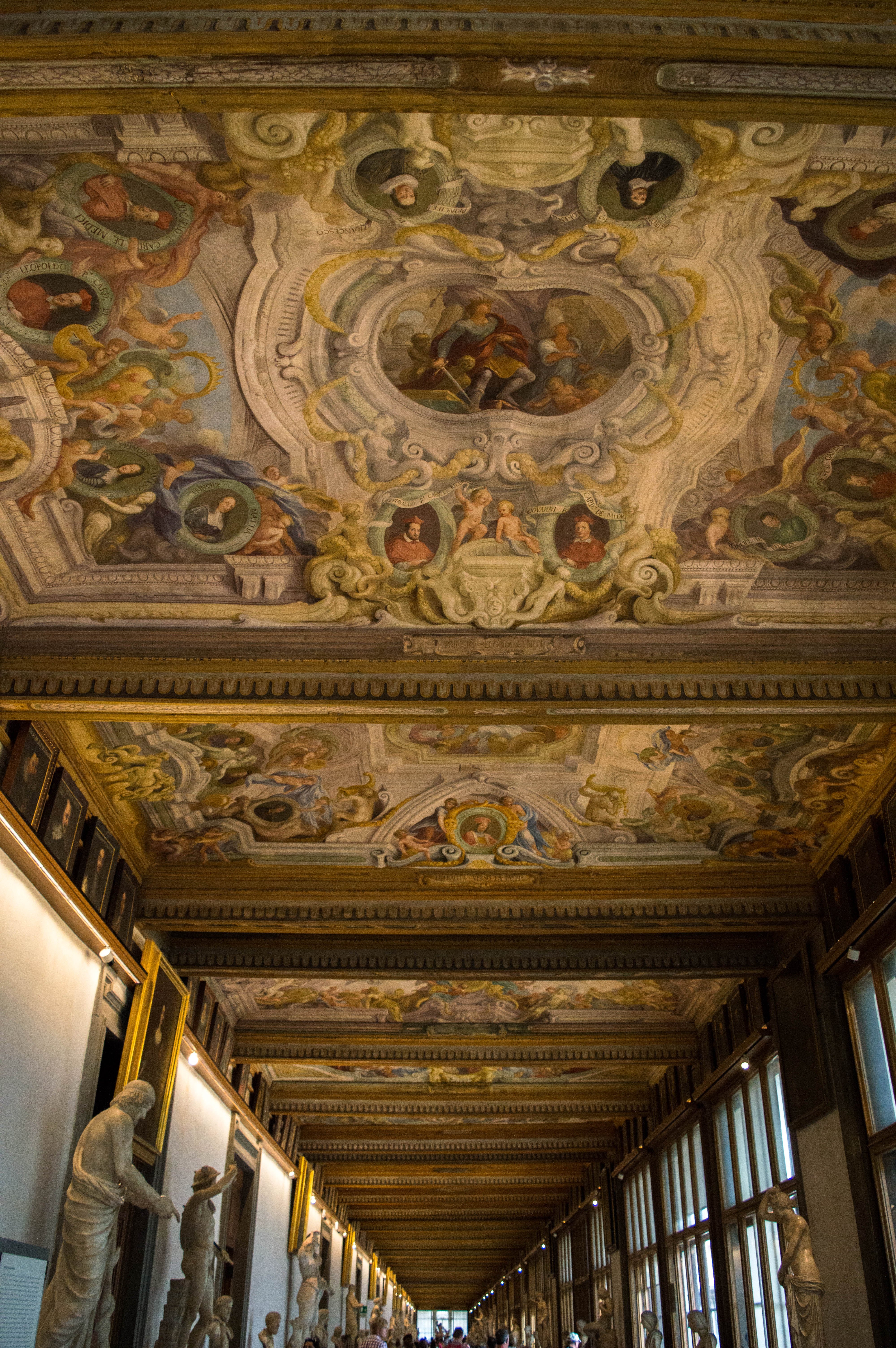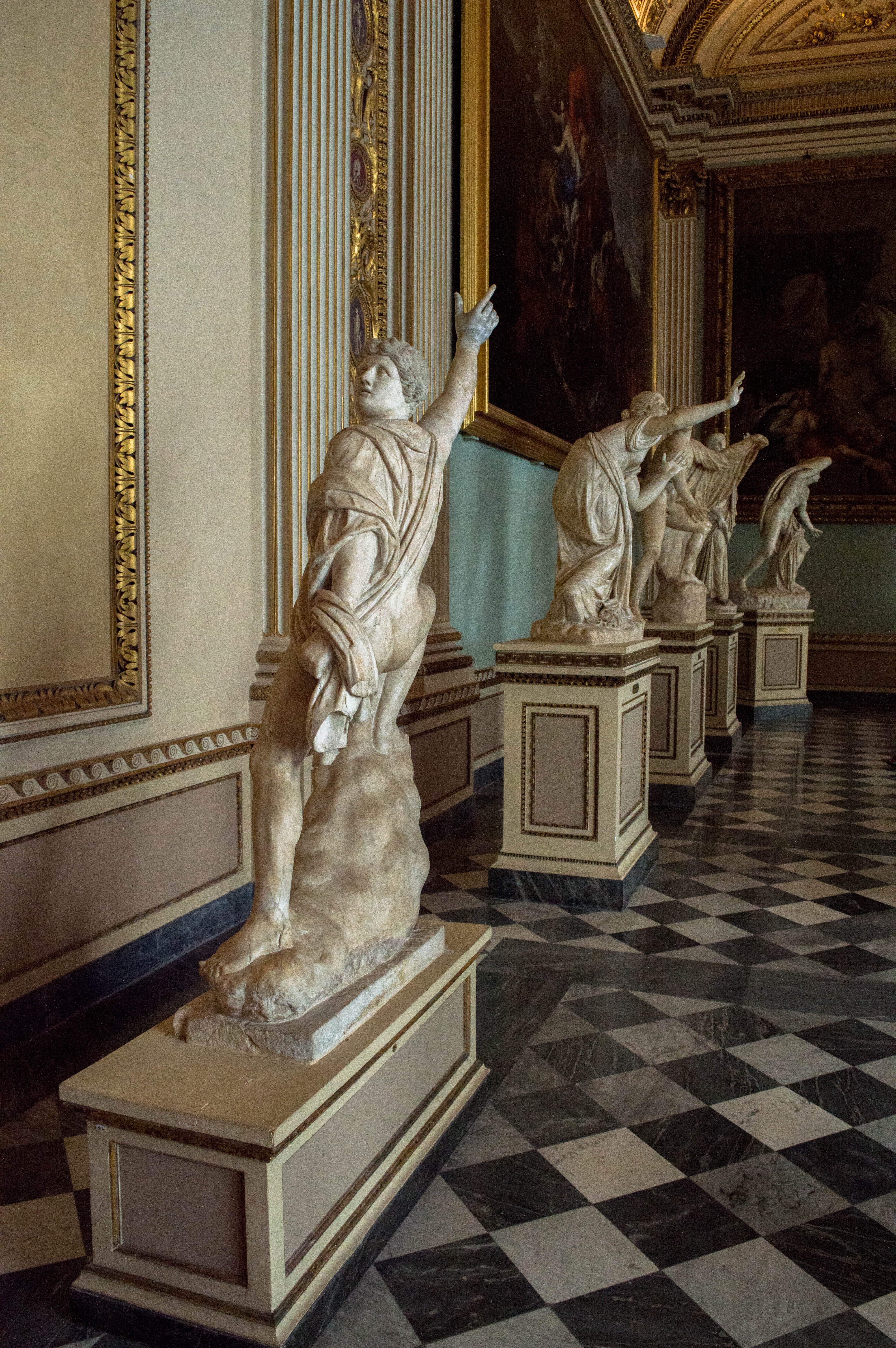 Most of the artwork is of religious character. You can also see Botticelli's The Birth of Venus or da Vinci's only completed panel painting, The Annunciation. My favorite however was Adoration of the Child by Gerard van Honthorst. I can feel pure happiness from this painting. What do you think?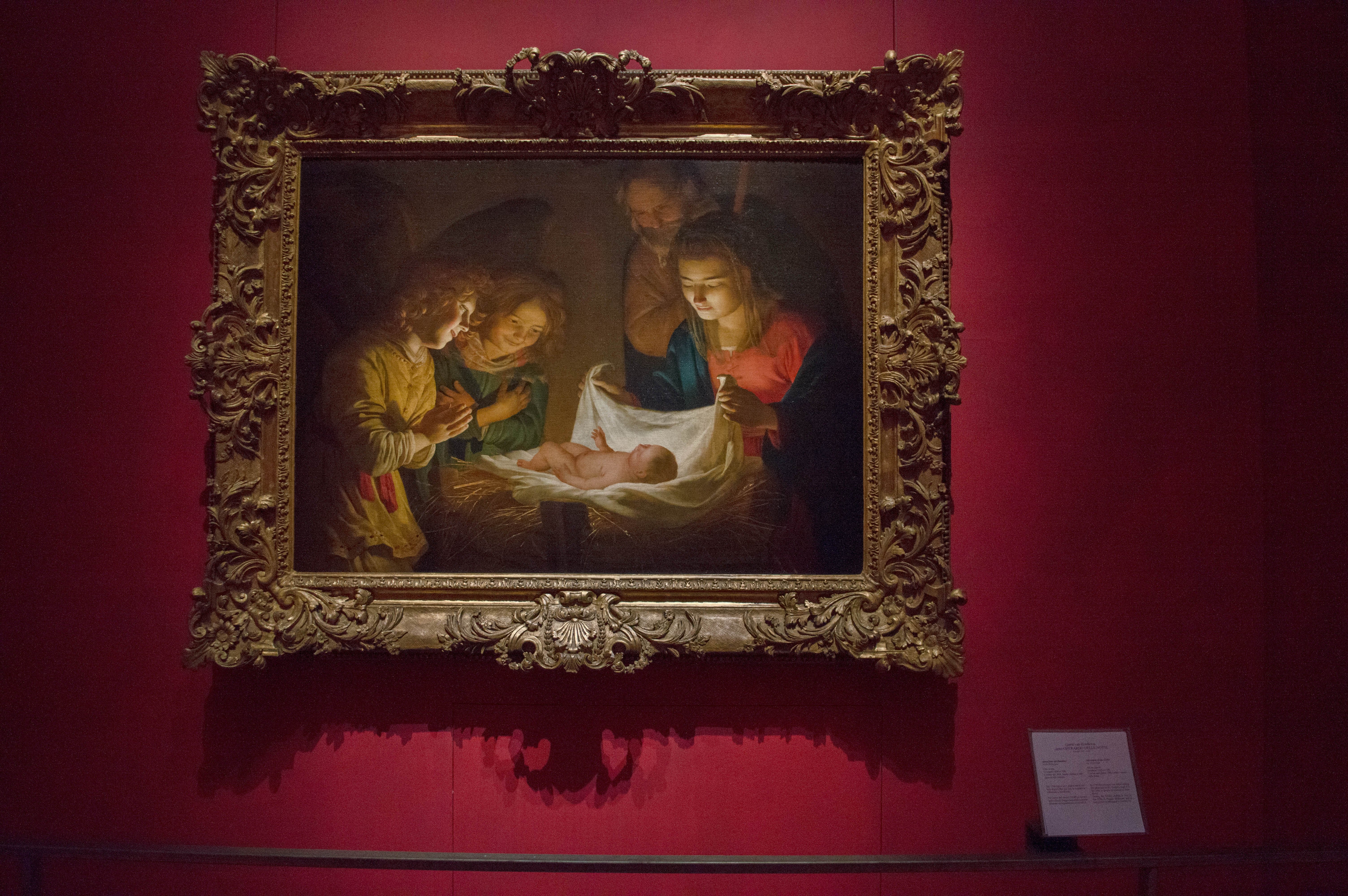 ISO 100 1/160 sec. f/4.5 18 mm
We planned to spend about one hour in the gallery. But guess what? Even if we would be only walking around without even looking at the art we would not manage to do it in one hour. It's really big. Even though I don't like galleries I've enjoyed this one. The collections of such great artist make you stop for a moment and appreciate the beauty.
Street art
We're coming to my favorite part of the day - STREET ART!
When in Florence, keep your eyes open to spot the street art as it can be very small and hidden anywhere. I have never seen so much street art in any other city.
First one that we noticed after we arrived in Florence was this street sign. It's created by Clet Abraham.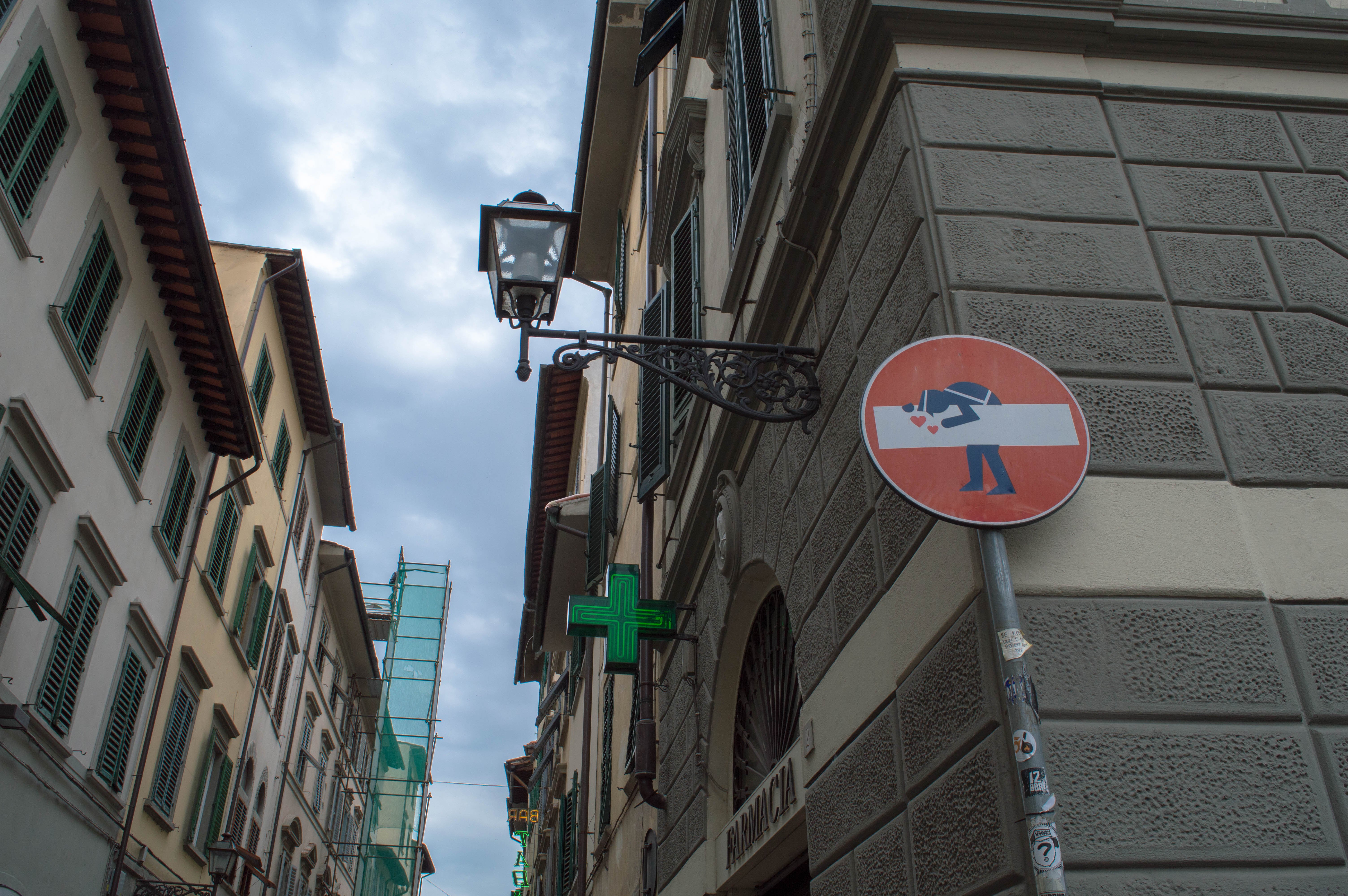 ISO 200 1/250 sec. f/9 18 mm
Clet has been changing street signs in the late hours with removable stickers for over eight years now.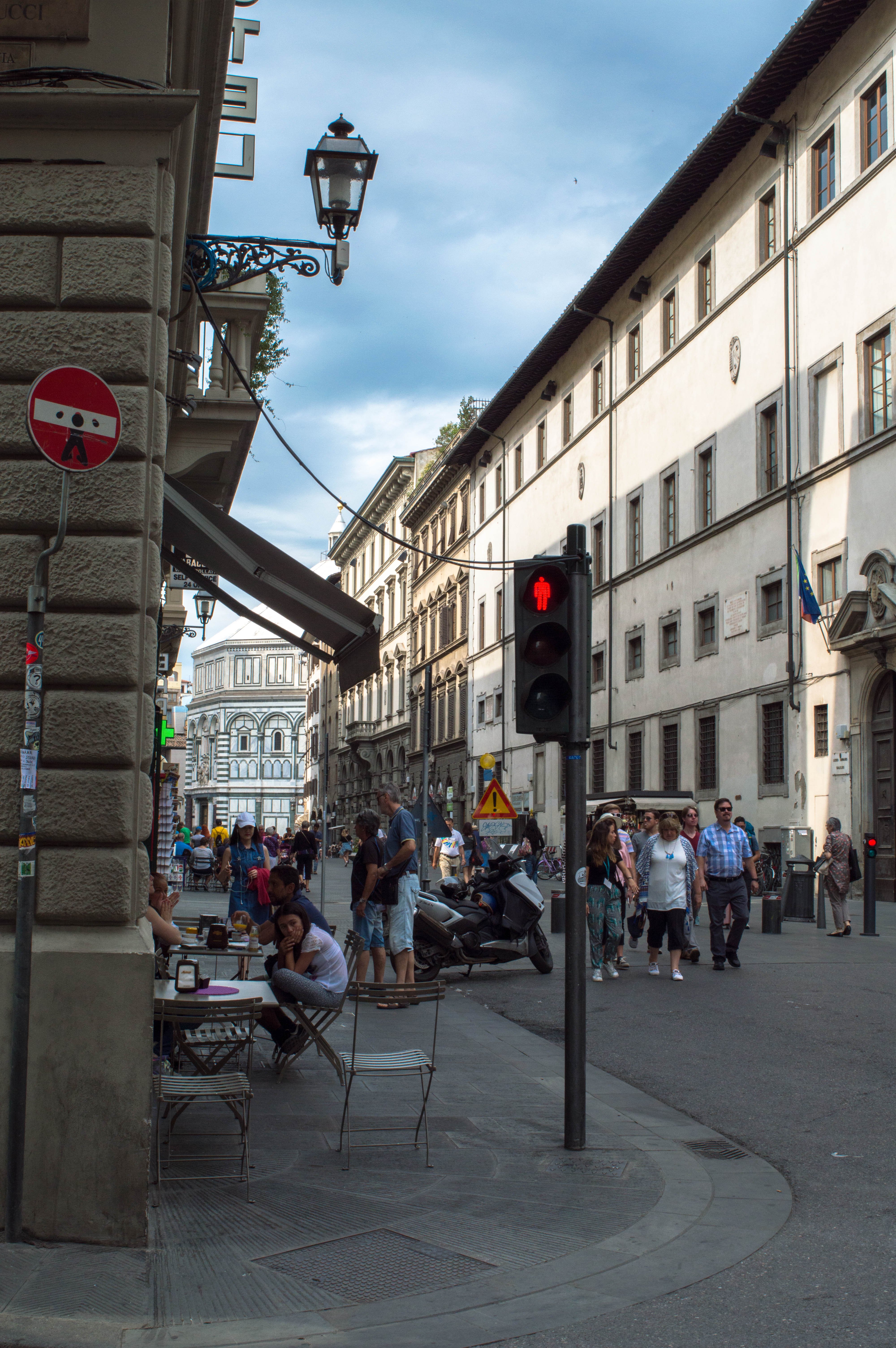 His creations really make you giggle. A traffic sign can become anything you can think of. Can you see the guillotine on this sign?
He is a French artist who has been living in Italy for about 25 years now. Many see his work as provocatory but I think it's what historical Florence needs. A fresh and not too serious artist who is being loved and hated at the same time.
When he came to Florence he was shocked by the incongruity between the beauty of the Renaissance city and the road signs on the streets. So he started to make his stickers to catch the attention and create discussions.
He usually works at night when he is unlikely to get caught. He props his bicycle against the post, stands on it and applies the stickers he has made in advance.
He has also worked in other cities in the world. I have heard there are a few signs in Barcelona and New York.
Another great artist with the work all over the city is called Bulb. It's a very mysterious person as nobody even knows if it's a woman or a man.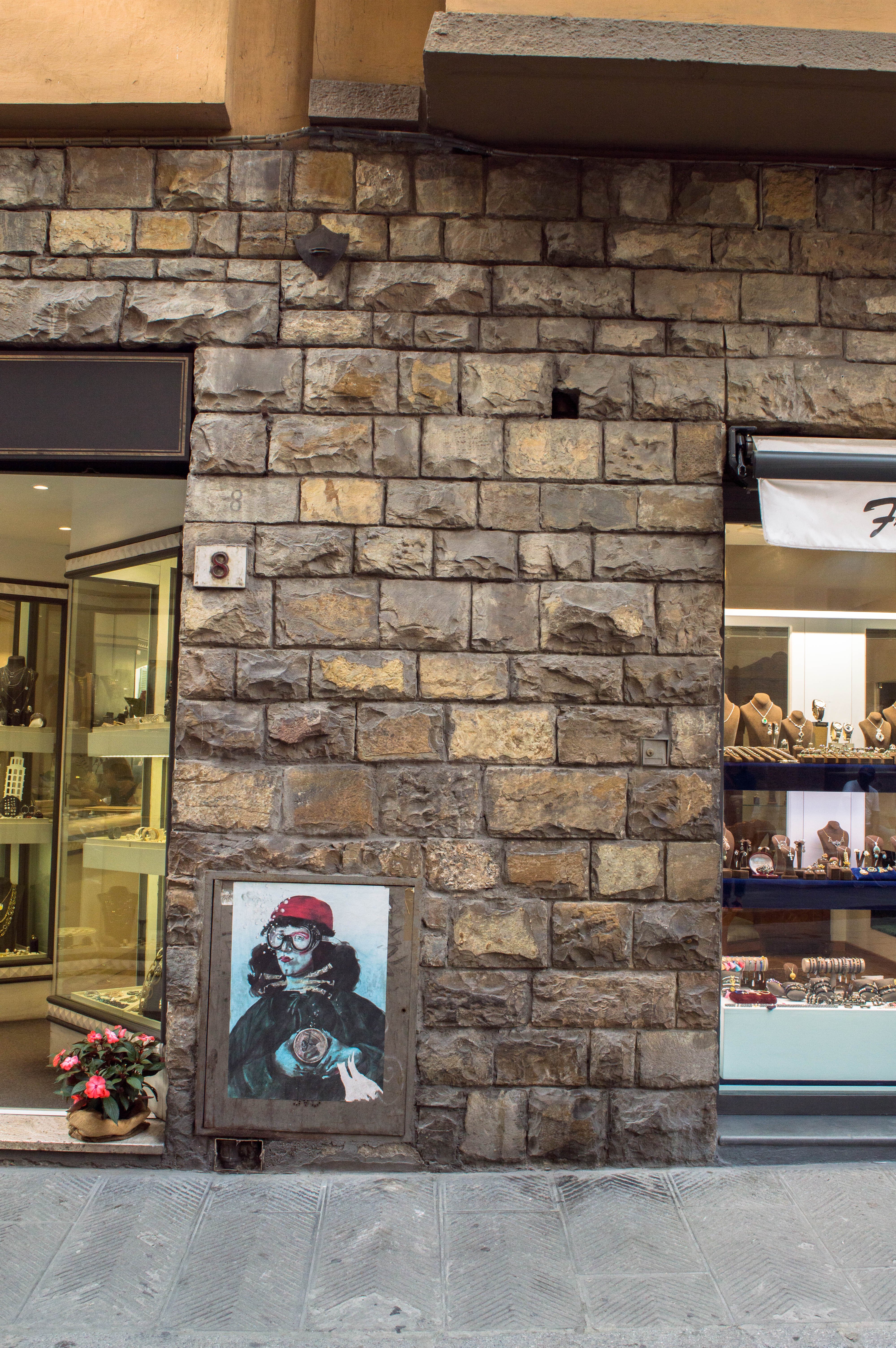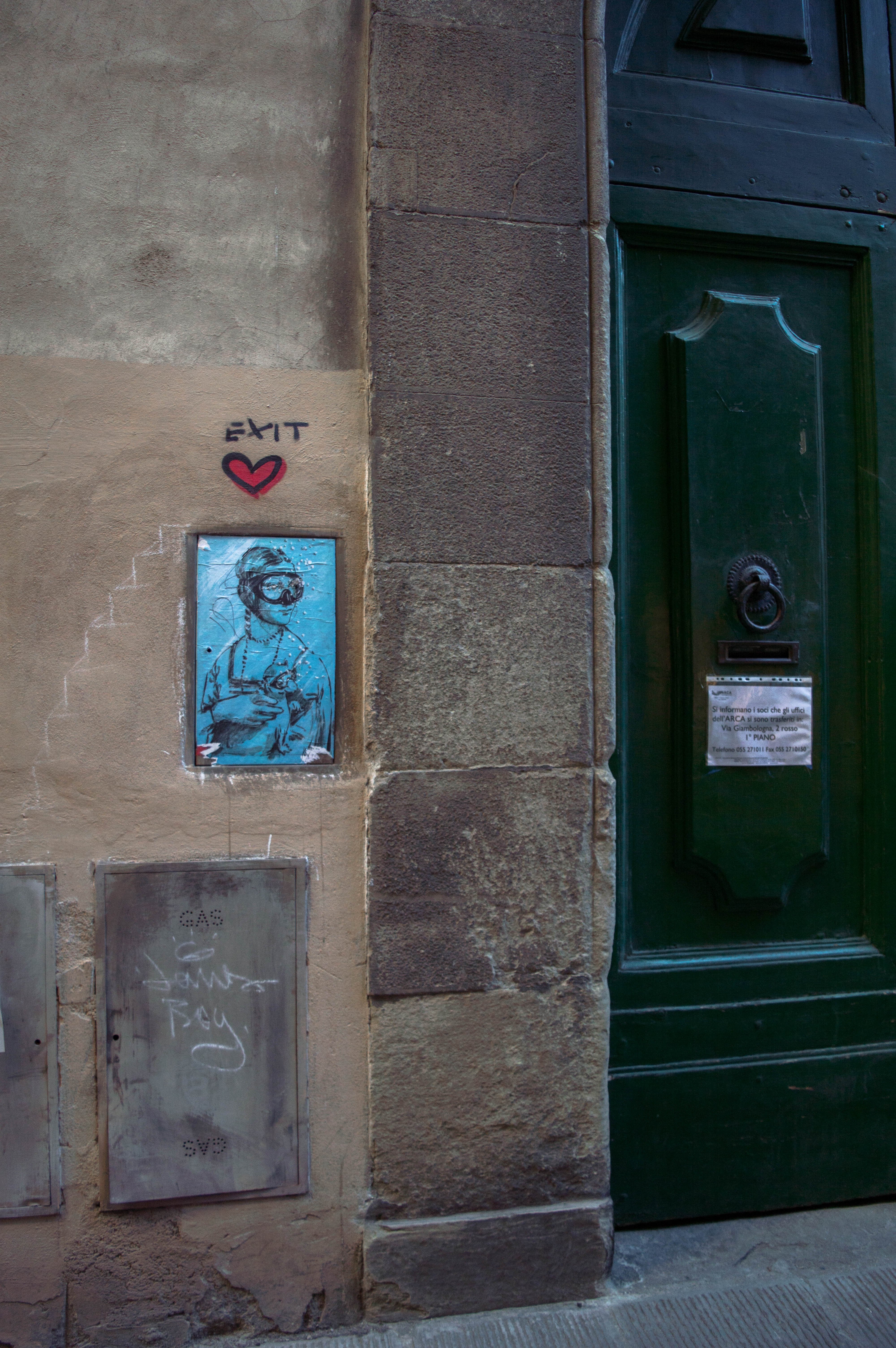 Bulbs work is called 'Art knows how to swim'. Bulb is featuring famous figures and artworks such as the Botticelli Madonna, Michelangelo's David and members of the Medici family in swimming masks on small posters. His work is really enjoyable and it's a pity that many of the pieces are destroyed by vandals.
Hopnn Yuri is new urban street artist in Florence and his work is dedicated to political and ecological issues which he displays through prints, often signing his own with "+BC = -CO2". I haven't seen much of his work but I liked this one a lot.
Can you see the fighting squirrels on the left? It's not part of his work but it's definitely an eye catcher!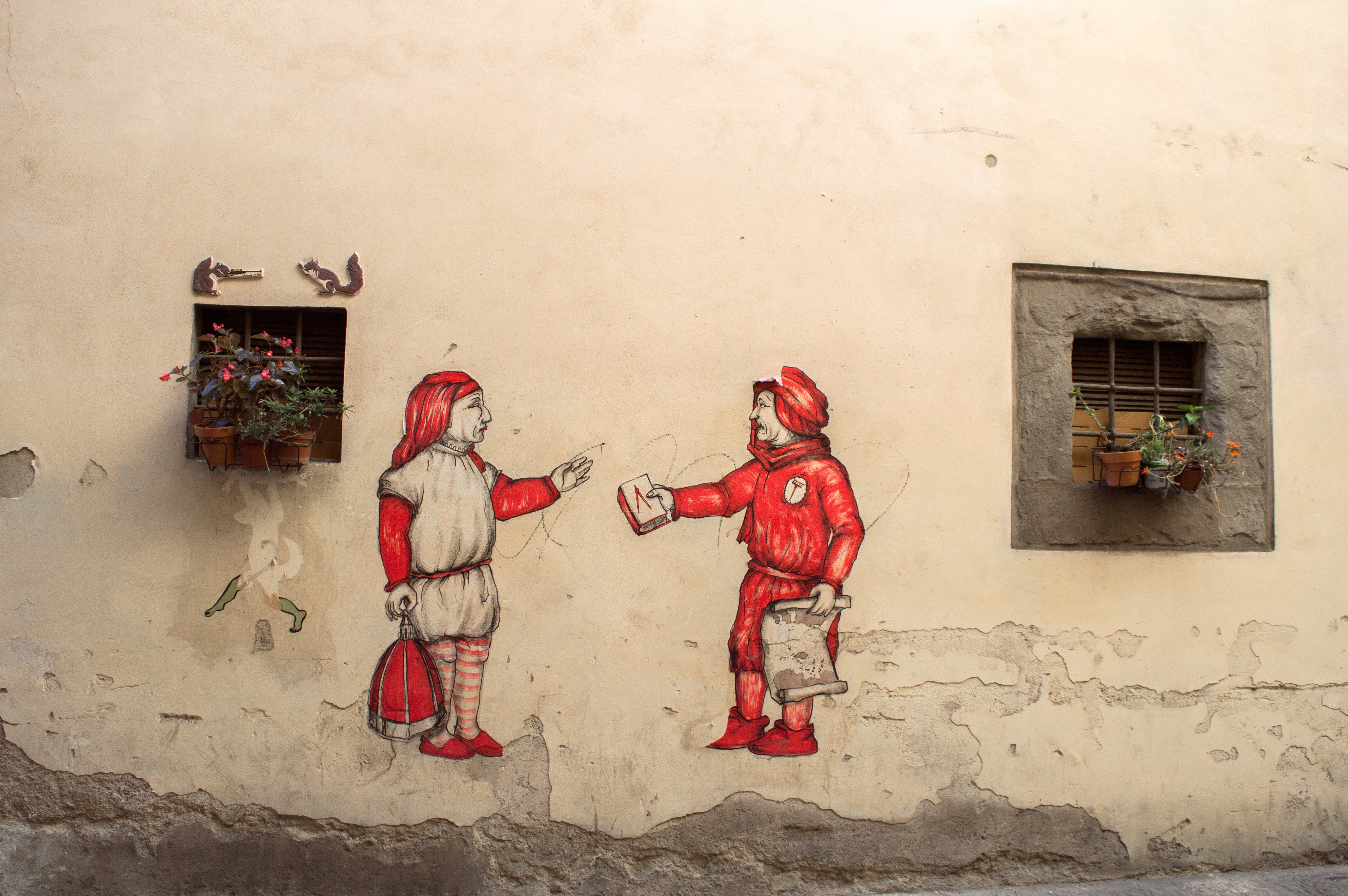 ISO 100 1/200 sec. f/5.6 18 mm
There are a few more that I liked but unfortunately I don't know who created them.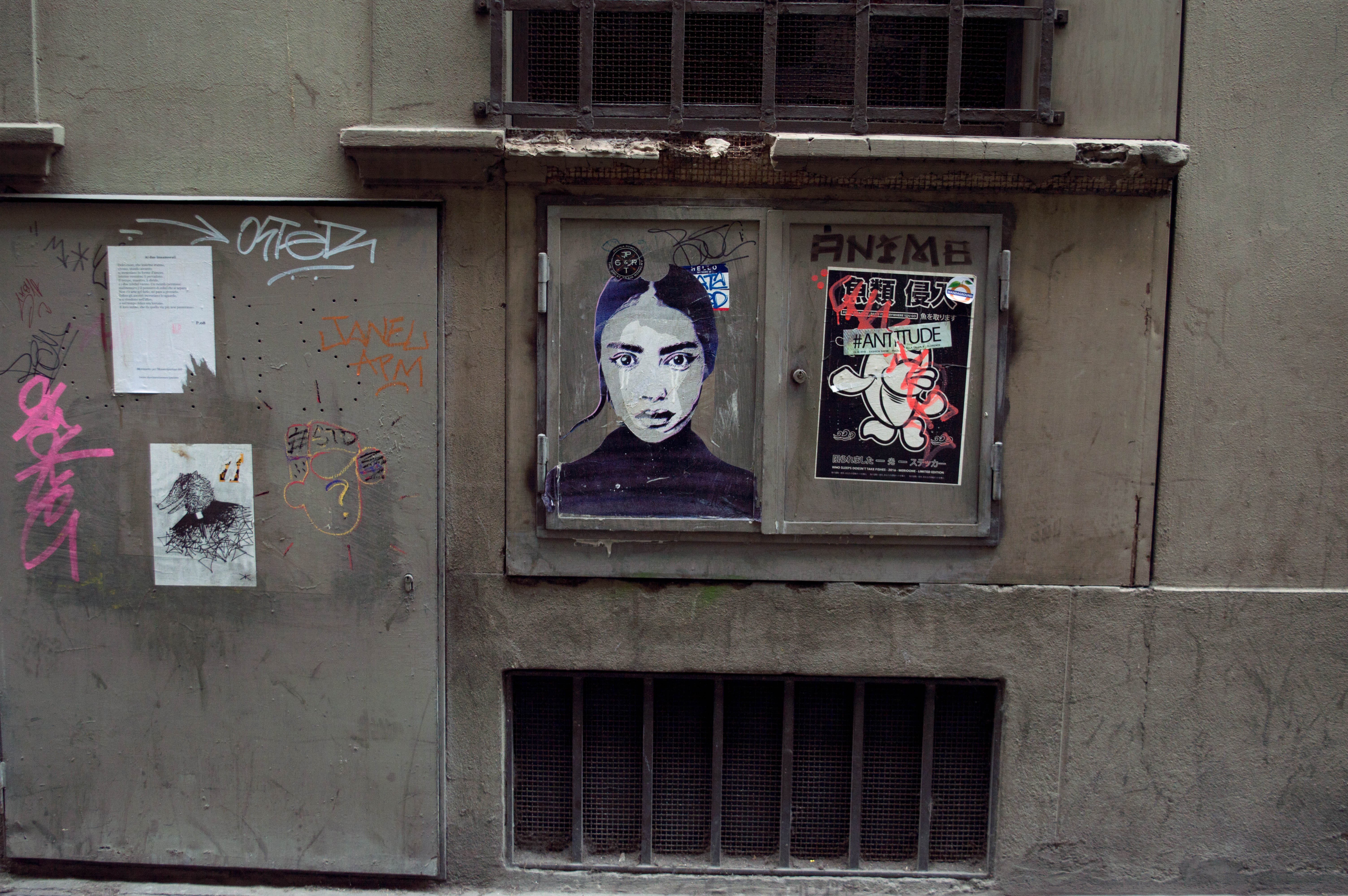 ISO 100 1/250 sec. f/5 25 mm
A scared boy hanging out of an imaginary window or a girl with wild red hair....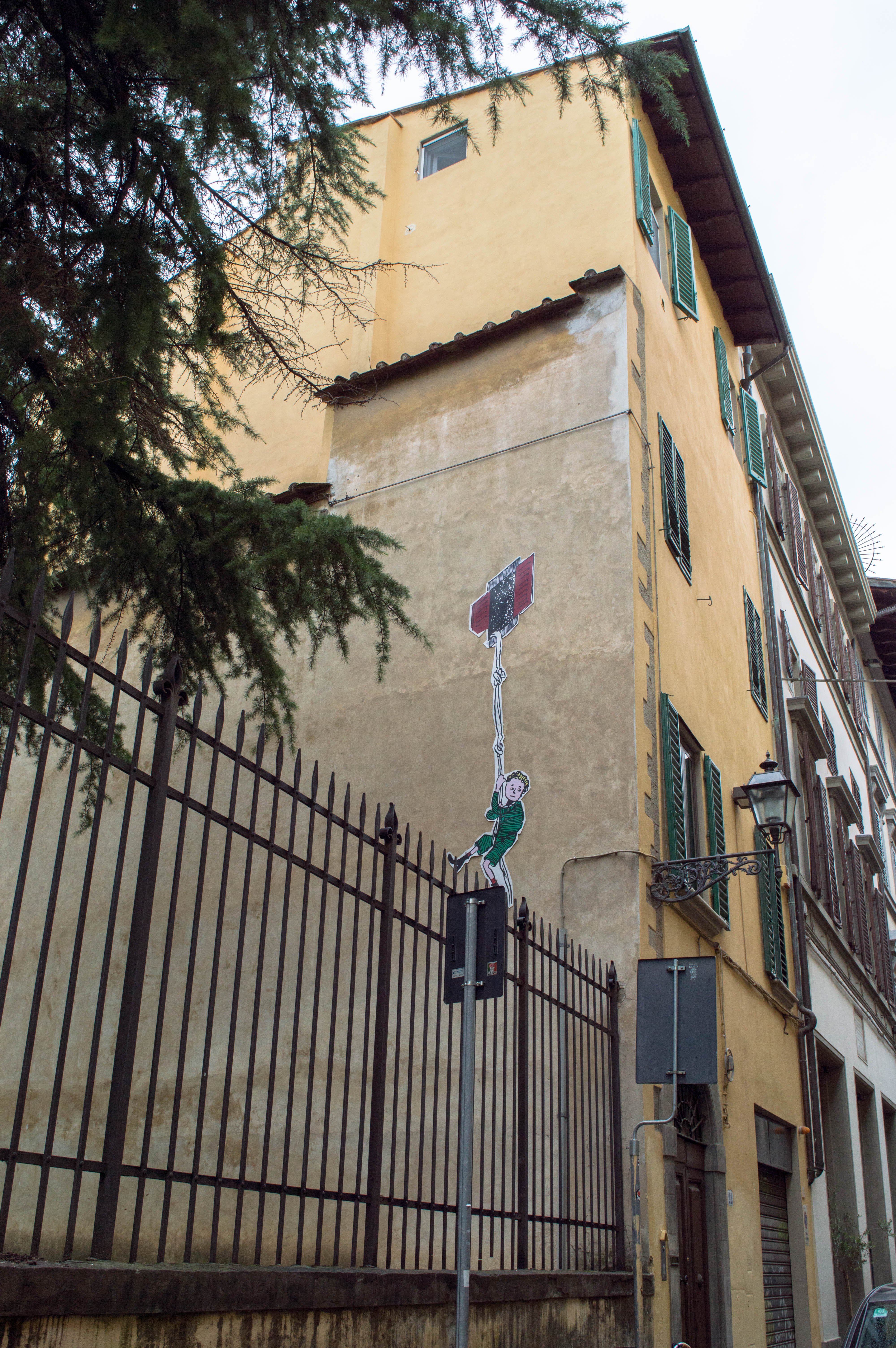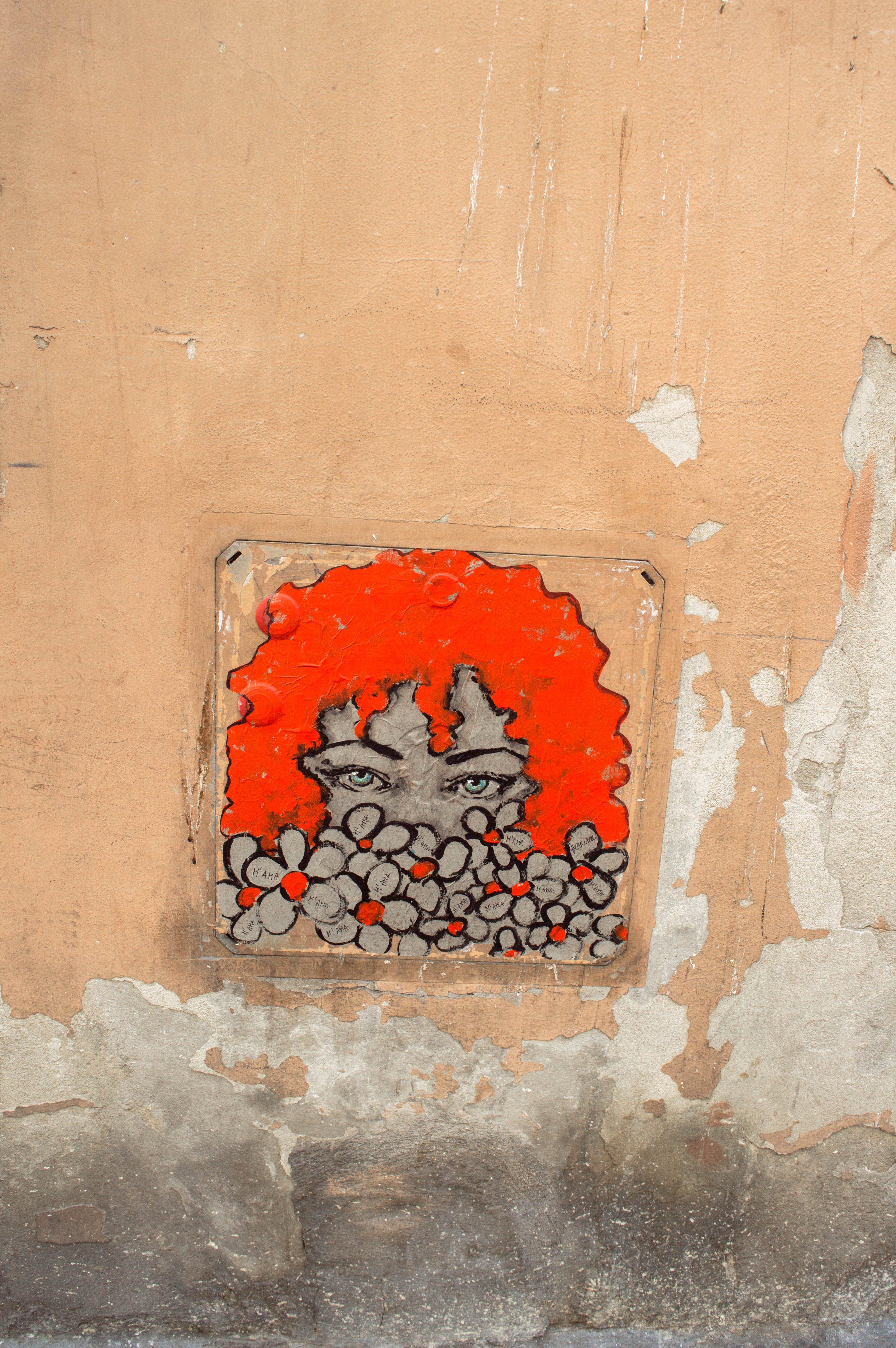 A dinosaur fighting a soldier... I really don't know what to think about this one. Either there was a soldier in the age of dinosaurs or a dinosaur nowadays 😊 Just kidding.
A red hair beauty or a man having a drink and thinking about his love...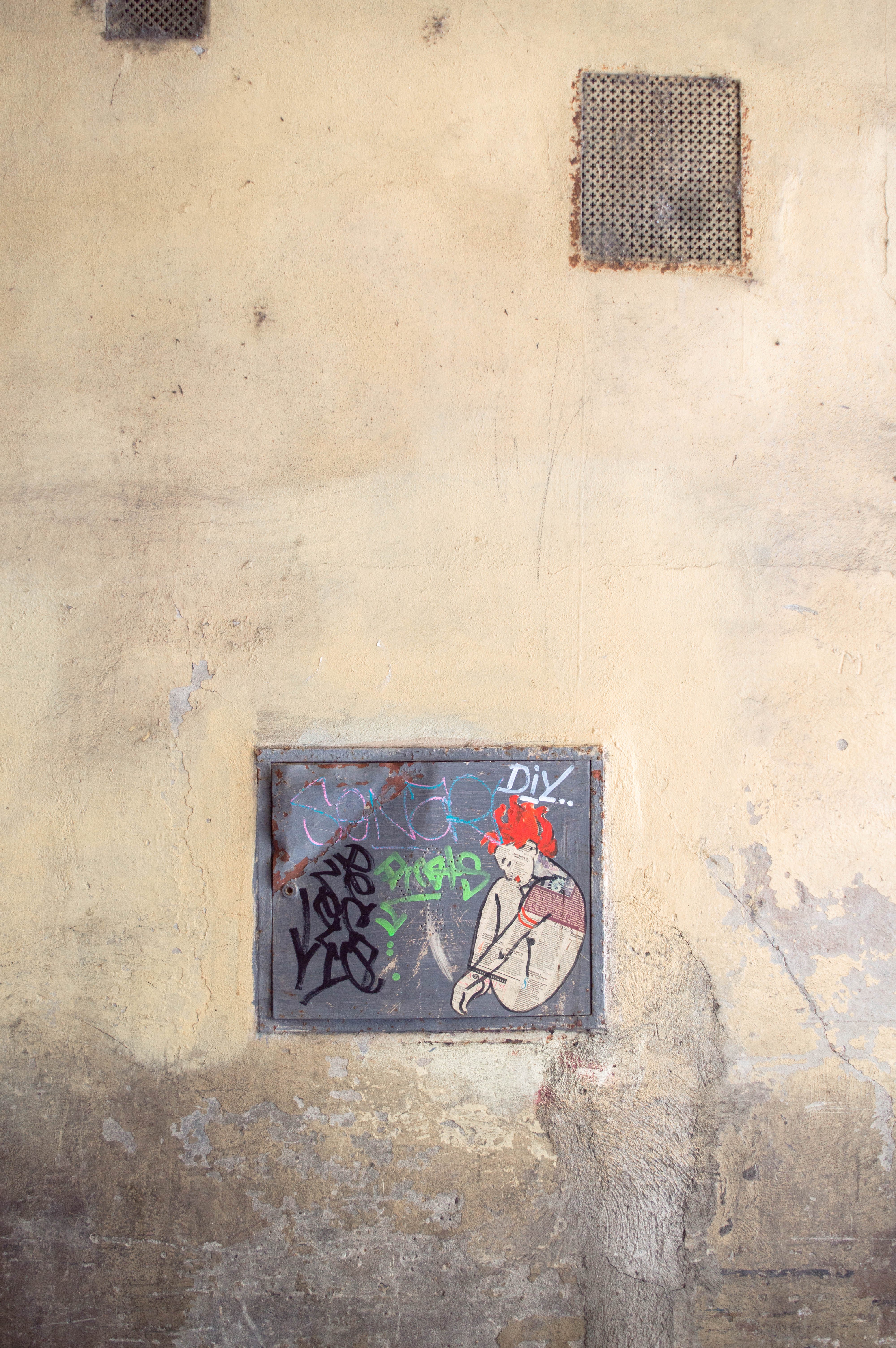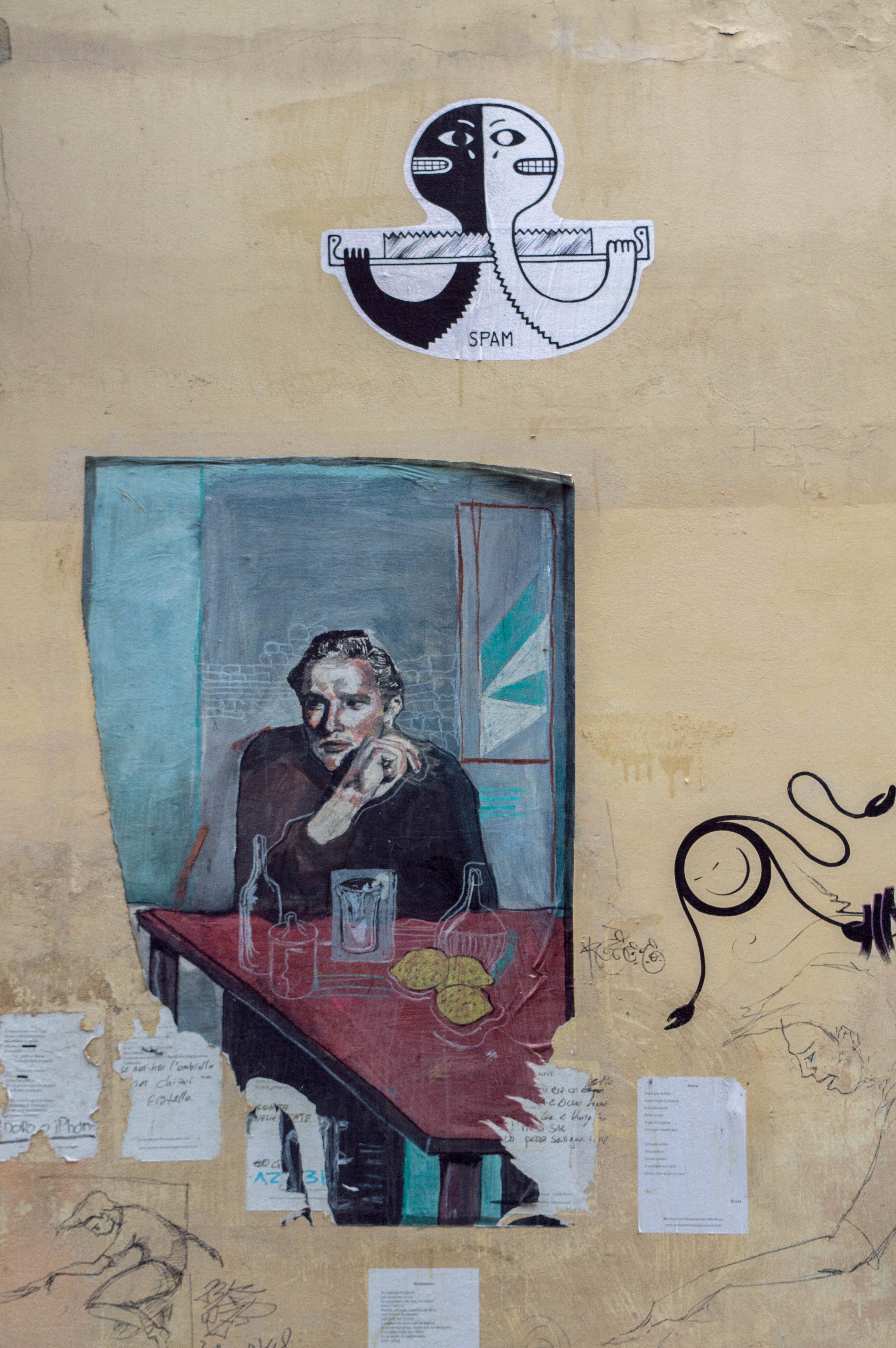 A young boy who feels like nobody understands him...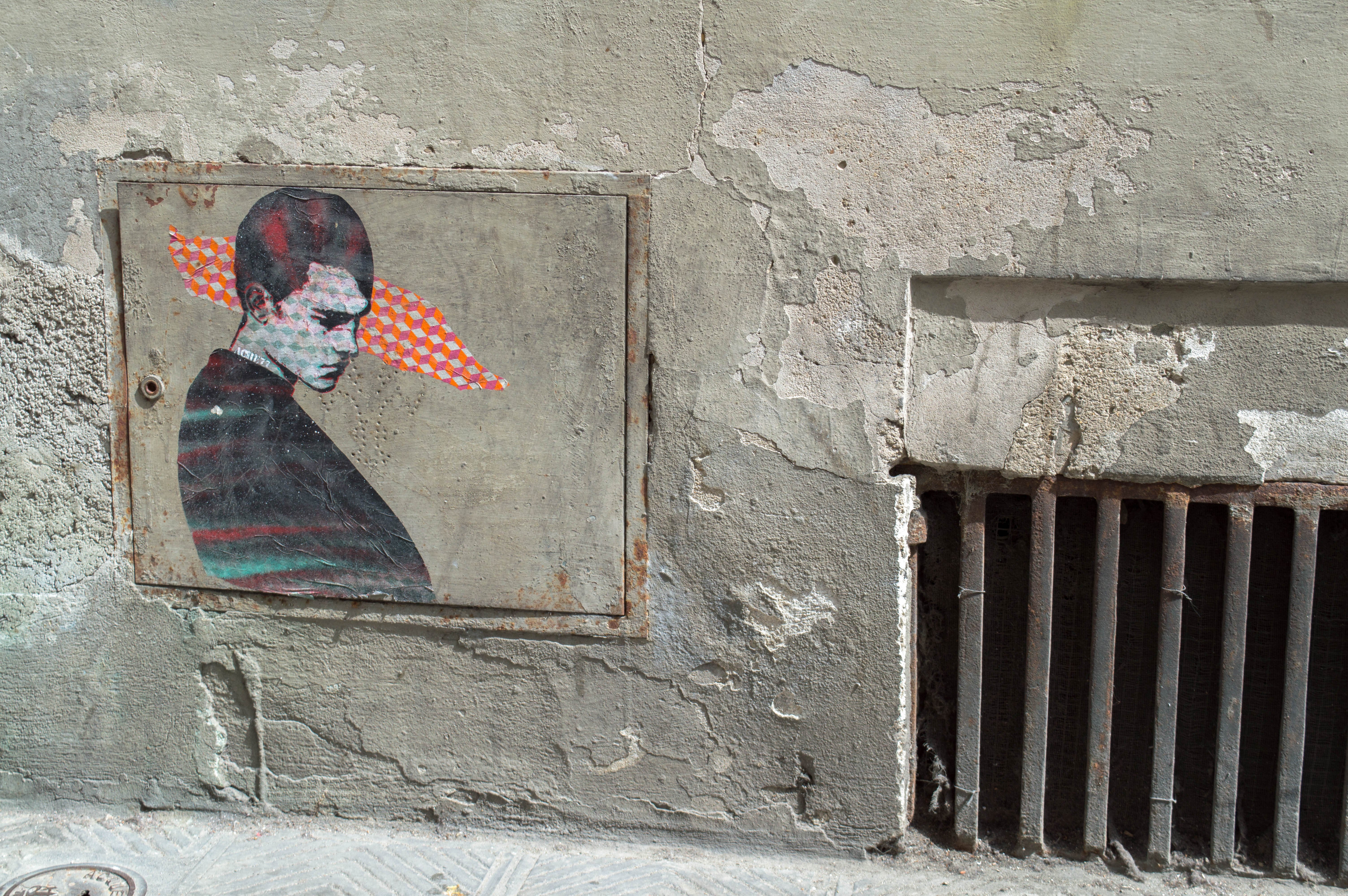 ISO 100 1/250 sec. f/8 38 mm
Last but not least this cute little creature with a pink crown. Like my husband said, that could be me 😊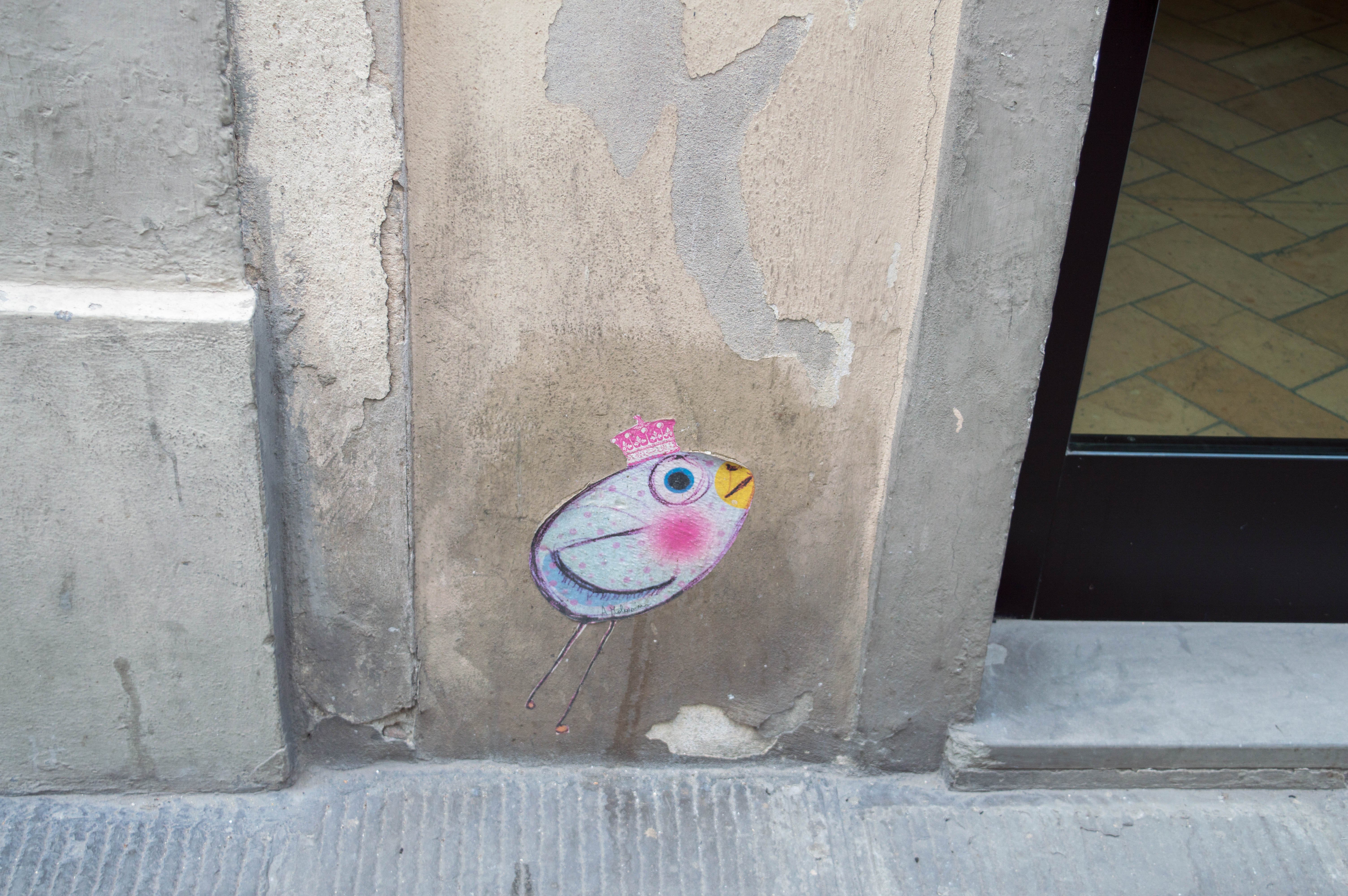 ISO 100 1/250 sec. f/5.6 34 mm
Now it's time to leave this beautiful city for time being but there are still dozens of places to be explored and we can't miss them so we will be coming back soon!
If you like my article feel free to upvote/resteem it or follow me.
All pictures are taken by Nikon D3200 AF-S NIKKOR 18-55 mm 1:3.5-5.6 G II.
Thank you for reading!
Cheers,
Martina