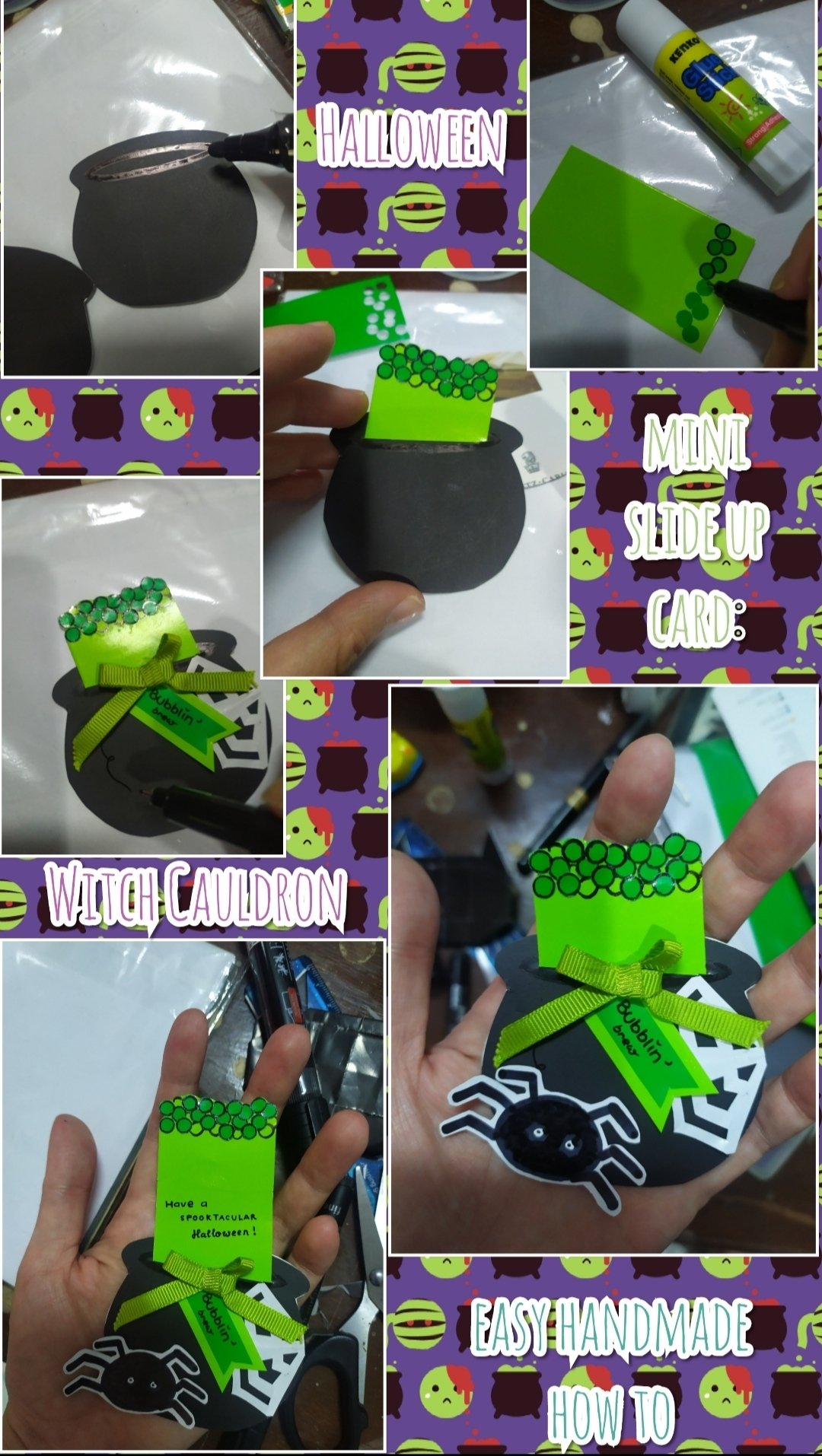 Hello, friends!
This morning i made this mini slide up card for the halloween, it was so easy to make and i would like to share how i made it.
Materials and things needed:
black cardboard (i used the unused cover of monthly magazine of a mall, and i got i for free)
origami papers (black, green and light green)
white paper
unused paper
pencil
black marker
black permanent pen
scissor
cutter
ruler
glue stick
fabric ribbon
How i made it:
First, i started by making the cauldron's pattern with a pencil on the unused paper then cut it off. The size was like on the picture then copy and transfer it unto the black cardboard, make two of it one for the front and one for the back. Cut them off. Draw with the marker the mouth of cauldron on the front side.

Cut the light green paper, 4 cm width and 7.5 cm height. Then by using the paper punch made some circles with the green paper. Paste on the light green paper, draw the bubbles with the pen like on the picture.

Then by using a cutter, cut the mouth of the cauldron with 4 cm width on the front part. Put the light green paper in the mouth then write down the halloween message. After that, paste the front part of the cauldron and the back part, remember only put the glue on the outter surface, don't put the glue on the green paper.

Last, write bubblin' brew on the green paper, add the light green on its' back. Also made the spider net with the back of green paper. Only use small of it. Paste them and also paste the green ribbon.

I then drew a spider on white paper, colour it with the marker and add eyes with the pen. Cut it off, let some white on the outter of it. Then draw the spiral to paste the spider on the cauldron. Then it's finished.

Hope you like it, happy early halloween!

Do any of friends know and have an account in voice platform? would you please help invite me there? i would like to share my artwork and things i love there too. Thanks before.