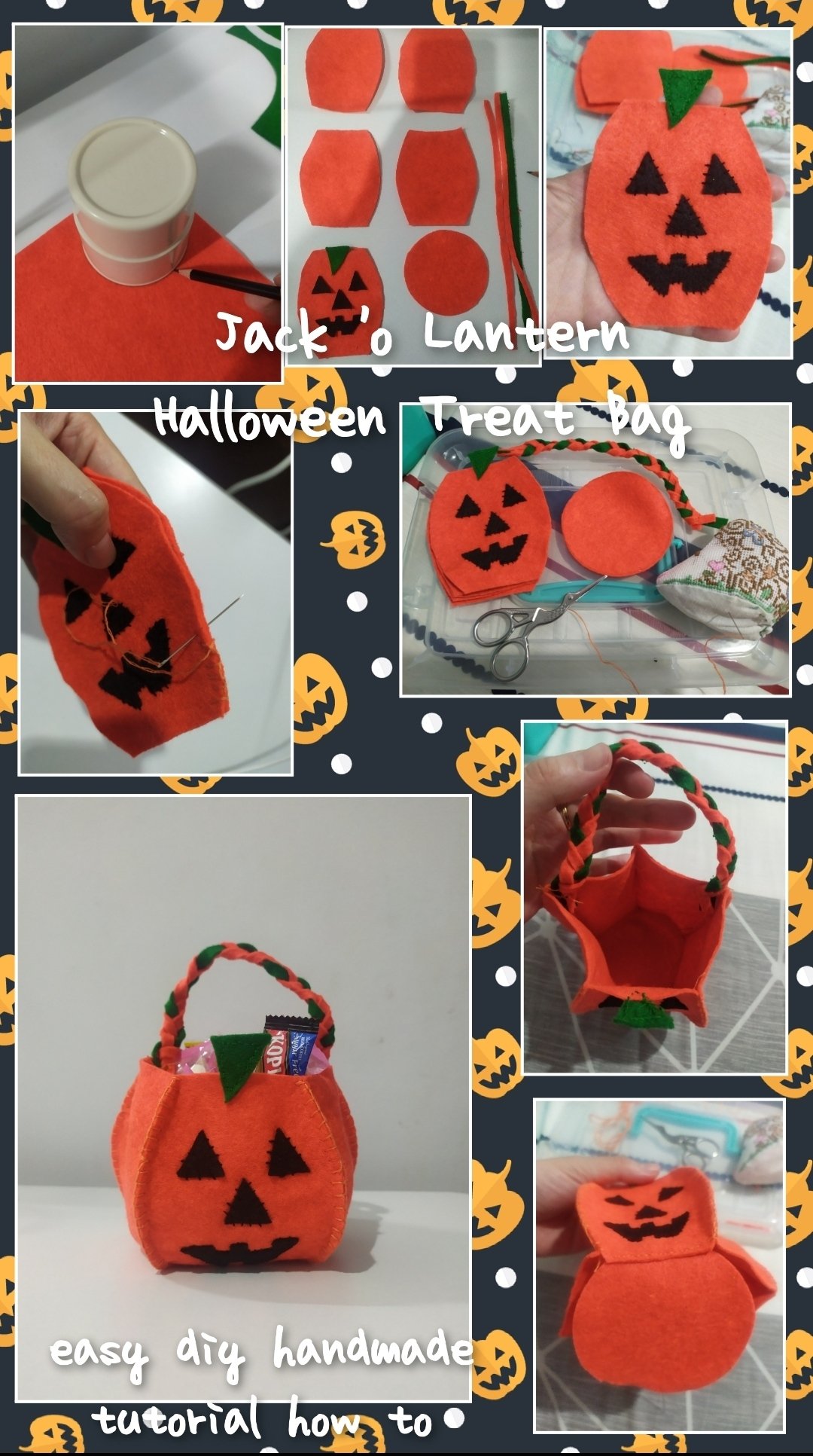 Hello, friends!
Today i just finished making this halloween treat bag. It had a shape of jack 'o lantern, so cute and i will try to share how i made it below. You will need around 5-6 hours to make this one and you will need to do the basic handsew and blanket stitch to make it. And for all handsew and stitchinh here, i use two strands of floss.
Materials and things needed:
Felt fabrics (orange, black, green)
Unused cardboard or thick paper
A glass (to measure to bottom, but you could also use another thing as the pattern)
A sewing needle
Embroidery floss (black, green and orange)
Scissors
A pencil
How to make it:
First, draw the glass on the orange felt with the pencil (the radius was 4cm), then cut it off. Then make the pattern with the cardboard as on the picture, the height was 10cm while the width was 8.2 cm. Also cut it off and copy it on the orange felt, you'll need 5 of it. Then also prepare the face using black felt and green for the leave. Cut the long rectangles with the size of 20cmx0.5 cm from the orange and green felt.

You have to sew the face of jack 'o lantern on a piece of 5 same size of orange felt like below. One by one, eyes nose and then mouth. I don't know the name of the stitch but i sew it from outter to the inner and then inner to the outter then repeat. Also sew with basic sew for the leave with the green felt on the top.

Prepare the handle using 3 long rectangles, make a braid with them like below.

Then to join all 5 same size of orange felt, i use the blanket stitch. To do it was so easy, sew from a dot from one piece to another, top to the bottom. Then, pass the needle through the loop of floss on the bottom. Pull it from the bottom, and then it's finished. Repeat until you join all 5 pieces of the orange felt. Only left two sides which was not connected. Then using the basic sew, sew it with the bottom, a circle.


Repeat for all 5 sides then close the last sides with the blanket stitch.

Last, sew to join the braid handle on it. Ta da, it is finished. Now you could use it as a treat or candy bag like i did.

Hope you'll love it, come and try to copy it.
Happy stitching and sewing, plus
Happy early halloween!