---
Hello, children of Hephaestus, will you join me in building a beautiful, wild machine? Today I have illustrated a wolf, but not just any wolf, this time it's a mechanical one, with iron jaws, which is quite dangerous to be honest, I wouldn't like to be on his menu, although come on, he's a mechanic, he must surely eat nuts and drink oil.
This metal wolf is part of the commissions that I've been doing for @smanuels, but this time something has changed, and it's that he didn't give me the usual specific description, for this and another character, I had to use a little more my imagination, he told me "illustrate a black and gold mechanical wolf in a mountainous steppe", so immediately I put to work the gears of my head to build this animal machine, I took my pencil and my tablet, a little music and I started like Mr. Pool to make the drawing.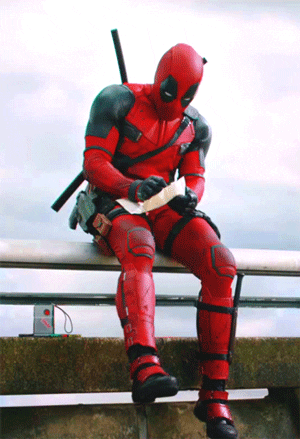 Source Giphy.com
Tools:
Wacom Intuos 4
Photoshop
Medibang Paint
-Step 1:
I had to go to Google for wolf references, which is a bit difficult since you mostly find images of them howling, but I wanted a more fierce and threatening position, that of a hunter.
-Step 2:
Once the wolf structure was ready, I started to add gears, cables and all kinds of mechanical parts I could think of, it was very crazy and took me a lot of time because all the time I was imagining how each part of the mechanism should work, especially in the joints of the legs, which should have more mobility and strength.
-Step 3:
The colour had to be black and gold, so I applied them as base shades, I also added the colours of the background, taking into account low vegetation and mountains in the distance.
-Step 4:
I think you will agree with me when I say that everything is very opaque and dark, so I started the detailing using lighter shades. Normally, I discarded all the outline and painted over it, but this time I made a lot of effort to outline it and it looks pretty good, so I only covered it a little in the head area.
-Step 5:
In Photoshop I selected a brush with an oil texture and I went crazy, I selected several color tones and went to work on the background, I didn't want something very detailed, the intention was to make a landscape that wouldn't steal the main character's attention, so I gave brushstrokes to establish shapes, some mountains, rocks and grass, once I had these shapes ready, I reduced a little the brush hardness and softened the textures, mixing the tones and defining the landscape more.
---
I'll leave you a little gif with the whole process in it, so you can better appreciate the step by step.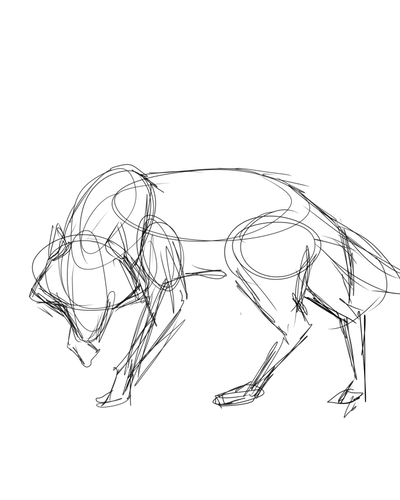 See you in a future post!
Thank You for Supporting My Artwork