Because I was basking in the glory of MY DAY!!! 🎉💐💖🎂
First of May isn't just Labour Day, it is also an important day to celebrate the arrival of a baby yearssss ago, that baby was me. I LOVE MY BIRTHDAY because people get to rest and celebrate their labour and hardwork.
Me? I celebrate myself and giving thanks for each day waking up 💖.
Somehow, this year, I felt so pampered by my loved ones. We were all stucked at home, and people remembered to order delivery to send food to my apartment, or they sent straight to my apartment, but I needed to go down to pick up as visitors are not allowed at the moment to enter into the lifts zone. I started receiving food the day before (as you can read in my previous post), and the food delivery continued till 1st of May. The security guard whom was stationed at the lobby must be wondering why did I ordered so many food that day, haha! Ever-hungry lady?
---
1️⃣Curry Puffs for snacking

My pretty lady friend mama made this at her first attempt and I am the privilege one to munch them. So yummy, a good pair-up with my cup of coffee. I look at those puffs and I remember sunflower and sunshine. Have a look!

If you can't see the sunflower or sunshine, you just have to wear a specs like me. Just joking. Food made with love is like sunflowers to me as I love this big smiley-faced flowers and it is also like sunshines who gives warmth and hope to people. I love especially the special note as well. Thank you, Faith! ❤️
---
2️⃣ Love or Hate fruit. Haha!
Yes, Durians!!

My in-laws ordered this online and had them delivered to me. Two breeds of durians - D24 and Musang king. I LOVE THEM! Not going to think so much of the carbs. Just eat!
Show you the fleshy lovelies.


These are D24 durians.

These are Musang King
Super super yummy! But it is proven in the genes, you either love durian or you outrightly hate durians! But, these are heavenly to me. Thank you, family!
---
3️⃣My birthday cake
Also on delivery, so one unknown uncle called me up, spoke in Kantonis which I seldom spoke, and we managed to understand each other. Here was the lovely tiramisu cake, oh, I love the coffee fragrance!

Really huge heavy cake!

And generous amounts of mixed nuts on top!

Superb layering between cream and cake, not too sweet and just nice for me. Thank you Josephine and Patrick.
---
4️⃣ Bak Kut Teh
My lovely husband purposely ordered this from a restaurant further than our area because he knew I was craving for it.
Bak Kut Teh is in Hokkien language meaning bak meat, kut bones, teh tea, simply means pork bones/ pork ribs and everything about this meat cooked in herbal soup. Super appetising and tasty.
Those packets were fragrant rice, mixed pork parts in herbal tea soup, fish maw in same soup, fried tofu, chicken feet is spicy sweet sauce and dried bak kut teh. I just needed to fry one vegetable to make it a full balanced meal.

SORRY on the blurred photo, this is a pot of mixture of pork meat and parts and fish maw.
⚠️Chicken feet photo is below, if you don't prefer to see, quickly close eyes and scrolled further down.

Chicken feet, love those skin and collagens.

Dry type, usually stir fry with dried chillies and ladies finger with dried cuttlefish, sweet dark soy sauce. Super kick!
Thank you hubby for super full-herbal-burp dinner!
---
5️⃣ Barley with Gingko and Beancurd Dessert
This was also special delivery, dessert made by Cally, my lovely pretty friend, her first attempt and she nailed it. Again, I had the privilege to taste her first attempt! =)
With all these food in my tummy, I wondered how was my digesting system, it must be confused by digesting so many food at the same time. Anyway, how not to bask in the food-glory with all these special food right? That is why I titled it "My heart is full" or I should titled it "My Stomach is Full till overflowing". 🥰
How are you coping during this season at where you are now?
Sending love from my family from Malaysia to wherever you are. We purposely wore red for this family photo. Red always means prosperous for us Chinese. ❤️❤️❤️🌹😍 So, I am sending prosperous wishes to you as you read this. Thank you for being here.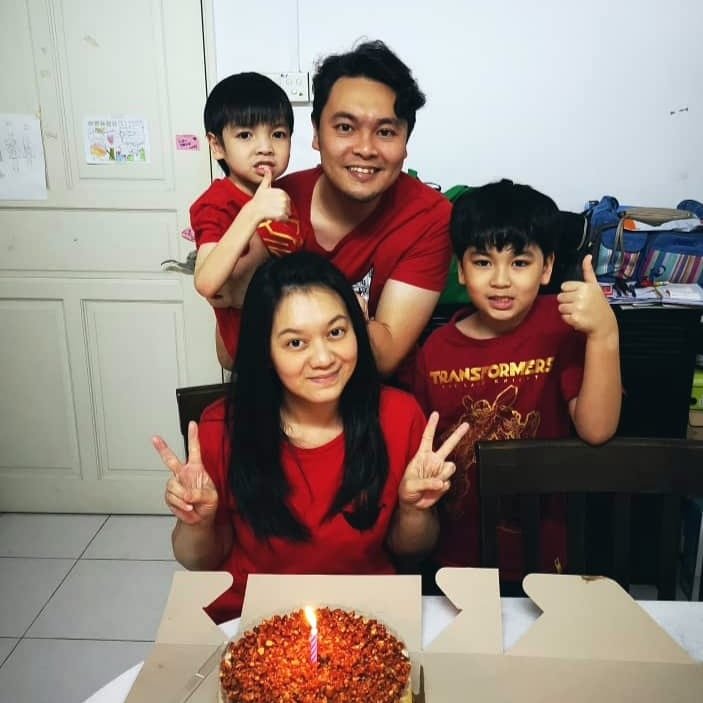 ❤️Love,