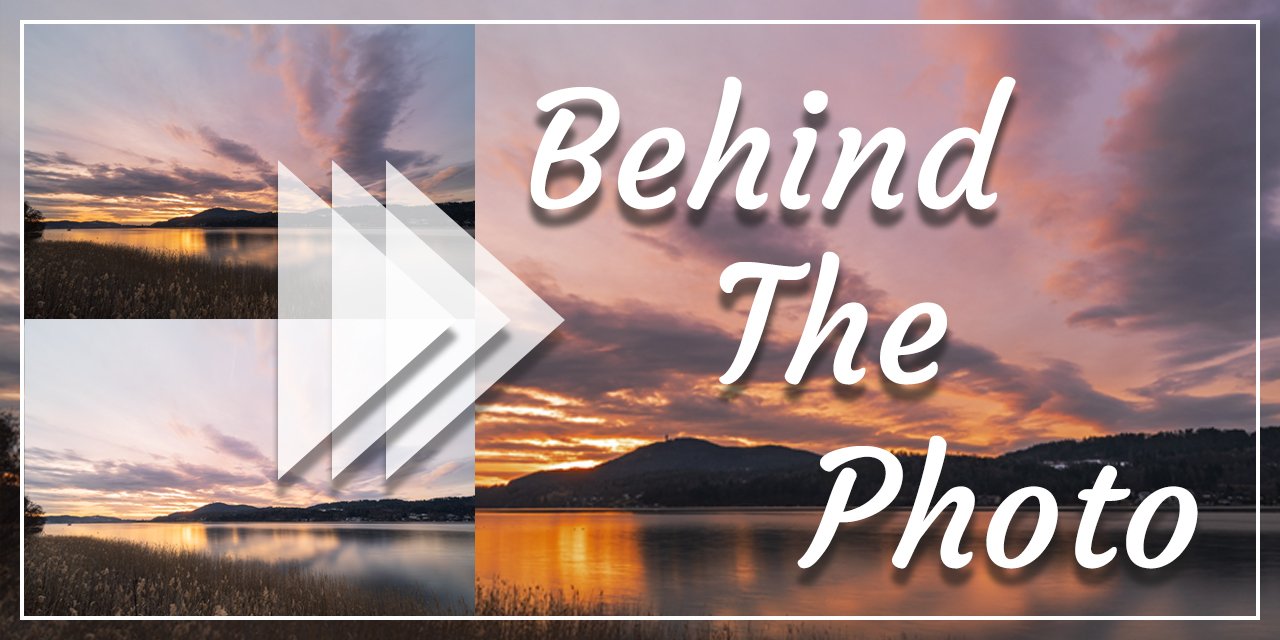 | | |
| --- | --- |
| Yesterday I posted the photos of the sunrise at Lake Wörthersee, and today I would like to show where and how the main picture was taken. | Gestern habe ich die Fotos vom Sonnenaufgang am Wörthersee gepostet, und heute möchte ich gerne zeigen, wo und wie das Hauptbild entstanden ist. |
| | |
| --- | --- |
| The app The Photographer's Ephemeris showed me exactly where and when the sun would rise and I knew where I had to go, namely on the north side of the lake to one of the few places with free lake access and parking: My location. | Die App The Photographer's Ephemeris hat mir genau gezeigt, wo und wann die Sonne aufgehen wird und ich wusste, wohin ich fahren musste, nämlich auf die Nordseite des Sees zu einer der wenigen Stellen mit freiem Seezugang und Parkplatz: Mein Standort. |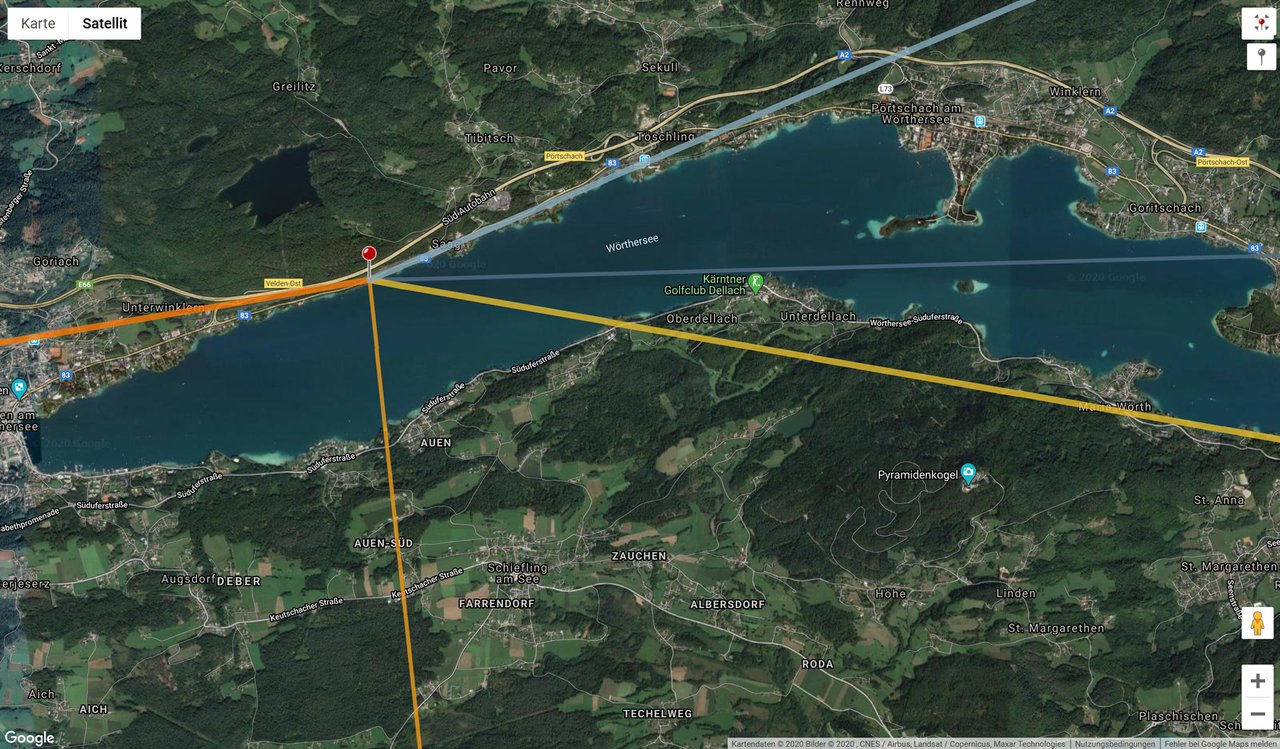 Credits: Google Maps and The Photographer's Ephemeris
| | |
| --- | --- |
| I didn't check what the weather would be like, but after it was pretty nice the days before, I hoped that I would be lucky, which was the case. | Wie das Wetter wird, habe ich nicht nachgesehen, aber nachdem es die Tage zuvor auch recht schön gewesen ist, hoffte ich darauf, dass ich Glück habe, was dann auch der Fall gewesen ist. |
At this place there is also a nice rest area with wooden benches and tables, where you always can see some people during the daytime, but so early in the morning I had it to myself.

I could put the tripod on the robust table and I have had my breakfast coffee with me in a thermos from home.

An dieser Stelle ist auch ein netter Rastplatz mit Holzbänken und Tischen, welcher tagsüber immer gut besucht ist, aber so früh am Morgen hatte ich ihn für mich allein.

Das Stativ konnte ich auf den stabilen Tisch stellen und meinen Frühstückskaffee habe ich mir in einer Thermosflasche mitgenommen.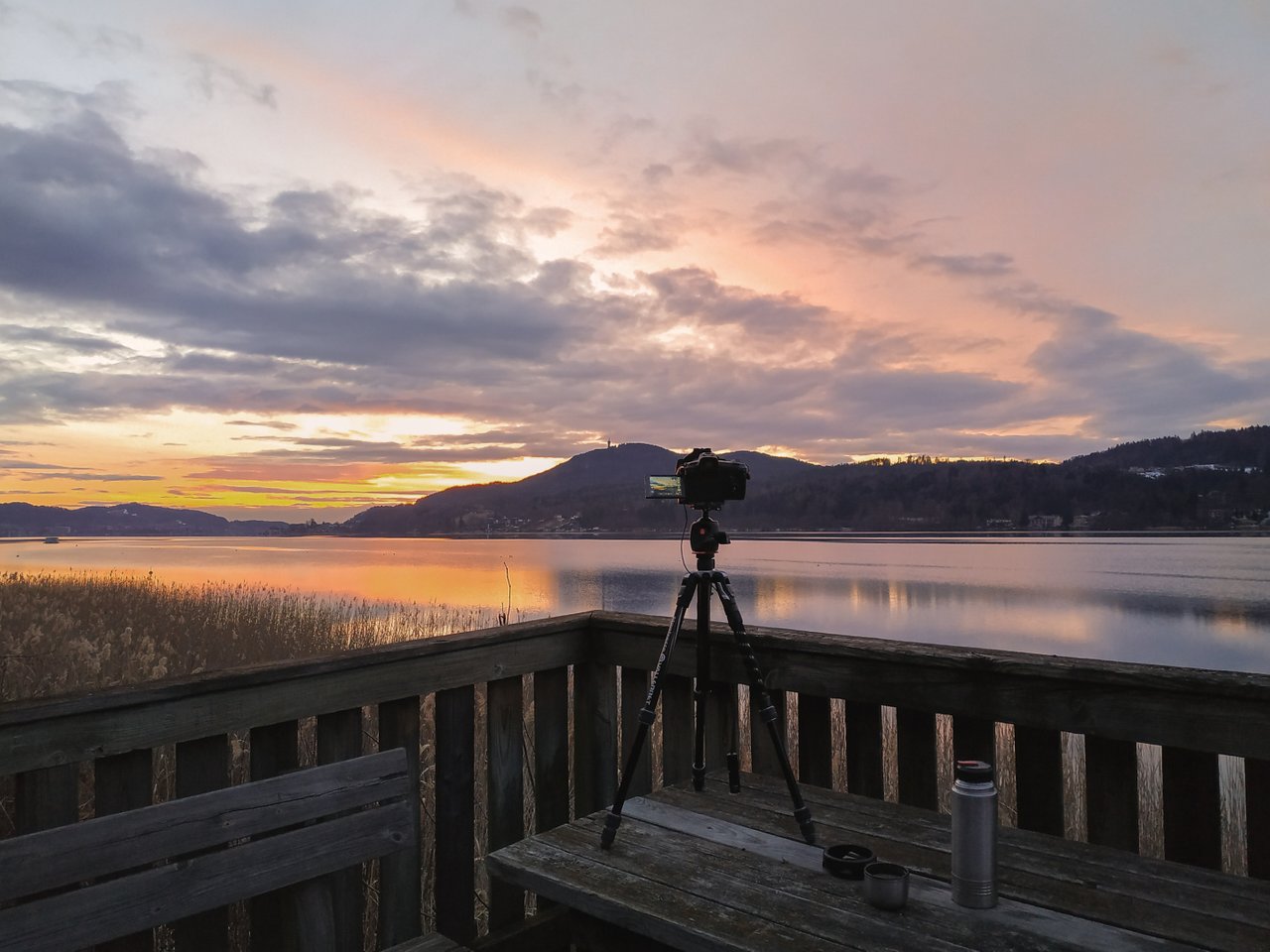 Because it was still quite dark, I took three photos for exposure bracketing, taking one over- and one underexposed and a normal exposure. But in the end I only used the normal and the overexposed photo.

I used the EF 16-35mm 1: 4L IS USM wide-angle lens on my Canon EOS R.

I usually photograph landscapes with ISO 100 and aperture priority mode (AV mode on Canon). I took these photos at aperture f/11 and the camera calculated 10 seconds for the overexposed image and 5 seconds for the normally exposed image.

The info in my post yesterday of 2.5 seconds is unfortunately wrong, because I also imported the underexposed image into Photoshop and Photoshop then saved this time to the image information.

The Haida M10 filter system with CPL filter, medium soft gradient 0.9 / 3 stop filter and ND 0.9 / 3 stop filter was also used to make the water a little smoother.

Weil es noch recht dunkel gewesen ist, habe ich drei Fotos für eine Belichtungsreihe gemacht, wobei ich zur normalen Belichtung jeweils ein Bild über- und eines unterbelichtet aufgenommen habe. Am Ende habe ich dann aber nur das normal- und das überbelichtete Foto verwendet.

Verwendet habe ich an meiner Canon EOS R das EF 16-35mm 1:4L IS USM Weitwinkelobjektiv.

Ich fotografiere Landschaften eigentlich meistens mit ISO 100 und Zeitautomatik (AV Modus bei Canon). Diese Fotos habe ich mit Blende f/11 geschossen und die Kamera hat für das überbelichtete Bild 10 Sekunden und für das normal belichtete Bild 5 Sekunden Belichtungszeit berechnet.

Die Angabe in meinem gestrigen Post von 2.5 Sekunden ist leider falsch, weil ich auch das unterbelichtete Bild in Photoshop importiert habe und Photoshop dann diese Zeit in die Bildinfos gespeichert hat.

Im Einsatz war auch das Haida M10 Filtersystem mit CPL Filter, Medium Soft Gradient 0.9 / 3 Stops Filter und ND 0.9 / 3 Stops Filter, um das Wasser etwas sanfter zu machen.
| | |
| --- | --- |
| | |
| | |
| --- | --- |
| After a few quick settings in Lightroom which I always do, such as lens correction and sharpness, I opened the photos in Photoshop as a layers, but then I didn't use the underexposed image. | Nach ein paar schnellen Einstellungen in Lightroom, die ich immer mache, wie zum Beispiel Objektivkorrektur und Schärfe, habe ich die Fotos in Photoshop als Ebenen geöffnet, wobei ich das unterbelichtete Bild dann nicht verwendet habe. |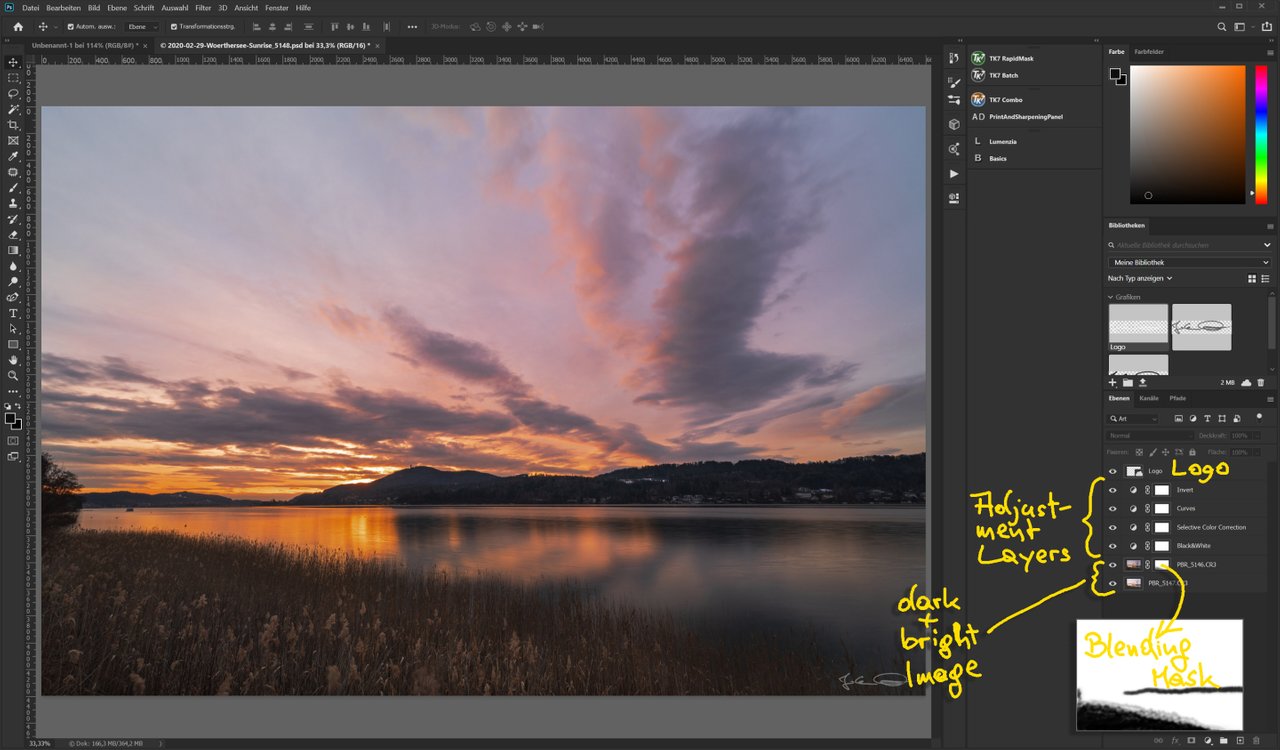 Using a layer mask (vector mask), I faded in the reed area and the opposite bank of the lake, which was also very dark, from the lighter lower layer into the normally exposed image layer, added a few of my standard adjustment layers for slightly more intense colors, and the image was ready.

Well, almost ready, because there was a dark branch and a blurred piece of reed which bothered me and which I had to stamp out. You still can see these in the overexposed image.

Mittels Layermaske (Vektormaske) habe ich den Bereich des Schilfs und auch das gegenüberliegende Ufer, das ebenfalls sehr dunkel gewesen ist, vom helleren unteren Layer in das darüber liegende normal belichtete Bild eingeblendet, ein paar meiner standardmäßigen Einstellungsebenen für etwas intensivere Farben darüber gelegt und war fertig war das Bild

Naja, fast fertig, denn von unten haben noch ein dunkler Ast und ein verschwommenes Stück Schilf ins Bild geragt, die mich gestört haben und die ich noch wegstempeln musste. Diese kann man am überbelichteten Bild noch erkennen.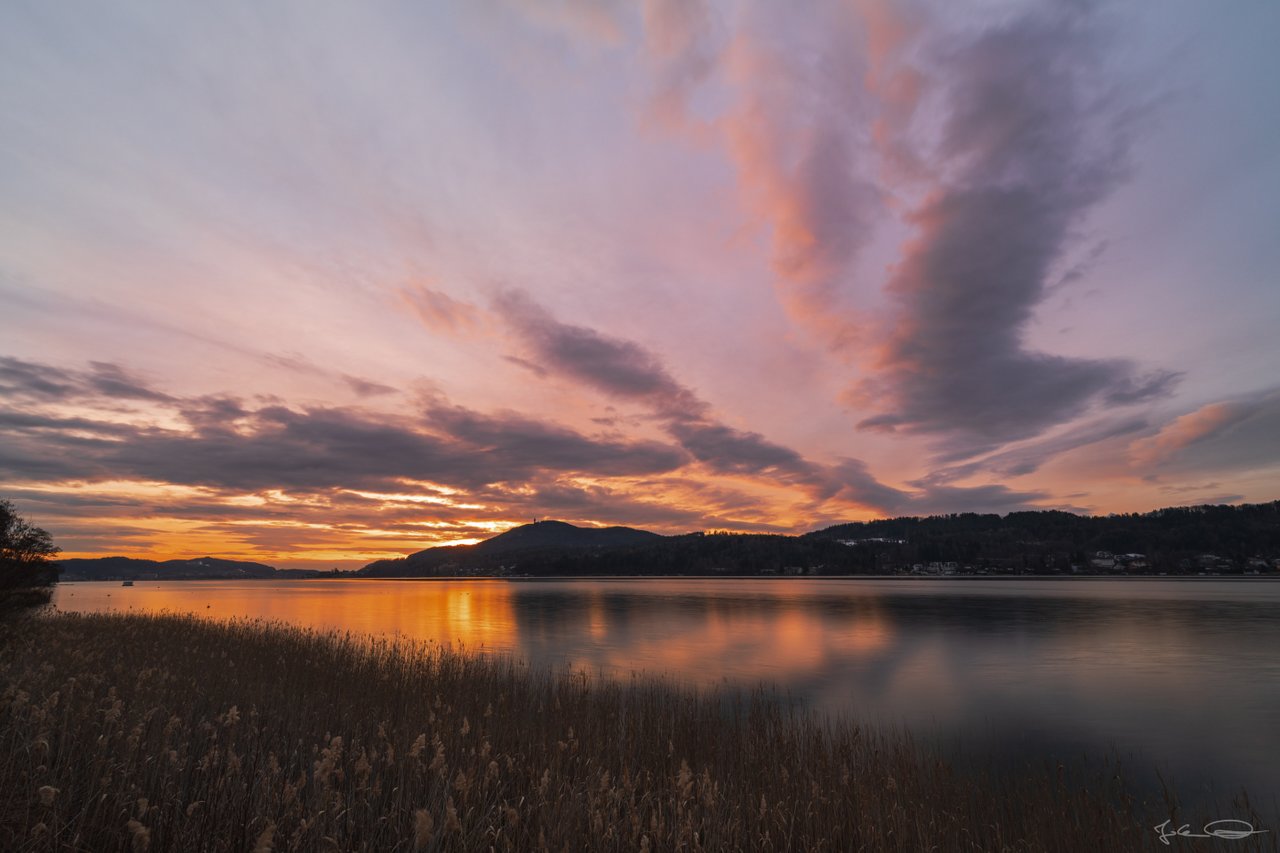 Original post: Is it a Sunrise or a Sunset?
Well, that was more difficult for me than I would have thought, because taking and editing the photo is easier for me than describing the work, and I hope that everything was somehow understandable.

If there are any questions, I will try to answer all comments.

So, das war doch schwieriger für mich als ich gedacht hätte, denn das Foto zu machen und zu bearbeiten ist leichter für mich, als die Arbeit zu beschreiben, und ich hoffe, dass alles so einigermaßen verständlich gewesen ist.

Falls Fragen bestehen, ich werde versuchen, alle Kommentare zu beantworten.
Information
All photos were shot with the Canon EOS R and one of these lenses: Canon RF 24-105mm f/4 L IS USM, Canon EF 70-200mm f/4 L IS II USM, Canon EF 16-35mm 1:4L IS USM, SIGMA 105mm 1:2,8 DG MACRO HSM, SIGMA 150-600mm F5-6.3 DG OS HSM C.
I leave all EXIF and IPTC information stored in the pictures.
Of course in that case I have made screenshots on my computer and used my smartphone to take a photo of my camera ;)
---
If you like my photos I would appreciate an upvote, nice comment or a resteem 😊 ... and maybe you would like to follow me, so that you never miss a post from me.
Thank you for visiting my blog,
have a nice evening and a great week ahead,



Photos and Text: Johann Piber | All rights reserved - do not use without my permission
#originalcontent #originalworks
2020-03-01