Un saludo a todos los miembros de esta hermosa comunidad. un abrazo a todos mis seguidores en especial a los que siempre apoyan mis publicaciones con Upvote, es de gran aliento para mi todos sus votos positivos.
Hello to all the members of this beautiful community. a hug to all my followers especially to those who always support my publications with Upvote, it is a great encouragement for me all their positive votes.
En esta publicación compartiré un par de manualidades que he hecho con mi sobrino, estas manualidades son tareas que le dejan del jardín para realizar en casa ya que por la cuestión de la cuarentena no pueden salir de casa, pero eso no significa que ellos deban hacer sus actividades.
In this publication I will share a couple of crafts that I have done with my nephew, these crafts are tasks that leave him from the garden to do at home since, due to the question of quarantine, they cannot leave the house, but that does not mean that they should do Your activities.
En esta publicación mostrare las manualidades ya terminadas, pero en los siguientes artículos pondré el paso a paso de las manualidades que iré compartiendo con todos ustedes.
In this publication I will show the finished crafts, but in the following articles I will put the step by step of the crafts that I will be sharing with all of you.
Niño en Material Reciclable
Child in Recyclable Material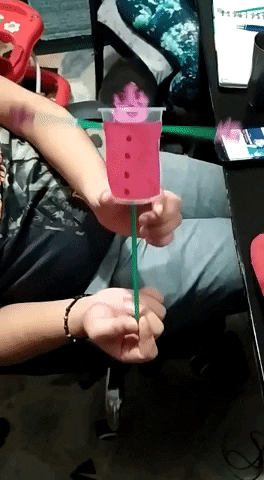 Esta manualidad la llamamos niño reciclado, el nombre se debe a que fue creado con materiales reciclables lo cual contribuye con el medio ambiente y a la vez el niño aprende a reutilizar los materiales. Los materiales utilizados fueron los siguientes:
Vaso Plástico Desechable.
Pitillos Plásticos Desechables.
Papel Iris.
Cinta Adhesiva.
We call this craft recycled child, the name is due to the fact that it was created with recyclable materials which contributes to the environment and at the same time the child learns to reuse the materials. The materials used were as follows:

Disposable Plastic Cup.
Disposable Plastic Cigarettes.
Iris paper.
Scotch tape.
Estrella de Origami
Origami Star
Esta manualidad es una estrella en origami (*Arte de hacer figuras con hojas de papel*). la cual formamos con varias figuras de papel que luego pegamos y conformo la estrella de varios colores. Los materiales utilizados fueron los siguientes:
This craft is an origami star (* Art of making figures with sheets of paper *). which we formed with several paper figures that we then glued and shaped the star of various colors. The materials used were as follows:
Estas son otras figuras que también puedes formar con la estrella de origami.
These are other shapes that you can also form with the origami star.
Paletas de Caritas
Face Palettes
Esta es la ultima manualidad, son unas caritas dibujadas sobre papel iris donde se expresa el estado de animo. Los materiales utilizados fueron los siguientes:
Papel Iris.
Pitillos Desechables.
Cinta Adhesiva.
This is the last craft, they are faces drawn on iris paper where the mood is expressed. The materials used were as follows:

Iris paper.
Disposable Cigarettes.
Scotch tape.
Aquí concluye mi publicación sobre manualidades, prometo para las siguientes dar el paso a paso para que también las puedas realizar en casa. Espero les haya Gustado y me pueda apoyar con Upvote.
Here concludes my publication on crafts, I promise for the following to take the step by step so that you can also do them at home. I hope you liked it and can support me with Upvote.
MUCHAS GRACIAS POR EL TIEMPO Y ATENCIÓN PRESTADA EN ESTA PUBLICACIÓN.
THANK YOU VERY MUCH FOR THE TIME AND ATTENTION PROVIDED IN THIS PUBLICATION.