Saludos para toda la comunidad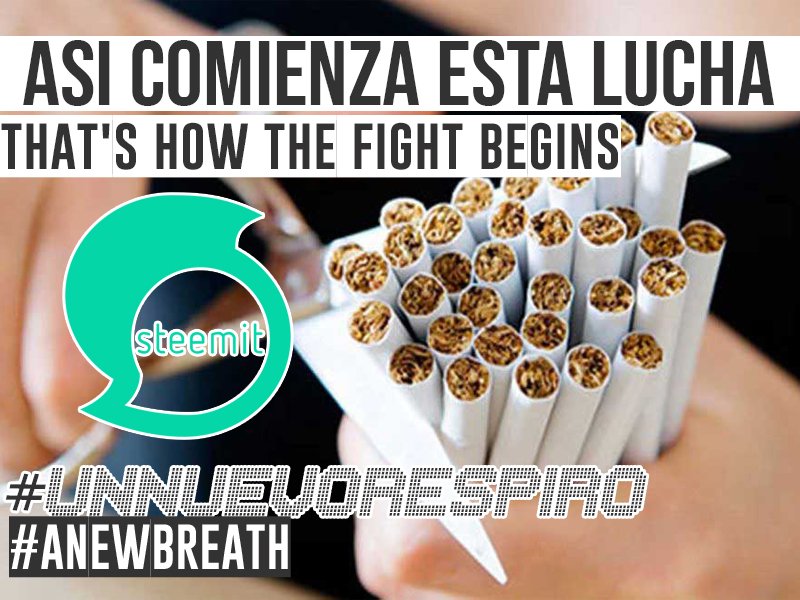 Los mejores de los deseos para todos y les mando un abrazo desde la distancia
Soy una persona de 34 años de edad y hace apenas 03 días tome la decisión de dejar el cigarrillo.
Vicio que tengo desde que tenia 16 años, casi la mitad de mi vida.
Hace 03 días sufrí el inicio de un paro respiratorio o lo que lo que yo denomine como:Evitar un suicidio accidentalmente inducido.
---
Luego de culminar mi faena diaria, al terminar mis obligaciones decido tomar un descanso, ya eran casi las 12 de la noche, cuando por mi mente pasa fumarme un cigarro, pero ya no me quedaba ni uno, de la media caja de cigarros que había consumido ese mismo día.
Cuando mi teléfono celular suena un mensaje.
Era mi vecino que llegaba del trabajo y me escribía para pedirme unas pastillas para el dolor de muela que lo atacaba en ese momento, yo aprovechándome de la situación le pido un cigarro, su respuesta fue: me queda solo uno.
De igual manera le daría las pastillas, cual fue mi sorpresa?
Mi vecino al recibir las pastillas decide darme su único cigarro y lo invito a fumarlo entre los 2, así de fuerte seria su dolor, que me dijo: Amigo, fumatelo tu, debo descansar.
Ya teniendo mi cigarro, el de dormir, como le decimos los que fumamos, me decido a encenderlo, en ese momento sale mi hija de 10 años y me dice: papa, por que fumas?
Mi respuesta: No lo se hija y solo lo encendí y empece a fumar.
---
cuando iba por la mitad del recorrido, sentí una presión en el pecho, algo diferente a lo normal,y decidí botar el cigarro a la mitad y le dije a mi hija en ese momento, no fumo mas.
Hablando con sinceridad, esa frase a salido de mi boca infinidades de veces, pero esa noche sentí que era mas en serio que las demás oportunidades, no se si por habérselo dicho a mi hija que ya lleva mucho tiempo pidiéndome que loo deje, o fue otra cosa, pero así lo sentí.
---
Luego de que mi hija decidiera dormir, sentía la necesidad también de descansar, pero la falta de aire y la presión en el pecho no me dejaban.
Primer ataque de paranoia.
2:00 Am
me encontraba en el computador leyendo cualquier articulo referente al coronavirus y sus síntomas.
Ese virus no podía ser, seria yo la única persona a la cual solo le ataco el sistema respiratorio? y tan de golpe?
Según lo que leí en ese momento, no podía ser eso, pero recordemos que hablamos de un virus que aun no sabemos ni como atacarlo, ni su procedencia exacta.
3:00 Am
Decido tomarme una pastilla para la alergia, que a veces me a funcionado en situaciones parecidas y simplemente me duermo y al otro día, no a pasado nada, nada que un buen cigarro no pueda solucionar.
Pero esta vez no fue así, no encontraba la manera de estar tranquilo, algo estaba mal esta vez, y la pastilla no era la solución.
4:00 Am
Preparo una tasa enorme de café, pensando en que quizás lo caliente pudiera ayudarme.
Fue un error tomar ese café, ahora era la respiración mas un poco de taquicardia generada por la cafeína en mi cuerpo. (no soy consumidor de café) Haber tomado tanto, no me ayudo en lo absoluto.
4:30 Am
Decido calentar agua y agregarle mentol y hojas de orégano para generar vapor y respirar esas aromas que según mi criterio, ayudarían a mi respiración, o por lo menos sentir alguna mejora.
Cual es mi sorpresa?
Me siento mejor y decido acostarme a dormir.
Ya con mi cuerpo cansado, veo la hora, 4:55, la respiración mejorando me decido a dormir, voy cayendo en un sueño pesado pero aun costando respirar normalmente. Logre dormir.
5:05 Am

Me desperté con la desesperación mas grande que e tenido en mi vida.
Habia dejado de respirar, fue como que mi cuerpo dijo: ya no mas.
y me desperté.
En mi desesperación me di un golpe en el pecho el cual me hizo tomar nuevamente el aliento.

Para mi fue algo bastante desesperante, una situación indeseable para nadie.
---
Desde ese momento tome la decisión de no fumar, pero esa decisión no me llevo a mejorar mi respiración y mucho menos a perder el miedo a quedarme nuevamente dormido.
Ese día, logre dormirme tranquilamente a las 5:00 Pm.
Cuando desperté, me sentía totalmente normal (descarte coronavirus), solo podía haber un causante de este malestar. El Cigarrillo.
No les mentiré, a han pasado solo 04 días y aun no siento ninguna mejoría, bueno, si existe una, han sido 4 días en los que no e gastado dinero en cigarro, ya eso es bastante.
---
Semanalmente estaré por acá contándole como iré avanzando en mi nuevo proyecto de vida.
Si lo logro, mis recaídas, todo estará por acá en: Semanario de un fumador.
---
Y no olviden, quedarte en casa, es la única manera de ganar en esta situación.
---
Su servidor @juliolunar desde Cumaná-Edo Sucre, Venezuela, me despido y agradezco que me regalaran un poco de su tiempo. un abrazo.
---
---
Greetings to the entire community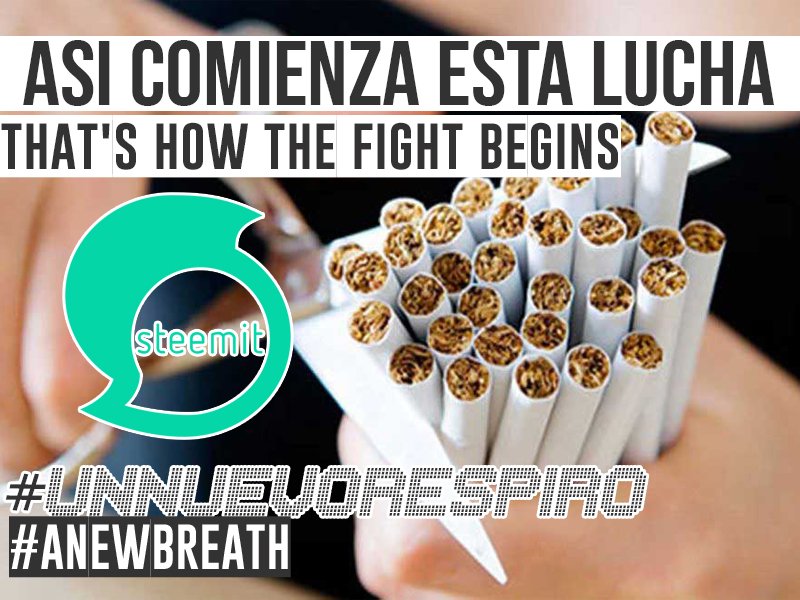 Best wishes to all and send you a hug from a distance
I am a 34-year-old person and barely 03 days ago I made the decision to quit.
I have had a vice since I was 16 years old, almost half of my life.
03 days ago I suffered the start of a respiratory arrest or what I call: Avoiding accidentally induced suicide.
---
After finishing my daily chore, at the end of my obligations I decided to take a break, it was almost 12 at night, when my mind goes through smoking a cigar, but I didn't have one left, from the half-box of cigarettes I had consumed that same day.
When my cell phone rings a message.
It was my neighbor who came from work and wrote to ask me for some pills for the toothache that was attacking him at that time, taking advantage of the situation I asked him for a cigarette, his response was: I only have one left.
I would also give him the pills, what was my surprise?
When my neighbor received the pills, he decided to give me his only cigarette and I invited him to smoke it between the two of them, that's how severe his pain would be, which he said to me: Friend, smoke it, I must rest.
Already having my cigarette, the one to sleep, as we smokers say, I decide to light it, at that moment my 10-year-old daughter comes out and says: Dad, why do you smoke?
My Answer: I don't know, daughter, and I just turned it on and started smoking.
---
When I was halfway there, I felt a pressure in my chest, something different from normal, and I decided to throw the cigarette in half and I said to my daughter at that moment, I don't smoke anymore.
Speaking with sincerity, that phrase has come out of my mouth countless times, but that night I felt it was more serious than the other opportunities, I don't know if for having told my daughter that she has been asking me to leave it for a long time, or was it something else, but that's how I felt it.
---
After my daughter decided to sleep, I also felt the need to rest, but the lack of air and the pressure on my chest did not stop me.
First attack of paranoia.
2:00 a.m
I was on the computer reading any article regarding the coronavirus and its symptoms.
That virus could not be, would I be the only person who only attacked the respiratory system? and so suddenly? *
According to what I read at the time, it could not be that, but remember that we are talking about a virus that we do not yet know how to attack, nor its exact origin.
3:00 am
I decide to take an allergy pill, which sometimes has worked for me in similar situations and I just fall asleep and the next day, nothing happened, nothing that a good cigarette cannot solve.
But this time it was not like that, I could not find a way to be calm, something was wrong this time, and the pill was not the solution.
4:00 am
I prepare a huge cup of coffee, thinking that perhaps the hot one could help me.
It was a mistake to drink that coffee, now it was breathing plus a little tachycardia generated by caffeine in my body. (I'm not a coffee consumer) Having had so much, it didn't help me at all.
4:30 am
I decide to heat water and add menthol and oregano leaves to generate steam and breathe those aromas that, in my opinion, would help my breathing, or at least feel some improvement.
What is my surprise?
I feel better and decide to go to bed to sleep.
Already with my body tired, I see the time, 4:55, the breathing improving I decide to sleep, I fall into a heavy sleep but still having trouble breathing normally. I got to sleep.
5:05 am

I woke up with the greatest despair I've ever had in my life.
I had stopped breathing, it was like my body said: no more.
and I woke up.
In desperation I hit my chest which made me catch my breath again.

For me it was something quite desperate, an undesirable situation for anyone.
---
From that moment I made the decision not to smoke, but that decision did not lead me to improve my breathing, much less lose the fear of falling asleep again.
That day, I managed to fall asleep peacefully at 5:00 pm.
When I woke up, I felt totally normal (rule out coronavirus), there could only be one cause of this discomfort. The cigarette.
I will not lie to you, it has only been 04 days and I still do not feel any improvement, well, if there is one, it has been 4 days in which I have not spent money on cigarettes, that is enough.
---
Weekly I will be around here telling him how I will progress in my new life project.
If I succeed, my relapses, everything will be here in: Weekly of a smoker.
---
And don't forget, staying home is the only way to win in this situation.
---
Your server @juliolunar from Cumaná-Edo Sucre, Venezuela, I say goodbye and thank you for giving me a little of your time. a hug.
You can also get me through my social networks: