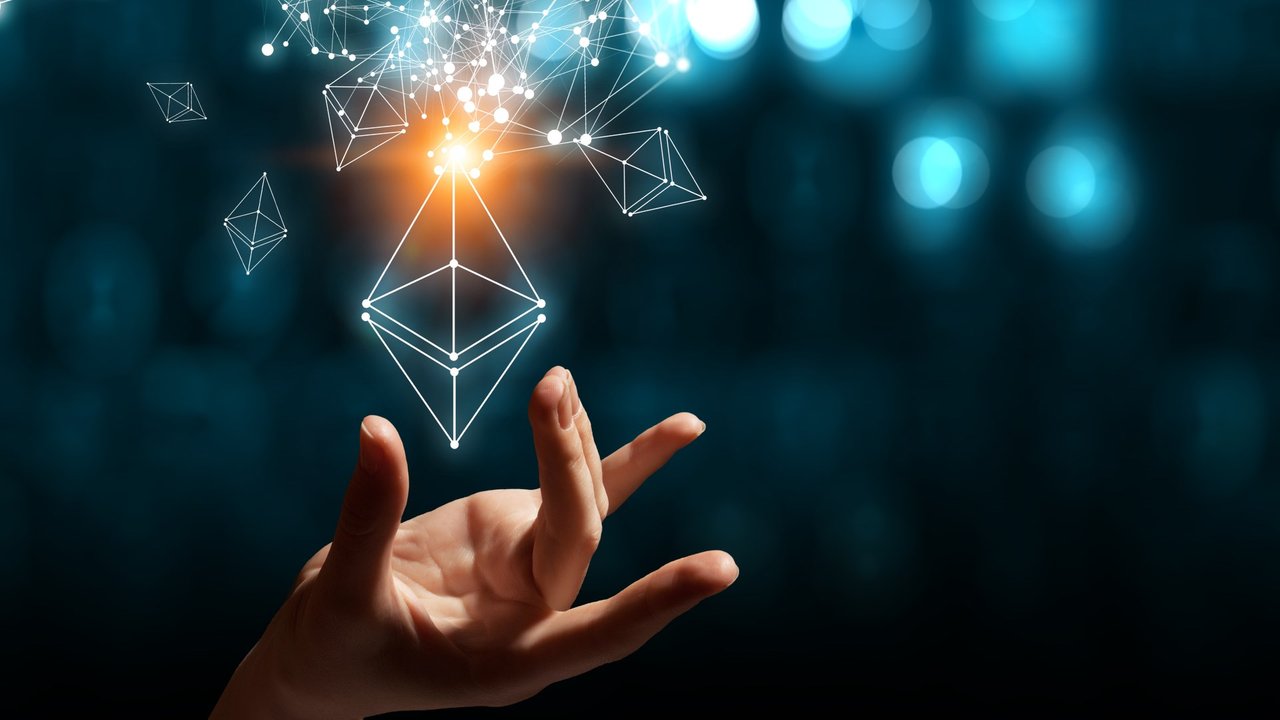 What's next?
Apparently Ethereum has been racing lately, hitting new all time highs and showing signs that it's on the right path and heading to a promising future with mathematical precision. Currently priced at $1,721 and with a 24-hour trading volume of $40.35 billion, Ethereum now has a market cap of more than $200 billion.
Ethereum holders are in for some big surprises as 2021 already seems to be a great year for Vitalik's child. In case you haven't noticed, this is what the situation looks like at the moment of speaking: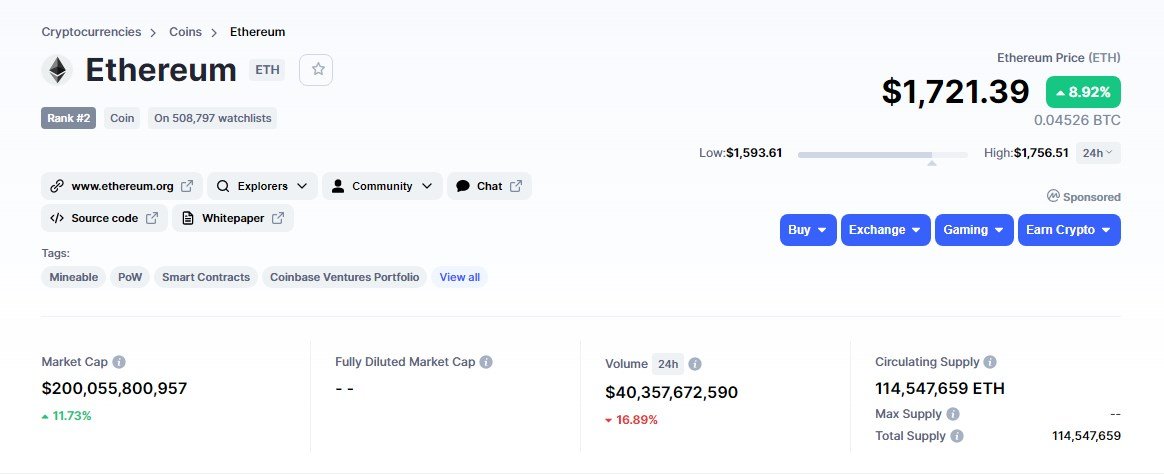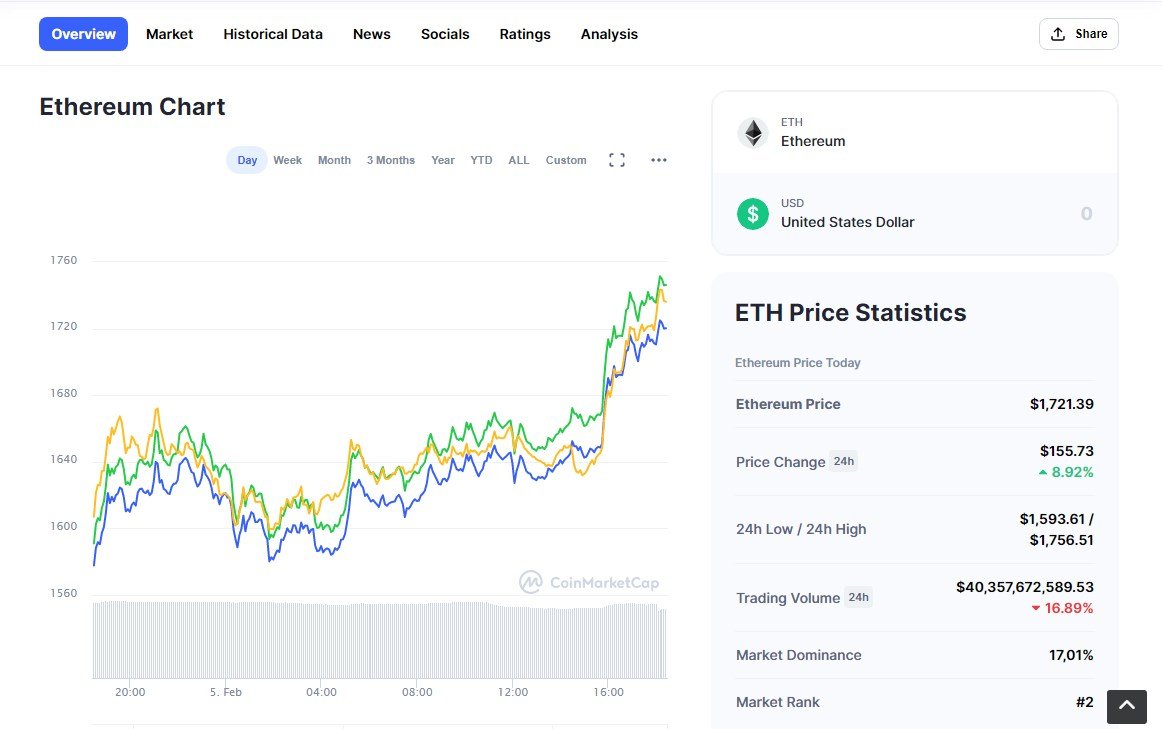 Activity
Activity on the ETH network has been steadily increasing over the last 12 months, and this is only the beginning in my opinion, given the recent developments on the network and the ongoing lockdowns that are starting to take a toll on the global financial system's stability.
The Ethereum network is currently processing approximately 1.3 million transactions per day, which translates into a 10% increase over the last 7 days. It is worth noting that this is a new record for the Ethereum network.
The global push for the gradual elimination of the use of physical money over the next decade is another significant factor adding to the price movement we are experiencing, and I can only imagine that it's going to become more intense in the next few months.
What can we expect?
There is definitely a lot more to come in the distant future, but the truth is that ETH markets are also looking bullish as we speak. Less than 25k tokens available to be bought below the $1,900 mark on Binance's ETH/USDT at the moment. This may be a lot of money, but it's only a tiny fragment of the $40 billion traded today.
Ethereum is currently trading at $1,722 on Binance and the ETH/USDT market depth indicates that it's possible to see ETH cruising somewhere around the $1,750 mark soon. Of course this is just speculation based on the current situation regarding the existing sell walls on Binance, but it's a living organism and things can change in an instant.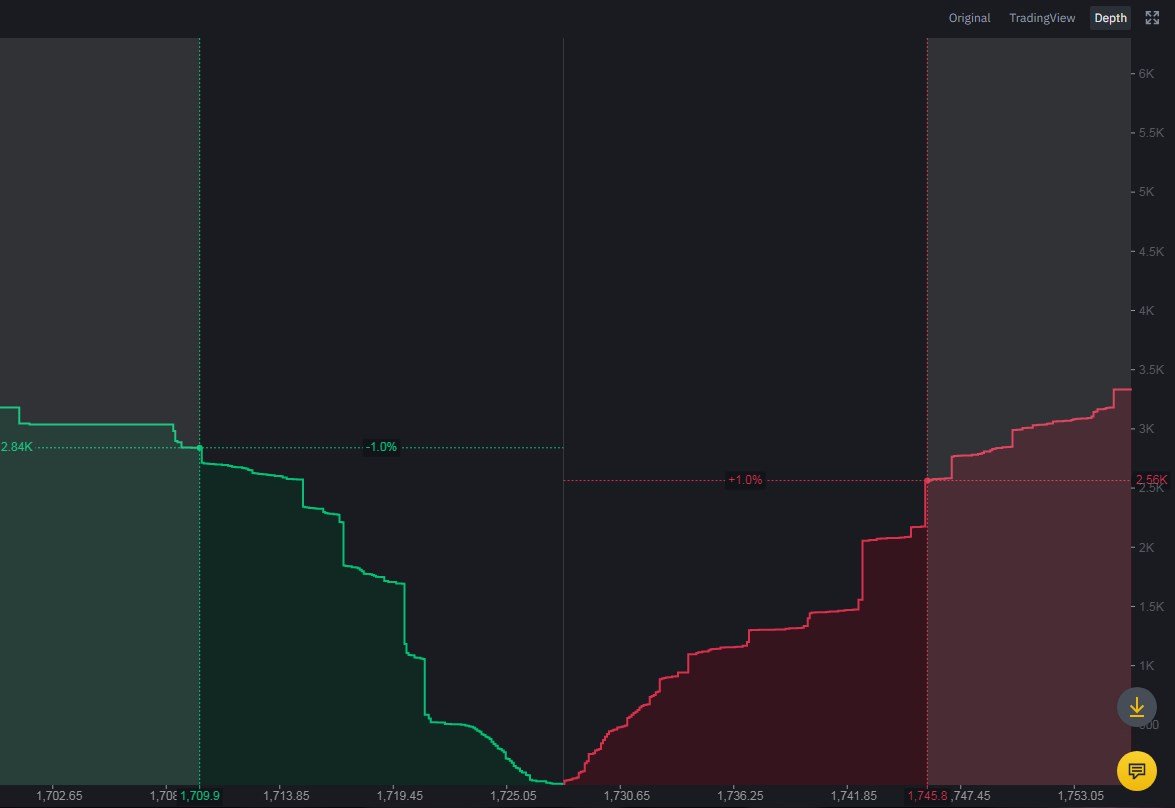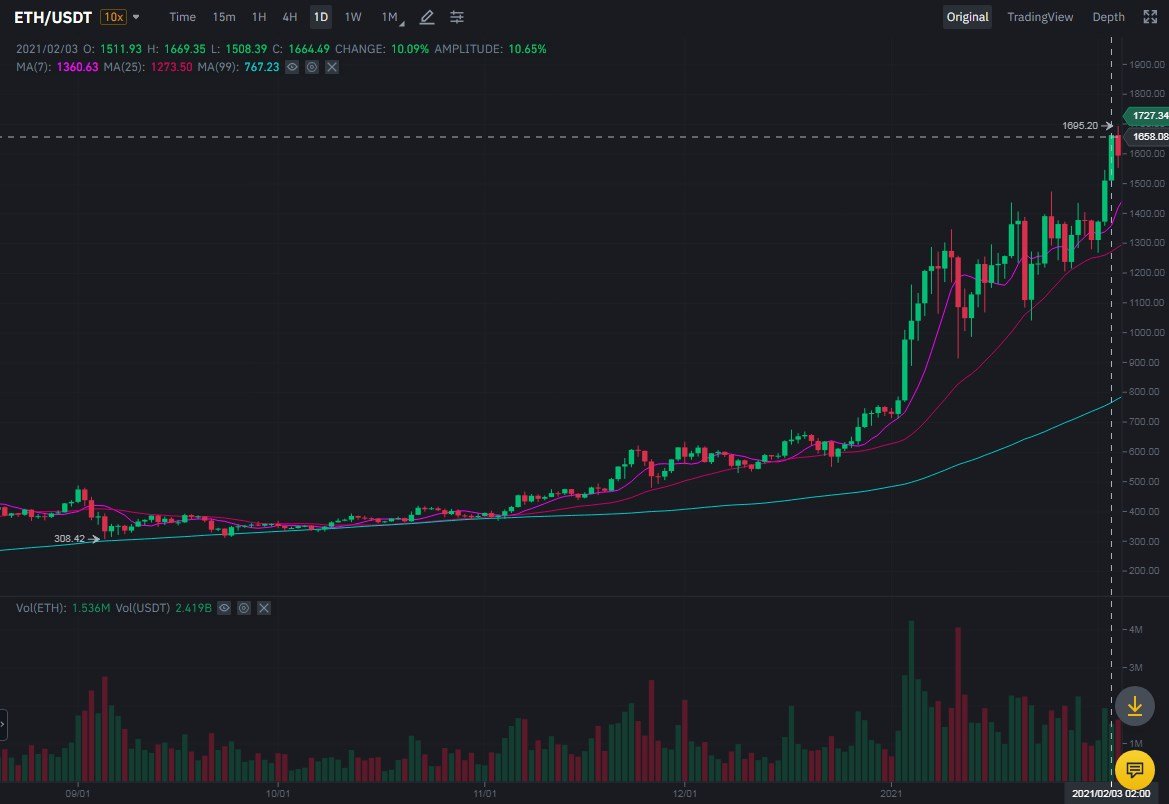 Well, look at that
It pays to be observant and check these indices frequently if you are into day trading, but it's even better to just be a hodler and sit back. A few successful trades can earn you a lot of money in a short period of time, but nobody has a crystal ball and you never really know what's next as it is a complex equation with factors we completely ignore and have no way of knowing. So there is always the risk of taking losses.
On the contrary, holding your crypto for the long term is the best and safest way to make a good return on investment, as the whole cryptocurrency game is still in its infancy stage, and as we have all noticed, they are only going up with time. Of course the past is not always a credible indicator of what lies ahead, so it's all speculation.
Fun times to be around and this is already proving to be a great year for the cryptocurrency ecosystem, so grab your bags, fill them anyway you can and hold your crypto. Ten years later your future self will be grateful you did. With Visa piloting a suite of APIs to offer crypto services and a number of financial institutions eyeing the game, I think we can be excited about the future.
---
Thank you for your attention
Alright guys, that's it for now. I sincerely hope you learned something new today. Thank you for taking the time to read those lines.
Just my two cents. This is by no means financial advice. Just sharing my personal views and experiences. Please do not take my word for your investment choices, and always do your own research.
Stay safe and have a good one,
@lordneroo
---
Image Sources: 1, 2, 3, 4, 5, 6
---
---
Best Faucets to Earn Crypto with Zero Risk (Affiliate Links):
Best Exchanges to Trade Crypto (Affiliate Links):
Best Platforms to Earn Crypto for your Content (Affiliate Links):
Connect with me Here:
Posted Using LeoFinance Beta