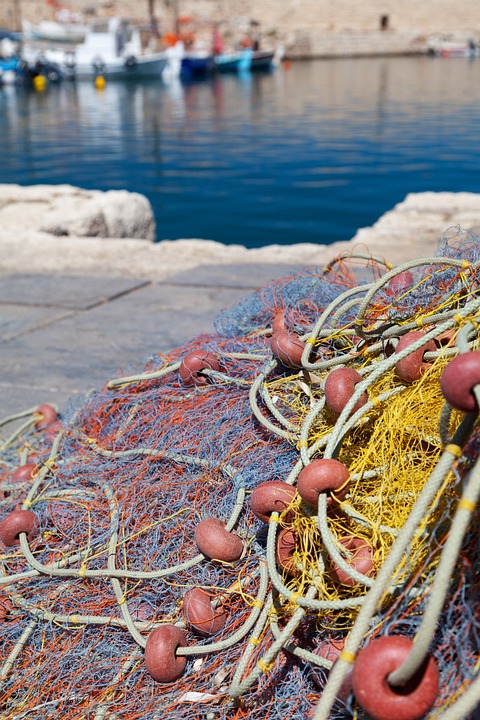 Image source
It wasn't long ago when Captain Nicolas arrived with his little boat to the small harbor at Koufonissia.
He's grateful, as he looks at his fish, which almost filled the knitted basket made by his wife, Mrs. Maria.
Fresh, delicious fish that gleamed and shrieked, ready to dive back into the water ...
His nets, a big and puzzled pile, were lying on the bow ... filled with seaweeds and almost ripped apart. One could say that they were staring at him, as if they were complaining...
He still had a lot of work to do.
These are his tools after all. He had to fix them...
He sat down on his small wooden chair, grabbed the long billboard with the yellow thread and began to mend them...
His palms are sweaty but also strong, full of wounds. His fingers are fat and in pain, but he can sew those nets like an artist.
Drops of sweat go down on his face, beneath his naval hat. Some ... are confused in his wrinkles and drop on his bare feet...
At last!He finished!
He stands upright and proud, waves them in the air. Sun rays pass through the square shapes, creating beautiful bright reflections.
As if they are completely new now, they are ready to be throw back into the sea to bring him, many, many fish.
He folds them up and puts them back in their place.
His nets! The gold of his life!
Satisfied but tired he stands on the aft
His gaze is lost in the depths of the horizon.
This day is over
and he is already thinking of tomorrow...



Original story written by me
Thanks for stopping by
Until next time...