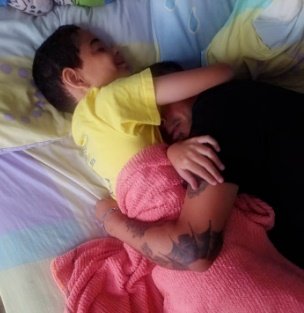 We are here to enjoy the small details that make life meaningful, to be happy, not to be tied to something or someone because at some point it might have made sense, because that is no longer part of our plans.
Live your moment, do not cling to anything that brings you worries. Embrace, love and be happy and just make it happen!
This was a beautiful moment for my son and his father, who was away from Venezuela looking for a better future for all of us, but unfortunately, things did not go as he expected and after a year in Colombia, he returned to Venezuela again.
My son was sound asleep when his daddy arrived and got into bed with him. It was a big surprise for my son. There were tears and hugs of happiness reminding us that that is what life is: life and that whatever happens, we are still here and we are still a family.