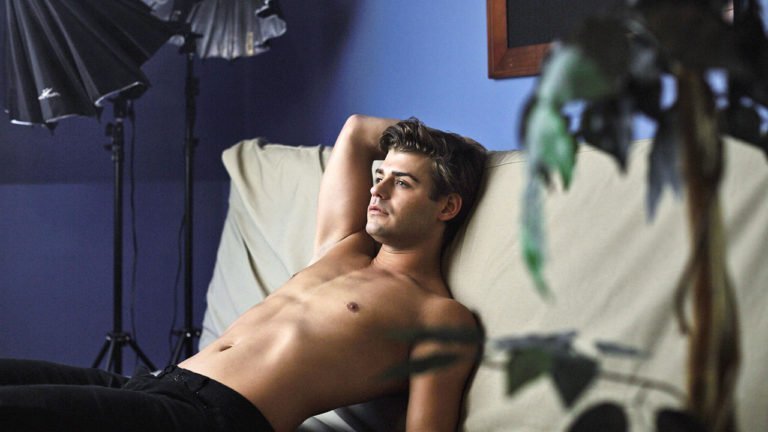 Story: From Sensual Neighbor to Pleasant Teacher
The summer seemed as if it would never end, the heat was totally hopeless. You could see people walking the streets wearing short clothes and beach hats even though the nearest one was 100 km away from the city. I got tired many times of listening to the news alerts about the heat, I never thought that they would be right, since many times they predicted rain storms and after hours you could see a radiant sun as if nothing of what they say behind that screen was true, maybe the weather girl wanted to send a subliminal message apart from almost selling her body in a bikini in front of the TV; it was absurd what the TV agencies would do to get the highest rating but the lowest for those women who offered to play the dirty game of easy money.
There was nothing interesting to do, for the first time I was beginning to miss the classes, at least the sleeping on my seat while the chemistry teacher explained all the chemical processes of nature and evolution, subjects that for me were totally boring, but that at least allowed me to see new faces and once in a while make a few jokes.
I was already getting paranoid, there was no reason why I would rather go back to high school than be at home playing, but the reality is that there is nothing to do anymore, each and every game I have played has been played over and over again. My music playlist is worn out and the internet is moving slower than the turtle dad bought my sister on her birthday, anyway, everything that seemed like a fun vacation turned out to be a fiasco, sometimes I even thought it would be best if I went home, but I didn't want to set foot there to hear my mom say she has family plans for excursions that are more boring than anything else out there, Singing nursery rhymes halfway through, playing games in the woods and dancing around pretending not to be wiping out mosquitoes before they get to you, was something I refused to do, so I stayed in my apartment where there is at least a swimming pool, but which I was also bored of, especially seeing the same skinny girls who seem to be secretly throwing up everything they eat to keep their "good" bodies, or so they think.
It was Friday when I went to the balcony to get some sun as I was getting paler than usual. After a while I get a bit thirsty, I take off my shirt and go to the kitchen to pour myself a glass of lemonade and then go back to the balcony, where the second sip of my refreshing drink ends up spilled on the floor and shirt before what I was seeing. A man with dark glasses, totally naked, whose tan showed every firm curve of his body. Somewhat muscular, with swollen arms, flat bellies and very shaped breasts as well as his legs. I was uncomfortable with the fact of witnessing that suddenly, it could have been a fantasy that any other man-loving boy like me had, but when you see it in reality sometimes you don't know how you will react. I had to greet him as if he didn't want to after he noticed my presence, it seemed to be a greeting from a man to a normal guy, but maybe he thought that I was one of those men that such scenes could be something normal. I wasn't against nudity, I was against being taken to surprise as I was becoming a mess.
After a while, when all the neighbors in my building whispered and almost moaned with pleasure at what they saw, without any shame of being married and/or engaged, I went back to the kitchen to prepare some breakfast. A couple of eggs were fried while I put a couple of loaves of bread in the toaster and then spread some peanut butter. The smell of freshly brewed coffee was the predominant aroma in my apartment, even with the heat wave I couldn't stop drinking caffeine. Several neighbors would come down to visit me with the excuse of sharing a cup of coffee with me since they were fascinated, being that one of my part-time jobs I had was in a coffee shop where they serve the best coffee in town.
When the eggs were ready but the bread was almost ready to come out, I took a spoonful of peanut butter that passed through my tongue several times leaving a stain on part of my mouth, something that I had as a bad habit, creating moustaches with sauces, sweets or even the same milk, but whose neglect I could have in those days and moments since I lived alone and nobody would tell me anything. Suddenly the doorbell rings, just at that moment I think it's one of my neighbors as almost every morning they do, visiting me and flattering the smell of my apartment.
When I opened the door right in front of me there was this man who minutes before was naked on the balcony, he was wearing a white striped shirt and a short white short that was very tight and showed that he was not wearing underwear, something that made one of my eyelashes rise showing a bit of irony. From my mouth came a sudden greeting to cut the silence, but something that left me frozen and at the same time in high temperatures was to feel his thumb pass through my corner where he had traces of peanut butter and see it end up inside his mouth, immediately I coughed of everything I felt at that moment, it seemed that I was dreaming, and I could not hide what had been stimulated for a long time that I saw him on the balcony. The realization of my reaction didn't last long when he lowered his gaze and then began to laugh with a bit of mischief.
I was already in his game, and I didn't want to be the one who looked like a stupid innocent, so the next move I had to make was to go to his lips and kiss him and then open my eyes and look at him in a dominant way waiting for his reaction which was to take me for the throat and give me back that kiss that I had given him leading me to take steps backwards and close my door.

Play and continue reading.
It was already a game of two where the weakest would be the lamb slaughtered for mutual satisfaction.
The same thing happened several days in the same week and the following weeks, it was me who visited him in his apartment every time I saw him approaching the balcony and give me a signal, or he would come to mine in a surprising way knowing that I didn't like him since he drove me totally crazy.
The summer was finally over, the return to school was inevitable, and I wanted to see my friends even though I couldn't tell them anything about what happened this summer. While in the classroom we were suddenly informed that there had been a change of chemistry teacher which I almost applauded as it was totally retrograde for my taste.
My eyes opened like when a cow is about to give birth. That wooden door opened to that loving neighbor who would now become a pleasant teacher; he looked at me mischievously as he said good morning, giving me one more surprise whose consequence he was looking for and had found, hidden thoughts from my mind wrapped in madness for having an unbridled adventure with my teacher, once again.