🟢English🔵🟠Español🔴
Hello Stemmians❗🐋 welcome to a new post, in which we are going to make a quick review of the new injustice update that has finally arrived and we can fully enjoy it, In this new update some changes have been made in some characters and in addition to that we have the arrival of a new legendary character which is Echantress, having said that, come with me and let the post begin ❗🐻🚀🎮
❗Hola Stemmians❗ 🐋bienvenidos a un nuevo post, en el cual vamos hacer un review rápido a la nueva actualización de injustice que finalmente ha llegado y ya podemos disfrutar de ella totalmente, en esta nueva actualización se han hecho algunos cambios en algunos personajes y además de eso tenemos la llegada de un nuevo personaje legendario el cual es Echantress, dicho esto acompáñenme ❗y que comience el post ❗🐻🚀🎮
---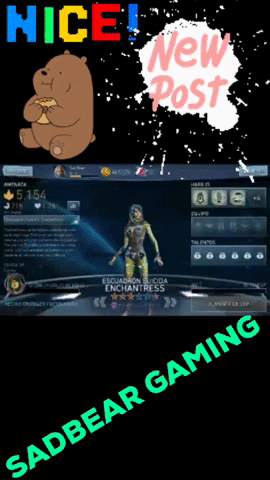 This new update of injustice in full quarantine has come in handy for players as various features of the game have been updated, the amount of damage or threat levels have been improved when fighting with other players for a better experience than time to play in Events and the arena of champions, In addition to that we also have some small improvements and bug fixes to the category of the characters in the batman ninja saga, the lag bug that gave off the second skill of batman ninja has been fixed, and the Catwoman Ninja bug which made the character stay bugged when defending itself from any attack has been fixed, in addition to that the damage levels of these characters have been optimized for better performance in combat.
In addition to that we finally have the improvements in the suicide squad shooter and Harley quinn deadshot turning the character in the golden category to legendary, in addition to that we also finally have the suicide squad made up of echantress Harley quinn and deadshot, together these 3 characters will be able to cause enough damage to entire teams of characters from other characters in addition to having a good amount of bonuses and advantages to make a more bearable combat and give us notable advantages over other characters or other players, In addition we also have a promotion of chests in which we can obtain crystals of the 3 characters of the suicide squad and we will have a probability of fully unlocking them, The truth is that I tried to open a mother box to try my luck and well ... the truth was that the result was rather unfortunate since only 20 standard cold captain crystals from the gold category came out, and so once again it is proven that my luck in the loot boxes it really is lousy hahaha.
Esta nueva actualización de injustice en plena cuarentena ha venido muy bien para los jugadores ya que se han actualizado varias características del juego, se han mejorado la cantidad de daños o niveles de amenazas a al hora de combatir con otros jugadores para una mejor experiencia a la hora de jugar en Eventos u la arena de campeones, además de eso también tenemos unas pequeñas mejoras y soluciones de bugs a la categoría de los personajes de la saga de batman ninja, se ha solucionado el bug de lag que desprendía la segunda habilidad de batman ninja, y se ha solucionado el bug también de Catwoman Ninja qué hacía que el personaje se quedara bugeado a la hora de defenderse de algún ataque, además de eso se ha optimizado los niveles de daño de dichos personajes para un mejor desempeño en combate.
Además de eso tenemos finalmente las mejoras en deadshot tirador y de Harley quinn del escuadrón suicida convirtiendo el personaje en categoría de oro a legendario, además de eso también tenemos finalmente el escuadrón suicida conformado por echantress Harley quinn y deadshot, juntos estos 3 personajes podrán ocasionar bastante daño a equipos enteros de personajes de otros personajes además de tener una buena cantidad de bonus y ventajas para hacer un combate más llevadero y darnos ventajas notables ante otros personajes u otros jugadores, Además también tenemos una promoción de cofres en el cual podremos obtener cristales de los 3 personajes del escuadrón suicida y tendremos una probabilidad de desbloquearlos por completos, la verdad hice el intento de abrir una caja madre para probar la suerte y bueno… la verdad el resultado fue bastante lamentable ya que salieron solo 20 cristales de capitán frío estándar de la categoría de oro, y así una vez más queda demostrado que mi suerte en los loot boxes realmente es pésima jajaja.
And finally we get to the most interesting part of this new update, which is the new character that has come to the video game, the famous villain and evil sorceress echantress, this character is of legendary category, which requires a large number of crystals to unlock it, or on the contrary it can also be acquired through purchases in the playstore, the truth is to acquire legendary characters, let's say that it is not my strength, since it is quite forced and tedious to beat these characters to acquire crystals, since they have tremendously abysmal strength , and in some cases they could even bring us down to half our health bar in one fell swoop.
But that does not mean at all that the fact of acquiring legendary characters is an excellent option to be able to acquire greater power in our account of injustice and have advantages in other game modes, echantress the truth is a character that I really wanted to see in injustice 2 mobile, since it has a set of excellent movements and they do a lot of damage, echantress has a wide variety of direct attacks and also passive abilities that help combat companions and have more strength and have a better attack response to opponents, in addition to that its design is incredible, as a curious fact echantress can attack with a kind of energy sword, which seems to be quite damaging in terms of damage levels, the character gears can be obtained through chests so far, or by buying them also through micropayments through the playstore, without a doubt an excellent addition to the game and an excellent complement for the suicide squad in the game.
Y finalmente llegamos a lo mas interesante de esta nueva actualización qué es el nuevo personaje que ha llegado al videojuego, la famosa villanada y malvada hechicera echantress, este personaje es de categoría legendaria, por lo cual requiere una gran cantidad de cristales poder desbloquearla, o por el contrario también puede adquirirse por medio de compras en la playstore, la verdad adquirir personajes legendarios, digamos que no es mi fuerte, ya que es bastante forzoso y tedioso vencer a estos personajes para adquirir cristales, ya que poseen una fuerza tremendamente abismal, y en algunos casos podrían incluso bajarnos la mitad de nuestra barra de salud de 1 solo golpe.
Pero eso no quita en lo absoluto que el hecho de adquirir personajes legendarios es una excelente opción para poder adquirir mayor poder en nuestra cuenta de injustice y tener ventajas en otras modalidades de juego, echantress la verdad es un personaje que tenía bastante ganas de ver en injustice 2 mobile, ya que tiene un set de movimientos excelentes y que hacen bastante daño, echantress cuenta con una gran variedad de ataques directos y también habilidades pasivas que ayudan a los compañeros de combate y tener más fuerza y tener una mejor respuesta de ataque ante los oponentes, además de eso su diseño es increíble, como dato curioso echantress puede atacar con una especie de espada de energía, la cual parecer ser bastante dañina en cuanto a niveles de daño, los gears del personaje podemos conseguirlos por medio de cofres hasta los momentos, u comprándolos igualmente por medio de micropagos por la playstore, sin duda alguna una excelente adición al juego y un excelente complemento para el escuadrón suicida en el juego.

And so far today's post Stemmians, I hope you liked it, but above all you enjoyed it, what did you think of this new update of the game? Did you like the character of Echantress what was your favorite aspect or feature? Let me know on the comments, If you like my content, don't forget to follow me so you don't miss a thing in your Steemit feed or on the contrary, visit my website in wordpress, without further ado, I wish you a good morning, afternoon or night, From the Cave Say Goodbye to SadBear ❗ Until another time❗🐻🚀
Y hasta aquí el post de hoy Stemmians, espero que les haya gustado, pero sobretodo lo hayan disfrutado, ¿Qué te pareció esta nueva actualización del juego?, ¿te gustó el personaje de Echantress cual fue tu aspecto o característica favorita?, házmelo saber en los comentarios, si te gusta mi contenido no olvides seguirme para no perderte de nada en tu feed de Steemit o por el contrario visita mi página web en wordpress, sin más que decir te deseo unos buenos días, tardes o noches, Desde la Cueva se Despide SadBear ❗Hasta otra ocasión❗🐻🚀
All the images and gifs you saw in this post were taken and edited by me from Injustice 2 Mobile INGAME./Todas las imágenes y gifs que viste en este post fueron sacadas y editadas por mí de Injustice 2 Mobile INGAME.🐺
Screenshots taken with/Capturas tomadas Con Sony Z1 C6906 Snapdragon.🐯
Add me in discord if you want to give me suggestions for posts or know some information/Agregame en discord si quieres darme sugerencias para posts o saber alguna información #SadBear#6392👽
VISIT MY SITE ON WORDPRESS/VISITA MI SITIO EN WORDPRESS👻 SadBear Web