Quinoa is one of the most healthiest cereals to be consumed in breakfast. It is highly rich in proteins, looks like little mischievous seeds but when cooked, sprouts up to be a tasty grain. It's not very popular in the Indian market right now but is gaining popularity given its nutrition content. Let's see how we make it.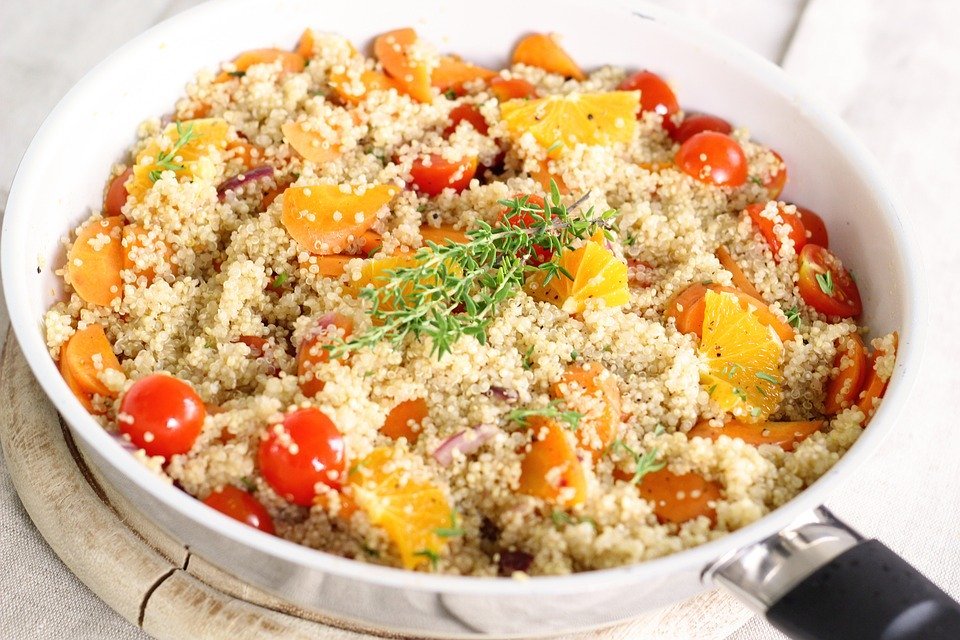 Cooking Time
8 minutes
Kitchen Standing Time
5 minutes
Serving
1 Bowl
Accompaniments
Mint Chutney mixed with Soutwest dressing
Ingredients:
• 1 finely chopped tomato
• 1 finely chopped onion
• 1 small bowl of finely chopped bell peppers (Green, Red and Yellow)
• ¼ tablespoon red chilli powder
• ¼ tablespoon Maggie masala
• Oregano or Pizza mix
• Salt as per taste
• 1 small bowl Quinoa
• 1 small bowls Water
Method
Step 1: Soak the quinoa on water for about 15 minutes.
Step 2: Finely chop all the vegetables in a glass bowl
Step 3: Add all the spices – Salt, Red chilli powder, Maggie masala and oregano. Mix well.
Step 4: Add 1 TBSP oil in a pressure cooker and heat it. Now add all the vegetables and let them cook for about 5 minutes on a low flame.
Step 5: Now add the Quinoa and twice the amount of water to the pressure cooker.
Step 6: Let it cook on low flame for about 10 minutes. Turn off the gas.
Step 7: Once the pressure is release from the cooker, serve hot with aloo bhujiya.
This recipe is extremely healthy for breakfast or dinner. Rich in proteins and fibre, it adds very well to your healthy diet plan.
Happy Cooking!