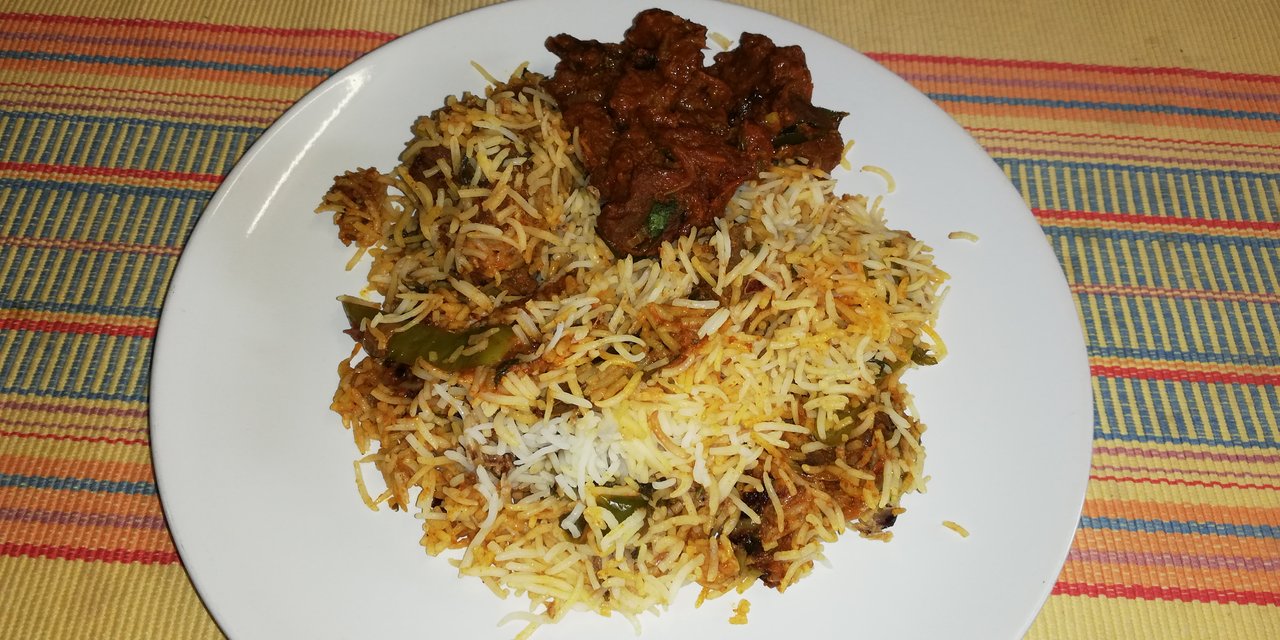 Hello everyone! Today I am going to share a recipe on how to cook mutton biryani. It is quite similar to the other types like chicken or seafood biryani but there are some extra steps in this because mutton is a type of red meat. Therefore, it requires a longer time to prepare.



Ingredients
The following are the ingredients required:
Basmathi rice
Star anise
Cinnamon
Cardamom
Cumin
Fenugreek seeds
Cloves
Onion
Ginger-garlic paste
Fried garlic
Tomatoes
Green chillies
Turmeric
Cumin powder
Chilli powder
Garam masala
Bay leaves
Curry leaves
Peppermint leaves
Coriander leaves
Oil
Ghee
Salt
Mutton



Method
Firstly, pour some water into a cooking pot. Start heating the water. Add some fenugreek seeds, cinnamon, cloves, star anise, cumin, cardamom and some salt as well.


Once it starts boiling, the colour will turn slightly yellowish like this. It will take a while for that.


In the meantime, or a little earlier before you begin boiling the previous ingredients, please be mindful to prepare the mutton. It is a red meat. Hence, it takes some time to tenderize. It is a lot easier if you use a pressure cooker. Just marinate the mutton with some spices like chilli powder, turmeric and jeera powder, and then cook it in the pressure cooker. It will take 3 whistles to complete.


On the other hand, prepare another pot. Pour some oil and ghee. Once it heats a little, add some onions. Mix them and let them cook in between until they turn golden in colour. Then, add the bay leaves and ginger-garlic paste. Mix all of them well.


Add some cut green chillies. Then add some tomatoes and the peppermint leaves. You will know that they are ready for the next step when you no longer get the raw smell of the chillies.


At this point, the mutton should be ready in the pressure cooker, as in past 3 whistles. Add the mutton to this mixture. The amount should be decided accordingly based on the amount of rice you are cooking. It should not be too much or more than the rice.


Add some chilli powder and turmeric powder. Mix everything well. You need to cover the mixture with lid in between at least once to let the mutton cooked and so the raw taste will diminish. Add salt to taste as well.


This is cumin powder, garam masala and more turmeric powder added to the same pot of mutton.


On the other hand, wash the rice and add it to the first pot boiling with cloves and other spices. Let the rice cook. Cook it until it is about 75% cooked.


Then, use a large ladle with holes like this to transfer the rice into the mutton pot. This way, you can easily filter the water out while transferring the rice only.


Once you are done adding the rice, top it off with some peppermint leaves, coriander leaves, fried garlic and ghee. Keep the lid on and let the mutton biryani cook. Check the texture of rice after 15 minutes to see if it is cooked. Once it is done, mutton biryani is ready. Turn the heat off.


Add a layer of aluminium foil like this if you would like to eat it a little later to trap the heat and prevent it from escaping. Then, put the lid back on.


It is time for the big reveal! This is how it looks before mixing.


Mix it with any regular rice spatula like this. It is important to mix it before serving to get the mutton mixed up with the rice.


This is how it looks after mixing. It is time to serve.


It will be great if it is combined with some mutton gravy like this.



I hope that you enjoyed reading my post although it is quite long. Thank you for dropping by and I hope that you have a great day ahead!